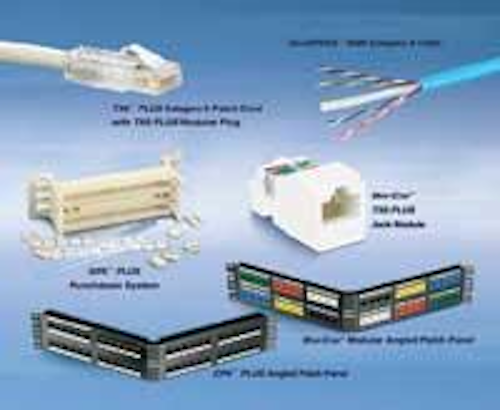 General Cable and Panduit are moving full speed ahead to market their jointly developed copper and optical-fiber infrastructure solutions for open architecture.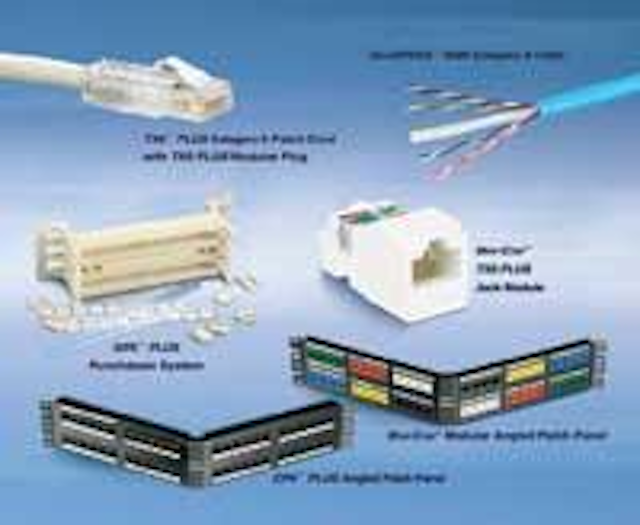 An alliance formed last November between General Cable and Panduit was based on the introduction of an end-to-end network infrastructure cabling and connectivity system called PanGen Structured Cabling Solutions. These open-architecture solutions, which employ existing General Cable and Panduit products, were formally unveiled at the BICSI Winter Conference in January.
Click here to enlarge image
General Cable (Highland Heights, KY; www.generalcable.com) and Panduit (Tinley Park, IL; www.panduit.com) formed an alliance last November based upon the introduction of an end-to-end network infrastructure cabling and connectivity system called PanGen Structured Cabling Solutions. These open-architecture solutions, employing existing General Cable and Panduit products, were unveiled at the BICSI Winter Conference in January.
Focused solutions
The collaboration, says the two companies, is designed to bring enhanced customer-focused network infrastructures to the market. Both companies are promoting the PanGen Structured Cabling Solutions.
PanGen Plus is designed for the open architecture enterprise market. These solutions are offered with high-performance Category 6, Category 5e and optical-fiber cables and connectivity products.
PanGen Pro is billed as a value-oriented solution for small- to mid-sized businesses and institutions. Its solutions are designed to provide Category 6, Category 5e and fiber cables and connectivity for a high-quality option at an economically installed cost.
The General Cable-Panduit alliance did not form without structural challenges. Tuck Stites, market manager of communications products for General Cable, says one of the biggest challenges was revamping General Cable's sales organization. "We had to implement changes that better aligned our sales force and focus with that of Panduit's," says Stites.
He adds that General Cable's direct sales force model works in conjunction with the Panduit "go-to-market" strategy. In addition to factory-direct sales engineers, the two companies share common sales agents. "Our sales forces are working in unison to create maximum value for our channel partners, contractors and end users," says Stites.
This type of collaboration is endemic as more and more cable manufacturers pair up with connectivity manufacturers to create end-to-end solutions to satisfy customer demand, Stites says.
Reasons for this demand, he says, include the confidence that end-to-end solutions instill in end-users and contractors, and typically superior warranties.
Stites believes that the implementation of a new "go-to-market" strategy for General Cable will complement the strengths of the Panduit sales and engineering organization, and will provide benefits to customers who require stable, state-of-the-art infrastructures.
---
Broadband over Powerline becoming more than a curiosity
There are signs that Broadband over Powerline is gaining momentum, but analysts describe it as a cautious momentum that will take time to gain a true following.
"Do I think it has an opportunity? Absolutely," says Barry Goodstadt, vice president of Harris Interactive Inc. (Rochester, NY; www.harrisinteractive.com). "But is it really here now and is 2005 the year for it? I don't agree."
Broadband over Powerline (BPL) is the transmission of high-speed communications services, including Internet access, over an existing electric infrastructure using adaptive technologies. By bundling radio-frequency energy on the same line with the electric current that is already carried, data can be transmitted without the need of a separate line.
Technological advances in the past several years have enabled electric companies to place devices along existing wires and poles to provide broadband services. Known as Access BPL, the systems require a connection from the Internet backbone at a power substation, repeaters and couplers along the medium voltage power lines that transmit the data signals, and then a final converter that transfers the signal from the medium voltage to the low voltage lines that go into homes. Once inside the home, the signal can be accessed at any electrical outlet via a BPL modem.
The BPL systems have achieved speeds that approximate DSL and cable modems, and Goodstadt says there are positive signs that the technology is becoming more than a curiosity. Many utilities around the country are running trials, with more than 20 trials launched across the country in 2004, providing roughly a quarter of a million homes with the opportunity to choose BPL service. More trials are expected this year.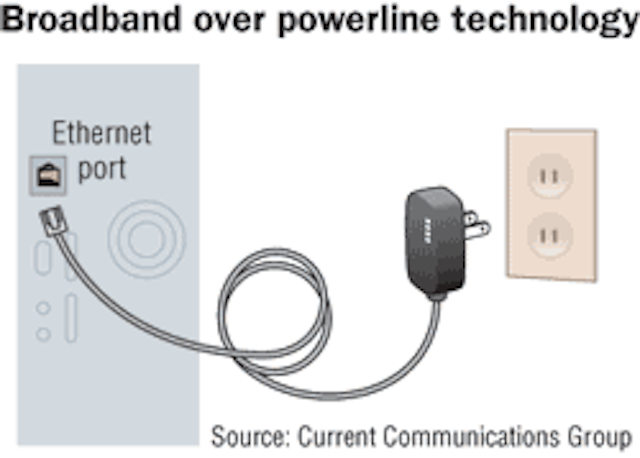 Broadband over Powerline technology lets end users use the existing power outlets in every room of their home or office for high-speed broadband access. When they sign up for a monthly service plan, they are given a power line modem, which they use to connect to the service using a standard Ethernet cord. The modem plugs directly into a power outlet.
Click here to enlarge image
BPL technology by Ambient Corp. (Newton, MA; www.ambientcorp.com) is already available in sections of New York City. The first citywide commercial BPL network in the United States, however, is in Manassas, VA, powered by Communication Technologies, Inc. (Chantilly, VA; www.comtechnologies.com). Contractors who are helping with these installations work in the outside plant environment.
Most of this activity began several months ago when the FCC issued an order encouraging utilities to move forward with the deployment and testing of BPL systems.
"If the utilities deploy these systems cost-effectively, they would get a share of this market," says Goodstadt, adding that the systems offer potential change in the market because they bring a third option into the mix, competing with high-speed Internet access and Voice over IP (VoIP).
"All of these capabilities could suddenly be enabled by deploying these systems in existing networks," says Goodstadt. "And, of course, the wires are already in the ground."
Price is nice
One of the reported benefits of BPL is its price. Goodstadt says Cinergy Corp. (Cincinnati, OH; www.cinergy.com) is now providing BPL services to a home for $26 a month. DSL, by comparison, typically costs between $29 and $35 per month.
Still, even if some industry watchers believe BPL is primed for growth, Goodstadt is hesitant to believe there will be a rush to adopt the technology. He says utilities "are very slow moving and don't rush into things."
He notes that several companies have "lost their shirts" in the last few years trying to enter telecommunications markets, "so they will not rush to capitalize on this opportunity now. It will take some time for them to think it through, build the business case and make a decision to deploy."
Goodstadt also says broadband service is "sticky"-people won't switch their service unless there is something very attractive about the new offering.
But he says the biggest stumbling blocks are economical rather than technological, with the biggest roadblock to widespread BPL service being that utilities have never sold these kinds of services before.
"For them to do that, they would have to change their style of marketing, and their billing systems are not well suited for these offerings," says Goodstadt. "Their billing systems are pretty rigid, and not flexible enough to send out a bill for these kinds of service offerings."
---
Massive uninstall, installation continues at Maryland campus
Editor's note: This is a second article in a series of stories Cabling Installation & Maintenance is writing about the cable installation project at Maryland's Sheppard Pratt Health System.
The complicated installation work at Maryland's largest mental health resource center, which includes abandoned cable, aggressive timeframes and an extensive amount of low voltage coordination, is approximately 70% complete.
The installation at the Sheppard Pratt Health System (Towson, MD; www.sheppardpratt.org), a psychiatric services facility that provides patients with in-patient and partial hospitalization, residential treatment and respite care, includes a new building that will be located alongside historic buildings.
Contractors are establishing connectivity between the central building's main equipment room and the new state-of-the-art hospital. The campus covers approximately 80 acres and includes a dozen health system buildings. The main building is 240,000-square-feet from end to end, and the new facility will be 245,000-square-feet.
Cat 6 for telemedicine
The project involves 3,400 pairs of copper cable, as well as 144 strands of multimode and 72 strands of singlemode optical-fiber cable. It calls for Category 6 cabling that will enable high-bandwidth applications, such as telemedicine, videoconferencing and distance learning initiatives.
John Shirk, owner of Allied Telephone & Data Corp. (Baltimore, MD; www.alliedtelephoneanddata.com), an onsite contracting firm that works primarily for the health system, selected Ortronics/Berk-Tek's NetClear GT3 for the Category 6 cable. The solution features Berk-Tek's LANmark-2000 UTP cable, and Ortronics connectivity that includes Clarity TracJack and Series II modular jacks and outlets. To date, 131 miles of Category 6 cable have been installed, 3,400 Category 6 jacks have been terminated and six strands of multimode fiber have been installed to each of the 48 new security cameras.
"The NetClear solution has been outstanding," says Shirk. "It presents itself really well from an aesthetic standpoint. The product line has been able to handle everything we have thrown at it. It is extremely versatile and has helped us with more then just your typical voice and data needs."
Some eight months after it began, the project is half completed for the new hospital addition, and installation work on the entire E and G wings are complete. Installation work on wings F and H are 50% complete, and the building is expected to be ready by August. PrimeNet, Inc. (Baltimore, MD; www.primenetworks.com) is the cabling contractor.
"PrimeNet has been phenomenal," says Shirk. "Whether it's staying ahead of deadlines, to having supplies and additional manpower on site when needed, to the quality of workmanship-I could not ask for a better organization to work with."
Connectivity challenges
Particularly challenging for Shirk is the connectivity between the existing older systems to the newer technology of the systems for the new building.
"We are tying in fire alarm systems, fire alarm panels, overhead paging, 911 circuits, elevators, CATV, security cameras, building automated systems, radio base stations, wireless access, etc.," says Shirk. "There have been occasions when we have had to get creative with how the new technology interfaces with equipment 35 years old; however, with deploying IP technology and the robust backbone we have installed, it has made that process somewhat easier to engineer."
The historic hospital has a Quaker heritage and was built in the 1800s; its central building was built in 1968. "Some of the walls we couldn't even core- drill to put sleeves in, so we had to go around support beams and go down below the floor, into the basement area, then back up," says Shirk. "That was kind of interesting."
Shirk is installing Category 5e cable in renovated parts of the central building because 80% of all of the cable drops in the renovated areas already are Category 5e. "The Cat 5e will give us gigabit connectivity for quite a while," says Shirk.
Graybar (St. Louis, MO; www.graybar.com), the project's distributor, has stayed ahead of schedule throughout the installation work, stocking cable and components. "Graybar has dedicated one single representative for all equipment purchases for this job and that is a tremendous help," says Shirk.
"To have a rep be so involved in a project makes ordering so much easier; we had a change order for plenum cable and he saw that the contractor ordered plenum and immediately called me to make certain that, it sure enough, needed to be plenum," Shirk adds.
One of the biggest challenges the team still faces is working with abandoned cable. Shirk's team has been trying to identify and remove the old cable, some of which is up to 75 years old. "Abandoned cable is a difficult hurdle in a facility that has as many buildings as old as Sheppard Pratt does," says Shirk.
The Sheppard Pratt Health System cut over to a new Avaya Communication Manager S8700 (Basking Ridge, NJ; www.avaya.com) telephone system in November, and the contractors needed to beef up the backbone in the old building to support the new telephone system.
"To do this, we found that most pathways and cable trays were filled or overflowing with different generations of cabling that still remained," says Shirk. "These particular cables were removed; however, with renovation work starting soon in the old buildings, it will continue to be an ever-present issue."