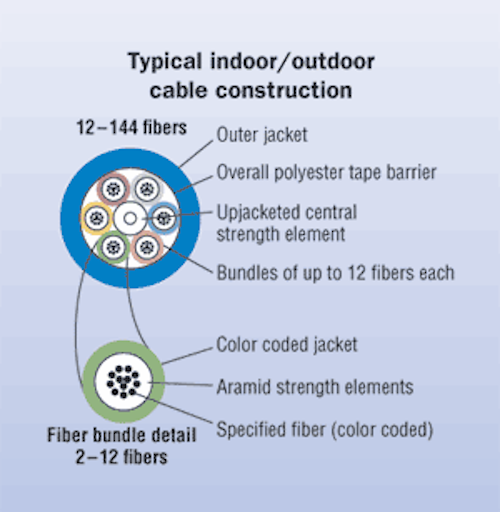 Once in limited supply and demand, indoor/outdoor cabling is gaining in popularity because of its time and labor-saving deployment in the campus.
Indoor/outdoor cabling is developing a strong following as contractors and end users alike are discovering a media that saves time and labor by bringing one cable from an outside plant setting into a building without having to perform a transition splice.
"They [contractors] see the advantage of saving in labor costs," says Todd Harpel, director of marketing for Berk-Tek, (New Holland, PA; www.berktek.com). "The end users see an advantage because they don't have to have another point of termination."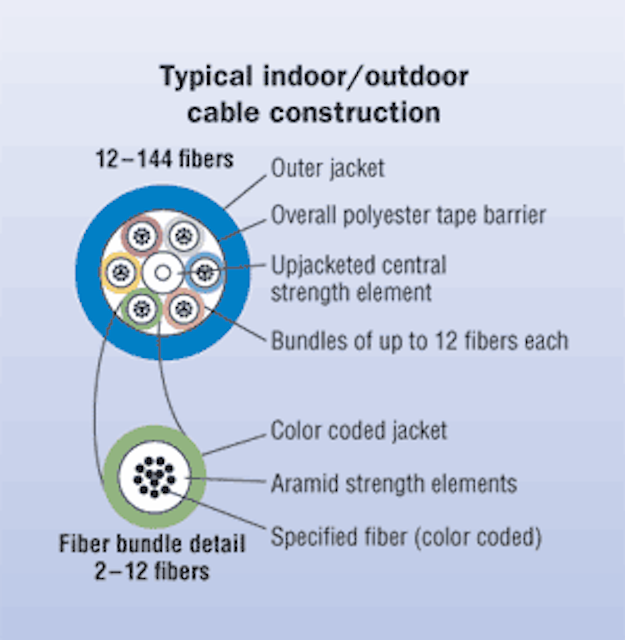 Mohawk CDT's VersaLite Plenum cables feature 2 to 144 fibers, and a small diameter and bend radius that facilitate installation in tight spaces. The fibers and sub-units are color-coded for easy identification.
Click here to enlarge image
The National Electrical Code only allows non-rated copper or optical-fiber cables to be installed indoors to a maximum distance of 50 feet, unless it is enclosed in EMT or rigid conduit. At that point, a transition has to be made to indoor-rated cables. Indoor/outdoor cable, however, offers contractors the chance to get around this transition. Flame- and smoke-retardant, indoor/outdoor cabling is used primarily for outside plant installations that will continue on into a building.
Emerging media
Compared to 15 years ago, when few manufacturers were making indoor/outdoor cable, a variety of products are now reaching the market:
• Optical Cable Corp. (Roanoke, VA; www.occfiber.com), has tight-buffered optical fiber cables that are designed for campus applications for use indoors and outdoors, simplifying installation, reducing costs and improving reliability. The cables have been successfully used in indoor/outdoor applications for almost 20 years.
• Corning Cable Systems (Hickory, NC; www.corning.com/cablesystems) has LANscape Solutions FREEDM Cables in tight-buffered and loose-tube options for plenum and riser applications.
• Berk-Tek has Adventum plenum or riser-rated optical-fiber loose-tube cable. It features DryGel, a dry water-blocking technology. It can be used in any inside or outside cable plant, with no transition points between the two environments.
• CommScope (Claremont, NC; www.commscope.com), offers indoor/outdoor media that includes dielectric central tube designs, dielectric stranded loose-tube cables, tight-buffered designs, and a specially designed low-smoke zero halogen distribution and cordage cable construction.
• Mohawk CDT (Leominster, MA; www.mohawk-cable.com) now makes two indoor/outdoor cables. VersaLite Plenum cables feature 2 to 144 fibers, small diameter and bend radius that facilitate installation in tight spaces. RiserLite loose-tube cables are fully water blocked and available with zero-halogen jackets.
• Honeywell Cable Products (Pleasant Prairie, WI; www.genesiscable.com) makes Genesis Series Cable, whose PVC jackets on indoor cables contain UV inhibitors so you can install it in a sunny, dry location.
Indoor/outdoor cables offer several advantages. With copper cables, aerial cabling typically requires only ultraviolet inhibitors to preclude the cable jacket from being deteriorated by sunlight. In general, PVC jacketed indoor cables can be installed outdoors as long as they are properly supported to avoid flexing and linear tension and the jacket contains ultraviolet inhibitors. But the PVC jacket is not as durable as polyethylene and can fail if flexed in below freezing conditions.
Outside plant, or underground and direct-buried cables, however, are designed to withstand water ingress, offer protection against damage from rocks, and in some cases are even resistant to rodents. Traditionally, telephone companies built outside plant copper cables with a plolybutene petroleum gel filling between the copper pairs to prevent water ingress and migration, a durable outside polyethylene jacket formulation to prevent damage in installation, and metal armoring to protect against rodents.
When optical fiber was first used in the outside plant, a loose-tube construction was used where the individual fiber was loosely encased inside of a plastic tube to isolate it from the outside environment, allowing for a large installation and operation temperature range, and shielding it from any tension that may be applied to the cable. The same type of water-blocking gel was used to keep water from migrating in the cable. With copper cables, water can cause an electrical short, but in optical-fiber cables, water can freeze and cause micro/macro fiber bending to induce unwanted attenuation and contribute fiber fatigue.
Getting around trouble
Today's indoor/outdoor cable can get around these problems. The robust, rugged media is typically installed in the campus environment, and handled in the same way as standard optical fiber.
"The advantage is that you could run it beyond 50 feet inside a building without having to splice it to an indoor fiber cable," says Nelson Sweeney III, general manager for Dial Communications (Tallahassee, FL; www.dialint.com). "Most end users are afraid of splices."
Optical Cable Corporation was the first company, more than 15 years ago, to introduce new ways of bringing less cumbersome, non-gel-filled or loose-tube outdoor fiber into a building. The company planned to use a tight-buffer cable. The cable withstood indoor and outdoor cable testing, but other manufacturers, accustomed to creating gel-filled or loose-tube cabling, did not duplicate the process.
Contractors once shied away from this cable, which typically cost more than other cables. But manufacturers now say contractors are creating a demand for it and its perceived advantages. Namely, indoor/outdoor cables are cost-efficient and can be pushed deep into a building without splicing. Harpel argues, for example, that Berk-Tek's Adventum cable can save a contractor up to 26% in material and labor costs that would have come with a traditional install.
Easy to install
Those who have worked with it say it say indoor/outdoor cable is remarkably easy to install. "I liked it because I could bring it into a building, and terminate it wherever I liked," says Ron Shaver, a master instructor for BICSI (Tampa, FL; www.bicsi.org). "It was easier to install, easier to terminate."
The cables also offer efficiency. Transition points from one fiber to the other are typically fusion splices, and fusion splices on singlemode fiber tend to create a double loss at each end of the spliced cable. Indoor/outdoor cable has fewer crossconnect points, and no transition point. Consequently, it offers lower system loss. This is important for Gigabit Ethernet, which has a low-attenuation budget.
"Any time they put a connector on a cable, there is a possibility of dirt getting in or the endface getting scratched," says Harpel.
Today, the trend toward indoor/outdoor cable is growing. As more contractors seek it, more manufacturers are making it. "We see value proposition in indoor/outdoor cable," says Doug Coleman, manager for technology & standards strategy, private networks, for Corning Cable Systems.
Mohawk CDT, for example, began making RiserLite just four years ago. Last year, it began making VersaLite. General Cable, likewise, announced in February it is making UL Type ONFP approved indoor/outdoor plenum-rated distribution cable.
"I'd call indoor/outdoor cable a trend that is growing," says Barry McLaughlin of Barry McLaughlin & Associates (Wellesley, MA; www.barrymclaughlin.com). "A few years ago, the communication cable vendors were pooh-poohing it. But now, they are all making it, which tends to increase the availability of the product and, therefore, decrease the costs."
Indoor/outdoor cable is not ideal for every installation that involves outside plant work. "Typically, we only use it in an application where we go more than 50 feet inside of a building," says Sweeney.

General Cable recently announced its UL Type ONFP-approved indoor/outdoor plenum-rated distribution cable.
Click here to enlarge image
And contractors who would like to use indoor/outdoor cable are advised to make two different cost structures and physical loss budgets-one for an indoor/outdoor cable design and another for an outdoor cable transitioning to indoor cable. They should examine where the cable comes into the building, how it runs through ceiling space, and where there is potential for damage before deciding which cable to choose.
"As you go in the building, there is more risk of other trades that can damage your cable," says McLaughlin. "You have to be very concerned about the physical integrity of the cable."
But contractors who are migrating toward this cable say they are seeing a lot of benefits, and not all of them revolve around the cable's efficiency. Shaver says contractors who install indoor/outdoor cable also do not have to carry cable breakout kits with them in the field. "The guys who worked for me found it easy to install," Shaver says.
When he was a contractor, Shaver says he worked mostly with riser-rated indoor/outdoor cable. This media could be pulled all the way to the equipment room, he says, without it having to be spliced.
"It was labor saving," says Shaver. "It did not need a buffer tube to be installed over each fiber before termination-it was already tight buffered."
Riser vs. plenum
Riser vs. plenum
Today, plenum-rated indoor/outdoor cable is more popular than ever. Indoor cables typically carry a riser or plenum rating in a commercial application. A riser rating lets the contractor bring the indoor/outdoor cable through a riser space in a building. Until recently, the cables were primarily riser-rated. Now, they are increasingly plenum-rated. Berk-Tek's Adventum cable, for example, is a plenum-rated, water-blocked cable that meets Telecordia's requirements for indoor/outdoor cable.
Plenum-rated cable, however, comes with a price. It is more expensive than riser-rated indoor/outdoor cable. But contractors are seeking the plenum-rated cable because they can pull the indoor/outdoor cable into a plenum space without having to change over to another type of cabling construction.
"If I go into a plenum space, I save myself money and time by using plenum," says Steven Elmore, applications engineer for CommScope.
"This allows you to go straight from your outdoor environment into your indoor space," adds Harpel.
Companies that don't make plenum-rated indoor/outdoor cables say that will soon change.
"We were getting requests for plenum," says Elmore. "So to service our customers, we developed both a loose-tube and tight-buffered version."
---
BRIAN MILLIGAN is senior editor for Cabling Installation & Maintenance.