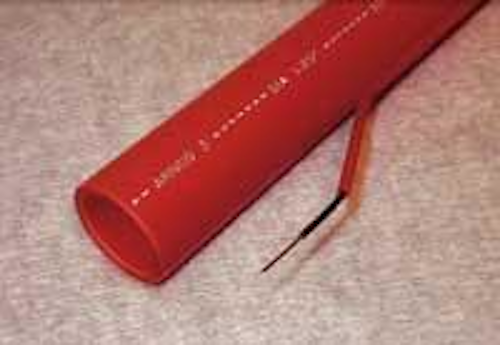 Network controlled audio-visual system
The latest version of NetControl Starter, designed for controlling audiovisual use over a network, now supports the EIKI NPC-1 TCP/IP network interface and more than 70 different EIKI projector models over a LAN/WAN connection. The software includes power controls, change inputs, lens focus and zoom, and volume control. For more demanding control, NetControl Advanced software features an integrated anti-theft control and event scheduler to help audio-visual users keep full control of the equipment. NetControl products are compatible with Windows 2000 and XP.
BITLOGIX SOFTWARE LLC
www.bitlogix.com
Easy-to-find conduit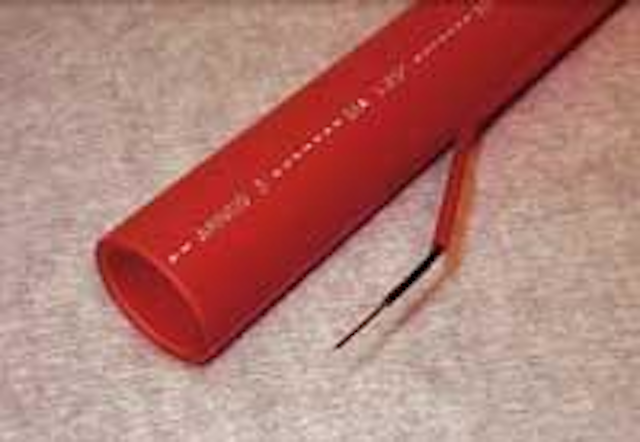 Click here to enlarge image
Signal-Guard is a high-density polyethylene (HDPE) resin-locatable conduit. The product is locatable by traditional locating equipment, either when empty or with dielectric optical-fiber cables. The insulated 16-gauge copper conductor is designed to offer added resistance to corrosion, abrasion, and moisture access. The conductor is securely attached to the conduit's exterior using a co-extruded HDPE bond. It can be separated from the conduit without damaging the wall or jacket. A variety of conduit sizes and wall thicknesses are available. Long lengths are offered in coils or on reels, reducing the number of required splices.
ARNCO CORP.
www.arncocorp.com
Live cable ID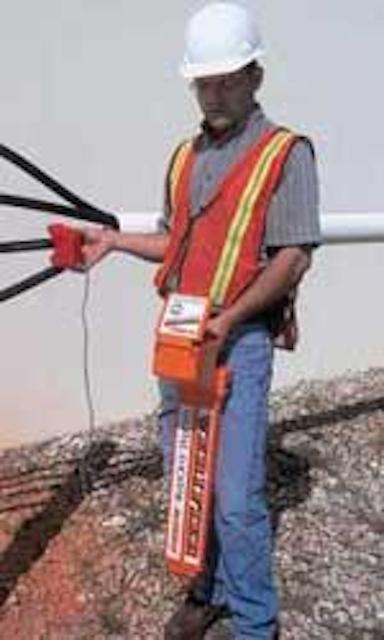 Click here to enlarge image
The Verifier Vision Cable ID feature is now available as part of the Vision Cable Locating and Fault Finding System. Cable ID, which works with energized and non-energized electric systems and locatable telecommunications lines, identifies multiple incoming lines, and once identified, the lines can be spliced and/or rerouted. With the locator's standard coil clamp and the Vision Cable ID clamp, you can ID cable without disengaging any incoming lines. Cable ID Clamp is plugged into the Vision receiver, where you can read the output on a digital strength meter. The company claims that only the energized target cable will show significant signal strength.
McLAUGHLIN BORING SYSTEMS
www.mightymole.com
Optical fiber with flame-retardant buffer
A flame-retardant telecom fiber features 900-µm UL94 V-O-rated PVDF secondary buffer. The buffered fiber has a -40° C to +85° operating temperature range, and is designed so that there is virtually no buffer shrinkage over its operating temperature range. The same fiber is available in a 245-µm standard acrylate coating. The initial fiber in this series operates at 1310 and 1550-nanometers (nm), had reduced bend loss sensitivity in the 1550-nm band, and maintains low-splice loss (according to industry standard SMF-28) fiber that's achieved through a proprietary waveguide design. The fibers are proof-tested to 200-kpsi and are manufactured with industry-leading tolerances on the main optical and geometrical parameters. The buffer is available in a variety of colors, and custom identification printing is available upon request.
NUFERN
www.nufern.com
Pocket-sized distance measurer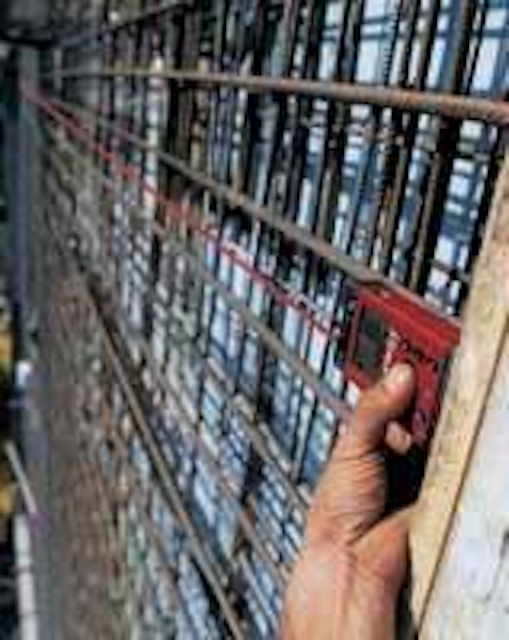 Click here to enlarge image
Working from a single location, the PD 32 Laser Range Meter lets one person take highly accurate and access-free distance measurements for determining cable lengths, and simplifies measuring areas and volumes. The pocket-sized device also subtracts and adds distances. Aim the device at your target, press the measuring button, and the range meter will immediately show the distance-from 2 inches up to 660 feet, with an accuracy of ± 1/16th-inch.
HILTI CORP.
www.us.hilti.com
Two-for-one connector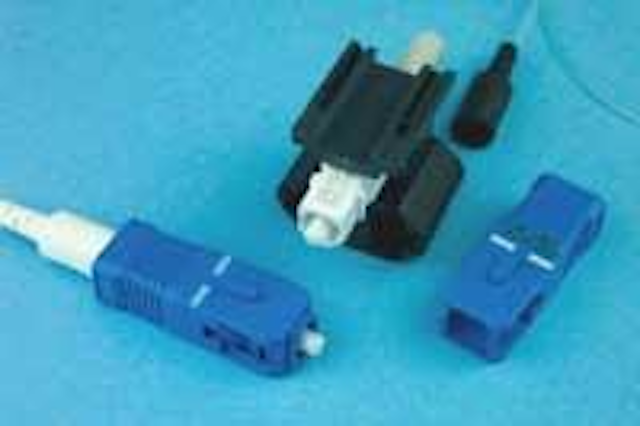 Click here to enlarge image
The FAST-SC universal connector can terminate to both 250- and 900-µm diameter fiber. This two-for-one solution is achieved through a staggered clamping method to the fiber's outer coating. The field-installable connector promises connectorization in less than 30 seconds. The company says the device requires no specialized tools other than standard fiber preparation tools since the connector comes with its own disposable wedge set already assembled to the main housing. FAST-SC has also been factory-polished, enabling preparation and termination in a fraction of the time of other methods.
FUJIKURA EUROPE
www.fujikura.co.uk
Battery-powered cable stripper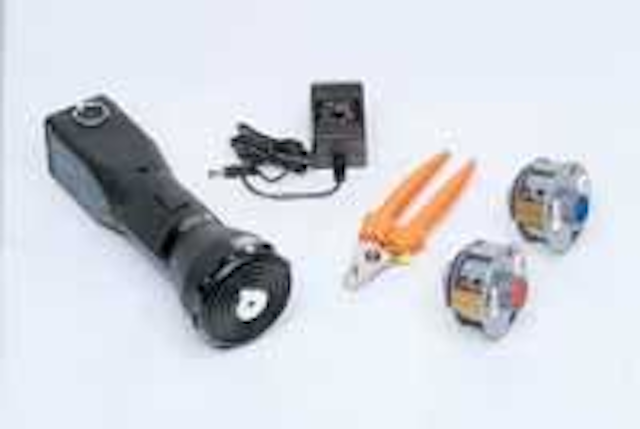 Click here to enlarge image
An enhanced version of the portable Power Cable Stripper delivers up to 250 strips per charge. A replaceable, three-level cutter head is pre-set to stip coax cable for standard BNC and M-BNC connectors. Individual blades are adjustable for precision stripping. The battery-powered device weighs two pounds, and has been redesigned for improved user comfort.
TROMPETER
www.trompeter.com
Workgroup switch
The TigerSwitch 10/100 Standalone 24-port, 10/100 +2 1000Base-T/SFP combo ports, designed especially for workgroup switching applications, features 24 fixed 10/100 ports and two 1000Base-T/SFP combo ports. Providing flexibility for fiber or copper connectivity, either or both of the combo ports can be upgraded to fiber with optional SX, LX or ZX SFP transceivers. These compact switches are 1 RU high and built for high-bandwidth applictions in high-traffic environments. The device has a non-blocking switching architecture designed to ensure high performance. Security features include ACLs and 802.1x for secure network access enabled by RADIUS and TACACS+, and SSH, SSL/HTTPS for secure management. Flexible traffic prioritization and rate-limiting enable QoS across the network, while network segmentation is provided by virtual LANs. The switch also offers the Spanning Tree Protocol as well as multi-trunking with LACP, designed for higher bandwidth and better performance.
SMC NETWORKS
www.smc.com
Lightning protection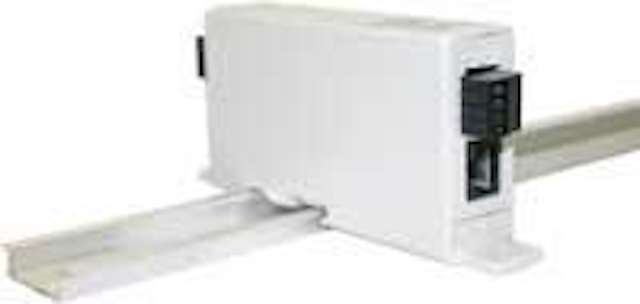 Click here to enlarge image
The ZoneBarrier 91292 is designed to protect high-speed digital interfaces from transients caused by direct or indirect lightning strikes. The three-stage device features silicon avalanche diodes, which are ultra-fast diodes and gas tubes combined with current-limiting components to form three distinct stages of protection. ZoneBarrier, says its manufacturers, is ideally suited for use between the smartjack and T-1 and E-1 equipment. The device provides RJ-48C and pluggable hardwire input/output connections for easy installation, and can be DIN rail-mounted or mounted on any flat surface. Protecting up to four lines, the unit provides 10-kA of surge capacity per line, with a let-through voltage of 19 volts. Users can mix and match any combination of telco, data, LAN and wireless protection.
ATLANTIC SCIENTIFIC CORP.
www.ascsurge.com
Firestop system selector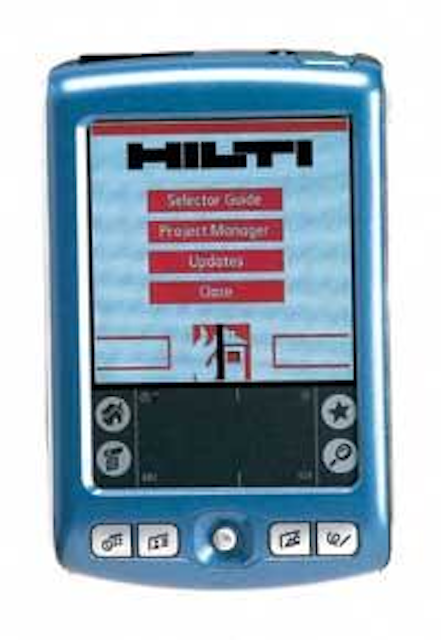 Click here to enlarge image
Hilti's FS 411 Firestop System Selector puts firestop system recommendations into the installer's hand via a PDA containing a "smart" questionnaire. Sorting through the many thru-penetration firestop systems, the FS 411 quickly determines all acceptable Hilti firestop system options based on user input. The systems are then displayed in order of recommendation. Detailed installation instructions can be viewed for any of the selected systems. The smart questionnaire screens out irrelevant questions based on answers given previously. All input can be loaded in less than a minute-including wall or floor type, thickness, fire rating, type and subtype of penetrant, minimum and maximum annular space, need for and type of insulation and sleeve, and top or bottom access. The PDA considers ease and typical cost of each installation option before making recommendations.
HILTI CORP.
www.us.hilti.com
OSP connector system
The RC Rugged Connector System for the outside plant is an extension of the manufacturer's Pathways FTTP end-to-end connectivity solution. Included are a connector system, drop cables, drop terminals, and MDU terminals. The RC optical connector and adapter, hardened to protect against extreme temperature, moisture, and chemical exposure often found in the outside plant, connect multi-port fiber terminals or fiber terminal closures (typically located at the street) with optical network terminals (ONTs) via RC drop cables. The system is installed on an enclosure's external surface so that "plug and play" connections can be completed without opening the enclosure. The RC system, says the manufacturer, is based on standard SC connector and adapter technology.
FONS CORP.
www.fons.com
PC-based OTDR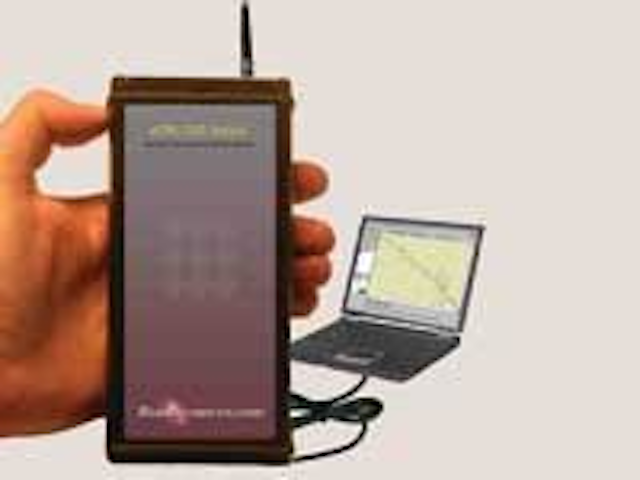 Click here to enlarge image
The uOR series are billed as the smallest fully functional line of PC-based OTDRs on the market. The uOR-100 series multimode OTDR, with a dynamic range of 26 dB, is designed for the premise market while the uOR-200 series singlemode devices offers four versions with dynamic ranges from 31 to 43 dB for accurate measurement of long-haul and outside plant applications. The testers operate with a USB interface, eliminating the need for batteries. Designed specifically for field installation and service, the micro OTDRs test for fiber link breaks, splice loss, attenuation and distance. Windows-based software is capable of simultaneously displaying, sorting, reading, analyzing and printing several traces.
ADVANCED FIBER SOLUTIONS INC.
www.afs-i.com
Enhanced labeler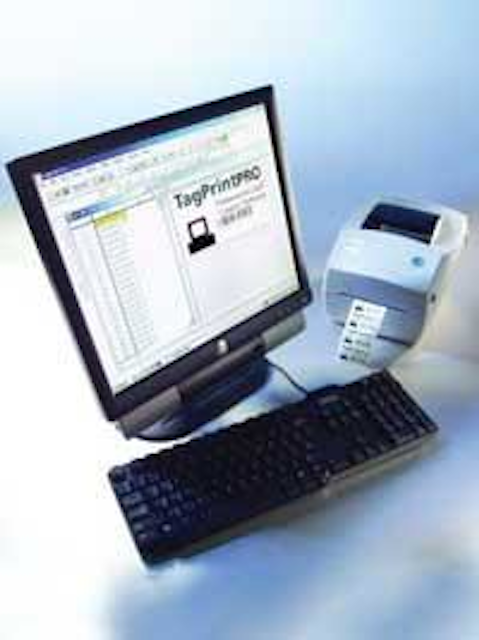 Click here to enlarge image
Designed with new import capabilities, design options, and faster printing, TagPrint Pro 2.0 promises to provide fast and thorough label creation and printing on-site. Among the new features are: complete serialization, auto date and time stamp, auto font sizing, complete bar code database, design wizard, complete graphic image capabilities (including flip, inverse and mirror images), printing to multiple printers at one time, and OBDI and ASCII import capabilities.
HELLERMANTYTON
www.htamericas.com
Intelligent cabinet monitoring
The Smart Cabinet II is a technically integrated enclosure engineered to secure servers and computer equipment. It allows remote monitoring and control via a Web browser, and lets you control personnel security access. Using Simple Network Management Protocol (SNMP), each cabinet maintains access control to any given door, and warns if intrusion to a cabinet has taken place. The cabinet's security frame has keypad access via PIN code, along with a door solenoid and contact switch for each floor. The solenoid is in the lock position when off. When activated, the solenoid lifts to release the door for the operator to open.
SYSTEMS MANUFACTURING CORP.
www.smcplus.com
Ground resistance and resistivity tester
The Amprobe GP-2 Ground Resistance and Resistivity Tester is designed to measure earth ground resistance using three-point or two-point tests, and automatically calculates resistivity using four-point tests. The tester features an automatic voltage measurement that prevents false measurements and automatically applies three testing frequencies to ensure accurate readings. It also includes test leads, auxiliary electrodes and software. With storage capacity for 999 results, the Amprobe GP-2 also includes an RS-232 download capability.
SPX SERVICE SOLUTIONS
www.amprobe.com
Firestopping sleeve system endcap
A solution for sleeve systems being harvested when abandoned cables are removed, these endcaps are designed to seal the ends of empty sleeve systems. Available for the manufacturer's Smooth Penetrator (EMT) and Threaded Penetrator (rigid) sleeve systems, the endcaps come in 1-, 2-, and 4-inch sizes. The manufacturer's intumescent putty is included, and can be taken from the endcaps and used to seal the ends when the sleeve is ready for cables. The endcaps are reusable and rated from 1- to 4-hour systems.
UNIQUE FIRESTOP PRODUCTS
www.uniquefirestop.com
Limited-combustible UTP cables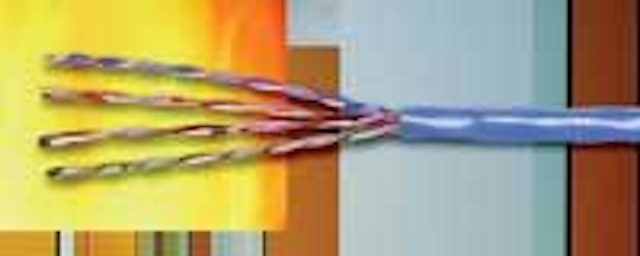 Click here to enlarge image
PlenumPlus is a family of copper cables manufactured with a ThermoPlen LC jacket. According to the manufacturer, the jacket material offers flexibility, strip-ability, and reduced memory effect. Additionally, the cable is improved over previous-generation products with respect to its ability to take color concentrates and printability, eliminating the need for marker tapes previously used with limited-combustible cables. The PlenumPlus family uses Dupont Teflon-brand FEP on conductor insulation, as well as ThermoPlen LC in the jacket. The cables are available from stock in blue or white jacket colors in 4-pair Mega LAN Category 5e+, 4-pair AdvanceNet Category 6e, and 4-pair GigaLAN Category 6e+ brands. Designs for 25-pair Category 5e and optical-fiber cables are under development.
MOHAWK
www.mohawk-cable.com
Dual-zip multimedia cable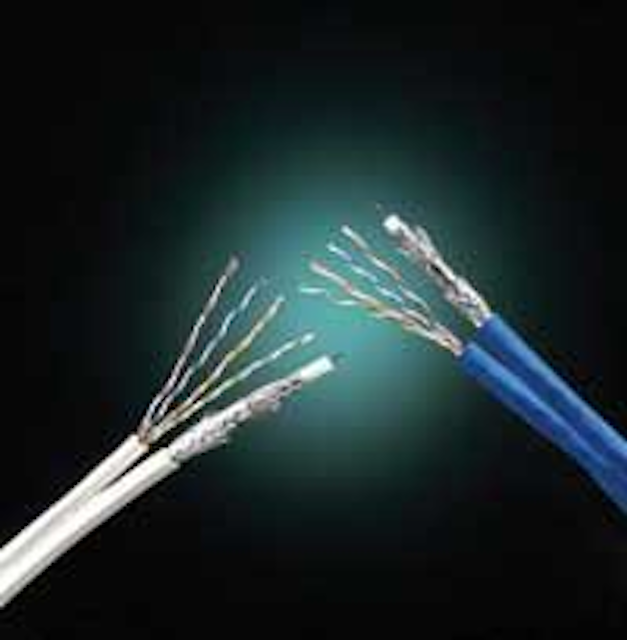 Click here to enlarge image
The CatLink Dual Zip is a 24/4-pair Category 5e unshielded twisted-pair cable tested to 200 MHz that is joined with a satellite-grade RG-6/U quad-shield coaxial cable that is tested to 2.4 GHz. Designed for TIA/EIA Residential Grade 1 wiring applications, the CatLink Dual Zip is especially suited for single cable pulls to various locations that incorporate both twisted-pair and coaxial requirements. Its construction is capable of handling voice, video, and data in one cable. An optional version features a dual-shield coaxial cable, consisting of a foil and 60% braid designed to speed connector termination.
HONEYWELL
www.genesiscable.com
Legacy-equipment remote monitoring
The SNMP-Link SL81 is a remote-site management device that can be used for unmanned sites housing non-SNMP-enabled equipment, such as power sources, old PBXs, batteries, aging telecommunications boxes, serial alarms, contact closures, and analog inputs. The device detects alarm conditions at remote sites and monitors a host of environmental factors, such as temperature and humidity. It also monitors any devices present that harness SNMP. When using the SL81, network staff at a head office can talk directly to serial devices at distant locations. Once an alarm condition is detected, a technician can connect to the serial device to diagnose and correct the problem.
OMNITRONIX
www.omnitronix.com
Handheld mini-OTDR
The FIS Certification Mini-OTDR is now available in a handheld design. It measures 7.1×4.6×3 inches and tests at 850, 1300, 1490, and 1550 nanometers. According to the manufacturer, it is ideal for repair and maintenance applications, as well as new installations. Used with the manufacturer's certification software, the mini-OTDR lets you document and certify networks. In addition to testing and analyzing optical-fiber systems, the unit can be used to optimize quick-connect connectors and mechanical splices.
FIBER INSTRUMENT SALES
www.fiberinstrumentsales.com
Mini-coaxial cable
The Mini-Coax cable from CommScope is designed for high-density security camera applications where space is at a premium. The CM-rated cable is more lightweight, flexible, compact, and economical than RG-59 and RG-6 cables, says its manufacturer. The Mini-Coax cable can be used in CCTV, analog, and digital video applications. It contains a 25-AWG solid copper conductor, foam dielectric, 95% bare copper braid shielding, and FR-PVC jacket.
COMMSCOPE
www.uniprisesolutions.com