Getting a handle on tool kit essentials
Your specific optical-fiber application and fiber connector preference will guide your purchasing decision.
Feb 1st, 2005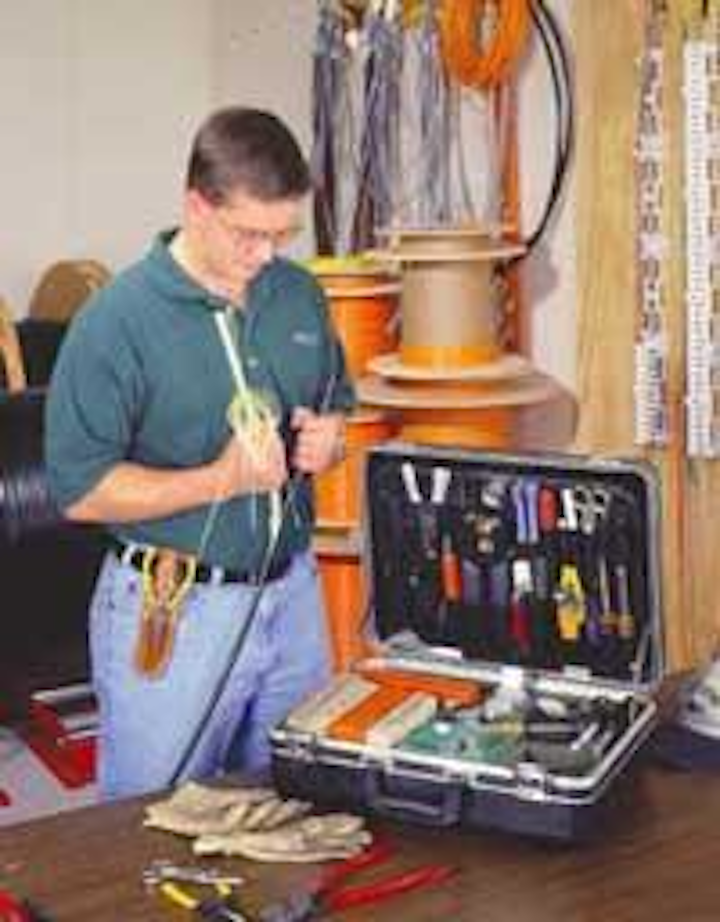 Whether it's splicing, ribbonizing, mid-span access, or connector installations, a vast number of optical-fiber tool kits are available from tool manufacturers, distributors, and cable and connectivity vendors.
Optical-fiber tool kits include specialized cutters to allow removal of the outer optical-fiber cable jacket. (Source: Corning Cable Systems)
Click here to enlarge image
While many kit contents overlap, vendors and distributors continue to improve their products. "Many kits were originally created for specific customer requests," says David Hall, marketing manager for private networks at Corning Cable Systems. "Now, we're looking at which kits are the most popular and working to optimize them for the premises market."
But it's the specific application and connector preference that will influence most purchasing decisions.
Getting what you need
In outside plant (OSP) applications, cable prep tools are aimed at handling larger diameters, armor, and water-blocking materials. "Fusion splicing tool kits have the heavy-duty jacket removal tools, like cable cutters, hook blades, ring cutters, and pliers," says Hall. "While those tools are needed to get into the outside plant cable, the smaller cable prep tools available in connector kits get the installer down to the individual fiber level in the premises environment."
"Our Basic Tool Kit contains all of the tools you need to prep cables in a premises application," says Laura Gribneau, international sales manager for Fiber Instrument Sales (FIS; www.fiberinstrumentsales.com). "The kit comes with Kevlar scissors and a round cable cutter that can handle up to 1 -inch diameters. If customers need the heavy-duty tools and cutter to deal with larger outside plant cable or armor, they may need to order those tools separately."
One way to ensure installers have every tool they need in their kit is to offer customization. FIS lets customers order custom kits by selecting the tools they need for specific applications. "We can take a wish list of tools and put together a kit in one of our soft or hard kit cases," says Gribneau. "While our basic kit has most of what customers need, if they want to add larger prep tools for outside plant applications or swap out a stripper for one they're more comfortable using, we can do that."
When it comes to tool and tool kit preference among installers, application and experience are the deciding factors. "Installers know what they have and what they need, and once they become comfortable with a certain tool or manufacturer's connector, they tend to stay with it," say Gribneau. "Occasionally, we get calls from people that are new to the industry, and they ask us what they need. That's when we probe them for information about the application, find out what tools they already have, and then provide several options."
Overlapping essentials
Standard tools and consumables are common in optical-fiber tool kits geared toward the installation of connectors in premises applications. "Really, the only difference between vendor kits is the need for specialized tools that work only with that manufacturer's specific connector," says Gribneau. "Other than that, many of the items overlap."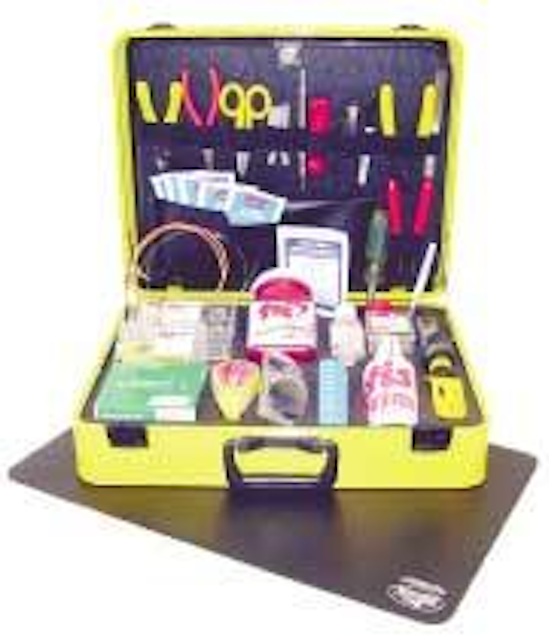 While Fiber Instrument Sales' basic tool kit offers most of what users typically need, custom kits can be ordered that include tools needed for specific applications.
Click here to enlarge image
Scissors, strippers, tweezers, and rulers are just some of the standard tools found in virtually every kit. Consumables like cleaning supplies, permanent markers, alcohol wipes, electrician's tape, and compressed air are also common overlapping contents. "Cleaning supplies are a part of every kit, because cleanliness is the most important factor in maintaining performance when installing connectors and fusion splicing," says Hall. "Tape or a permanent marker is used to mark how much jacket and buffer should be removed, while jacket and buffer strippers are needed to access the fiber."
Some consumables, such as compressed air and alcohol, can only be shipped via ground service because they are considered hazardous materials and cannot be placed on an airplane. "The hazardous materials presented a problem for us when customers needed us to send a kit overnight or overseas," says Gribneau. "We solved that by adding 'air' kits to our inventory that include everything except the hazardous materials. Installers can then purchase those hazardous materials locally."
A buffer tube stripper is the most common tool in an optical-fiber tool kit, used to remove the 900- or 250-µm buffer coating off of a 125-µm fiber by making contact only with the buffer and avoiding any contact with the center of the conductor. The two buffer strippers most often included in an optical-fiber tool kit are the Miller and Clauss optical-fiber strippers. According to Stephanie Beck, marketing communications, Ripley Company (www.ripley-tools.com), "The Miller FO103-S stripper and Clauss No-Nik strippers we find to be our top two products that are included in vendor tool kits."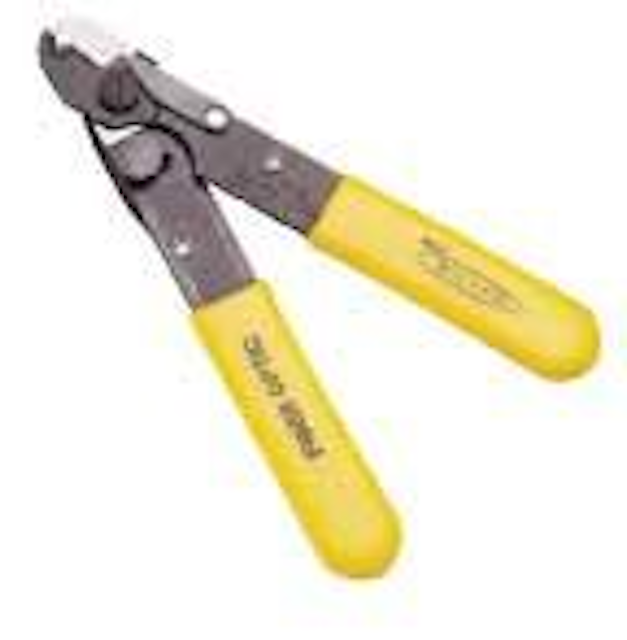 The Clauss No-Nik stripper is another common buffer tube stripper that avoids any contact with the center of the conductor, as its name implies. (Source: Ripley Company)
Click here to enlarge image
The Miller and Clauss names have been valued for many years in the industry, offering a variety of round cable strippers, Kevlar cutters, armored cable cutters, scissors, cleavers, and scribes. "The Miller and Clauss strippers are comparable to each other," says Beck. "We've simply found that those who start with one brand, stay with one brand. The difference between the two lines is that Miller offers some larger optical-fiber prep tools for dealing with outside plant cables and armor, while Clauss is geared more towards connector installation with a greater selection of cleavers, polishing pads and pucks, and scribes."
Priced right to sell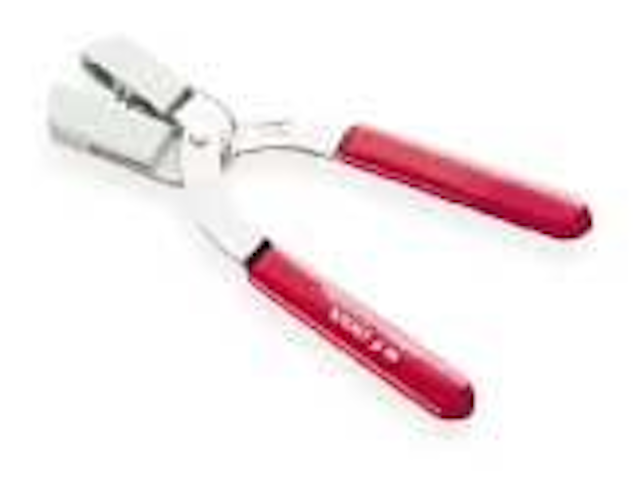 The Miller buffer tube stripper is a common tool found in optical-fiber tool kits used to remove the buffer coating from a 125-µm fiber.
Click here to enlarge image
The ultimate goal of cable and connectivity vendors to sell more connectors has virtually everyone offering tool kits. "We sell tool kits to enable sales of optical-fiber connectors, and vendors compete with each other through these kits," says Hall of Corning Cable Systems. "We've seen specials in our industry where one vendor will give away their connector installation kit in exchange for someone else's, or they might give away a free or reduced kit with the purchase of a certain number of connectors."
Like other manufacturers, Corning Cable Systems has optical-fiber connector installation tool kits for every type of Corning Cable Systems connector, from heat-cure and anaerobic to UV-cure and mechanical. "The kits our customers choose depend solely on which connector they use," says Hall. "Heat-cure kits are not typically used out in the field, while the kits for our UniCam mechanical connector are definitely the most popular. We have optimized our UniCam connector tool kit family to include four kits at different price points."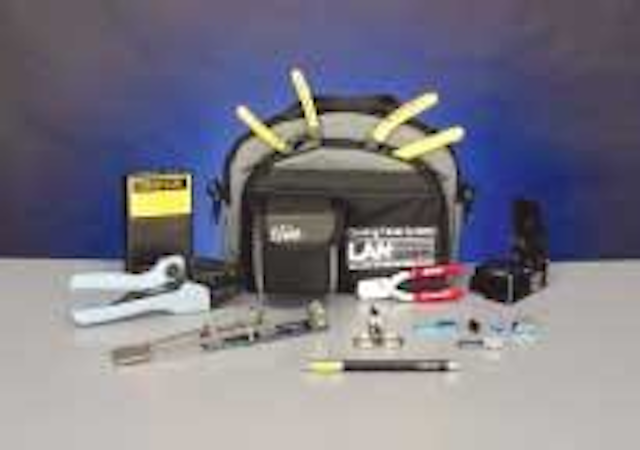 Corning Cable Systems' Elite UniCam tool kit includes a high-performance cleaver and fiber handlers for cleave performance, as well as a visual fault locator to help ensure proper connector installation.
Click here to enlarge image
While each UniCam tool kit contains common strippers, scissors, tweezers, and consumables, the higher-end Elite UniCam tool kit also includes a high-performance cleaver and fiber handlers for cleave performance, as well as a visual fault locator. "If installers want a little more confidence that they have put on the connectors properly, they might opt for the higher-end kit with visual feedback and the better cleaver, especially if they're dealing with singlemode fiber," says Hall. "The other kits cut costs for those installers who may already have a visual fault locator, or who are just starting out."
Offering stripped-down kits with key essentials is one way that manufacturers are cutting costs for customers. In October 2004, Leviton Voice & Data introduced its Opt-X Light Fiber tool kit, designed to offer a cost-effective kit with the essential tools for quick field terminations of Leviton's Thread-Lock optical-fiber connectors. The kit offers a microscope to provide a view of ferrule cleanliness, a scribe, polishing pad, jacket stripper, Thread-Lock Tightening tool, scissors, and the vital 900-µm buffer removal tool. According to Leviton, the buffer removal tool is accurate to +0.0127 mm/-0 mm and provides consistent adjustment-free removal of buffer without damaging the fiber.
Reaching the ultimate goal
Despite some vendors working to optimize optical-fiber tool kits and offering new cost-effective solutions, one fact remains: The contents of these kits don't change much from year to year, especially when it comes to common tools. "We don't currently plan to modify the existing Miller and Clauss strippers, because they work, and they work well," says Ripley's Beck. "These tools have been this way for years, and they've become industry standards in their own way."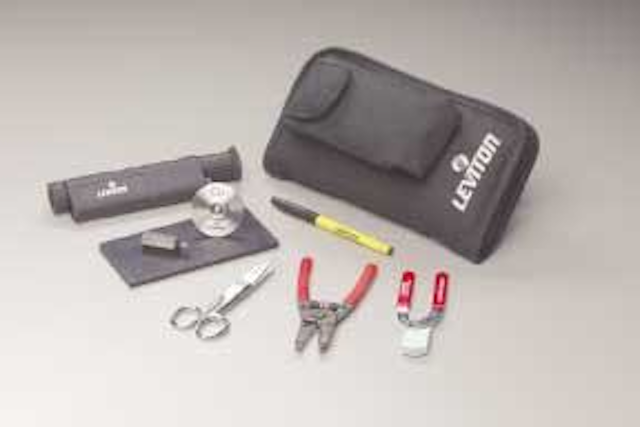 Leviton's new Opt-X Light Fiber tool kit is billed as a cost-effective solution, with all the essential tools for quick field terminations of Leviton Thread-Lock optical-fiber connectors.
Click here to enlarge image
As a distributor of optical-fiber connectors and several manufacturers' tool kits, FIS has seen a migration towards the quick-connector termination kits designed for a specific manufacturer's mechanical connectors. They've also experienced an interest in kits for the maintenance and restoration marketplace. "For restoration and maintenance, customers may only need to do a few mechanical splices or connectors, and we've responded by offering our basic kit with splicing assembly tools and a cleaver," says Gribneau."
"Every manufacturer has their connector product lines and corresponding installation kits," says Hall. "While most usually have a few custom kits due to customer requests, it's important to also have a fully loaded kit for the installer who wants everything included in a single package, as well as a stripped-down kit for those who already have some of the tools or who are just getting into the business and need a cost-effective alternative."
Hall continues, "The key is to get the proper tool kit into the hands of the installer, because if they have your tool kit, they'll use your connectors. We want to enable success with the connector installation, and that's the ultimate goal."
BETSY ZIOBRON is a freelance writer covering the cabling industry, and a regular contributor to Cabling Installation & Maintenance. She can be reached at: bziobron@comcast.net
---
CABLING TOOL KIT SUPPLIERS
The following companies manufacture tool kits and related products for optical-fiber installation:
AFL Telecommunications, www.afltele.com
Aim Electronics, www.aimelectronics.com
Alltel Communications Products, www.alltelcpi.com
Corning Cable Systems, www.corning.com/cablesystems
Harman Associates, www.harmanassociates.com
Harris Corp. Network Support Division, www.testsets.harris.com
Hubbell Premise Wiring, www.hubbell-premise.com
IDEAL Industries, Inc., www.idealindustries.com
KITCO Fiber Optics, www.kitcofo.com
Leviton Voice & Data Division, www.levitonvoicedata.com
Milwaukee Electric Tool Corp., www.milwaukeetools.com
NORDX/CDT, www.nordx.com
Optim Products, Inc., www.optimproducts.com
Ortronics, Inc., www.ortronics.com
Paladin Tools, www.paladin-tools.com
Platt Luggage, Inc., www.plattcases.com
Ripley Co., www.ripley-tools.com
Rostra Tool Co. / Sargent Quality Tools, www.rostratool.com
Sumitomo Electric Lightwave, www.sumitomoelectric.com
Tempo, www.tempo.textron.com
TrueView Products, Inc., www.trueviewproducts.com
Tyco Electronics / AMP Netconnect, www.ampnetconnect.com