NEW PRODUCTS
A vertical finger duct cable management system comes in lengths of 35 and 78 inches, and in 33 and 45-inch duct sizes for routing and managing patch cord cables within the telecom closet.
Feb 1st, 2005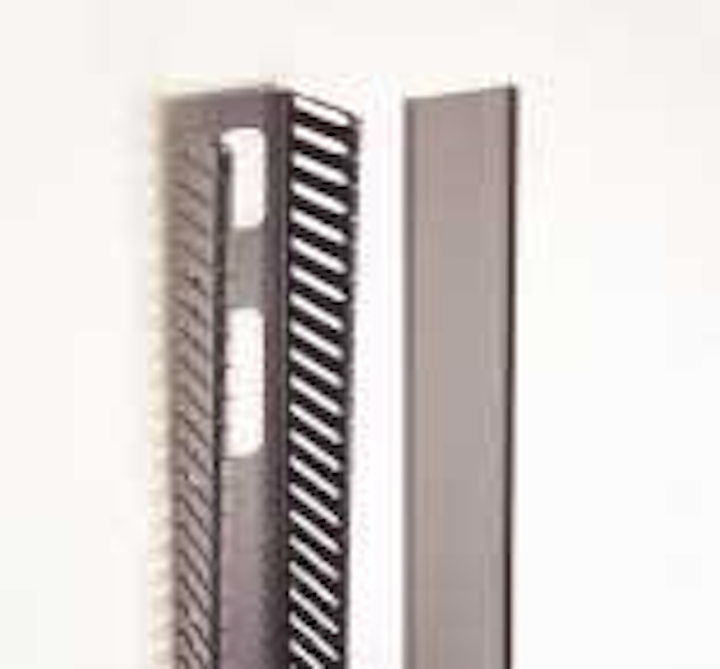 Cable management finger ducts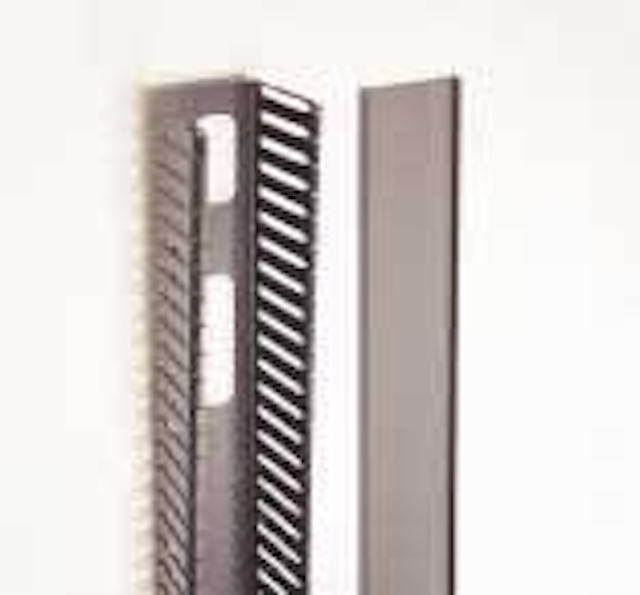 Click here to enlarge image
A vertical finger duct cable management system comes in lengths of 35 and 78 inches, and in 33 and 45-inch duct sizes for routing and managing patch cord cables within the telecom closet. The company says the finger ducts' material offers flexibility and provides solid support for all types of cabling installations.
ICC
www.icc.com
Space saving flexible innerduct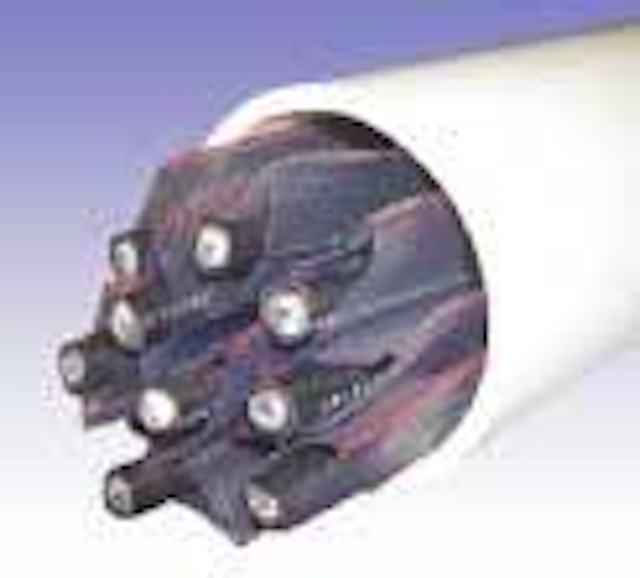 Click here to enlarge image
CableGuide SC is a flexible, single-cell constructed, textile-based innerduct that's engineered to save space by conforming to the shape of the cable. Compared with installations that involve rigid, fixed-diameter innerduct that limits the amount of cable that can be installed, the CableGuideSC is designed to increase conduit space by conforming to the inside of the conduit and segregating multiple cables. It lets you place cables individually or several at once.
FEDERAL MOGUL
www.federal-mogul.com/cableguide
Rack-snap insertsfor patch panels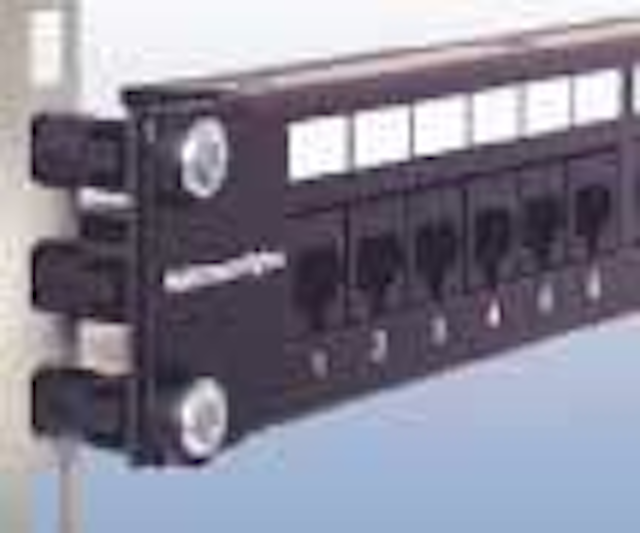 Click here to enlarge image
Rack-Snap inserts are patch panel mounting devices designed to significantly reduce installation time. The inserts let you take 24- or 48-port patch panels from the box and snap them directly to the cabinet. Inserts are re-useable on all standard rack unit sizes, and fit into most manufacturers' EIA 310-D standard racks or cabinets having square holes.
HELLERMANNTYTON
www.hellermann.tyton.com
Pocket probe forfiber networks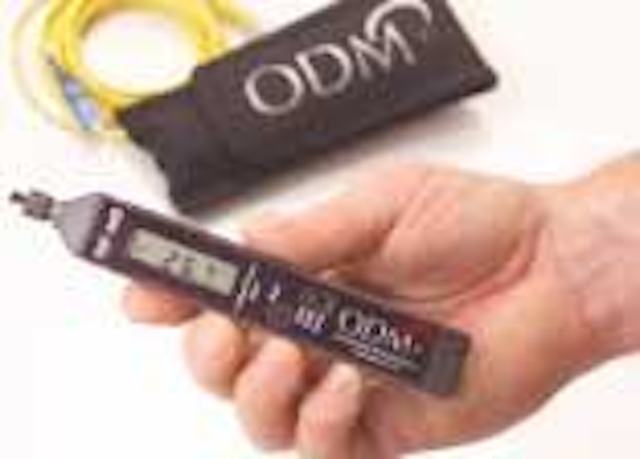 Click here to enlarge image
The RP 440 PocketProbe is a hand-held power meter for optical-fiber network testing that features a custom LCD display and germanium detector for NIST-traceable measurements at 850, 1310, 1490 and 1550 nanometers (nm). The RP 440 probes, according to the manufacturer, provide accurate loss measurements and 2-kHz tone detection.
OPTICAL DESIGN MANUFACTURING INC.
www.odm-inc.com
Rack-mounted drawerwith monitor, keyboard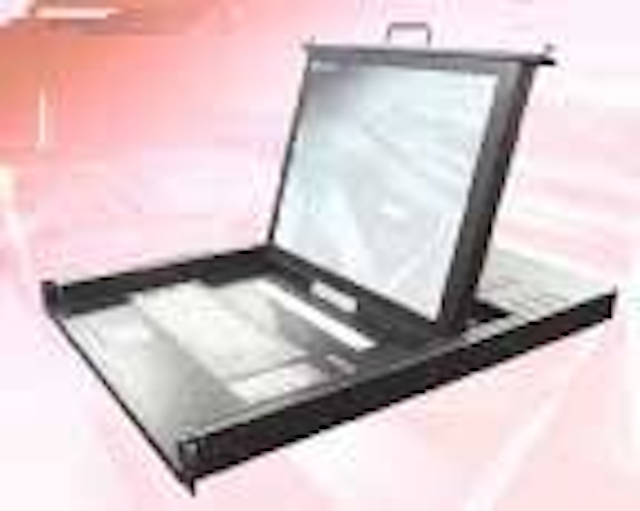 Click here to enlarge image
Built for space constraints and better organization in telecom rooms, the SMK-590R 1U rack-mounted console drawer with KVM switch includes a 17-inch monitor, keyboard and mousepad. The keyboard/video/mouse (KVM) switch lets one keyboard, monitor and mouse control more than one computer/server at a time. Each drawer can handle up to 16 computers or servers, and can be daisy-chained to others for common computer telephony among large computer rooms, storage area networks and Web server applications. Monitor up to 64 devices simultaneously with additional KVM switches. Built on heavy-duty metal sliding rails and a lightweight heavy-duty chassis, the SMK-590R extends 35.4 inches from the base and lets you angle the monitor to suit your viewing preference. The keyboard is covered with a moisture-resistant membrane that prevents spillage and dust from entering the keys.
ACME PORTABLE MACHINES
www.acmeportable.com
Fiber termination tool kit
Click here to enlarge image
Containing essential tools for field termination of optical-fiber connectors, the Opt-X Light Fiber Toolkit features a 100 optical-fiber microscope with precision glass optics and oblique illumination that aid in clearly viewing ferrule cleanliness and core condition. A 900-µm buffer remover tool is designed to be accurate to +.0127 mm/-0 mm and offers adjustment-free buffer removal without fiber breakage. Also included are a scribe, 2.5-mm polishing fixture, rubber polishing pad, jacket stripper, thread-lock tightening tool, and aramid strand scissors. The kit's carrying case is designed with space for extra tools.
LEVITON VOICE & DATA DIVISION
www.levitonvoicedata.com
Shielded twisted-pairterminal block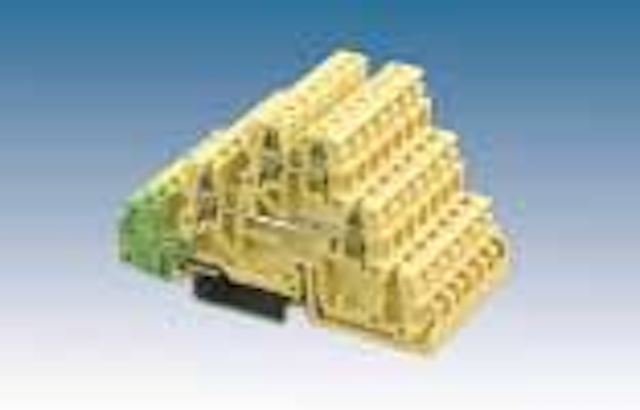 Click here to enlarge image
The TDE.2 terminal block is designed to save space in enclosures when terminating shielded twisted-pair cabling. The device mounts directly to a din rail and features simple screw-clamp connections to the cable. The first level of the three-level terminal block provides a direct connection to the mounting rail, while the second and third levels provide a feed-through connection. The TDE.2 accepts up to 12 AWG wire, and allows up to four cables per inch of enclosure space. Jumpers are available for circuit bridging.
AUTOMATION SYSTEMS INTERCONNECT INC.
www.asi-ez.com
High-volume polisher for connectors, ferrules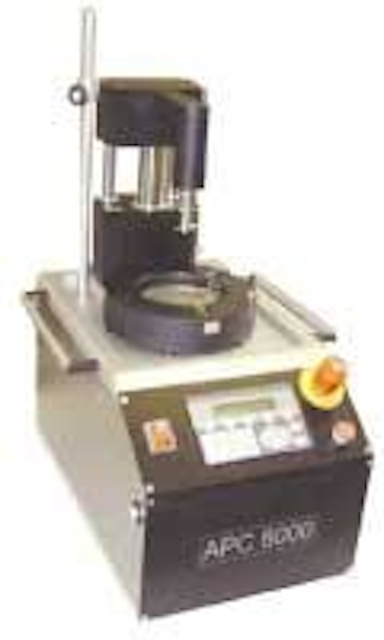 Click here to enlarge image
The APC-8000 high-volume polisher for 2.5-mm standard and 1.25-mm small-form-factor and multifiber connectors and ferrules features three locator posts on the perimeter that mate and lock with appropriate slots within the safety cover assembly. During operation, this precise fixture-to-platten locking mechanism is designed to confine fixture motion to vertical plane, eliminating unwanted fixture motion on the horizontal plane. The polisher's design also minimizes water spillage while providing continuous operation with little lubrication required. The APC-8000 also features a wide range of speeds that are suitable for heavy production schedules.
SENKO ADVANCED COMPONENTS INC.
www.senko.com
Earthquake-ready cabinets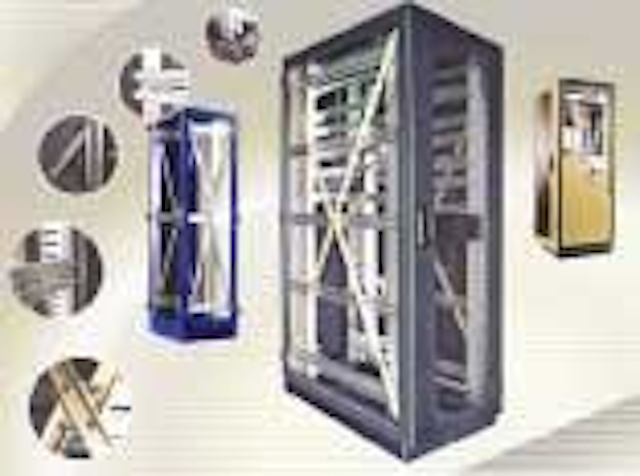 Click here to enlarge image
Heavy-duty welded aluminum telecom equipment cabinets in 19- and 24-inch models are designed to be lightweight yet meet NEBS Zone 4 seismic specifications. Aluminum extrusions are combined with a seven-gauge steel base to provide a rugged floor-mounting design that's built to resist shock, bending, and vibration stress. Crafted for both office and remote installations, the cabinets weigh 50% less than typical welded steel cabinets. Each seismic cabinet is customized to fit its application, including cooling, mounting, cable ducting, and power distribution feaures.
OPTIMA EPS/ELMA BUSTRONIC
www.bustronic.com
DVD tutors on fiber testing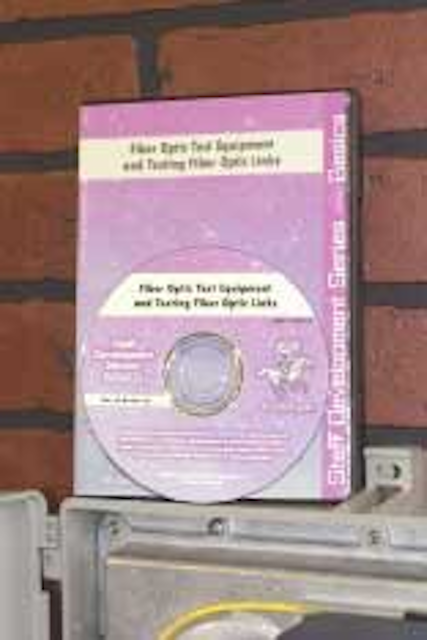 Click here to enlarge image
Fiber Optic Test Equipment and Testing Fiber Optic Links is a DVD that covers basic optical-fiber test equipment used by installers and technicians for acceptance testing, troubleshooting and documenting links. Technicians will learn how various test equipment works and how to choose the right device for the job. Topics include multimode and singlemode optical loss test sets, reflectometers, visual tracers, fiber identifiers for mid-entry, visual inspection equipment, how to test multimode and singlemode premises applications and singlemode OSP applications, and how to compile proper documentation.
THE LIGHT BRIGADE
www.lightbrigade.com
Connecting in a matter of seconds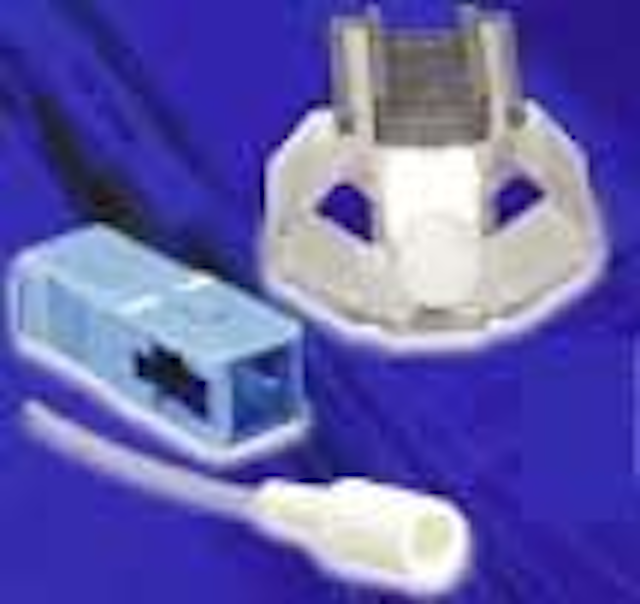 Click here to enlarge image
With a promised fiber connectorization time of less than a minute, the FAST-SC connector is factory-polished and features V-groove mechanical splicing to eliminate the use of epoxies. According to the manufacturer, average insertion loss for singlemode fiber is 0.2 db with return loss of55 db, while multimode average insertion loss is 0.03 db. The connector is especially suited for fiber-to-the-home installations.
FUJIKURA EUROPE
www.fujikura.co.uk
Power through wood,concrete or plastic
Click here to enlarge image
For cable installations requiring access through a variety of building materials, the UH650 half-inch universal hammer/drill features a variable speed trigger, forward and reverse functions, and is designed especially for drilling small diameter holes for anchoring in masonry, wood or steel. The 13-inch, 5.2-pound drill has a constant-on button, rubber grips, and anti-vibration motor to reduce user fatigue. A proprietary grease chamber prevents leakage to keep gearing and pinion well-lubricated, reducing heating and wearing of parts. Hole saws, as well as bits for ship auger, stepper, multi-angle, jobber, spade and masonry techniques, are available from the company.
HILTI INC.
www.us.hilti.com
10A micro-ohmmeter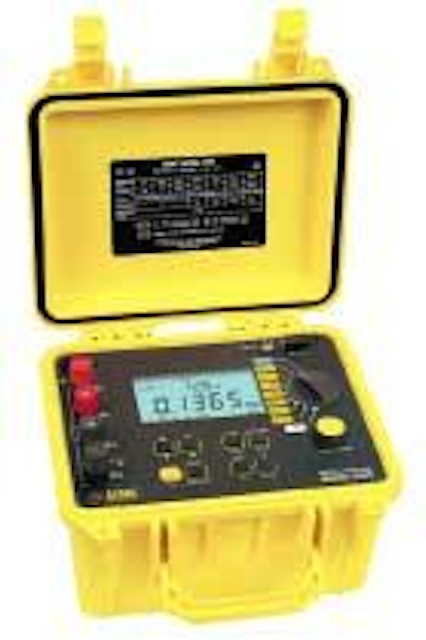 Click here to enlarge image
The 10A micro-ohmmeter Model 6250 is billed as a rugged, low-resistance tester designed for plant maintenance and field use. Using a four-lead Kelvin method of testing, the Model 6250 offers result accuracy within 0.05%. Resistance measurements are automatically calculated, taking into account the measurement value, ambient temperature, metal type, and metal temperature coefficient. Metal temperature can be manually entered by the operator or directly measured by the Model 6250 with an optional RTD temperature probe. The ohmmeter is designed to conduct tests on both resistive and inductive material, with operator selection directly from the front panel. Three test modes are available: resistive (instantaneous mode), inductive (continuous test), and auto (repetitive tests). Up to 1,500 measurements can be stored and printed directly to a printer or from a PC. The Model 6250 lists at $3,950.
AEMC INSTRUMENTS
www.aemc.com
Dome camera for indoor applications
The D10D dome camera provides integrated image storage, microphone, loudspeaker, passive infrared sensor, and two additional image sensors that can be positioned independently. These capabilities let the camera monitor two different angles of a room, or two areas of a building. Lenses with different focal lengths are available, including a tele lens, which allows viewing farther-distance areas. The Day-and-Night version of the D10D is equipped with a color and low-light black-and-white sensor, and switches image sensors automatically according to the illumination of the scene under view. All camera models have 1.3-megapixel resolution. They also include image-enhancement features that let the camera record high-contrast images of low-contrast scenes.
BATT NETWORKS
www.batt.co.uk
Data-center cabinet monitoring
The E-Line system lets data-center managers and security officers control physical access to their cabinets. Based on the manufacturer's swinghandle latching design, the E-Line system combines the latch with software for controlling and monitoring access with a high degree of flexibility. The software package is the user portal for controlling the swinghandles, presenting monitoring information from numerous viewpoints. It features several control-mechanism options for control-secured areas. Remote-monitoring capabilities let the data-center manager control and monitor access without being present in the data center. Access to individual or groups of cabinets can be granted or removed online. The system records all attempts at access, whether successful or unsuccessful.
DIRAK
www.dirak.com
One generator, amplified probe
The Amplifier Probe and Tone Generator improve productivity and simplify cable identification. The tone generator provides four functions: tone generation, continuity testing, talk battery, and line-polarity confirmation. It features a separate talk-battery mode, auto-off after three hours, and the ability to select three tones from the front panel. The built-in regulated amplitude generates an unbalanced tone signal that the company claims travels farther on Category 5+ cables. It offers constant tone amplitude over the life of the battery and two-tone amplitude, normal and half. The RJ jack allows for easy replacement of the lead set or cable assembly. The amplifier probe is designed for exceptional signal acquisition sensitivity, its manufacturer says, to assure pinpoint identification in congested cable bundles. The volume control is adjustable to suit a broad range of working environments. It features an easy-to-replace tip that can be changed without opening the case. The probe is designed to work with any tone generator on twisted-pair, coaxial, and de-energized AC wiring. All-in-one kits are available, and include an amplifier probe, a tone generator, a lead set, and a cable assembly enclosed in a soft black pouch or durable case for storage in the field. Both units have a no-tool battery-change design, and include an installed 9-V battery.
IDEAL INDUSTRIES
www.idealindustries.com
Limited-combustible optical-fiber cable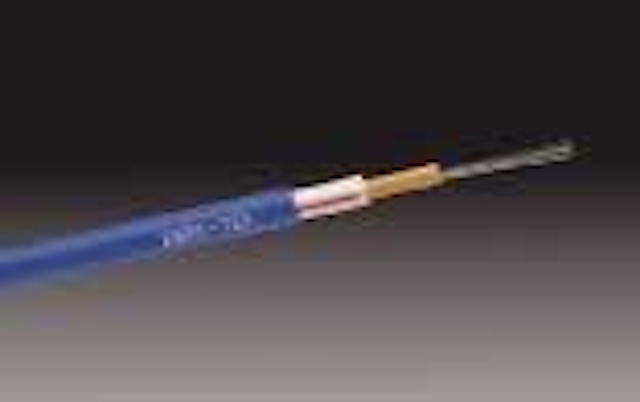 Click here to enlarge image
Adventum LC limited-combustible optical-fiber cables carry the fire-hazard classification listing FHC 25/50, and meet the National Fire Protection Association (NFPA) 255 Standard Test Method of Surface Burning Characteristics of Building Materials, as well as the NFPA 259 Standard Test Method for Potential Heat of Building Materials. Its manufacturer says Adventum LC is the first limited-combustible optical-fiber cable. Because limited-combustible cables help minimize the potential fuel load and produce up to 20 times less smoke than comparable plenum-rated cables, they offer enhanced life-safety and electronic-asset protection for hospitals and healthcare facilities, as well as data centers and storage area networks. The cable also has many of the same characteristics of the original Adventum series cables, including a totally dry loose-tube construction, a diameter up to 35% smaller than tight-buffered cables of equal fiber counts, GIGAlite multimode and singlemode optical fibers, and available factory-direct preterminated assembly.
BERK-TEK.
www.berktek.com
Data switch for extreme temperatures
The Model 8100 DB9 Interface A/B Switch is designed to withstand the extreme temperature range of -17° C to +75° C (1.4¡ F to 167° F). The switch has an all-aluminum enclosure that adds durability and provides shielding. It also has self-wiping contacts and is operated via a front-panel knob. The switch has DB9 female connectors on the A and COM rear-panel ports, and one DB9 female connector on the B front-panel port. Rubber feet prevent sliding, and mounting ears are available to adapt the switch to a panel. No external power is required.
ELECTRO STANDARDS LABORATORIES
www.electrostandards.com
Rack-mounted PoE midspan
The M1024-1UB Power over Ethernet (PoE) midspan device is IEEE 802.3af-compliant and designed to fit a standard 19-inch rack. By providing 48 volts of DC power over standard Ethernet cabling, the midspan eliminates the need for an external AC power source and associated wiring. Features include a universal range power input (100 to 240-V AC, 50/60 Hz), auto-sensing for PoE-compatible devices, independent overload and short-circuit protection per channel, and port-status indicators. The M1024-1UB midspan occupies 1U of rack space.
LEVITON VOICE AND DATA DIVISION
www.levitonvoicedata.com
Network-documentation software package
NetDoc is a network-documentation and cable-management software package that provides TIA/EIA-606-Adocumentation compliance. The Web-enabled solution lets users manage cabling, network, telephony, and legacy connections. According to its manufacturer, the package makes it easy to document horizontal and backbone cables, hardware, assets, pathways, locations, and users. The company further states that it worked with network managers and telecommunications consultants to design the software package, with a goal of creating a Web-enabled 606-A-compliant package that was easy to use and would improve efficiency in identifying, locating, and fixing problems within the physical network. A Microsoft Excel import tool is designed to speed up and simplify data transfer into the package, which integrates with the manufacturer's LabelMark label-design software. NetDoc features log-in security, documentation wizards, user and date stamping on all notes, customizable fields, and attachment capabilities.
BRADY CORPORATION
www.bradycorp.com
Clamp-on ground tester
Designed to measure earth/ground resistance and current flow in a way that will not disturb existing connections, the DET10C and DET20C ground testers use clamp-on technology for a quick, accurate measurement. The design of these new models induces a test current directly into the system and effectively updates old methods of testing that may require disconnection or additional equipment. The clamp-on operation also assures users of safety and convenience, because a single point of measurement reads the earth/ground resistance; avoiding disconnection means users can test resistance in multiple loop installations with no additional risk. The DET20C is equipped with an RS-232 interface cable to download test data. The unit can accommodate up to 8,180 records. The DET10C and DET20C feature a large jaw opening to accommodate cables, a hold function for difficult-to-reach installations, and a large LCD screen that can be read in bright sunlight. They are also equipped with audible alarms.
MEGGER
www.megger.com
Industrial-hardened Ethernet switches
The EtherNav D7600 series of managed Layer 2 Ethernet switches segment Ethernet network traffic to enhance performance and for better bandwidth allocation. The switches have several mechanisms to monitor, configure, and manage a virtual LAN. A console interface using a standard RS-232 interface allows for local network control from a standard PC. Alternatively, a Web-based graphical user interface will allow remote configuration control from anywhere on an Ethernet-based network. The EtherNav line consists of 12 models with nine individual ports that can be configured with strictly electrical ports or various combinations of electrical, multimode fiber, or singlemode fiber. The EtherNav line supports SNMP Version 2C and is RFC1213-compliant. The products meet CALTRANS and NEMA test standards for mechanical and environmental versatility.
INTERNATIONAL FIBER SYSTEMS
www.ifs.com
Cable-support system
The J-Pro cable support system is designed to provide a competitive alternative to metal J-hooks for routing communications cables. The non-metallic J-hook features complete horizontal and vertical 1-inch bend-radius control, which helps prevent degradation of cable performance. It is manufactured from durable materials that are suitable for use in air-handling spaces per UL 2043 and CAN/ULC S102.2.
PANDUIT
www.panduit.com
Wiring-room management via CAD
iTRACS Virtual Wiring Closet (iVWC) is a visual, intuitive CAD graphical user interface that the manufacturer says provides faster and easier navigation, planning, and management of cabinets, racks, and patch fields. It automatically creates CAD files, draws patch cords in real time, and calculates the cords' lengths. iVWC can be integrated with the manufacturer's Advance software package to simplify the planning of moves, adds, and changes. The system lets users create working, virtual models of their wiring rooms, and to proactively control networks at a physical and logical layer.
iTRACS
www.itracs.com
HDMI and DVI cables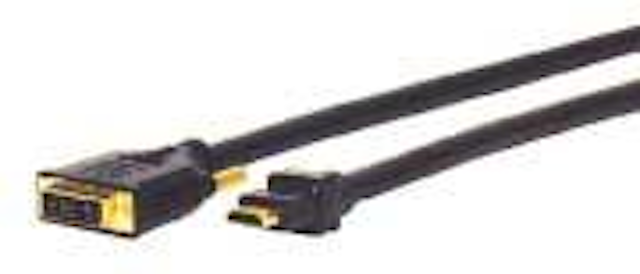 Click here to enlarge image
The Ultra-High Resolution Extended Distance HDMI (High-Definition Multimedia Interface) and DVI (Digital Visual Interface) cables are designed to signal transmission beyond standard consumer-grade cables. A24-AWG copper construction allows for long-distance, all-digital transmission with little loss over 50 feet. Gold-plated nickel-over-brass connectors also help ensure maximum signal transfer. The cables are available in HDMI, DVI, and HDMI-to-DVI configurations. They are designed for high-definition components, including plasma, digital-light-processing (DLP), and liquid-crystal display (LCD) technology.
COMPREHENSIVE
www.comprehensiveinc.com
Access-point enclosure
This wireless access-point enclosure is meant to securely store wireless access equipment, and is designed specifically for the Cisco Aironet 1200 wireless hub. The manufacturer claims it is an economical solution for schools and residences where wireless technology is used. The enclosure is available in several durable powder-coat finishes to complement any décor, and its compact design makes it possible to hide the wireless equipment housed within it. The enclosure features fully welded steel construction, a ready-mount Cisco Aironet 1200 wireless hub, a swing-down cover with screw-latch, multiple 1-inch knockouts, ventilation patterns on the side and bottom, antenna knockouts, and wall-mounting brackets on the rear of the box.
DAMAC PRODUCTS
www.damac.com
GBIC, GBIC SFPtransceivers
Click here to enlarge image
The 1000SX/LX GBIC (Gigabit interface converter) and GBIC SFP (small-form-factor pluggable) transceivers are a solution for connecting large enterprises using Gigabit Ethernet switches. The 1000SX/LX GBIC transceivers provide flexible, high-performance copper and fiber connectivity in corporate, metropolitan, campus backbone, and workgroup environments. The GBICs can be configured with an SX or LX module in standard or small-form-factor-pluggable format. They have been tested to be compatible with all major equipment manufacturers, and can be used across a multi-vendor, multi-product network system. This line of transceivers is compatible with Unicom's SmartGST-801M, DynaGST-24G, DynaGST-16G, and other Gigabit Ethernet networking equipment that support the industry-standard SFP and GBIC interface. The transceivers comply with IEEE 802.3z Gigabit Ethernet (1000Base-SX or LX), and ANSI specifications for Fibre Channel applications at 1.06 Gbits/sec. Designed to meet Laser Class 1 compliance with EN60825-1, they also are hot-swappable. The GBIC transceiver is available in SC duplex, multimode and singlemode configurations. The GBIC SFP is available in LC duplex multimode and singlemode configurations.
UNICOM
www.unicomlink.com
Faceplates hide uneven cuts
ICC's oversized faceplates are designed to help cover uneven and jagged drywall cuts. They are available in single-gang 1-, 2-, 3-, 4-, and 6-port configurations, and come in white and ivory. The oversized faceplates are constructed of plastic with a smooth glossy surface texture for a finished appearance. They integrate with all of the manufacturer's modular connectors and are designed to fit any standard, single-gang NEMA electrical, surface-mount, or junction box.
ICC
www.icc.com
BNC tester with on/off switch
This BNC installation tester includes an on/off power switch to help extend battery life. It provides installers and assemblers with a single, pocket-sized tool for testing the cable assembly as well as proper pin height on the BNC connector. The unit ensures quality installation of BNC cables, particularly important in applications like telephony, in which flawless cable-assembly construction is crucial to ensure long-term connection reliability. The unit features a light-emitting diode to indicate the open or short condition in the assembly's continuity. A 75Ω terminator is used to complete the circuit. A second light indicates pass/fail on pin height, as measured from the surface of the interface. The unit is made of ABS plastic and comes with a 9-V battery, the 75Ω terminator, and a zippered carrying case. Single-quantity price is $190.04.
TROMPETER
www.trompeter.com
Audio-video transmitters for multipoint distribution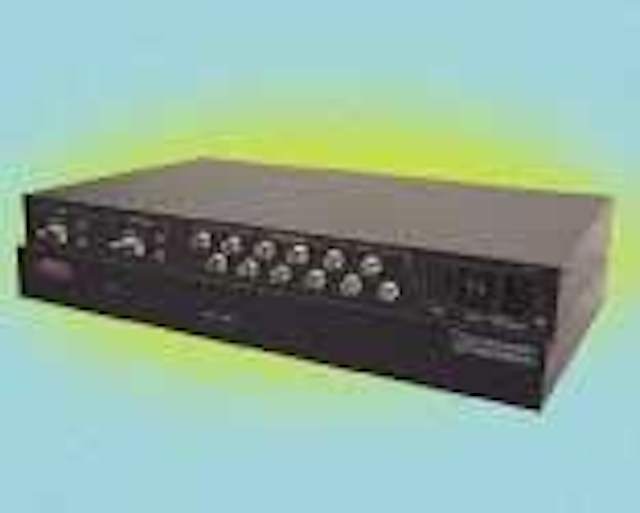 Click here to enlarge image
The newest additions to the Pure Digital Fiberlink 7220 series of transmitters for high-resolution red-green-blue (RGB) and stereo audio (models 7222, 7224, and 7226) include 4, 8, or 12 optical outputs for point-to-multipoint distribution. With additional output capabilities, the product line now makes it easier to distribute high-resolution signals to multipoint locations over singlemode or multimode fiber. Each optical output transmits over a single fiber core at 1310-nm wavelength; all three models in the product line have active loop-through on input for use with a local monitor and are compatible with all of the manufacturer's 7220 Series receivers. The transmitters require no adjustments, equalization, or de-skewing. They use all-digital processing and transmission, operating at a single wavelength to deliver clear video and high-fidelity audio. The units are 1 RU in height.
COMMUNICATIONS SPECIALTIES
www.commspecial.com
Angled patch panels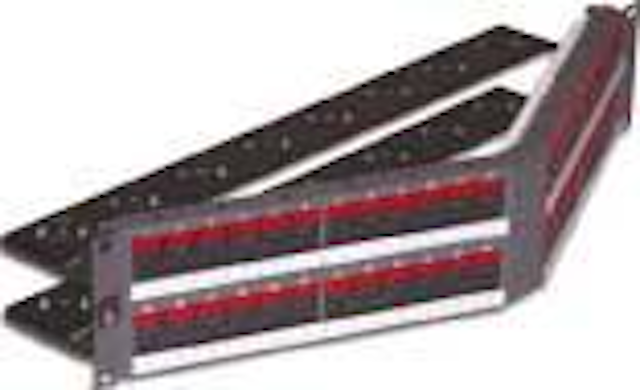 Click here to enlarge image
PowerCat Angled Patch Panels are available as 1U, 24-port or 2U, 48-port units, and are suitable for Category 5e and 6 installations that are high density or use extensive side- and end-of-rack cable management. The patch panels highlight the design of the DataGate Plus jack. The angle feature provides easy access to the patch-panel ports and minimizes patch-cord bend radius. Each of the angled patch panels uses the DataGate Plus RJ-45 jack, designed with an automatic shutter that protects from dust and contaminants. It also pops out improperly seated patch cords to eliminate faulty connections. The panels are ETL-verified for Category 6 component compliance, can be terminated using industry-standard punchdown tools, and provide rear cable management.
MOLEX PREMISE NETWORKS
www.molexpn.com
Fire-alarm cables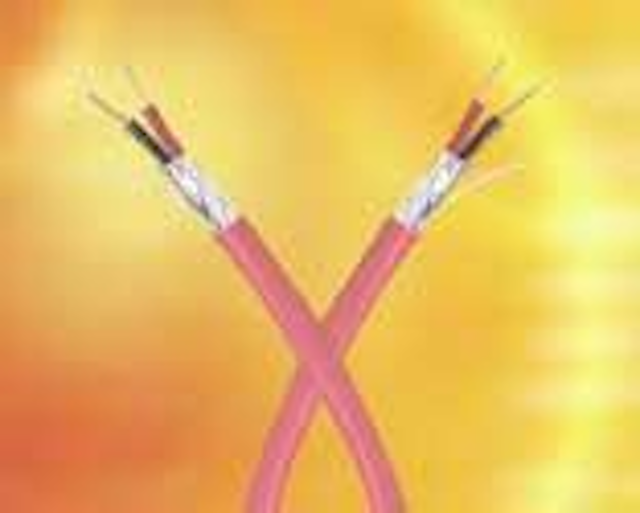 Click here to enlarge image
The new generation of Safe-T-Line Circuit Integrity cables are designed for use in high-rise and other buildings equipped with emergency warning and/or life safety evacuation systems. The riser-rated Safe-T-Line cables feature flame-retardant, low-smoke/zero-halogen construction materials, which help ensure the continued operation of emergency warning systems for at least two hours in the event of a fire. In building installations, Circuit Integrity cables are used to connect the fire command center to various zones in the building, and must comply with specific fire-alarm code and survivability requirements. These new cables are 300-V rated and NEC-designated as Circuit Integrity cables. The new product line includes 24 multi-conductor riser-rated cables, UL-listed as type FPLR Power Limited Fire Alarm Riser Cable. They meet Article 760 of the National Electrical Code; National Fire Alarm Code (NFPA 72) for survivability; UL Standard 1424; and UL Standard 2196.
BELDEN CDT ELECTRONICS DIV.
www.belden.com
Transient-voltage surge suppressor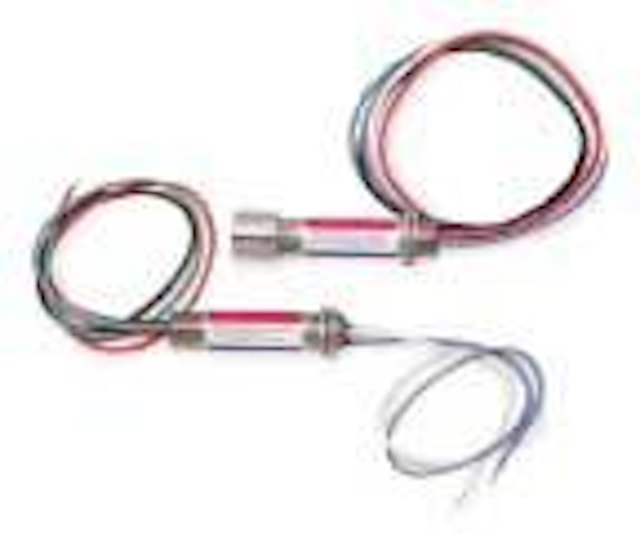 Click here to enlarge image
The SST is a transient-voltage surge suppressor for discrete-signaling 4- to 20-mA protocols. Units provide protection against transient voltage that exceeds the nominal signaling voltage. Each line is protected against surge current impulses up to 10 kA. The suppressor is configured to work in series or parallel with the measurement or control lines being protected, diverting harmful transient energies while maintaining a tight clamp at the peak voltage. SST signaling units protect one circuit consisting of two wires, plus ground. Units are designed to operate in a wide temperature range and are especially suited for the protection of 4- to 20-mA current loop transducers and similar instrument/control applications. The product has a 10-year warranty.
METER-TREATER
www.metertreater.com
Hotspot gateway system
EliteConnect is a 2.4-GHz, 802.11g wireless hotspot gateway kit that combines a wireless access point/bridge with AAA services (authorization, authentication, and accounting) in a secure router with a solid firewall. The EliteConnect Hotspot Gateway, which rounds out the solution set, includes a mini-POS ticket printer to make it easy for businesses to turn WiFi access into revenue. With a list price of $899.99, the system is intended to make it easy to deploy, control, and bill for Web access in hotspot environments like coffee shops, hotel lobbies, and transportation hubs. The kit facilitates access and provides a means to authenticate, authorize, and bill clients for Internet service and use. It has a built-in 54-Mbits/sec 802.11g access point with a detachable antenna to distribute high-speed wireless access. Using the product's wireless distribution system feature, coverage can be extended with repeater/bridging among as many as six additional enabled access points.
SMC NETWORKS
www.smc.com
OTDR with port quality check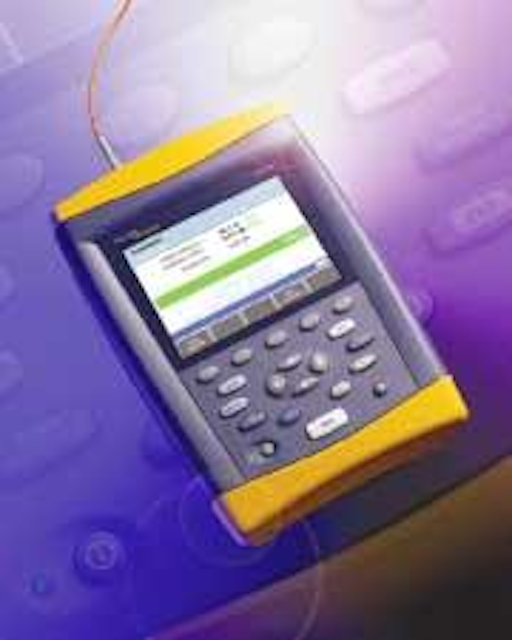 Click here to enlarge image
The latest version of the OptiFiber Certifying OTDR is designed to save users time with advanced functionality including OTDR port quality check, trace overlay, and 250/400 magnification setup. The automated port quality check warns the user when the OTDR port is dirty or contaminated. The feature is designed to save users time while delivering a higher level of confidence in the test results. The port-quality test automatically displays and evaluates the quality of the optical connection at the OTDR port with a poor, fair, or good rating. If the connection quality is poor or fair, a warning message appears so the problem can be fixed before testing begins. Fiber endface inspection is made easier, the company says, with the 250/400 toggle feature, letting the user quickly change the setup to match the setting of the dual-magnification video probe. This feature lets the user rapidly see the detail of a fiber core at 400, then change to 250 to see more of the endface. The trace overlay feature lets the user see multiple OTDR traces at the same time. Traces between multiple fibers in a bundle can be compared against each other for obvious anomalies. Individual fibers can be compared to a reference trace stored earlier. Trace overlay can be performed while using OptiFiber, or during trace analysis in the manufacturer's LinkWare Cable Test Management software.
FLUKE NETWORKS
www.flukenetworks.com