The National Fire Protection Association's (NFPA) much anticipated vote on limited combustible cable will take place next month at the NFPA World Safety Conference & Exposition at the Mandalay Bay Resort & Convention Center In Las Vegas.
But as the meeting date gets closer, manufacturers in the cabling industry worry about the method by which the vote will take place. They also worry about the vote's implications.
It's a vote that has attracted much controversy stemming from debates during the past year. At the meeting, the NFPA 90A standard for the Installation of Air-Conditioning and Ventilating Systems, and its various sections, will be considered. Some of the proposals, if passed, could redefine air-handling spaces and then specify limited combustible cable (formerly known as CMP-50 and air-duct cable). In a nutshell, it would require enterprise end users to use what is now known as ultra fire-resistant cable in these spaces.
Positions on both sides have been staked out clearly. On one hand are cable manufacturers who believe limited combustible cable should be an option, but definitely not a mandate for air-handling spaces. On the other hand are those, including other cable manufacturers, who believe the fire-resistant cable is absolutely needed. Both sides have been debating the issue equally as members of the Technical Committee that develops NFPA 90A.
But as the hour of the vote draws nearer, several cable manufacturers are concerned more about the voting method. The NFPA plans to open the floor for discussion before taking a vote from the full voting membership.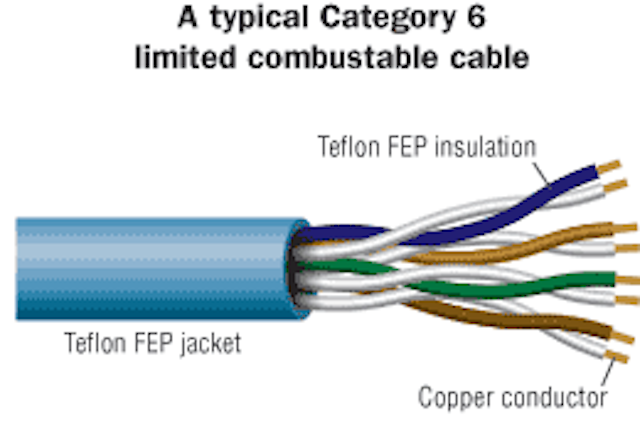 NFPA 90A Standard for the Installation of Air-Conditioning and Ventilating Systems would redefine air-handling spaces and create criteria for limited combustible air duct cable. If passed, the standard would require enterprise end users to use ultra fire-resistant cable in these spaces.
Click here to enlarge image
"In all likelihood, there will be some statements from the floor of the NFPA meeting asking for reconsideration of requirements within the NFPA 90A Standard that have been discussed at the NFPA 90A meetings," says Bob Jensen, standards development and technology representative for Fluke Networks (Everett, WA; www.flukenetworks.com). "Then they will go to a floor vote."
But Robert Solomon, assistant vice president for building and life safety codes for the NFPA (Quincy, MA; www.nfpa.org), argues this is standard operating procedure. He says an important step in the decision-making process is for a committee to present a report to its membership. Solomon says the June meeting will allow for debate and provide people on both sides of the issue the chance to speak their mind and try to convince the body of their position. Any items still not resolved will be considered by the NFPA Standards Council when it meets in July.
But cable manufacturers worry that the membership will be flooded with representatives from Dupont (Wilmington, DE; www.dupont.com), one of the main suppliers of Fluoropolymer-the key material used in limited combustible cable.
Stan Kaufman, president of CableSafe Inc. (Dunwoody, GA; www.cablefireresearch.org), a consultant to the Cable Fire Research Association of which Dupont is a member, says it is not clear how many representatives from the association will attend the vote.
"It's anybody's guess what will happen. I don't know who is bringing who," says Kaufman.
Pat Lindner, global business manager for Dupont, says he is not sure how many representatives from Dupont will attend the meeting. He says, however, that Dupont only has a "select number" of representatives who will be allowed to vote in the NFPA process.
"Our intentions and our objectives at that meeting are to share technical information on the support of higher fire safety standards, and there are a number of proposals that we wish to comment on at that meting," says Lindner. "We are well qualified to share our perspective, and we will participate to the extent necessary to provide the membership with information on new cable technology, ultimately making everyone safer."
Doug Coleman, manager of technology and standards for Corning Cable Systems (Hickory, NC; www.corningcablesystems.com), says he is mystified as to why the issue will be debated by such a large meeting. Don Hall, senior applications engineer for Corning Cable Systems, and a member of NFPA 90A, says the committee could not come to its own consensus on the limited combustible cable proposal, thus forcing the issue to the floor of a national meeting.
"We understand a committee consensus to mean a proposal with a two-thirds majority on the written ballot," Coleman says. "Since this failed to happen, we consider that the committee failed to reach a consensus."
It's the wrong way to approach a vote, Coleman says.
"The technical committee is made up of experts. But now the decision will be based on the membership at large? I don't know if that is good," says Coleman.
Solomon disagrees, saying the committee reached a consensus position, and that taking the decision before the floor for a general vote is appropriate.
"This is something we've done since 1896-the year NFPA was formed and the year in which the membership voted to accept the first NFPA Standard," says Solomon. "A key step in the NFPA codes and standards development process is to allow debate in front of the membership of the NFPA, and the NFPA 90A deliberation is not unique by any means."
But Corning and other companies maintain that the vote on this topic should be handled by a committee because too much is at stake.
Representatives from cable manufacturing companies have argued that the mandate for limited combustible cable will create an undue financial burden to the end user for a new plenum cable. Copper cables would be particularly impacted. The conductors of plenum cables are insulated with fluorinated ethylene propylene (FEP), while the cables' jackets are insulated with polyvinyl chloride (PVC). Limited combustible cable uses FEP in its conductors and jackets, which makes the cable ultra fire-resistant and, consequently, more expensive.
Optical-fiber cable manufacturers say a limited combustible cable mandate would force them to change all of the materials they use, which would result in an elevated price for their products. Materials costs will increase dramatically, critics say, as attempts are made to get optical cable to conform to flame tests necessitated by limited combustible cable standards. Some say the cost of optical cable could increase two to three times, compared with the current pricing for plenum products.
Concerned cable manufacturers argue that the mandate could promote usage of wireless technology and legacy media. Enterprise end users, they say, would rather spend $200 on a wireless access point as opposed to paying $1 per foot for limited combustible cable.
Dupont argues, however, that limited combustible cable represents the least expensive of three choices being mandated by NFPA 13, Installation of Sprinkler Systems. To date, 36 states nationwide have adopted the NFPA 13 standard, which irons out requirements for cable in plenum spaces. NFPA 13, which would have jurisdiction over NFPA 90A, states that one of three life safety requirements is needed for concealed spaces and plenums in sprinklered tall buildings. The three options include using limited combustible cable, installing combustible cable in metal conduits, or installing sprinklers in plenum spaces if combustible cables are present.
"Limited combustible cable is the least expensive by 50%, compared to the other two," claims Lindner.
Manufacturing representatives like Coleman counter that there is little justification for the product, or interest from the industry desiring or identifying a critical need for this higher class of cable-and this includes individual end users, contractors for major projects, major distributors and industry associations.
While Corning is not against limited combustible cable use, Coleman and others say end users should be able to determine whether they want it. "We see this product used for niche application spaces, but it should not replace the plenum cables of today," Coleman says.
Jensen also believes that there is a place for limited combustible cable, but he is somewhat skeptical about its overall value. He believes the fire resistance offered by limited combustible cable is only about 6% stronger than that of CMP cable. Still, he acknowledges such cable could be effectively used in a museum, for example, where extra steps should be taken to protect artifacts from being destroyed in a fire.
Jensen admits that the price of limited combustible cable will cause end users to give second thoughts to the number of cables being extended to outlets.
"I have heard of pricing being up to a dollar per foot," says Jensen.
Solomon says the NFPA did not conduct an economic analysis, and cannot say if the cost of manufacturing limited combustible cable will stay the same or cost more.
He balks at the argument that limited combustible cable will lead to an increased use in wireless devices. "Wireless will move ahead at the rate it has been moving at, independent of the plenum cable criteria," says Solomon. "Like all other technologies, at the end of the day, it comes down to the preference of the user, the building owner, the operator of the office building or the tenant."