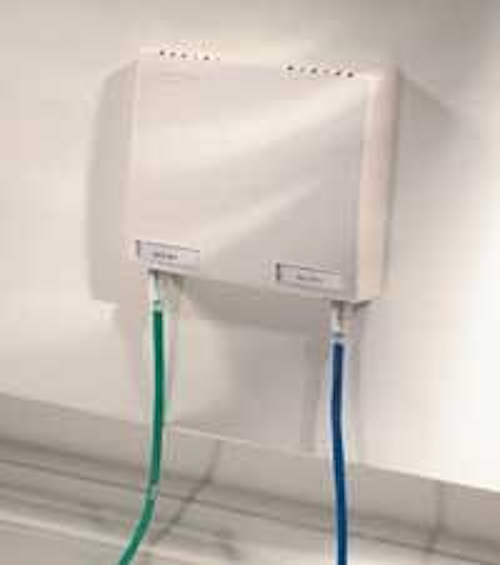 Modularity allows users to terminate several media types within a single connection point.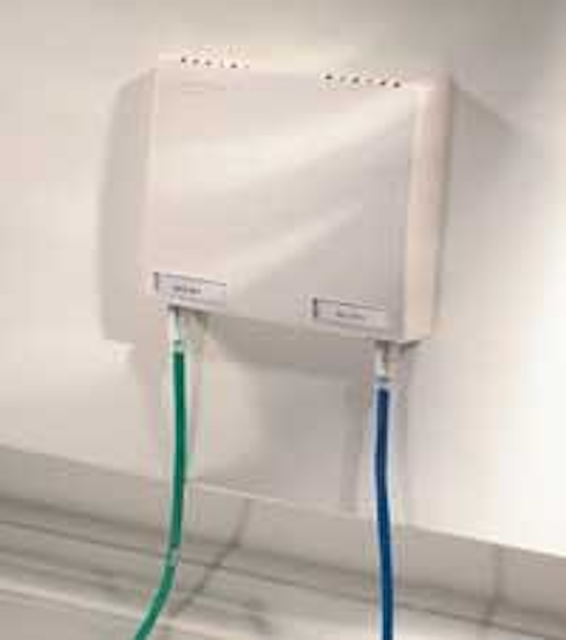 The recently introduced Wi-Jack from Ortronics is available in two models, one of which allows wireless connectivity and two additional cabled connections.
Click here to enlarge image
The word "modular" gets widespread use across the information-transport systems (ITS) industry. Quite frequently, we see it associated with the connectivity of twisted-pair cable in the form of the 8-pin modular plug and jack. In a literal sense, the word refers to interchangeable parts, or modules, that can be substituted for one another in given applications.
That description is particularly accurate when it comes to communications outlets-the devices that mark the end of a structured cabling system's basic link. One end of a patch cord plugs into the outlet, and the other end into a user's network interface card to complete the channel. Though the basic link model has given way to the permanent link, and the hand-off point between it and the channel is more theoretical and less practical than was the case with the basic link, the role of the outlet in an ITS remains important. It is one of the few structured cabling products that is exposed to the open workspace and, as a result, must be physically sturdy enough to withstand such rigors while delivering a working connection.
Today, some emerging industry trends as well as traditional requirements shape the makeup and management of outlets. (See page 48 & 49 for a table of outlet manufacturers, taken from the Cabling Installation & Maintenance 2005 Buyer's Guide.)
Generally, an outlet is found in one of three places near a workstation: mounted flush to a hard wall, on modular furniture, or on a workstation surface in the case of what is often called a surface-mount box. An outlet will accommodate a given number of ports; some fit just one or two, while others will hold up to 12 or even 24 or 48. A six-port outlet, for example, most likely will be constructed with six blanks in place. When a six-port outlet is used at a workstation that is being equipped with four cables, the installer leaves the remaining two blanks in place, simultaneously protecting the cables that serve the workstation and leaving the terminated space aesthetically pleasing.
Model of modularity
Gary Bernstein, director of marketing with HellermannTyton, explains that the modularity of outlets is intentional, and allows the products to be medium-neutral: "The norm is for an outlet simply to have blank spaces, allowing the user to decide which cable types to put in." As the table accompanying this article indicates, most outlets can accommodate fiber, unshielded twisted-pair, and coaxial cable. Many, but not all, will also accommodate shielded twisted-pair (STP) cable. In some cases, the jack used to terminate a shielded cable is too bulky to conform to the size of an outlet's modular ports. Bernstein also points out that not necessarily knowing the type(s) of cable that will go into an outlet requires design consideration on the manufacturer's part. "An outlet has to be large enough to accommodate a fiber-optic cable's minimum bend-radius requirement," he explains.
Overall, current trends and concerns in the ITS industry are proving that the modular, medium-neutral approach can be beneficial. Take, for example, today's emphasis on security. Nearly four years after the national tragedy that raised security and personal protection to the top of corporations' collective priority list, surveillance and monitoring systems are more mainstream now than ever before.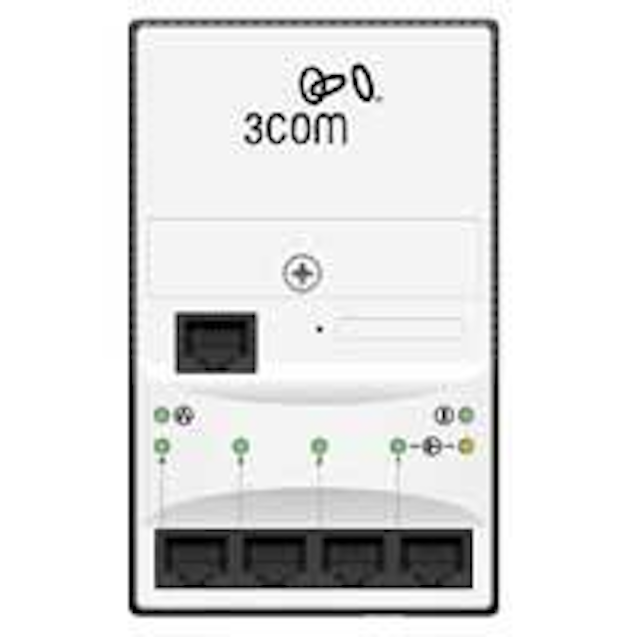 The latest enhancement to 3Com's IntelliJack includes optical connectivity from Corning Cable Systems to provide a user with four ports from a single cable run.
Click here to enlarge image
While many corners of the ITS industry, including this publication, report on the ability of familiar UTP cabling to support video transmission, the fact remains that coaxial cable is still the runaway market-share leader as the infrastructure for such systems. For some organizations, that means coaxial cable is or will be running right alongside UTP to workstations.
For most users whose cabling systems were installed in the late 1990s or so, little if any thought was given to installing coaxial cable to workstations. For those who now look at coaxial as a reality, they face the expense of an costly medium and more-intense installation labor. But at least they do not have to factor in the cost of additional outlets, thanks to the inherent modularity of these so-basic-they're-easy-to-take-for-granted devices.
Expanding the limits
A couple of vendors have pushed the capabilities of outlets even further by incorporating active networking equipment into them. Last summer, Ortronics launched a line of wireless products, which includes the Wi-Jack wireless access point. The Wi-Jack mounts directly to a wall outlet box, letting installers use the same installation practices that they use for a standard wall outlet. The workstation version of this product allows wireless connectivity and two additional modular ports to support copper, optical-fiber, or coaxial cabling.
Similarly, 3Com Corp. (www.3com.com) for a few years has offered IntelliJack, a wall-mount outlet that includes built-in unmanaged switch ports. When it unveiled the product in 2001, 3Com positioned IntelliJack as a means by which users could establish four network ports using one cable, thanks to the built-in switch technology. In the years since, 3Com has upgraded IntelliJack's capabilities.
In January, the company announced an association with Corning Cable Systems (www.corning.com/cablesystems) to promote fiber-to-the-desk. IntelliJack now incorporates Corning Cable Systems' LANscape brand optical-connectivity hardware. Users of this latest version of IntelliJack, NJ240FX, deploy one optical-fiber cable to the workstation. That fiber cable is terminated to the LANscape hardware in the jack, and the user has four ports available at the workstation.
It's OK to label me
Cable and port labeling may not exactly qualify as a trend, if you consider that the Telecommunications Industry Association (TIA; www.tiaonline.org) years ago published specifications for the labeling and administration of a cabling plant. The original TIA/EIA-606 standard has been updated to 606-A, and those who revised the standard changed the naming conventions for ports in a system.
Those changes have been detailed in this and other publications, as well as at conferences and trade shows. The upshot- particularly as it relates to outlet ports-is that, in many cases, more physical space is required for each label because a port identification of "1A" or something similar fails to meet the standard's specifications. One piece of information that each outlet manufacturer provides in the table accompanying this article is whether the outlet accommodates port labeling. Most do.
Another change in the 606-A standard from the original 606 is the requirement that each label be machine-generated rather than hand-written. HellermannTyton, for one, was particularly ready for this requirement because the company has an identification division that devotes significant time and resources to 606-A-based administration. Other connectivity-hardware manufacturers have developed software packages for machine-generation of labels to identify ports on their gear, including outlets as well as patch panels, blocks, and other equipment. Ortronics, for example, offers LabelMo, a Windows-compatible software program designed to work with the company's designation strips to create labels. Handheld label makers, including Brady Corp. (www.bradyid.com), Brother International (www.brother.com), and Dymo Corp. (www.dymo.com/industrial), also serve this need. To meet industry demand, they all must design their labels to fit in the spaces allotted by connectivity makers.
Outlets may not be the most glamorous or most complex pieces of a structured cabling system, but their reliability is key nonetheless. And, as a couple recent examples indicate, their boundaries are expanding today.
Click here to view Product Update: Outlets
PATRICK McLAUGHLINis chief editor of Cabling Installation & Maintenance.