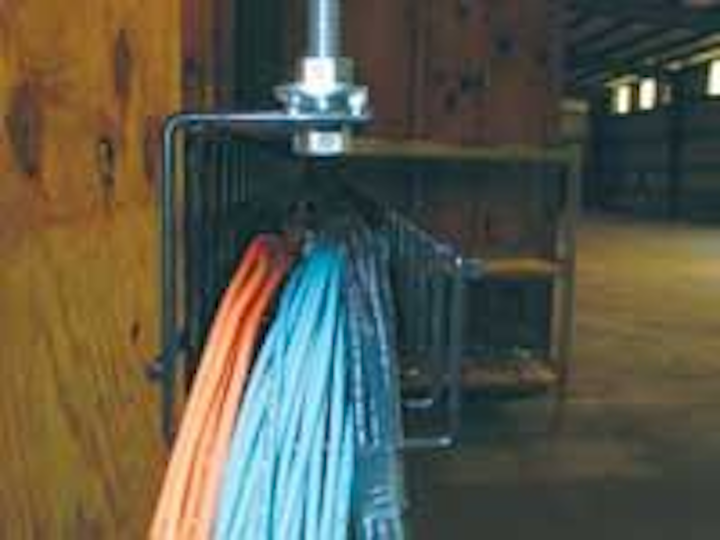 Ease of installation and the ability to facilitate moves, adds and changes are motivating advances in cable tray technology.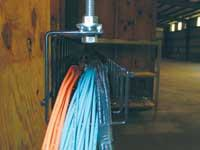 Gulf Coast Systems' J-Tray System was used for a project at the administration building for the Escambia County Sheriff's Department in Pensacola, FL, because it includes a flexible center post that lets it be supported from a ceiling or wall.
Click here to enlarge image
To accommodate challenges of cable management for today's buildings, manufacturers are blending old world cable tray technology with new, cost-effective and highly flexible future-proofed technology for cable conveyance.
"Engineers today are getting a little better at designing horizontal infrastructure," says Roger Jette, president of Snake Tray (Bayshore, NY; www.snaketray.com). "They are designing into their spaces more diffusion of the cabling path."
Cable trays are suspended or wall-mounted, cable-support systems. Traditional cable trays are made of steel or aluminum, and come in depths of two, three, four, or six inches. Design styles include ladder, trough single-rail trails, and wire-mesh and basket trays. Single-rail trays can be designed with single or multiple ier options.
• Solid-bottom cable trays are designed to provide the ultimate support for delicate cables;
• Center-spine cable trays, which remain important to the datacom market, consist of a central support member from which extends a series of rungs that support the cable, and the tray hangs from central rods;
• Wall-mounted single-rail cable trays are a version of the center-spine tray but have rungs on only one side of the spine, allowing the tray to be mounted directly to a wall.
• Wireway, in contrast, is a totally enclosed system that does not provide for access to the wiring or cabling contained within.
The places where these trays are needed, and the types of cable they carry, have been steadily changing during the past 20 years. "What everybody (cable tray manufacturers) lived off of in the 1980s, we don't really see much of anymore," says Kevin Phelan, president of Gulf Coast Systems Inc. (Brewton, AL, www.gulfcoastsystems.com). Instead of being mostly installed in paper mills and power plants, cable trays are now needed in schools, universities, call centers and government offices.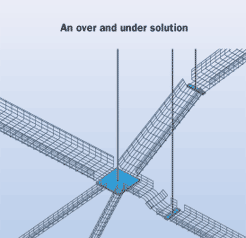 Chatsworth Products' FastTrac can be used for supporting cables in both overhead and under raised-floor space. It provides continuous support and protection for large quantities of network cables, and can be formed around building structures or other obstacles.
Click here to enlarge image
Some manufacturers, like Cooper B-LINE (Highland, IL; www.cooperbline.com), offer product lines that are developed for installations with unusual requirements. For example, if an installation requires running a cable tray over a road, the cable tray needs to be strong enough to bridge 30 feet between supports. At the other end of the product range is the short span, with supports every 4 to 5 feet that may need to be field-adaptable to fit restricted space requirements of a retrofit. Between these sets of needs is a broad range of variables, which can be resolved by different cable tray products.
"One tool will not work for all jobs," says Jim Sargent, senior product manager for cable tray at Cooper B-LINE. "Product selection is the only way to provide the perfect solution," notes Sargent, past chairman of the National Electrical Manufacturers Association cable tray section, and the Cable Tray Institute. "The bottom line is there are numerous tools in the cable tray toolbox. Match the tool to each application for the best solution."
In fact, increasingly larger-sized cable trays are required that provide the option of adding more cable later.
"If we've got more products to put in, we can take it and bolt it onto an existing tray," explains Phelan. "We can put optical fiber or additional cables on the same run."
Today's installations are calling for manufactured support systems that are designed to hold Category 5 and 6 cables. As cable performance continues to increase, cable and connector manufacturers are also providing aggressive warranties for their performance. Accordingly, the right cable tray becomes necessary so that cable performance is not affected by inappropriate cable management.
Or, as Phelan puts it, "You can't just throw it up into the ceiling, take a cable tie and wrap it on a nail."
Meanwhile, the growth of wireless communication is, ironically, creating a heavier cabling infrastructure; that is, WiFi calls for more cabling infrastructure in places where none existed. "Anything that is wireless still needs wire to it; it's only wireless from that point on," says Brett Glaze, owner of Glaze Communications Services, Inc. (Gulf Breeze, FL; www.gcsgulfcoast.com).
Straightforward solutions
The challenge of building superior horizontal infrastructures to handle today's cabling demands means seeking out cable trays that will offer a straightforward approach to installation, and that can save money in the long run. While cable trays represent an upfront cost in the structured cabling network, if chosen correctly, they can save time in the final cable installation. Among the more recent products from which to choose:
• Gulf Coast Systems Inc. has the J-Tray System, which includes the MACs Tray Wire Basket Cable Tray, J-Tray 100 Series Wall Mount and J-Tray 200 Series Ceiling Mount. The J-Trays are designed to be a cost-effective cable management solution.
• Chatsworth Products (Westlake CA, www.chatsworth.com), makes FastTrac Cable Tray, which can be used for supporting cables in overhead as well as under raised-floor space. It provides continuous support and protection for large quantities of network cables, and can be formed around building structures or other obstacles.
• ERICO (Solon, OH; www.erico.com) makes the CADDY CABLECAT-Wide Base Cable Support as a non-continuous pathway for high-speed communication cables based on the properties of the cables.
• Snake Tray makes Snake Tray, a hand-bendable steel cable tray that bends in any direction without cutting/clipping It's designed for use overhead, wall-mounted or for installations below computer access floors.
• Cooper B-LINE makes Two Side Rail systems in a variety of materials and finishes, bottom types, strength requirements and accessory packages. It also makes Cent-R-Rail single rail cable tray systems. For wire mesh, short span, cabling support needs, Cooper B-LINE offers a Wire Basket Cable Support line. The company also offers non-continuous cable support system cable hooks.
Evolving needs
Manufacturers know that a contractor's needs for cable trays are evolving and many-faceted. But there are some common denominators as well. Jette says, for example, that contractors rarely plan to bring cable through one tray alone, but to fan them throughout a building, with a more generous number of paths that allow for more tolerance and redundancy. Typically, there is an increased need for raised-floor systems, which call for cable trays that can be built under the floor.
Raised-floor systems are being installed in companies that have larger and more complex data centers. Many companies in the post-911 environment have established mirrored data centers on opposite sides of the country, or have multiple backup or redundant systems in one building. These enterprise end users are also having more and more cables installed for applications such as Voice over Internet Protocol (VoIP), which requires additional drops in work areas for cubicle equipment. Here, the most valuable cable trays are reconfigurable and reusable.
According to the TIA 569-B standard, contractors must plan for 25% cable fill to futureproof a cabling system. "This means designing in an additional capacity, and picking a cable tray that is deeper or wider than your initial installation," says Michael Hill, product manager for Chatsworth Products. "If you assume you will run 100 cables out to a work center, pick a width and depth of cable tray that ultimately will hold 200 cables instead of just 100."
The cable fill requirement also means having to consider the method of cable tray support-for example, whether it should be hung from trapezes (which could limit the ability to add cables later), or use a center support system.
More sophisticated horizontal paths are required as voice and data communication cabling plays a more important role in standard buildings. Today's installations require cable trays that are engineered to deliver cable management/support but won't overbuild the system. Increasingly, manufacturers believe their systems must be field adaptable, allowing the contractor to design the cable route on the fly, and must feature simple wire support systems.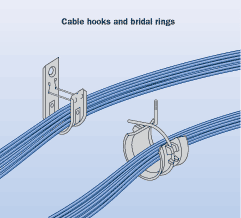 If an installation calls for few cables, cable trays become less of a necessity. For these open wiring support systems, cable management can include hooks (left) as opposed to raceways, or bridle rings (right), which are circles of steel through which wire that cables can be inserted.
Click here to enlarge image
For example, a cable tray route may have been planned for a "pure" environment, but that environment may have changed substantially six months later when HVAC workers have completed their jobs. That means rerouting tray around air conditioning and heating ducts that simply didn't exist before. Accordingly, manufacturers are delivering shorter span cable trays that are designed to allow for a collaborative effort between HVAC and cabling.
"The majority of the products we have come out with in the past 12 years are shorter span systems," says Jim Sargent, senior product manager for Cable Tray, Cooper B-LINE.
Physical demands
Banks, courthouses, financial institutions-any place where high volume voice and data cabling is required-require new and sometimes more complex cable management solutions. Traditional cable trays-heavy-duty, well-engineered systems targeted to industrial applications-were made of aluminum or steel. Today, flexible trays are lighter and bendable, made from carbon steel wire or stainless steel. They can be repaired or built with standard nuts and bolts.
For today's demands, "You have to be able to bend a tray over your knee and shape it," says Stephen Oates, sales engineer for cabling contractor Interconnect Services, Inc. (Baltimore, MD; www.interconnectservices.com).
Glaze, for example, used Gulf Coast Systems' J-Tray System for a project at the administration building for the Escambia County Sheriff's Department in Pensacola, FL. The team chose the J-Tray solution because it includes a flexible center post that curves over so that it can be supported from a ceiling or wall. The J-Tray also did not require contractors to bond each section together with lugged wire.
"We chose this because of the ease of installation, the flexibility of it," says Glaze. "You don't have to worry about ordering advance factory bins. All that can be done in the field. With a normal tray, you plan out your installation a lot more and order the right parts."
Cable tray choices are usually driven by the number of cables being installed in a building. Glaze says before deciding on a cable tray, he looks at how many cables are coming out of the telecom room, and then finds a tray that is designed so that it can support that quantity.
If an installation calls for few cables, the trays become less necessary. Some enterprise end users are moving toward open wiring support systems, or installations that call for cable hooks as opposed to raceways. These are being used more in big retail stores, churches, college dorm rooms and hotels. The systems are lighter, but feature stronger bridges. Wire baskets and wireways can be used in such installations. Bridle rings-circles of steel wire into which cables can be inserted-or cable hooks can also be used.
"It's not VoIP that drives these trays, but the number of cables that are needed to go into the ceiling space," says Glaze. "With smaller cable quantities, you just put up hooks."
BRIAN MILLIGAN is senior editor for Cabling Installation & Maintenance.