New Products Compiled by Steve Smith
The 30-inch Paramount network enclosure has been specifically designed to store and manage network equipment that requires increasing fiber and copper cabling loads.
May 1st, 2005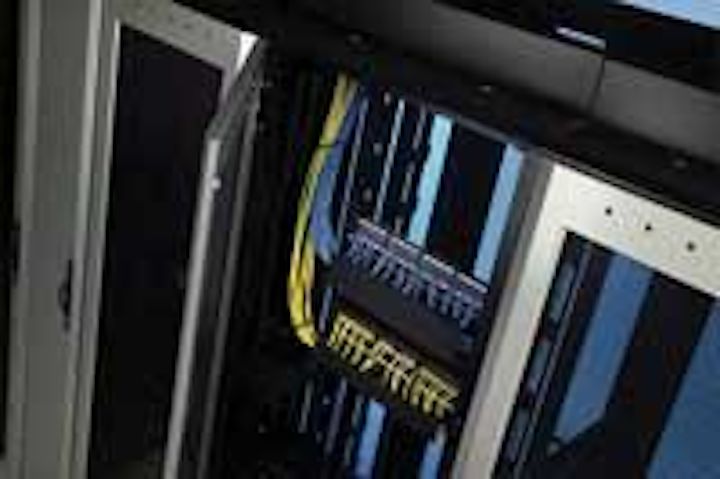 Enclosure built for cable-dense applications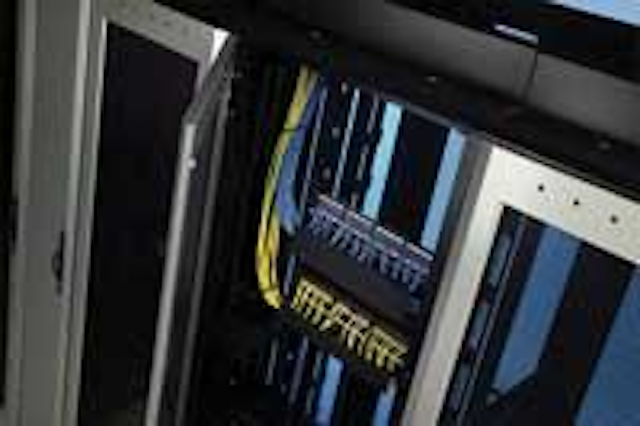 Click here to enlarge image
The 30-inch Paramount network enclosure has been specifically designed to store and manage network equipment that requires increasing fiber and copper cabling loads. It features unobstructed side access along the recessed front and rear 19-inch mounting rails to facilitate efficient vertical and horizontal cable management without routing cables through access holes. The enclosure also features TIA/EIA-568-A-compliant bend radius provisions, as well as strain-free cable organizers. An open base offers 700 square inches of cable entry to run from a raised floor, while the top panel provides an additional 174 square inches of top cable access. The unit is available in 40U, 44U and 51U heights, and 34-inch and 40-inch depths.
WRIGHT LINE
www.wrightline.com
Pre-terminated plug-and-play system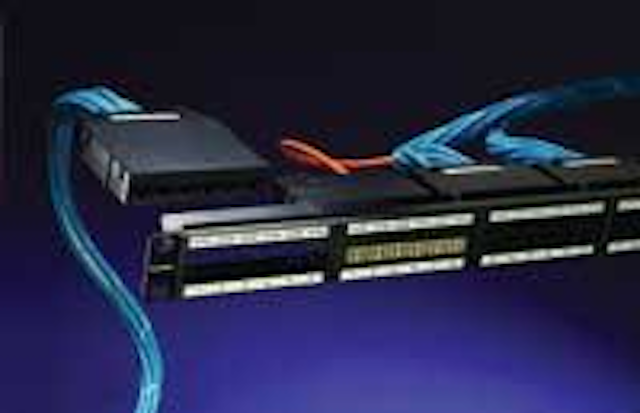 Click here to enlarge image
RapidNet, a preterminated plug-and-play system, does not require on-site termination or certification testing, and allows copper and fiber to be used in the same panel. The company claims that installation time is reduced by an estimated 75%, and that the Category 6 or multimode fiber solutions are ideal for mission-critical data centers, enterprise data centers, storage area networks, and for disaster recovery and redundancy planning. The system features a bundled cable design, cut to customer-specified lengths, and is pre-terminated at both ends to the company's patented six-way cassettes with a standard eight-pin modular interface. The Category 6 version has been independently tested (ETL), with claims of far exceeding TIA/EIA-568-B.2-1 specifications. Each copper link is 100% tested to TIA specifications at the factory. The fiber version is available with 62.5/125-µm, 50/125-µm, or 50/125-µm 10-Gigabit multimode optical-fiber cable. This high-density solution will hold up to 48 fibers in 1U of rack space.
HELLERMANNTYTON
www.hellermann.tyton.com
Portable OTDR tester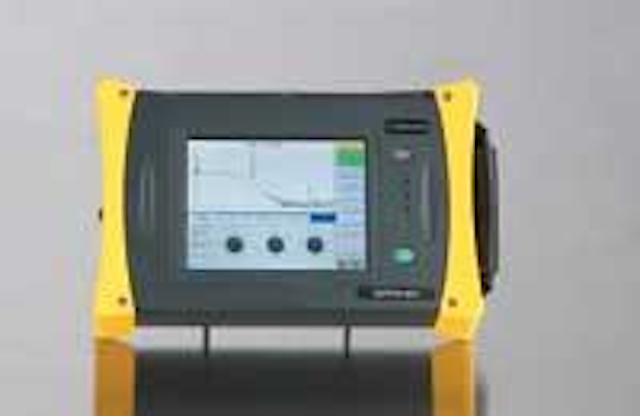 Click here to enlarge image
The OptiVisor 400 OTDR is designed to provide full optical time domain reflectometer testing in a portable, rugged unit. It provides testing flexibility with field-interchangeable multimode, singlemode and combination modules, and is said to provide full test results in as little as 45 seconds. The OptiVisor features a 7.7-inch color LCD touchscreen, internal memory for storage of up to 700 traces, and three testing modes-auto mode for selecting test parameters automatically, advanced mode with additional setup and measurement capabilities, and template trace mode for creating a template for comparison with other traces.
CORNING CABLE SYSTEMS
www.corning.com/cablesystems
Glow-in-the-dark cable pullers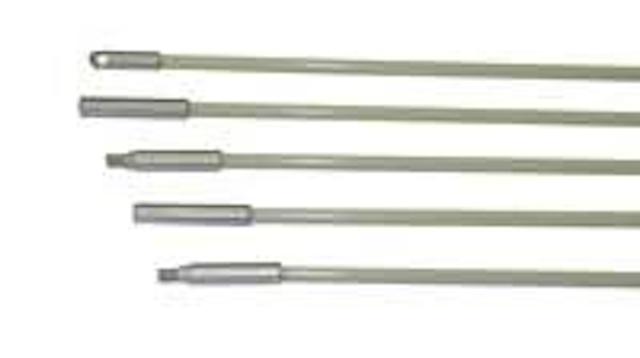 Click here to enlarge image
Glowfish glow-in-the-dark rods make fishing cabling through existing walls, attics, or across drop ceilings easy. Available in 3-foot or 6-foot sections, the rods can be screwed together to meet your "fishing" requirements. A durable plastic coating provides reliable performance without the risk of splintering or slivering that comes with fiberglass. Glowfish rods are available in 3/16-inch diameter, and Glowfish II rods are available in 5/32-inch diameter.
BES MANUFACTURING
www.fiberfish.com
UPS with multiple configuration options
Click here to enlarge image
Available with USB and serial connectivity for multiple configuration options, the HP T750 uninterruptible power supply (UPS) is designed for small and medium businesses, and for desktop/workstation environments to protect equipment with power requirements of 500 watts or less. Power Manager software, bundled free with the company's UPSs, lets you monitor and control the unit locally or remotely. The software enables broadcast alarms, power condition monitoring, and orderly shutdown in the event of power failure. The UPS also has six output receptacles for backing up multiple pieces of equipment.
HEWLETT-PACKARD CO.
www.hp.com
Handy cable-tie bags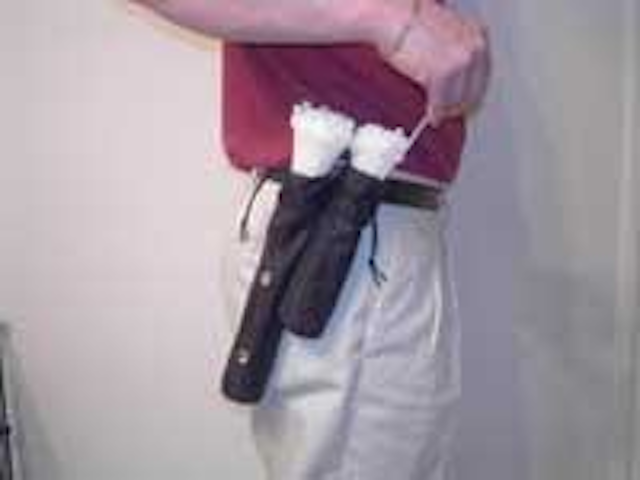 Click here to enlarge image
The patent-pending Strapac SP-2 consists of two bags-one that holds 8-inch cable ties, and the second that holds 12-inch ties. Each holds approximately 100 ties. The bags can be worn together or separately. An elastic cord at the top helps secure the ties in the bag while you're working, and a swivel belt clip allows for easy attachment and detachment. The company claims that by keeping cable ties in the SP-2, you can save time looking for random cable ties and save money on ties that typically get lost while on the job.
SUBLETT COMPANY
www.strapac.com
Extra-roomy enclosure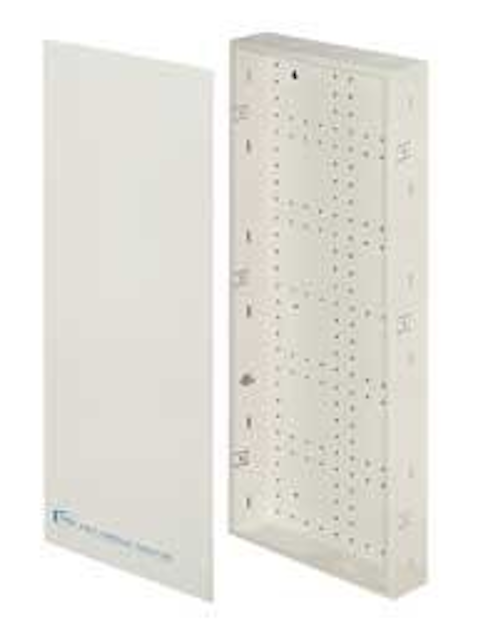 Click here to enlarge image
Designed for residential and multiple-unit structured cabling systems, these 42-inch distribution centers are designed to hold multiple modules, 66 blocks, splitters, drop amplifiers, and electronic equipment while providing for efficient cable management. An integrated snap-in module system lets you quickly insert or move the internal modules. When used in multiple-unit installations, the enclosures can be used as the demarcation point for voice by holding multiple 66 blocks and video via multiple splitters and amps. Two power knockouts and one cable management knockout are located on the bottom, while four knockouts are located on the top. These all-steel units feature a reversible door and glossy white finish.
ICC
www.icc.com
Broadband router with 4-port switch
The SMC Barricade Cable/DSL router (SMCBR14UP), designed for small office or home networking, features broadband connectivity, a 4-port 10/100 Mbits/sec dual-speed switch, USB and parallel servers, and an Internet firewall. It is designed to offer secure file and peripheral sharing, as well as print server capability. It can provide simultaneous Internet access and automatic configuration to up to 253 PCs using a single IP address, while its integrated USB and parallel print servers can be used simultaneously so that printers are more accessible to network users.
SMC NETWORKS
www.smc.com
Component video via Category 5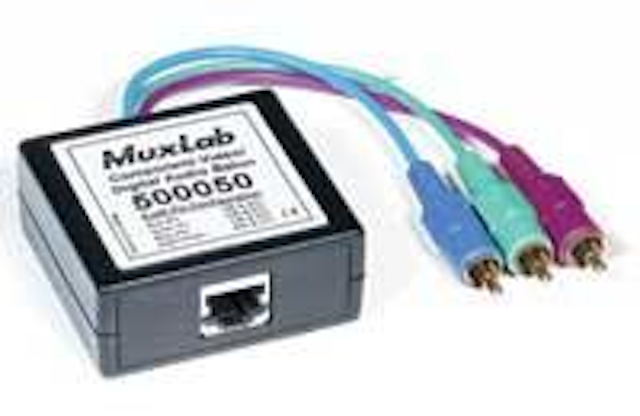 Click here to enlarge image
For home cabling installation, the Component Video/Digital Audio Balun (500050) lets one full YPbPr/RGB video channel plus one Dolby digital or dts digital audio channel be connected via Category 5 copper cable in a point-to-point configuration. It supports 480i/p video formats as well as high-definition 720p and 1080i/p formats. The product also supports an additional digital audio connection for home theater systems.
MUXLAB INC.
www.muxlab.com
Low-profile rack for media converters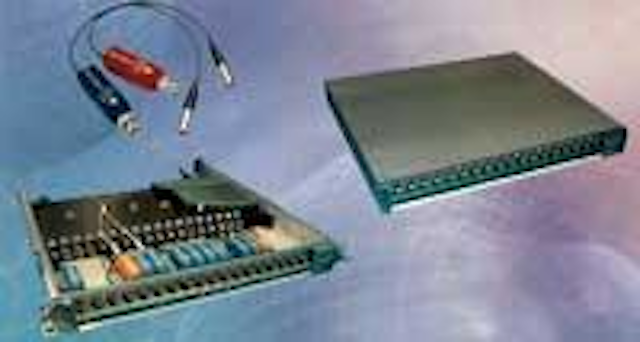 Click here to enlarge image
The VMCR-18-X video media converter rack is designed for field production, studio infrastructure links, cable broadcasting networks, and video distribution in conventions and conference centers. The 19-inch, 1U rack includes redundant 110/220-V AC power supplies capable of power 18 of the company's video media converters. A built-in digital diagnostic monitoring interface (DDMI) allows for remote identification and monitoring of the functions of all 18 media converters via a standard 10/100 Ethernet-compliant, Web-enabled port. The front panel is equipped with 18 75-Ω single-ended female BNC connectors intended for incoming/outgoing electrical TX/RX signals. The rear of the unit is fitted with a fiber strain relief shelf, designed for a choice of fiber cable management systems based on a variety of singlemode fiber cables. The VMCR-18-R version comes with sliding side rails for installation into a standard 19-inch rack. The VMCR-18-Tversion is a throw-down unit, with a top cover instead of side rails.
STRATOS LIGHTWAVE LLC
www.stratoslightwave.com
9-port Ethernet ring switch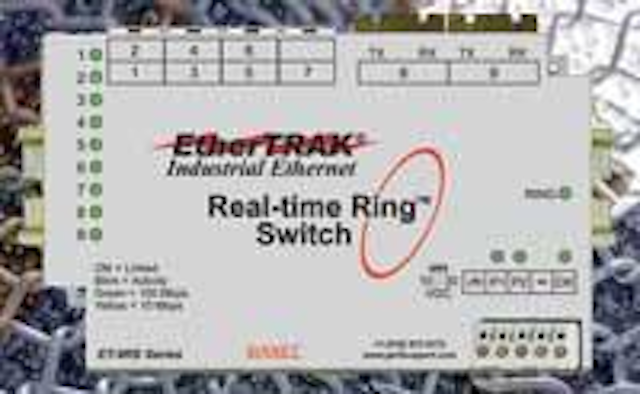 Click here to enlarge image
Self-configurable and built to provide a recovery time of less than 5 mS per hop, the Industrial Real-time ring Ethernet switch (model ET-9RS) lets you connect more than 50 switches to a ring. The device provides such networking features as priority queuing for real-time performance and port mirroring for advanced diagnostics. Messages get filtered to prevent broadcast storms, and the company says there are no delays with store-and-forward wire-speed (non-blocking) switching. The product is UL, CSA, and CE-certified, has marine and hazardous ratings, MIL-STD-1275 surge protection, and a -40 to 85° C standard operating temperature range. The switches offer different combinations of copper and fiber ports for connections of up to 40 km or more.
SIXNET
www.sixnetio.com
Conduit forEMI/RFI shielding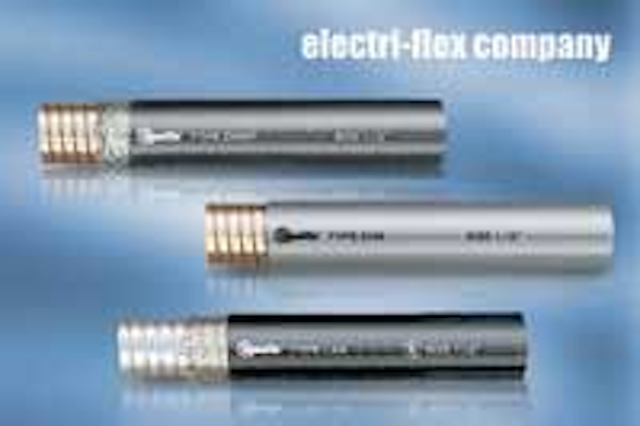 Click here to enlarge image
Liquatite flexible conduits with EMI/RFI shielding are designed to permit traditional wiring solutions in shielded applications, providing an alternative to specialized shielded cable assemblies. The conduit is specifically designed to protect sensitive electronic circuits in applications such as communications, radar, and data transmission. Type EMS is an all-temperature conduit with shielding effectiveness from 126 dB at 1 MHz to nearly 100 dB at 1 GHz. Type LAS flexible steel conduit has a galvanized steel core, over which a tinned copper shielding braid is applied. With a temperature rating of -20° to 60° C, it offers a shielding effectiveness from 126 dB at 1 MHz to 66 dB at 1 GHz. Type EMSP is a hybrid of the EMS and LAS, and gets further screening protection from a tinned copper shielding braid under the flexible jacket.
ELECTRI-FLEX CO.
www.electriflex.com
Easy-access labeling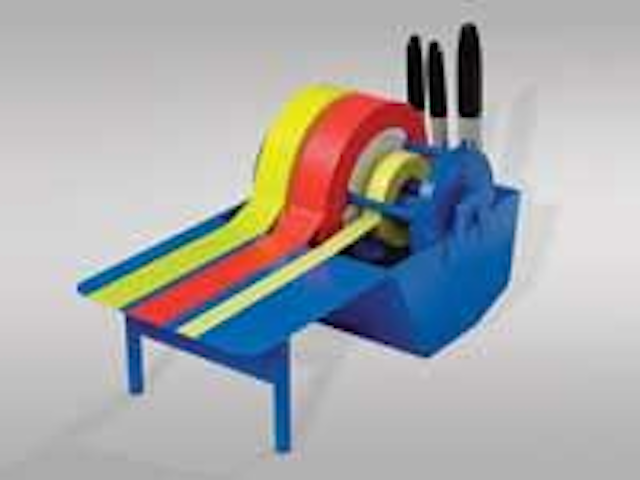 Click here to enlarge image
For cabling identification, Write-On labeling tape dispensers are designed to keep a fresh length of label tape waiting on a spacious, smooth writing platform. The company says that you can make an accurate label with just one hand, without the irregularities of writing on uneven surfaces. Mix multiple colors, widths, and tape types of any manufacturer, and place both 1-inch and 3-inch core tapes on the dispenser.
BEL-ART PRODUCTS
www.BelArt.com
Space-saving power supplies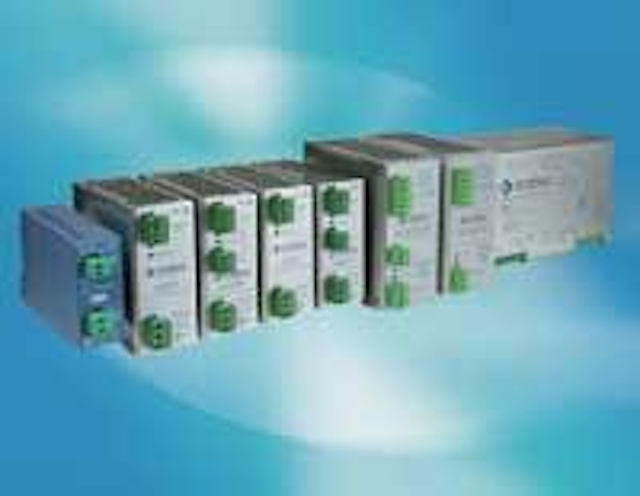 Click here to enlarge image
CSF series power supplies provide 5-V DC/8 amps, 12-15-V DC/6 and 8 amps, 24-V DC/3 and 5 amps, and 48-V DC/ 2.5 amps in a space-saving housing. The devices feature pluggable terminal block connections designed for easy installation and replacement, protection against short-circuit, overload, and over-temperature, and a high-efficiency design to reduce heat and increase life. These power supplies are offered in parallel versions so that they can be used in redundant applications without the need for additional components. The parallel versions also feature an alarm signal in the event of a failure.
AUTOMATION SYSTEMS INTERCONNECT
www.asi-ez.com
Hand wrap/unwrap tool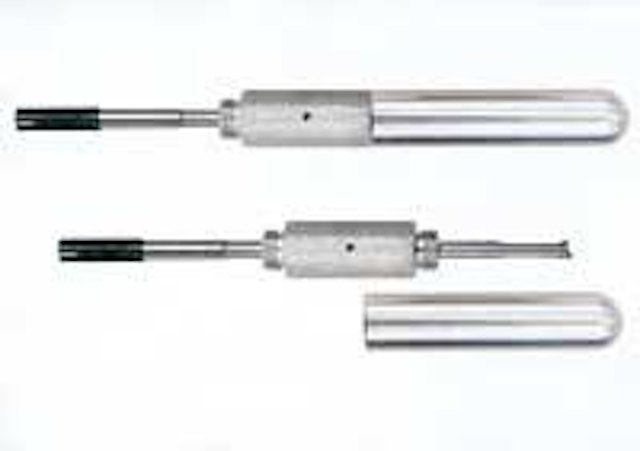 Click here to enlarge image
The aluminum HWUR224 hand wrap/unwrap tool is equipped with a 1.2-inch knurl throughout the grip area, and its 5.5-inch length is designed for comfortable tool belt placement. The unwrapped wire coils into the relieved area behind the helix and is removed by simply pulling the unwrapped wire at a right angle to the tool. The tool is especially suitable for working with 22-24 AWG wire.
JDV PRODUCTS INC.
www.jdvproducts.com
In search of buried cable
Dynatel cable fault locators are now compatible with select GPS/GIS field mapping instruments for real-time mapping of underground facilities. These locators, combined with the company's electronic marking system markers, are designed to provide a total solution for mapping and identifying buried cable. Markers can store facility-specific information, such as owner, cable type, and size.
3M COMMUNICATIONS DIVISION
www.3M.com
Out-of-the-box firestop sleeve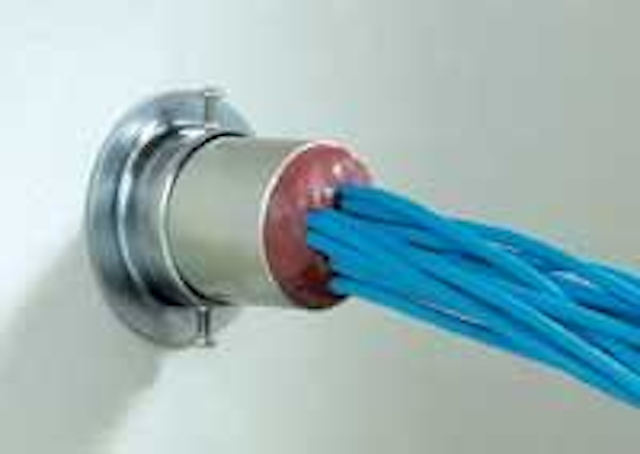 Click here to enlarge image
The SpecSeal Ready sleeve firestop kit is designed to protect and support electrical, telephone or data cabling passing through rated or non-rated fire barriers. These out-of-the-box sleeves require no field fabrication, saving on materials and labor. The kit includes a 12-inch steel sleeve available in diameters of one, two or four inches; corresponding sized steel escutcheon plates for locking the sleeve in place; and firestop putty to seal the ends of the sleeve to the required one-inch depth. Sleeves are sized for up to 10-inch-thick barriers, and sleeve ends are rounded smooth to protect cable jacketing and eliminate the need for plastic bushings. No support struts and clamps are necessary, since the plates sandwich the barrier and lock the sleeve in place. Intumescent firestop gaskets on the plates provide an external firestop seal that meets code requirements, eliminating the need to install firestop sealant around the sleeve.
SPECIFIED TECHNOLOGIES INC.
www.stifirestop.com
Maximum protection seismic racks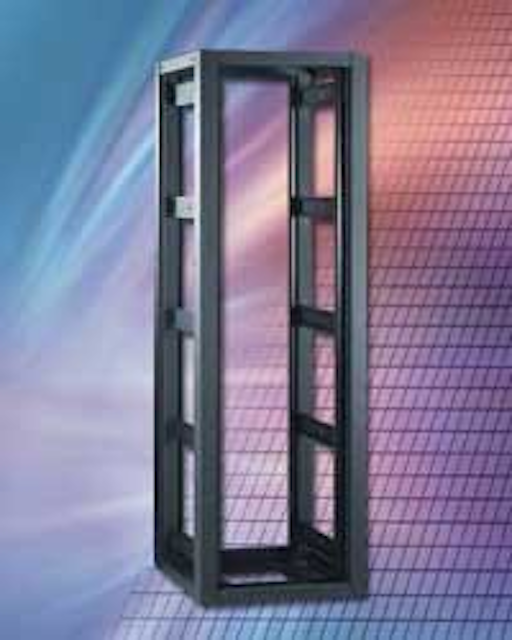 Click here to enlarge image
Welded, reinforced heavy-gauge steel seismic racks are designed to offer maximum seismic protection for telecom equipment. The company says its racks are tested and certified to Telcordia's Zone 4 requirements for 1,200-pound equipment load. The racks feature an open frame with four adjustable 19-inch panel-width mounting rails, and four 4-inch diameter cable access holes in the top of the rack, plus one 9.5-inch square cable access hole in the bottom. Available panel size is 19x78.75 inches, with overall rack size 84.06 inches high by 26.06 inches wide by 32.75 inches deep. Solid side panels, steel doors, Plexiglass paneled doors, and certified seismic anchor kits are also available.
BUD INDUSTRIES INC.
www.budind.com
Van ladder racks add durability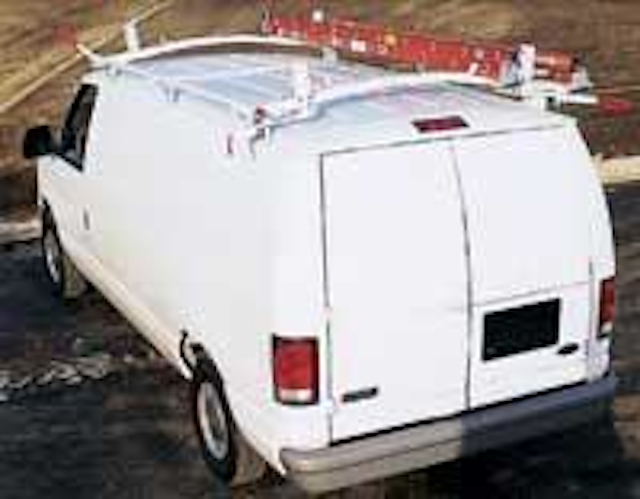 Click here to enlarge image
Weather Guard van and mini-van ladder racks now feature a universal gutter clamp, Mylar anti-wear strips, ladder guides and Velcro straps, zinc phosphate undercoating, and adjustable sway braces. The features are available with the manufacturer's safari steel, quick-clamp, all-purpose steel, and all-purpose aluminum van ladder racks. Highlighting the new features is the universal gutter clamp, which has been manufactured to fit all makes of vehicles. Previously, the clamp was limited to Chevrolet/GM, Ford and Dodge models. The gutter clamp is backwards-compatible, so you can use it as a replacement for previously installed van racks. A "spacer" is included for installation on Ford and Chevrolet vans.
KNAACK MANUFACTURING CO.
www.knaack.com
Online tool catalog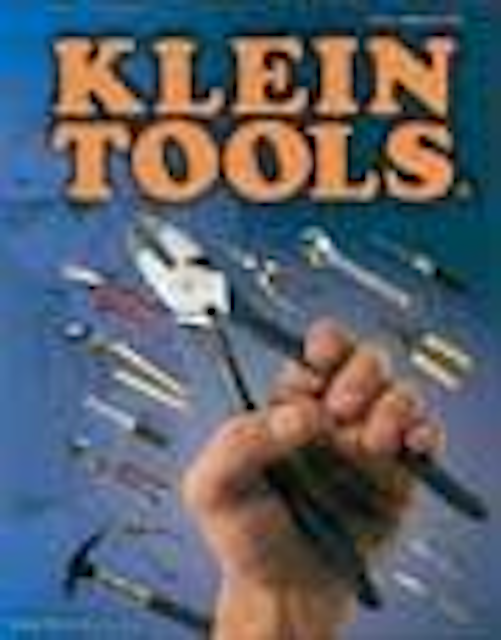 Click here to enlarge image
Klein Tools offers online versions of its catalogs for professional hand tools and occupational protective equipment (OPE). The Web-based catalogs include added photographs and drawings, as well as more detailed listings of features/benefits, specifications, and dimensions. Locate products by tool name, part number or key word. A New Products section highlights recent introductions, and a Material Safety Data Sheet section features downloadable information.
KLEIN TOOLS
www.kleintools.com
Optical wireless bridge
Extending the distance of previous wireless bridge models, the FlightLite 100E point-to-point device is designed for Fast Ethernet, 100-Mbits/set full-duple throughput optimized for connectivity up to 1,500 meters. When deployed at shorter distances, the 100E is built to deliver a powerful signal that the company says maximizes uptime in rigorous weather conditions. The bridge is especially suited for connecting buildings within a campus LAN, and the manufacturer claims FlightLite 100E will deliver more than four times the bandwidth and yet about the same price as half-duplex 802.11 bridges. The bridge also incorporates IEEE 802.af-compliant Power over Ethernet technology, which eliminates the need for additional electrical wiring to power the system.
LIGHTPOINTE
www.lightpointe.com
Hex tool
The THT-532 telephone hex tool is used to open 5/32 -inch hex tamper-resistant fasteners on communication pedestals and boxes. The tool is manufactured with a four-inch plastic handle, and a heat-treated carbon steel shaft is designed for long-lasting strength.
RIPLEY COMPANY
www.ripley-tools.com
SNMP support for network management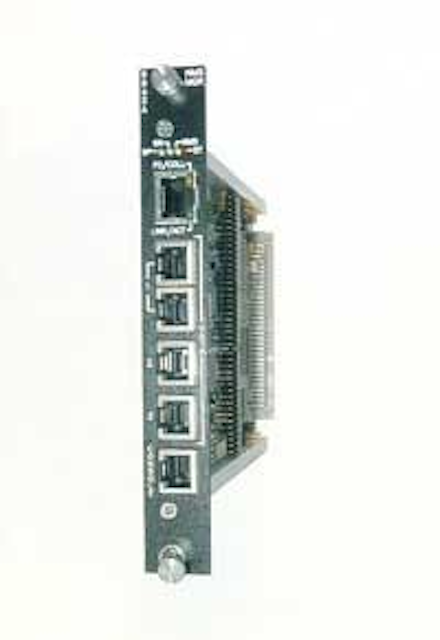 Click here to enlarge image
The 9942A network manager card and software-a Network Management System (NMS)-lets you use the company's video and data transmission systems to monitor network status via computer. The device combines the functionality of serial port and Ethernet management with SNMP support. Applications include large security installations or intelligent transportation video transmission systems. The cards operate in the manufacturer's Series 9000 chassis.
OPTELECOM INC.
www.optelecom.com