New Products
Four-post rack is designed to offer an open, accessible and unrestricted architecture for cable-dense network and telecommunications equipment.
Mar 1st, 2005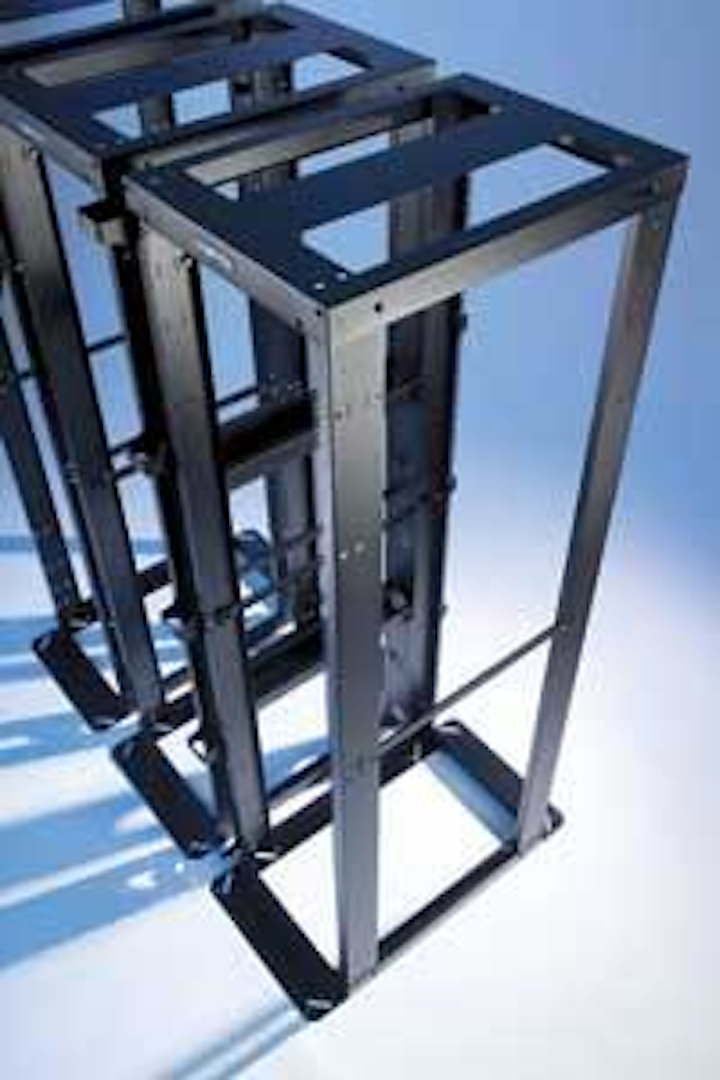 Four-post rack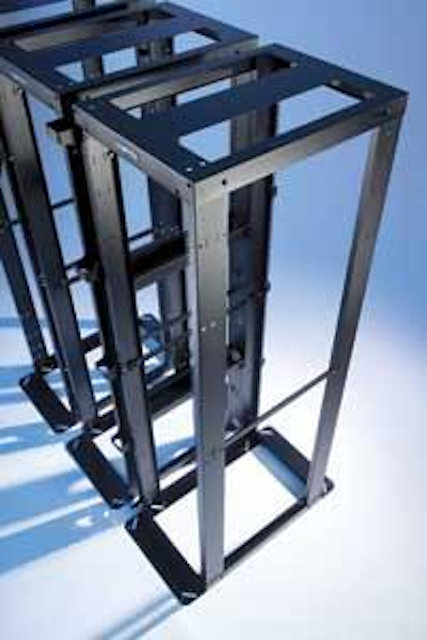 Click here to enlarge image
The Four-Post Rack is designed to offer an open, accessible and unrestricted architecture for cable-dense network and telecommunications equipment. The rack is suited for use in the main distribution frame (MDF), intermediate distribution frame (IDF), and traditional data centers. Unrestricted access is available to all sides. Labeled U-spaces assist with hardware deployment while the open design provides an unobstructed airflow into and out of equipment. Cable management accessories, such as vertical and front-to-back cable channels, let you route large bundles of cable along the side of the rack.
WRIGHT LINE LLC
www.wrightline.com
Audio via Category 5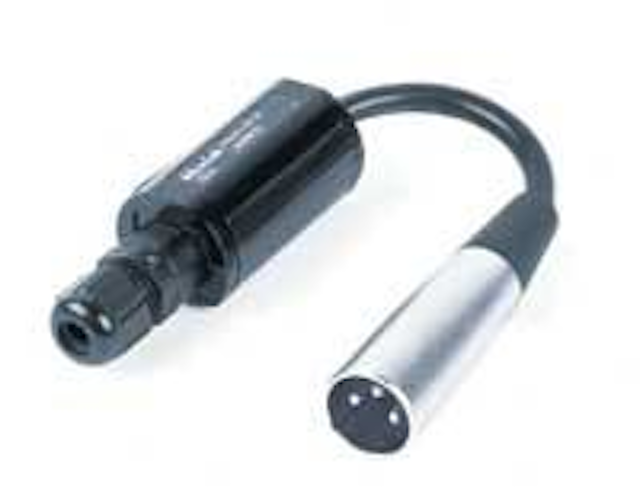 Click here to enlarge image
The MonoPRO XLR for professional audio adapts a single AES/EBU balanced analog or digital audio signal to Category 5 cable in a point-to-point configuration. In the pro-analog environment, MonoPro XLR supports distances up to 5,000 feet, and supports line audio as well as passive and phantom-powered microphones. In the pro-digital environment, MonoPro XLR supports distances up to 1,400 feet depending on sampling rate, exceeding the performance of traditional pro-audio cable. The Category 5 cable is terminated on screw terminals that are designed to be easily accessible inside the balun while protecting against dust and moisture. For added security, a cable strain relief mechanism grips the Cat 5 cable. The product comes with a locking XLR-3 plug or receptacle, depending on model.
MUXLAB
www.muxlab.com
Integrated raceway system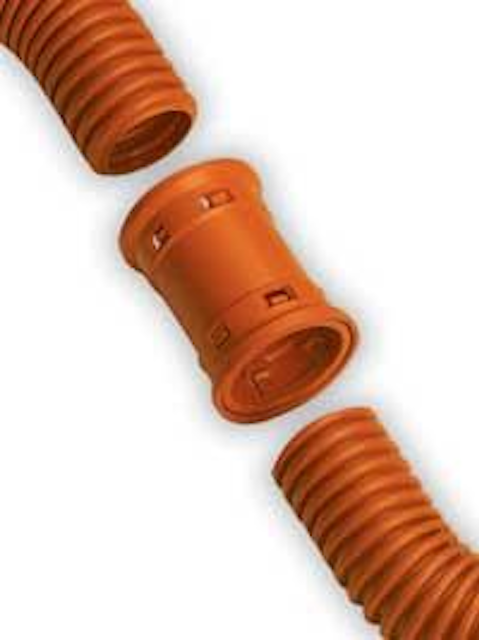 Click here to enlarge image
Kwikpath is designed as an integrated raceway system, comprising ¾-inch to 2-inch UL-listed conduit and fittings, and built especially for optical-fiber cable management. The raceway is available for plenum, riser and residential applications. Designed for arranging and organizing cable in a logical series of reusable pathways behind walls and ceilings, Kwikpath, according to its manufacturer, makes cable installation, removal and replacement fast and simple. All Kwikpath products are available in coil and reel lengths, and are wrapped in UV-resistant packaging for protective storage either indoors or outdoors.
IPEX INC.
www.ipexinc.com
Getting around difficulties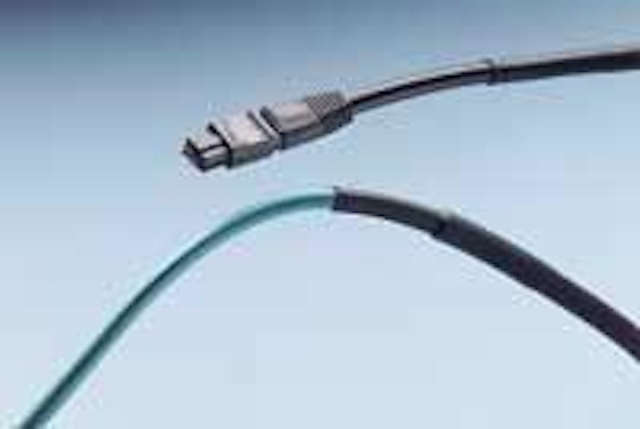 Click here to enlarge image
Compared to difficult-to-route flat ribbon cables, the MPO round jacketed ribbon cable assembles are designed for parallel transceiver interconnection applications, patch panels, optical switches and routers, and data communication centers. The MPO cables feature multiple ribbons stacked inside a round jacket designed to provide a more stable, low-profile solution for complex, dense optical network applications. The cables are available in up to 24 fiber counts, with counts up to 72 fibers available in the near future. Assembly pricing varies depending on construction type and length.
MOLEX INC.
www.molex.com/fiber/mpo.html
Remote Ethernet management
The COE-8 (Contacts over Ethernet) switch system is designed to provide a link between older systems that commonly use relay alarms, converting them to IP messages and re-converting them to relay closures at the other end. The technology is designed to reduce the need for on-site network management, administration and support by consolidating network equipment located in numerous remote locations into one central location. The system is especially suited for such applications as security and energy management. The COE-8's input unit collects switch information, and upon a change in status sends a message over the network to the output unit, which then changes its relays to match the status of the input unit. Status monitoring and setup control is managed via a Web browser, and a two-level security feature permits different users for monitoring and setup.
DATAPROBE
www.dataprobe.com
48-port 1U patch panel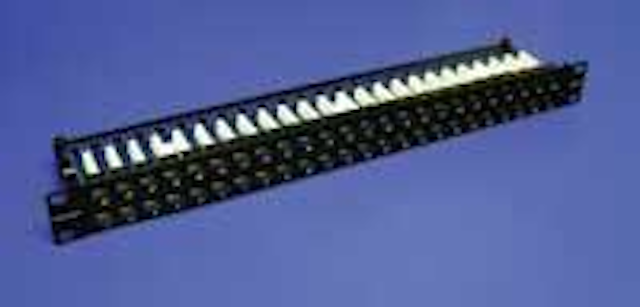 Click here to enlarge image
GigaBand Category 6 and MegaBand 5e patch panels support 48 ports in 1 rack unit (1U). The patch panels are designed to provide high performance in half the space of a typical 48-port panel. They feature built-in rear cable management that enables each cable to be secured to the back of the panel for neater routing and secure terminations.
HELLERMANNTYTON
www.htamericas.com
Rack-mount PDU

Click here to enlarge image
Supporting rack-mount applications with either single-phase or three-phase power, the HP Power Distribution Unit (PDU) is built to provide full-rack power from a single unit, ranging from 7,300 watts up to 22,000 watts. Single-mount models feature 39 receptacles while dual-mount models have 78 receptacles. These PDUs with power monitoring are designed to provide needed power to support servers, storage, networking and other equipment. A local power display lets you set up and configure the PDU and monitor its power for RMS current, status and overload conditions.
HEWLETT PACKARD
www.hp.com/products/ups
Handheld test sets
Three handheld test instruments are designed for installation and maintenance applications in optical-fiber networks. The FOT-600 Optical Loss Test Set features pass-fail indicators, designed to provide on-site analysis to speed up and simplify testing. Configurations include three singlemode wavelengths (1310, 1550, and 1490 or 1625 nm), or two multimode wavelengths (850 or 1300 nm). The FPM-600 Power Meter offers a wide dynamic range, high-power measurement, and a minimum/maximum power function designed to allow measurements of rapid system-power fluctuations. The FLS-600 Light Source is available in laser, LED and VCSEL models, and with several wavelength options.
EXFO
www.exfo.com
Mini-mini terminal blocks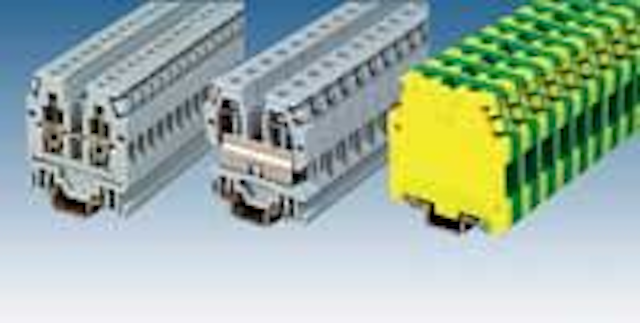 Click here to enlarge image
Sub-miniature, DIN rail-mounted terminal blocks are designed to meet the needs of high-density wiring in a compact design. The devices are available in screw clamp and spring clamp versions, and snap-mount onto a 15-mm standard DIN rail. The blocks are UL- approved and manufactured with UL94V-O polyamide for the insulation body, permitting the blocks to withstand extreme temperatures.
AUTOMATION SYSTEMS INTERCONNECT INC.
www.asi-ez.com
Portable Ethernet tester
Click here to enlarge image
The MD1231A1 is a portable, self-contained Ethernet performance test system with support for two 10-GbE ports and Layer 3/IP testing (for troubleshooting sophisticated real-time IP applications transporting voice and video). The unit is designed to significantly reduce test time on multi-port products, such as switches and routers, since it can test two ports simultaneously. The two 10-GbE ports also permit the device to function at both ends of a test network, simultaneously transmitting and receiving traffic. Through-mode capability lets you insert the tester in an existing Ethernet link and capture, monitor, and analyze traffic in both directions simultaneously-at full wire speed, up to 10-Gbits/sec, claims the manufacturer. The company says this feature is ideal for troubleshooting various subtle network problems that can occur between network elements.
ANRITSU COMPANY
www.us.anritsu.com
Decorative residential faceplates
Triple- and quad-gang faceplates in almond, ivory and white have been added to the Decorex line of home cabling faceplates. The products are especially suited for home theater systems and are capable of holding all audio and video connectors.
ICC
www.icc.com
End-to-end FTTP solution
Pathways is a complete line of independently-tested passive optical-network (PON) components and connectivity products designed for installing fiber-to-the-premises (FTTP) networks-including home, business and multi-dwelling unit applications. Pathways includes a portfolio of fiber management solutions for cabling and connecting between network transmission equipment and the outside plant at the central office/head end: fiber distributing frames, patch panels and splice shelves, cable assemblies, WDM and optical component modules and shelves, and entrance splice enclosures. The line also includes outside plant products designed to speed deployment of fiber in the feeder and distribution cabling plant: a fiber distribution hub, the RC line of connectors, drop cables, drop terminals and MDU terminals. Also, a suite of products for customer premises and multi-dwelling units are designed to support low- and high-fiber count applications, and include protective enclosures, cable assemblies, and connectivity components.
FONS CORP.
www.fons.com
Singlemode angled contact connectors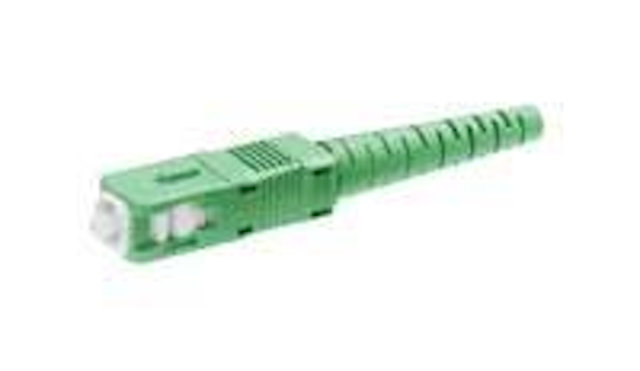 Click here to enlarge image
Independent third-party laboratory tests, according to the manufacturer, indicate that SENKO's SC APC connectors and adapters exhibit a desired level of suitability and interchangeability with other SC connector products. The line of singlemode, angled physical contact (APC) connectors is especially designed for FTTP and other networks that rely on multiple suppliers for passive optical components. Cable assemblies terminated with SENKO and other major suppliers' SC connectors and adapters, the company says, were tested for insertion loss, return loss and other performance parameters under GR-326-CORE Issue 3.
SENKO ADVANCED COMPONENTS
www.senko.com
Quick-disconnect cabinet bus bars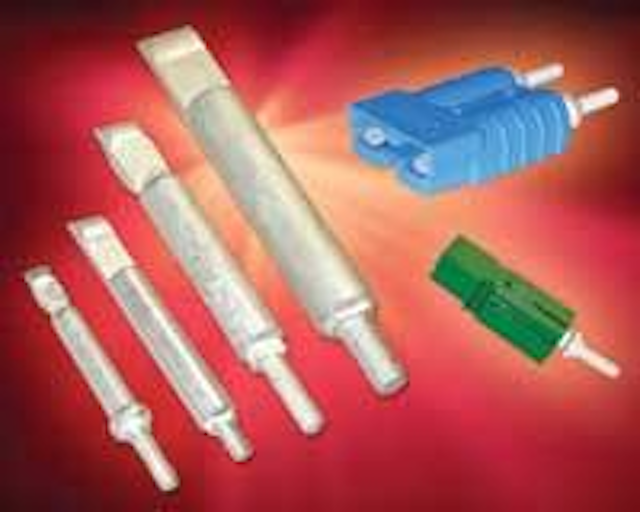 Click here to enlarge image
Designed especially for crowded electronics and telecommunications cabinets, 120-amp and 350-amp bus bar contacts mate with the company's Powerpole 120, SB 120, and SB 350 connector families. These bus bar contacts attach directly to a copper bus while offering a quick-disconnect design that minimizes the expense of system assembly, repair, or replacement-licensed electricians are not required to conduct field site service and repair. The silver-plated devices are manufactured from solid copper. Contacts are threaded to provide simple attachment to a bus without the need for special tools.
ANDERSON POWER PRODUCTS
www.andersonpower.com
Overhead cable management system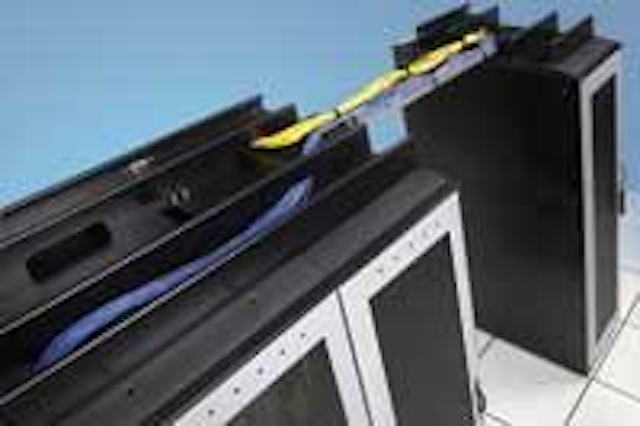 Click here to enlarge image
An overhead cable management system, designed for use with the company's Paramount and Vantage 2 lines server enclosures, is built to eliminate the need for inflexible overhead ladder-rack systems by letting you route cables directly on top of the enclosure. Unlike typical ladder-rack systems that attach directly to the ceiling, the overhead system moves with your racks as floor plan configuration changes become necessary. A power tray lets you route power whips on top of the enclosure while being physically shielded from network cables. Tool-less attachment is designed for quick deployment and provides the flexibility to change trough widths or add additional troughs.
WRIGHT LINE LLC
www.wrightline.com
Tester for cabling bandwidth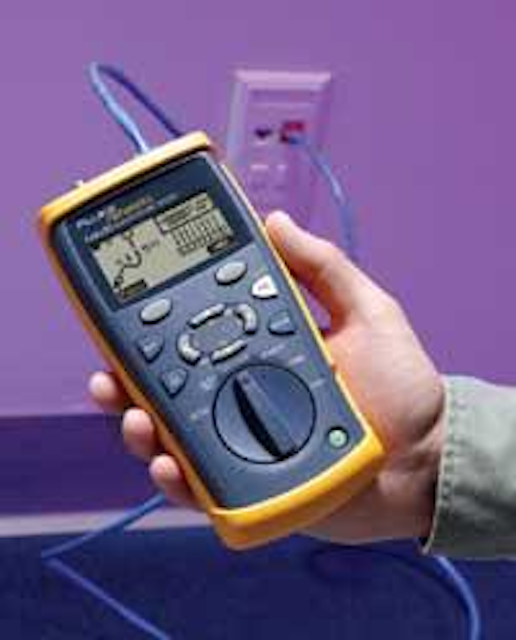 Click here to enlarge image
The CableIQ qualification tester is billed as the first bandwidth tester for network technicians. The handheld tool shows what speeds can be supported by existing cabling and helps technicians quickly solve network connectivity problems. CableIQ also lets you know if your network is ready to deploy advanced technologies like Voice over Internet Protocol (VoIP) and Gigabit Ethernet. The unit's ability to see cable bandwidth and detect device speed and duplex settings lets technicians isolate bandwidth-related cabling problems from network problems. When problems are cabling-related, you can use CableIQ's diagnostics to locate performance faults. An infrastructure discovery feature lets technicians see whether the port is connected to a switch, PC, analog phone, or open cable. In discovery mode, you can map out the cabling infrastructure, verify moves, adds and changes (MACs), and improve switch utilization by freeing up and redeploying unused ports. All tests can be conducted while the network is live.
FLUKE NETWORKS
www.flukenetworks.com
Cat 5e patch panel with jack protection
The PowerCat Category 5e line of patch panels feature the manufacturer's DataGate Plus RJ-45 jack designed with an automatic shutter that protects from dust and contaminants, and pops out improperly seated patch cords. The panels are available as 1U 24-port or 2U 48-port units. Included are patented IDC V-shaped contacts designed to flex rather than fatigue when terminated, dual color-coding for 568/B wiring configurations, and molded category identification on each port face (port identification ions optional).
MOLEX PREMISE NETWORKS
www.molexpn.com
Cable harness mounts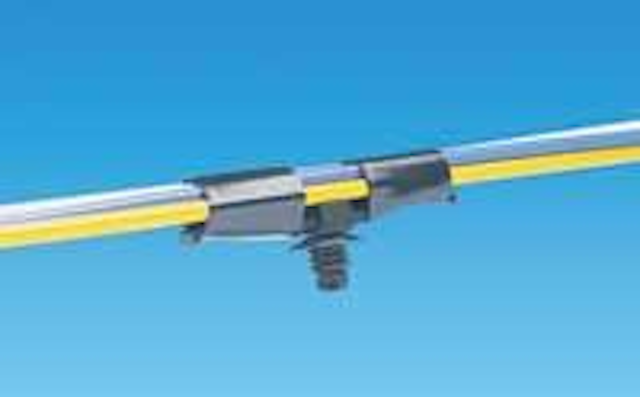 Click here to enlarge image
Waytek now carries cable harness mounts from HellermannTyton in push-mount and fir-tree-mount styles. Tape or a cable tie can be used to mount the harness in place, then simply push into a hole in a solid panel, such as sheet metal or wood. The black nylon harness mounts allow for .31-inch of movement on either side of center to allow for alignment.
WAYTEK, INC.
www.waytekwire.com
Thermal management for enclosure design
The Center for Airflow and Thermal Technologies (CATT) offers thermal management and analysis for telecom enclosure design, such as determining airflow and temperature requirements for an enclosure, selection and placement of fans, layout for optimal cooling, investigation of thermal failure scenarios, and data center thermal analysis. CATT's thermal analysis and design service uses advanced technologies in solving electronics cooling problems. It includes CFD modeling software, thermal imaging cameras, and multipoint airflow measurement equipment. Once a design is complete, CATT's services include validation testing and compliance testing to meet UL, CE, and NEBS standards before production, thus preventing costly redesigns.
DEGREE CONTROLS INC.
www.degreec.com
Put a hook into cable management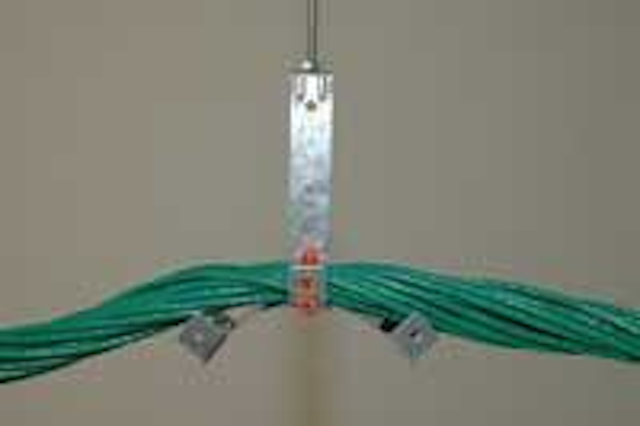 Click here to enlarge image
Snake Hook is a cable manager for walls, overhead, or under floors. Its wide arch design is built to relieve stress on cables and eases cable pulling. A built-in mounting system allows for quick installation. Qualified for plenum environments, Snake Hook is especially suited for lighter cable counts or as a service loop hanger.
SNAKE TRAY
www.snaketray.com
Temperature and humidity logger
The HOBO LCD Temp/RH Logger monitors temperature and humidity levels in server rooms, data centers, and server cabinets. It records and displays temperature ranges from -4˚ F to 122˚ F, and humidity ranges of 15 to 95%. The device can also activate an optional auto dialer unit that alerts IT administrators via phone or pager to out-of-range conditions. Battery-powered and wall-mounted, the logger system includes the company's proprietary BoxCar Pro software that lets you set high and low-level alarm thresholds, and offers a graphical display of temperature and humidity data compiled over time.
ONSET COMPUTER CORP.
www.onsetcomp.com
Universal marking system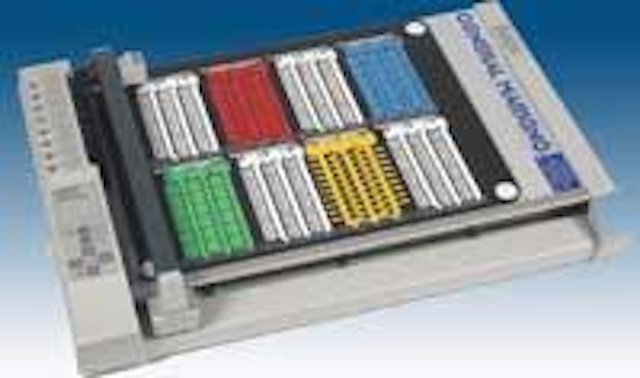 Click here to enlarge image
The upgraded EZ-Mark universal marking system can mark terminal blocks, wire markers (wrap-around adhesive and tube-insert), as well as panel and push-button nameplates. Software lets you import spreadsheet format documents and CAD files. The kit includes plotter, two tag templates, ink, solvent, printer cable, pen, software and a manual.
AUTOMATION SYSTEMS INTERCONNECT INC.
www.asi-ez.com
Rotary hammer drill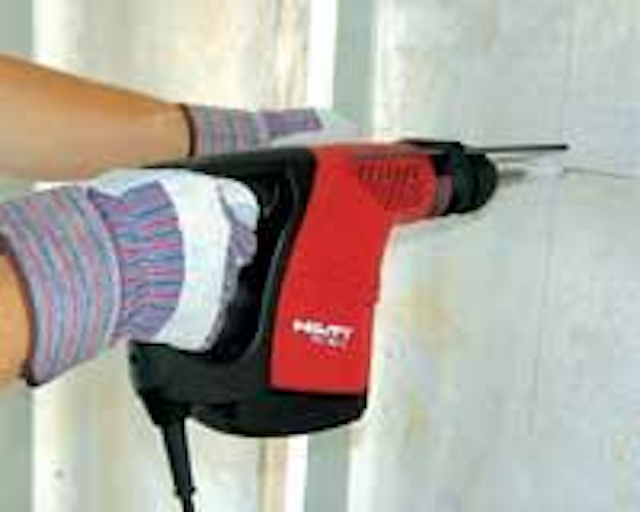 Click here to enlarge image
For cabling installations requiring penetration through masonry, stone or other difficult surfaces, the TE 16 and TE 16-C rotary hammer drills are designed to provide an increase of up to 50% in drilling speed and chiseling. The TE 16 compact rotary hammer is intended for repetitive anchor hole drilling through concrete, masonry, wood and metal-installing and removing masonry screw anchors. The TE 16-C offers the same features as the TE 16, plus a chiseling function for light chiseling work on masonry and concrete. Both drills feature a removable chuck interface and an easy-click chuck, designed for one-hand attachment and removal.
HILTI INC.
www.us.hilti.com
Structured cabling mounting brackets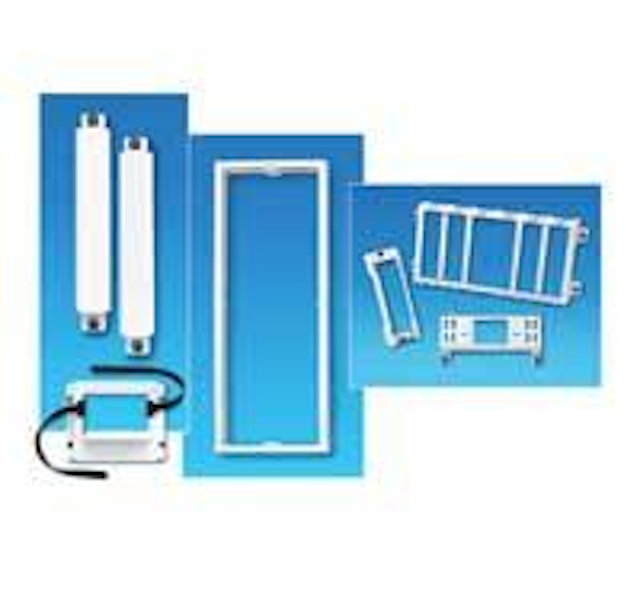 Click here to enlarge image
Three types of mounting brackets are available for Leviton Integrated Networks' Structured Media Centers (SMCs). The brackets are designed to let you expand the capacity of the company's 14-, 28- and 42-inch SMC enclosures to accommodate a greater number of modules, devices and components. Included are: a single plastic bracket for mounting one device in the SMC; an expansion plastic bracket that can hold up to five devices; a data plastic bracket that can accommodate various manufacturers' switches, routers and modems; universal security and shelf brackets designed for consolidating or integrating security devices; a shelf bracket that provides space for security batteries of various sizes; extender brackets for the 28- and 42-inch SMCs that provide an additional two inches of depth.
LEVITON MANUFACTURING CO.
www.leviton.com
Small-form-factor pluggable devices
In expanding its line of small-form-factor pluggable (SFP) devices, Molex has introduced ganged cages, stacked multi-port connectors, and pluggable multi-port stacked cage assemblies. All are designed to meet higher packaging density needs for a variety of networking and telecommunications equipment applications. The ganged cages are available with a "lightpipe" option that can be added after the cages are mounted to a PCB, and come in various configurations as separate covers. They are designed to eliminate the need for multiple single cages, resulting in increased PCB space. Stacked multi-port connectors with lightpipes are now available in 2 × 4 and 2 × 6 versions, providing two rows each of four or six belly-to-belly, vertically stacked SFP ports and lightpipes. Pluggable multi-port stacked cage assemblies are designed to provide a simplified, one-piece solution for high-density SFP module spacing. A standard 2 × 4 configuration can be modified to
2 × 2 through 2 × 6 configurations. The assemblies use the company's interconnect technology to support signal transfers up to 4.25 Gbits/sec, and feature an elastomeric gasket designed to reduce insertion force into the I/O panel while ensuring a reliable EMI seal.
MOLEX INC.
www.molex.com/products/sfp.html
High-volume 110-block cable management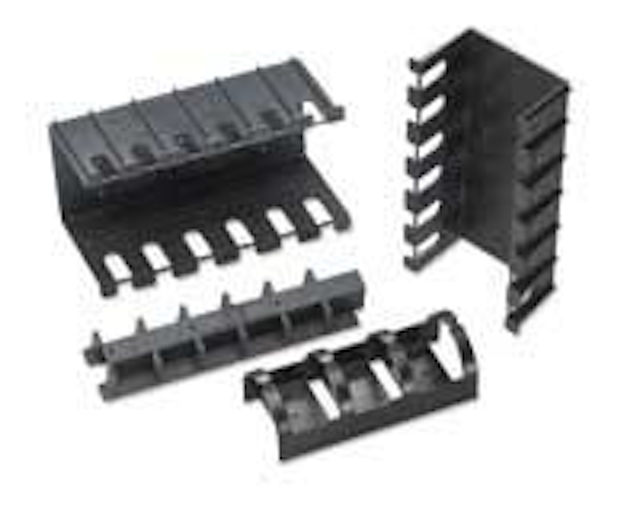 Click here to enlarge image
The ChannelMax System is designed to manage high volumes of cable, patch cords and cross-connect cabling in a typical 110-block installation. The increased channel size is built to double or triple the available space behind 110 blocks to ensure cables are not crushed and performance not compromised. Three- and five-inch cable channels attach to the wall behind the 110 blocks to support the block and horizontal cable management products. This non-proprietary design lets you attach any combination of standard 110-blocks and cable management. The system also includes horizontal cable management troughs that attach directly to the cable channels, and vertical spool managers that attach to the wall-both designed to support cables and provide bend-radius control.
LEVITON VOICE & DATA DIVISION
www.levitonvoicedata.com
Fiber-to-the-home fusion splicer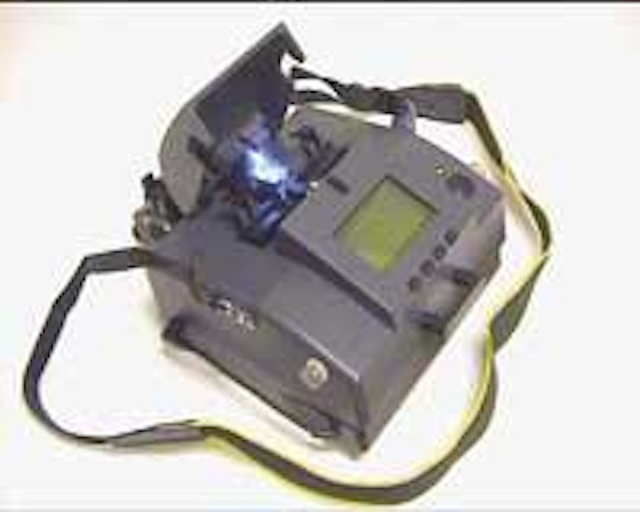 Click here to enlarge image
Swedish manufacturer Future Instrument Fiber Optics AB is offering a handheld mini-splicer for simplified fiber-to-the-home fusion splicing. Available in North America through 3SAE Technologies, the EFS-150 FTTx arc fusion splicer works with singlemode and multimode fibers. It can automatically identify cleave angle offsets and accurately estimate splice losses. An automatic environmental compensation feature takes into account external splicing factors such as humidity, altitude, electrode wear, and temperature. The device can log up to 500 individual splicing events-features typically only found on more costly outside plant splicers. With a less than seven-seconds splicing time, the EFS-150 FTTx includes fiber holders for easy handling, a precision cleaver, lightweight carrying case, a field harness for hands-free aerial splicing, and a long-life rechargeable battery that allows up to 80 splices with heat shrinking on a single charge.
3SAE TECHNOLOGIES INC.
www.3sae.com
Handheld tools for FFTx applications
The FS-1318 Tri-Wavelength Fiber Source and FM-1318 Optical Power Meter are handheld optical-fiber test devices for FTTx applications. The Fiber Source is a single-port device employing a SC/UPC connector port, providing 1310, 1490, and 1550-nm wavelengths. The unit can test passive optical networks at the three main wavelengths recommended for use in fiber-to-the-home and fiber-to-the-premise networks. It also provides continuous wave (CW), 270-Hz, 1-kHz, and 2-kHz modulation. The Optical Power Meter is calibrated at 850, 1300, 1310, 1490, 1550, and 1625-nm wavelengths. These additional wavelengths make the unit especially suited for general purpose testing of multimode and singlemode systems. It also detects and displays 2-kHz, and stores a reference measurement.
WILCOM
www.wilcominc.com
Stackable gigabit backbone switches
TigerStack 10/100/1000 48-port and 24-port stackable managed gigabit backbone switches are both available with optional 10-Gigabit uplink. In both switches, four of the ports can be upgraded with optional mini-GBIC expansion slots for fiber connections. Both are designed to handle heavy traffic from a 1 RU package. Switching capacity is 156 Gbits/sec for the 48-port switch and 108 Gbits/sec for the 24-port device. Features include advanced security safeguards, flexible Layer 2/3/4 traffic prioritization and rate-limiting for quality of service across the network, and network segmentation provided by port and protocol-based VLANs. The switches can be mixed/matched for stacking up to eight units high.
SMC NETWORKS
www.smc.com
Fusion splicer thinks really small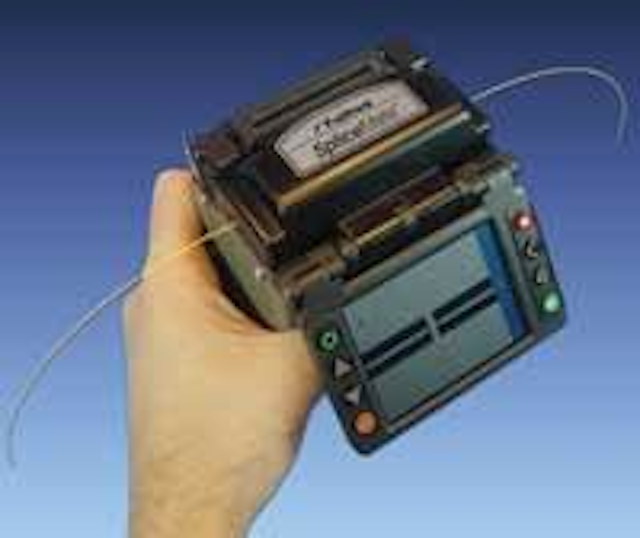 Click here to enlarge image
Billed as the smallest portable fusion splicer on the market-30% smaller than competitors and designed to fit in a toolbox-the SpliceMate is built especially for limited access and hard-to-reach spaces found in many fiber-to-the-home and fiber-to-the-premise installations. Features include dual-camera fiber viewing, splice loss estimation, automatic arc calibration, automatic core analysis, and fiber type detection. It offers a typical splice time of 20 seconds, and a 60-mm splice protector shrink time of 40 seconds (using the built-in heater). SpliceMate is available in single-fiber or four-fiber ribbon versions.
FUJIKURA EUROPE
www.fujikura.co.uk