Labeling systems create lasting impressions
This segment of the cabling industry has come a long way from the days of pen-style markers and electrical tape.
Jan 1st, 2005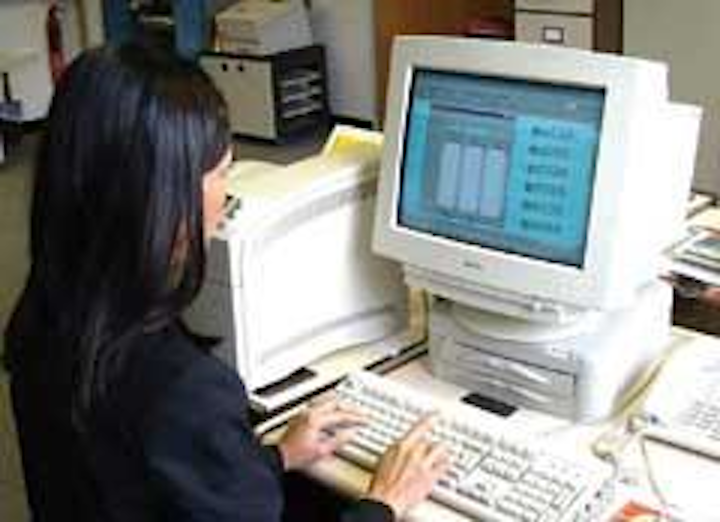 This segment of the cabling industry has come a long way from the days of pen-style markers and electrical tape.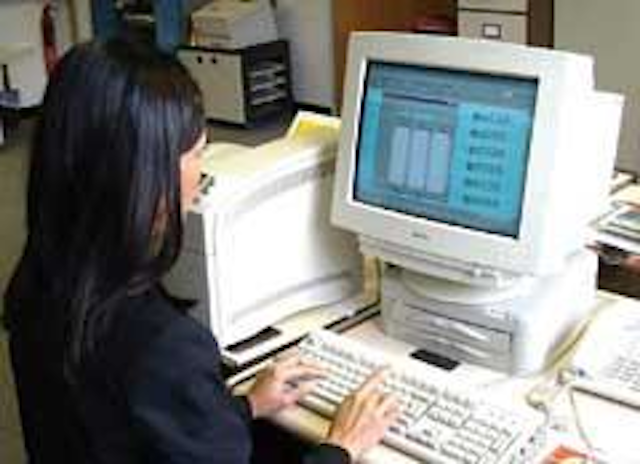 An office worker creates labels using Silver Fox's multi-vendor software platform.
Click here to enlarge image
When it comes to labeling network cabling systems, it's important to do it right the first time to make an impression that will last through the life of the cabling system. Once a job is installed and the naming convention selected, it "sticks," in more ways than one. The labeling solution becomes the basis of the cable-management records, which will be critical for all subsequent changes and upgrades.
"Labeling is sometimes the last thing an installer thinks about; however, it becomes the first impression to their customer," states Nick Michaelson, president of Silver Fox Ltd. (www.silfox.com).
"Clearly marked closets and workstations leave an impression of quality workmanship and make moves, adds, and changes easier by eliminating mistakes and wasted time," notes Dave McBain, labeling product manager for Hubbell Premise Wiring (www.hubbell-premise.com).
All agree that an efficient labeling and administration system is vital at the onset of the installation. But trying to decide on a specific labeling method becomes a dilemma because there is a wide variety of labeling systems and products on the market. Factor in an industry standard, TIA/EIA-606-A, as a guideline in administration procedures, and contractors can have a sticky situation finding the right labeling solution. (A listing of labeling products can be found on page 50.)
Evolution of network labeling
In the past, cables were tagged and marked with a marker-type pen, and panels were identified with masking tape. Realizing that these could only be read by the installer who applied them, would not weather well, or would not correspond with any formalized record-keeping process, companies developed automated labeling products.
BICSI (www.bicsi.org), together with the TIA, standardized the labeling procedures and created an administrative system for operational and maintenance benefits in premises cabling. The TIA/EIA-606-A standard classifies labeling specifics by the size of the telecommunications infrastructure to accommodate complexities, changes and expansion.
Often, the labeling and administration system is predetermined by the customer, depending on the scope of the site. When the decision is left to the end user, the bottom line becomes a factor-selecting a solution that saves installation time and money. Each labeling-system manufacturer offers unique qualities and most installers use a combination of products, from complex back-office PC-based systems to on-site handheld labeling systems.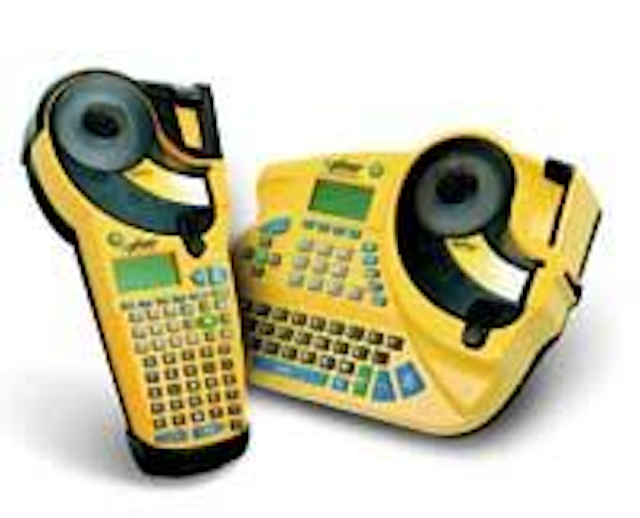 Brady's family of portable printers is available with two different keyboards, in QWERTY and ABC formats.
Click here to enlarge image
Although the cabling industry still needs identification tags, ties, and wraps, comprehensive labeling and administration procedures have become an integral part of a structured cabling system and have opened the floodgates for many companies to enter the "naming game." Because the standard does not lock the end user into any particular supplier, users can choose the vendor that best suits the needs that are dictated by the installation site.
More than name calling
"There are three basic elements for the ANSI/TIA/EIA-606-A, ratified from the original TIA/EIA-606, which includes identifying, labeling, and recording," explains Dave Morrison, division manager for Panduit Corp. (www.panduit.com), and a member of the committee that developed the 606-A specifications. Identifying is an alphanumeric scheme used in labeling and record keeping. Identifiers are separated into categories, such as pathways and spaces (e.g., conduits and closets), cabling (media type), grounding and bonding (busbars), and equipment (racks and panels).
One of the most important factors in the 606-A standard is that it mandates labels be mechanically produced to assure visibility and readability, and that the label be highly durable. Labels and ink should be resistant to environmental conditions, such as moisture, heat, and ultraviolet rays, and should have a life equal to or greater than that of the labeled component. A long list of labeling-system providers manufacture the labeling material, and they are constantly challenged with the environment that affects the ink as well as with unique surfaces to which these labels must adhere-from smooth cable jackets to rough patch panels.
"It's more than just labeling; it's also about making sure the cable-management documentation works hand-in-hand with identifying and labeling," states Jim Pettit, business development manager for Brady Corp. (www.bradyid.com), as he explains the third and perhaps most important element of a comprehensive administration system. "Documentation is key because people come and go, and there has to be a system in place so that further down the road when making adds, moves, and changes, or even when replacing the cable, anyone can step in and make sure that everything corresponds-from labels to test results," notes Karen Aho, RCDD, president of voice and data system contractor DellComm in Mounds View, MN.
Many labeling-solution providers offer comprehensive software documentation packages that are TIA/EIA-606-A-compliant and that link cable management with testing. Among them are Brady's NetDoc Cable Management Software, Panduit's ID Generator, and Silver Fox's Labacus Innovator US Data.
Comprehensive solutions
For large installations, it is most cost-effective to use a PC-based system in which the labels can be produced quickly in sheets, downloaded from a preprogrammed system, then uploaded. "The quality of the labeling is a direct and highly visible reflection of the quality of the entire network installation," says Morrison. Panduit Corp., known to many as a connectivity manufacturer, has an entire division dedicated to identification solutions. The company provides software, labels, and printers for networking, as well as a line of lockout/tagout and photoluminescent tapes for marking other low-voltage products and signage.
"We offer comprehensive, simple-to-use PC-based solutions, which can represent significant savings to produce labels," Morrison says. "In addition, our smaller handheld printers, such as the LS7 and LS3E, are portable and are commonly used on-site, while working in conjunction with our PC-software to keep the naming structure and identifiers consistent with the test and administration records."
Duane Yamashita, marketing manager of commercial labeling systems for Brother International Corp. (www.brother.com), says, "We try to offer a selection of tools and methods so that the contractor can choose the way he wants to work, instead of forcing one way. We also stress the importance of documentation, since it is the most overlooked portion of the whole industry. If it is done right the first time, the customer saves time and money on moves, adds, and changes."
Brother, most often thought of for its extensive line of handheld labeling products, offers its own software (or the option to use Windows-based programs such as Excel), and is one of the few software programs that can run on a Macintosh. Brother's desktop model, PT-9500PC, lets users print a roll of "crack-and-peel" labels from a computer; the handheld PT-1650 model lets users print labels from memory; and the PT-9600 hybrid model supports both approaches.
HellermannTyton (www.hellermanntyton.com) offers a desktop, Model TT310SM, as well as a handheld, Spirit 2100, which boasts ease-of-use. The desktop is a standalone printer with a small footprint, and runs off most PCs. "With a floating printhead, it can automatically adjust to any thickness of material to produce a wide variety of labels," states Todd Fries, marketing manager for HellermannTyton, and a member of the committee that established the TIA/EIA-606-A specifications.
Hubbell Premise Wiring and Ortronics (www.ortronics.com), manufacturers of connectivity for structured cabling systems, offer their own software-based programs with built-in templates for their proprietary labels, which are customized to fit their products. "Our LabelMO software has drop-down menus to select all the options for cables, as well as for front and back panels, such as 110 blocks or patch panels," says Gary Bateson, RCDD, product manager for Ortronics. "We make it easy with icons for which the customer can click and then type in the sequence."
Many cable and connectivity manufacturers who want to provide customized solutions but do not have a separate labeling division within their company are investing in the multi-vendor solution that Silver Fox offers. In addition to providing individual manufacturers' software under each OEM's brand name, Silver Fox also produces label cards and durable label sheets for thermal, inkjet, or laser printers using vendor part numbers, including Belden CDT's LabelFlex, AMP Netconnect Labeling, and Leviton LabelWare.
"Most of the time, we use the labeling scheme in accordance with the customer specifications," states Tami Turk of Bullet Communications, located in South Hackensack, NJ. "It's most productive for our large installs to generate labels back at the office. I have found that with Silver Fox, you can download many manufacturers' templates and easily cut and paste into the templates, eliminating many tedious, time-consuming steps. Every project is different, and documentation is so important; it is imperative that we have a system that reduces input time and creates proper labels."
Portable solutions for the field
Handheld standalone labelers, as well as PC-based portable printers, are designed for ease-of-use and speed at the job site. Some offer the same features for complex PC-based labelers, but as a scaled down version for quick labeling. "Invariably, there are always changes on the labels; so, instead of going back to the office, you can do this conveniently with an on-site portable label product," states Mike Clemens, marketing manager for Dymo Industrial (www.dymo.com/industrial).
New to the market but not new to labeling, Dymo Industrial entered the data-communications and electrical markets with a line of low-cost handheld label printers. The company's newest, the RhinoPro5000, is a heavy-duty labeling tool for labeling cables, patch panels, and other surfaces. "A year before we launched the product to market, we did extensive job-shadowing with installers to learn the features and benefits they wanted in a handheld printer, then built those features into the product for a reasonable price," notes Clemens.
Brady's IDXpert is a handheld cartridge-based labeling system that can print die-cut labels, self-laminating labels and sleeves, as well as continuous tapes, and comes in two different keyboard formats to accommodate users' typing preferences.
"I use a labeling system that is user-friendly since I am concerned with time management and don't have time to learn new products," says Dan Damitio, an installer with Laser Link of Anaheim, CA.
Says HellermannTyton's Fries: "We base our printers on a WYSIWYG-what you see is what you get-interface that includes a simple-to-use LCD screen. There is very little learning curve. You just turn it on, hit one button, and you can start typing."
"It all depends on the specific components to be labeled," notes Michael Cantrell, installer for Irvine, CA-based Inc1. "Some faceplates don't even have a spot for a label, so even though we may use customized OEM programs for the closet equipment, I often create one-by-one labels from a handheld P-Touch system for the faceplates. In fact, in the future, it would be nice to find a faceplate that has a label designation above each jack."
Looking ahead
Even though labeling is now specified in a standard, it is not mandatory. "We have to rely on BICSI and the manufacturers of labeling systems to educate installers on the importance of labeling," states Dymo's Clemens. "Labeling is often not considered when manufacturers issue their cabling-system warranties. Rather, they are judged mostly on their adherence to other standards, like TIA/EIA-568. As networks evolve, this needs to change," he explains. "Good labeling practices not only set installers apart; they provide assurance that the system is installed properly."
Whenever a standard is ratified, there always are changes waiting in the wings. Already, a committee is discussing TIA/EIA-606-B. "The committee is looking to expand the scope to include other applications," notes Chad Smith, business development manager for Panduit and a committee representative.
"A key issue that is often overlooked is that proper labeling can affect network downtime as our networks converge," Clemens says. "We are seeing more and more applications beyond the realm of voice and data, such as security and streaming video, running over one network. If we don't have a proper labeling system in place, then something like a mismarked patch cord going in the wrong port can bring the entire network down."
Click here to view the Marking and Labeling Equipment Product Update
CAROL EVERETT OLIVER, RCDD, is a freelance writer covering the cabling industry. Cabling Installation & Maintenance commissioned her to write this article. She can be reached at coliver@everettcom.com