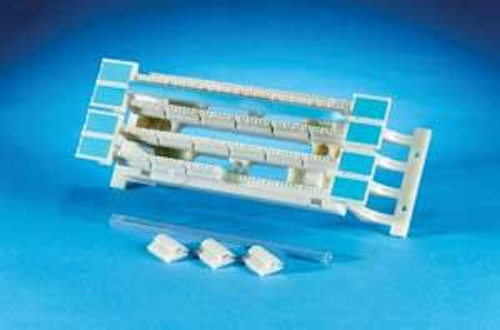 Not-to-be-forgotten elements in the development of 10-Gigabit Ethernet UTP solutions.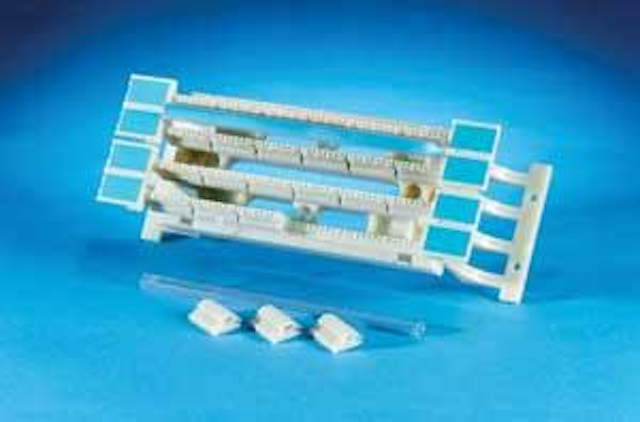 Ortronics introduced compensation into its Category 6 110 connecting blocks by adding a small PCB on each clip, which does not change the footprint, density, or required tools.
Click here to enlarge image
With new 8-position modular jacks designed to handle 10GBase-T transmission, patch panels have quickly made their way into new product lines that vendors predict will comply with the Augmented Category 6 specifications now in development. In contrast, the connecting block appears to be a forgotten element, and very few vendors have said anything about its role in the recent evolution of UTP cabling systems.
But despite the connecting block's steady market decline and recent lack of focus, vendors are not ready to give up on it just yet. Several unique approaches brought connecting blocks from Category 5e to Category 6 performance, and vendors are once again gearing up their development efforts. In fact, later this year and in early 2006, we can expect to see vendors rounding out their 10-Gigabit product offerings with connecting blocks.
Declining market status
Patch panels and connecting blocks both connect network equipment to workstations, either in a cross-connect or interconnect configuration. In a cross-connect, cabling from the workstations is connected to a connecting block or patch panel, and cabling from the network equipment is connected to another connecting block or patch panel. The two connecting blocks or patch panels are then connected to each other. In an interconnect configuration, a single patch panel or connecting block is used to connect the workstation cable to the equipment.
"Ten years ago, connecting blocks were the dominant technology, and there were very few modular patch panels. That has transitioned dramatically," says Mabud Shoudhury technical manager of Systimax Labs (www.systimax.com). "The 8-pin modular jacks and plugs used at the workstation and on network equipment became the connector of choice, and the patch panel offers that connector."
Siemon's (www.siemon.com) global sales engineer, Valerie Rybinski, believes the reduced use of the connecting block is unfortunate. "These blocks support all of the features of traditional patch panels, including ease-of-termination, custom and color-coded port designation, and protective covers, while delivering the highest performance margins of all connectivity types," she says. "Perhaps once the industry becomes more aware of the transmission headroom delivered by these products, we will see resurgence in their use."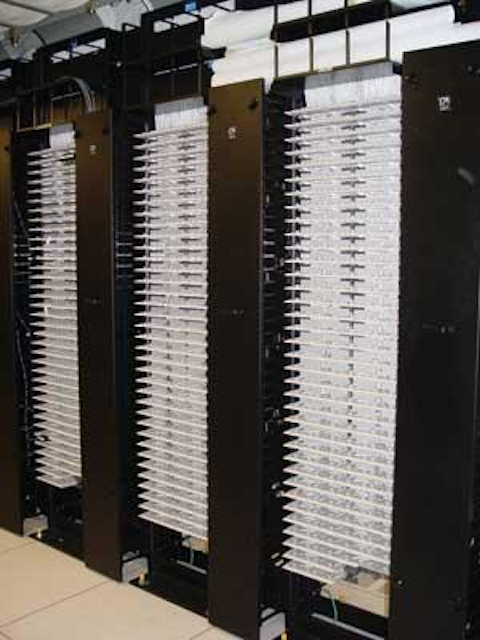 Systimax's VisiPatch system offers management capabilities that the company says make it particularly beneficial in high-density applications like this one.
Click here to enlarge image
Connecting blocks have found their way into niche applications, such as those that require hundreds of thousands of ports, are faced with limited space, or have a need for better security. "Customers who need high density will often choose connecting blocks because they are much easier to manage on a wall, and they are much less expensive than patch panels in a cross-connect scenario," says Benoit Chevarie, product line manager at Belden CDT Networking (www.beldencdt.com). "With patch panels, it's easy to make changes, but one reason people use connecting blocks is to prevent that. Connecting blocks inherently offer better security."
Many industry professionals, however, believe that patch panels are more reliable over the lifecycle of a cabling system. "There is more training with patch panels, and I believe installers have learned to become methodical and careful when connecting them," says Hugo Draye, product manager at Fluke Networks (www. flukenetworks.com). "Blocks may be easier to work with, but installers often take more liberty with them, and that can mean lower quality."
Draye also points to connecting block connectors' limited lifetime in terms of both the number of insertions allowed and the difficulty in controlling and testing critical performance parameters.
"There's nothing wrong with connecting blocks per se, but we don't have specific measurement techniques to test them individually," he says. "The performance of the two halves of the RJ-45 connector has been carefully nailed down and measured, and that hasn't been done with connecting blocks. When it comes to connecting blocks, people are happy if the link passes."
Meeting Cat 6
In 2001 and 2002, achieving Category 6 performance with connecting blocks was a challenge that resulted in several new designs. "Most 110 blocks could support Category 5e, but when we went to 250 MHz, the expectations for crosstalk were tougher," says Gregg LaFontaine, product manager at Ortronics (www.ortronics.com). "One method introduced compensation to cancel out the noise, and another introduced a barrier or space between pairs."
Ortronics introduced compensation into their Category 6 110 connecting blocks by adding a small PCB on each clip (see photo, page 32). "Our Clarity6 110 block looks basically identical to the Category 5e block, but if you look closely at the clips, you will see that it is a little bit larger because of the added PCB," explains LaFontaine. "Others met Category 6 performance by changing the block in a way that made it different from what the customer was accustomed to. If we can design something that doesn't require our customers to make a change, we would rather do it that way."
In the 8-pin modular plug and jack, the plug remains neutral and compensation is carried out in the jack. For Category 6 connecting blocks, Systimax took the opposite approach. "We made the decision to maintain the 110 connector as our base connector and implement the compensation into the 110 plug," says Shoudhury. "This kept the 110 block constant-it remained a true 110 system with the same density and the same tools."
Systimax's VisiPatch system is based on the company's compensating plug design and consists of snap-together components with integrated building cable and patch cord management. VisiPatch offers a reverse-direction patch cord design that prevents cords from hiding labels or obstructing blocks. "In larger density applications, there is a range of cable management issues that become almost as important as performance," says Shoudhury.
Belden CDT's BIX connecting block evolved to the GigaBIX, with improved performance in the IDC patch cord and better cable management to accommodate the larger Category 6 cable. "Many in the industry changed their connectors, but our BIX connectors had good performance that allowed us to use it without alterations," says Chevarie. The GigaBIX IDC system maintained the same footprint, connector, and tools as the previous BIX connector, and the GigaBIX enables Category 6 performance with cross-connect wire.
Siemon designed its S210 connecting block with optimized pair spacing and internal crosstalk barriers to provide NEXT loss performance for Category 6 and beyond. "The S210 connecting block is virtually invisible when used as a consolidation point in a channel," says Rybinski. "The S210 system utilizes the same wiring base footprint as standard S110 products to be fully compatible with existing S110 mounting and cable management solutions." Siemon's S210 connecting blocks feature the same termination practices as their existing S110 product, and are compatible with single-position S110 termination tools.
The Krone (ADC) block featured minor changes to meet Category 6 performance, which included distancing the contacts to dissipate the signal between pairs. "The geometry of our angled contact didn't change, but we utilized air to isolate the contacts," says David Yanish, senior marketing manager for ADC (www.adc.com).
En route to 10 Gig
While vendors quickly introduced connecting blocks to their Category 6 product lines, the same is not true for Augmented Category 6. "There are good reasons why the connecting block hasn't received attention," says Systimax's Shoudhury. "Standards and test methodologies are written around the modular plug/jack interface, and we are required to solve the modular plug for 10 Gig because it resides at the workstation. Because patch panels make up more than 80% of the market, we take that significant modular plug/jack effort and apply it to the patch panel first."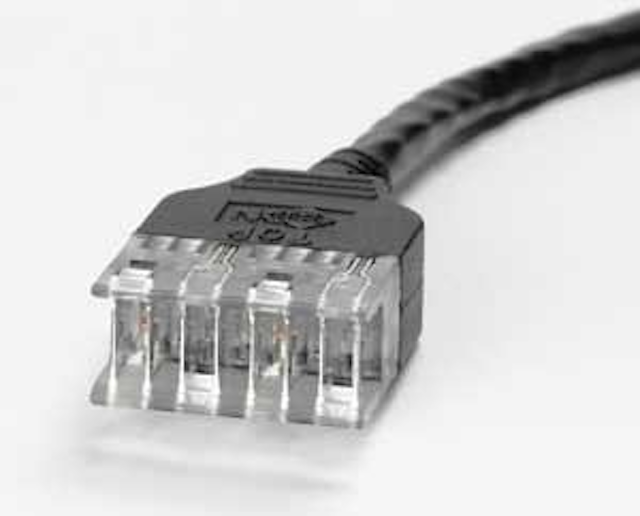 Belden CDT's BIX connecting block evolved to the GigaBIX with improved performance in the IDC patch cord.
Click here to enlarge image
Coming up with a connecting block that addresses alien crosstalk to meet proposed Augmented Category 6 standards will require some strategic technology development from vendors-yet another reason why the connecting block has not received much attention. "Connecting blocks are typically stacked next to one another, and the spacing is the same between the last pair of one block and the first pair of the next," explains Belden CDT's Chevarie. "This makes addressing ANEXT a huge challenge. It may require spacing the blocks or shielding the blocks from one another, but this is an issue because an important feature of blocks is high density." Chevarie believes that connecting blocks for Augmented Category 6 will look extremely different than the 110 connecting blocks we see today.
Despite the challenges, Chevarie says that Belden CDT is developing a connecting block for its IBDN System 10GX for 10-Gigabit Ethernet, scheduled to be introduced early next year. "The connecting block is our next logical step, and our MatriX IDC technology used in our 10-Gigabit jacks is one technology we are examining," says Chevarie. Belden CDT's MatriX IDC technology used in its 10GX modules features alternating IDC contact pairs positioned at 90 degrees to cancel out the antenna effect, rather than four parallel sets of contacts.
Systimax's Shoudhury also admits that developing a connecting block for Augmented Category 6 is a huge challenge, and that maintaining the typical 110 design will be extremely difficult. "We're currently looking at how much further we can take the connecting block," says Shoudhury. "While VisiPatch isn't a huge portion of our sales, it tends to have very loyal customers who are looking for a 10-Gig connecting block solution, and it's definitely in our roadmap for 10 Gig."
Ortronics is also looking into developing a connecting block for its NetClear XG 10-Gigabit Solution, but according to LaFontaine, introducing a connecting block is not as high a priority as rounding out Ortronics' patch panel offering for 10 Gigabit. "I know there is an interest in the market for a 10-Gig connecting block, but I do not believe it will be a standard 110 style," says LaFontaine. "We saw the changes that the industry had to make to get to Category 6, and to get to Augmented Category 6, the changes will have to be much more dramatic."
For its CopperTen solution, ADC is actively developing a connecting block, which they say will be available later this year. "The connecting block is the same type of technology used to insert wires on the back of the patch panel, and that technology is transferable," says Yanish. "We're working to utilize the same real estate that's available while coming up with creative ways to create separation between ports to cancel alien crosstalk."
Meanwhile, Siemon claims its connecting block already supports 10-Gig. "Our S210 connecting block has always delivered transmission performance that exceeds the requirements specified to support the 10GBase-T application," says Rybinski. "The same metallic internal crosstalk barriers that deliver +13 dB NEXT loss margin to Category 6 standards also ensure ANEXT isolation between adjacent channels for compatibility with Augmented Category 6 requirements."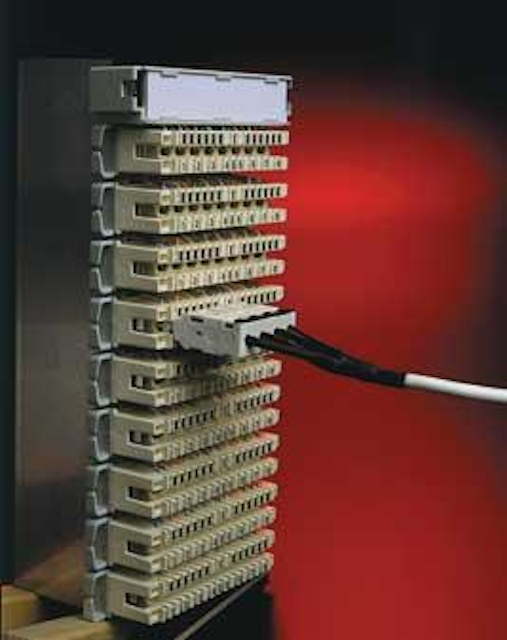 ADC offers the Krone-style IDC system, which maintained its 45-degree angled contact when achieving Category 6 performance.
Click here to enlarge image
While many believe Augmented Category 6 connecting blocks will not resemble today's 110-style blocks, Fluke Networks' Draye also believes we'll see many changes in wire management. "To support 10-Gigabit transmission, there will have to be an awareness of how the cable bundles end up on the connecting block," explains Draye. "The design of the TR will have a significant impact on how well we achieve 10 Gig, and this will need to be taken into account with both patch panels and connecting blocks."
Not forgotten
Although the connecting block has experienced a steady decline in the market, Systimax's Shoudhury says there are still customers who prefer it and the ability to terminate one, two, or three pairs. "These forgotten elements don't go away, and there is still a customer base and a viable market," he says. "It's not that the connecting block can't have the performance, it's just a matter of deciding how long to invest in the product. We believe in the value of a complete solution, and the connecting block, therefore, still deserves a focus. We're not ready to give up on it yet. After all, GE and Philips still make the light bulb."
Belden CDT's Chevarie also believes that the market is still viable for connecting blocks. "Customers will continue to use connecting blocks for the same reasons that drive them to use connecting blocks today," he says. "If connecting blocks are as available for Augmented Category 6 as they are today for Category 6, people will still choose them. If the industry is not able to come up with a good Augmented Category 6 block, lack of product will cause some connecting bock customers to move to modular patch panels."
Siemon's Rybinski says patch panels and connecting blocks that comply with the pending Augmented Category 6 requirements will be used with equal success in channels that are designed to support the 10GBase-T application. "Each type of connector offers unique advantages, such as realized installed performance headroom, density, ease-of-termination, and designation," she says. "The end-users must continue to educate themselves as to the type of solution that will best support their needs and installation environment."
---
Four main blocks
Connecting blocks are insulation displacement connectors (IDCs) in which connections are made by punching down individual wires into the IDC contacts. The four main connecting block types include the universal 66 and 110 blocks, and proprietary Krone (ADC) and BIX blocks.
The 66 block was the predecessor to the 110 block and came out of the telephony world. Still used by telephone operating companies and in some voice applications, the 66 block features exposed contacts with wires entering from either side. The 110 block is the most widely used, and consists of a wiring block and connecting block. Wires feed into the 110 block from the front to provide higher density, reduced cost, and better insulation around the contacts.
The Krone block (now part of ADC) was developed in Germany in the late 1970s, and features silver-plated contacts positioned at a 45-degree angle to the wire. "The Krone block was developed to provide a very secure, high performance connector that could survive in an industrious environment," says David Yanish, senior marketing manager for ADC (www.adc.com). "The 45-degree angle offsets the points of termination for unmatched strength while the silver eliminates corrosion." The Krone block also offers a port between the incoming and outgoing cable that enables monitoring or redirecting individual circuits.
The BIX block, which was developed by NORDX/CDT in the 1970s, features a back-to-back connection like the 110 block; however, the BIX connector is a one-piece connector assembly with greater distance between adjacent contacts for better crosstalk performance.
BETSY ZIOBRON is a freelance writer covering the cabling industry, and a regular contributor to Cabling Installation & Maintenance. She can be reached at: bziobron@comcast.net