Fiber soon to overtake copper in LAN deployments
The structured cabling systems market has struggled in recent years after a decade of significant growth in the 1990s.
Aug 1st, 2005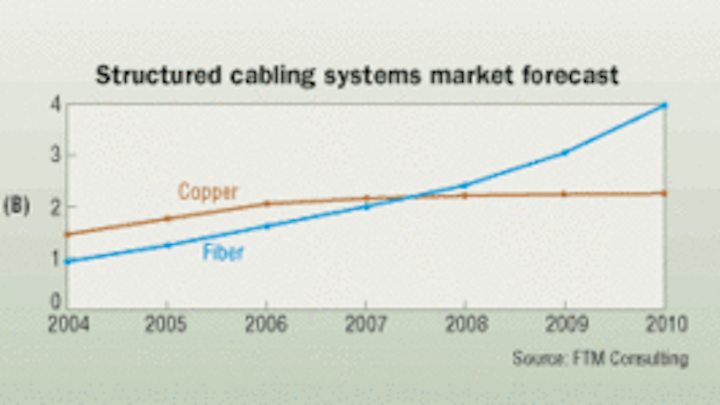 The structured cabling systems market has struggled in recent years after a decade of significant growth in the 1990s. The onset of market saturation in 1999, with all large firms installing their initial local area networks (LANs) was the first notable effect of a market slowdown.
The market went from consecutive years of double-digit growth in the 1990s to a smaller, single-digit growth in 1999 due to the onset of market saturation. Subsequently, the United States economic slowdown caused the market to incur its first-ever negative growth. For the three-year period that followed, market growth was soft, with minimal or no gains as the primary market for cabling systems-namely the aftermarket for structured cabling systems-hardly provided the cabling shipments of prior years for the large initial LAN cabling installations.
The watershed moment for the structured cabling market, according to FTM Consulting, will come in 2008 when shipments of fiber cable will eclipse those of copper.
Click here to enlarge image
Additionally, the lack of new office construction significantly lessened the need for new structured cabling systems. By 2004, the market recovered slightly with a small positive growth, primarily due to new Web application add-ons and, to a lesser degree, to replacement upgraded personal computers.
Future direction
With this past history as a background, the question naturally arises, "What direction will the market take in the future?"
Our most recent analysis indicates a resumption of double-digit growth. This renewed market growth will be driven by two major needs: relief of network bottlenecks and the need for higher network transmission speeds at various locations, especially higher-speed (10-Gbits/sec and higher) Ethernet. Both of these will require new or additional fiber cabling to be installed at various locations, such as data centers and campuses, and for bringing fiber closer to the workstation with fiber-to-the-zone. In addition, fiber will continue to dominate riser-cabling subsystems.
Unshielded twisted-pair (UTP) copper cabling will continue to be the primary horizontal cabling to the workstation.
Fiber to surpass copper
By 2008, I expect fiber cabling, for the first time ever, will surpass copper cabling shipments. This will represent a watershed in the structured cabling systems market, as copper cabling has always dominated the market. The primary cause for this shift is Gigabit and 10-Gbit Ethernet, which only fiber can support to extended distances.
Shipments of UTP copper cabling are not expected to decline; they will grow slightly and continue to be the mainstay of horizontal cabling subsystems.
Our analysis indicates the "holy grail" of fiber cabling, fiber-to-the-desk, will have minimal impact on the use of copper cabling in the horizontal cabling infrastructure. Fiber-to-the-zone will be applied in niche applications in which large video or graphics transmissions are required at workstations.
Our most recent research indicates that the largest cabling application for fiber will continue to be riser cabling, while the highest-growth application will be data centers.
FRANK MURAWKSI is principal of FTM Consulting (www.ftmconsultinginc.com). FTM's most recent study, from which the contents of this article are abstracted, is entitled Structured Cabling Systems: 2005.