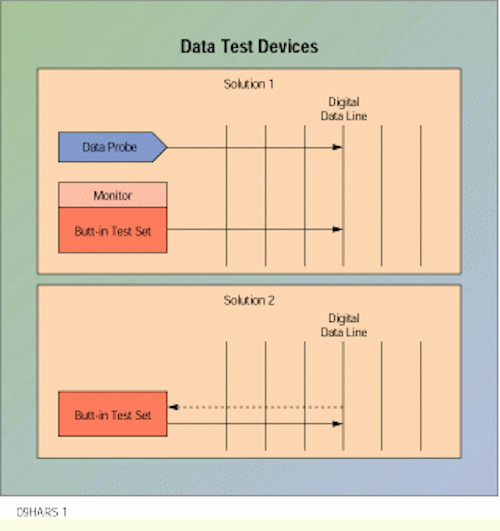 Linda Hathorn, Dracon Division of Harris Corp.
Problem
As the number of digital data lines increases, it becomes more important to test for them. If a technician, however, attaches a piece of test equipment to a data line, mistaking it for a standard voice line, the result is a spike or glitch on the data line. This cord makes the data unusable and dumps the entire transmission.
Solution
To locate twisted-pair data lines and keep them separate from analog telephone service, the technician can use portable test equipment, including butt-in test sets and data probes.
One solution is to use a data probe and a high-impedance butt-in test set, which prevents the technician from accidentally disturbing data traffic. The high-impedance monitor on the butt-in test set lets the technician clip on to a data line unobtrusively, without disturbing traffic. The data probe isolates a data line from hundreds of standard telephone service lines.
Another solution is to use a butt-in test set that can detect digital signals when they are connected to a data line. This device also prevents technicians from going off-hook (getting a dial tone when butting into the line and interrupting the data) and drawing current from the line, should they accidentally try to get a dial tone on a digital line.
Procedure
If you are using a data probe, the following procedure applies:
1) Depress the "on" button and place the tip of the probe between a pair of conductors.
2) If data is detected, the probe emits an audible signal or tone and activates a corresponding light-emitting diode, indicating either 56-kilobit-per-second or 1.544-megabit-per-second data transmission.
3) Once it has been determined that this is a data line, you can continue working around the line, without interrupting customer service.
If you are using a data-detection test set, the following procedure applies:
1) Use the butt-in test set as you would a standard device of this type.
2) When you attempt to butt into a pair of wires but go off-hook, you will hear a beep warning that data is on the line.
3) The test set does not allow you to go off-hook automatically on a digital line, eliminating disruption of the data stream.
If you then clip on to a standard analog telephone line, no reset is needed.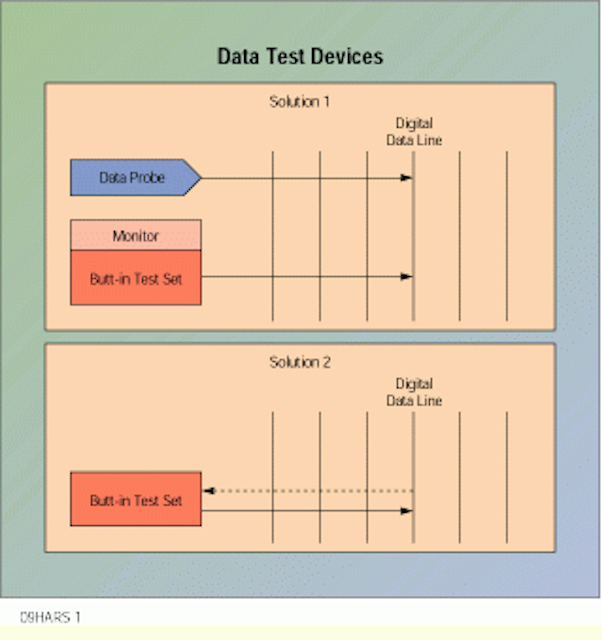 Click here to enlarge image
Using a butt-in test set and a data probe makes it possible to test for a digital data line without disturbing data on a line.
Linda Hathorn is marketing manager for portable test equipment at the Dracon Division of Harris Corp., Camarillo, CA.