Jim Sehr
Internal Revenue Service
Problem
At times you may need to identify optical fibers that have been installed but not properly labeled. You could use an optical-loss test set or optical time-domain reflectometer, but such equipment is expensive and may not be available.
Solution
One solution involves constructing a simple light source that can be connected to a terminated fiber strand. This device transmits a light beam that can be visually observed at the other end of the fiber.
Procedure
Materials needed include an inexpensive penlight flashlight, epoxy cement and a coupler such as the C2000A-2 bayonet coupler. You may have some of these items in your toolbox. In any case, the cost of materials should not exceed $5.
1) Cut off approximately 0.5 inch of the coupler, so it will seat snugly to the lens of the penlight. This will bring the terminated end of the fiber as close as possible to the light source.
2) Cement the modified coupler to the lens of the penlight. Use a generous bead of epoxy. Let the assembly dry overnight.
3) Connect your new light source to a terminated fiber strand and turn on the penlight. You should be able to visually identify the lighted strand at the other end.
It should be emphasized that this device does not replace the specialized test instruments used for more sophisticated measurements and tests. It should also be noted that this is a short-distance solution appropriate for premises applications only.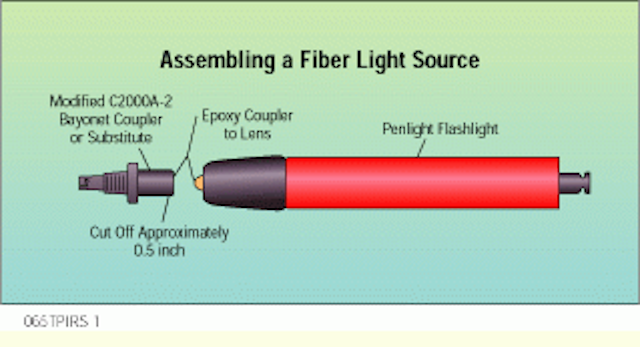 Click here to enlarge image
Parts and assembly for an inexpensive fiber-optic light source are simple. Other types of couplers may be substituted for the C2000A-2 bayonet coupler.
Jim Sehr is a data communications specialist with the Information Systems Division of the Internal Revenue Service, Indianapolis, IN.