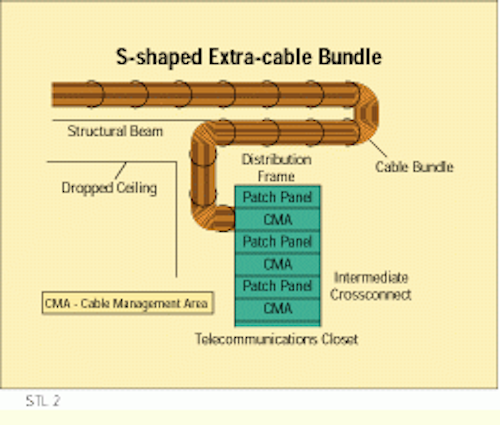 George Brooks, MTS Services
Problem
Standard cabling practice calls for a circular service loop of horizontal cable to be placed in the ceiling or overhead above the distribution frame in the telecommunications closet. This loop is meant to provide slack cable if the distribution frame is moved or the cable is reterminated at the patch panel. However, after frequent moves, adds and changes, one service loop may get placed on top of another, resulting in a tangled, unwieldy bundle. In such a case, it may be difficult or impossible to extract the proper cable for reterminating. And if the frame must be relocated, it may be necessary to uncoil all the service loops and consolidate them to produce an orderly transition to the patch panel.
Solution
Instead of relying on the traditional circular loop, try an S-shaped configuration for the service loop above the distribution frame. With such a configuration, cables can be added to the bundle later without affecting the orderliness or utility of the service loop.
Procedure
1) Once you have pulled your horizontal runs to the work area, cut off the cables at the closet end to reach the termination point at the patch panel and provide enough extra slack for a service loop (approximately 10 feet of cable).
2) Loosely bundle all the cables going to one patch panel (for example, voice or data) and pull them into the telecommunications closet. The cables can be bundled using tape or loosely applied cable ties. On a cable rack or along a beam, horizontal support or pipe, run the cable bundle several feet beyond the distribution frame, tying it loosely as you go.
3) Loop the bundle back beneath the rack, beam, support or pipe, making sure to observe any bend-radius restrictions. Again, loosely tie the bundle as you go. Extend the run several feet beyond the termination area on the distribution frame.
4) Loop the bundle back once more, tying it loosely and observing bend-radius restrictions. It is now in an S shape. Drop the cable bundle to the frame and terminate the cables. Now, cables can more easily be removed from the bundle when needed, and new cables can be added to the "S" to accommodate moves, adds and changes.
George Brooks is a project manager at MTS Services, Bedford, NH.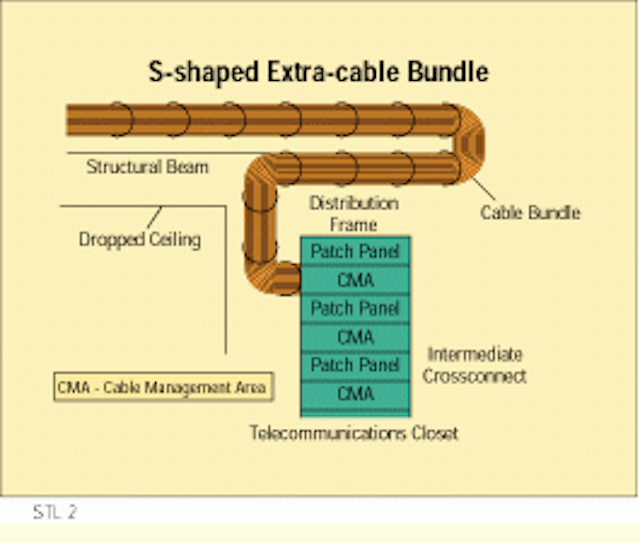 Click here to enlarge image
An S-shaped cable bundle above the distribution frame replaces the more unwieldy service loops that are traditionally used to store slack cable for later use.