Multi-pair cabling provides Category 5 performance in open-office environment
Specifying effective communications cabling for modular-furniture offices has never been easy. The standard Category 5 configuration is a continuous 4-pair unshielded twisted pair cable home-run from the closet out to the workstation. However, feeding 4-pair cable through furniture panels for moves and changes can be difficult. One alternative design uses a proven multi-pair cabling system to meet Category 5 performance specifications in an open-office plan. This system can be used to revive the
Feb 1st, 1995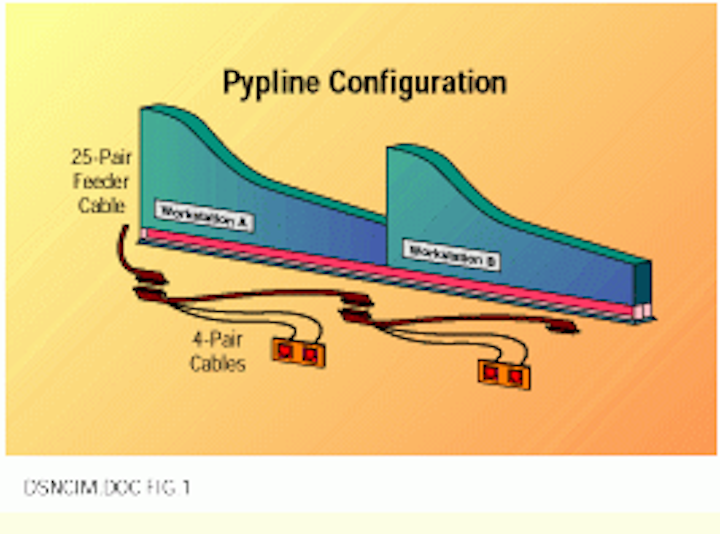 Cabling distribution system offers a design solution for modular-furniture offices.
Ned Sigmon
AMP Inc.
Specifying effective communications cabling for modular-furniture offices has never been easy. The standard Category 5 configuration is a continuous 4-pair unshielded twisted pair cable home-run from the closet out to the workstation. However, feeding 4-pair cable through furniture panels for moves and changes can be difficult. One alternative design uses a proven multi-pair cabling system to meet Category 5 performance specifications in an open-office plan. This system can be used to revive the zone distribution concept where one or more 25-pair cables feed a distribution point that serves a limited office area.
Open offices are typically constructed with panel sections that are designed for frequent moves. Outlet locations change with each move, and the cable routing paths and cable-run lengths can also change. The need to permit furniture rearrangement while maintaining high levels of performance significantly complicates horizontal cabling distribution.
Special open-office needs
The key to distributing communications cabling in an open office is to provide outlets exactly where they are needed at each workstation. Outlet location is important not only for convenience, but also to keep equipment cable lengths to a minimum and prevent damage to exposed cable. Equipment cables can be the weakest and most critical element in the overall performance of the cabling system.
Only a few cabling methods have the flexibility to place an outlet anywhere after a move. Poke-thru fittings can do it, but such relocations are disruptive. (Only so many holes can be bored in a floor without weakening its structure.) Although they are unattractive, utility poles at every workstation combined with plenum cabling can work. Access flooring has the flexibility, but is difficult to accommodate unless the building has been designed for it. Undercarpet cabling is a possibility, but runs up against practical limitations on the density of cable runs that it can support.
The panels and furniture systems that separate offices and provide storage or work surfaces come equipped with options for distribution flexibility that should not be ignored. Systems furniture designers have gone to great lengths to provide power outlets at convenient locations with interconnecting pathways that are protected and hidden behind access panels.
In many cases, these panel outlet locations and pathways have already been adapted to an electrical-power distribution system. The system may use plug-together cable assemblies that remain with the panels when they are moved. This approach provides a convenient power distribution system that can easily be disassembled, reassembled and then placed back into service. Users have asked for the equivalent in a communications system.
Open-office distribution system
Cable Distribution Systems (St. Louis, MO) has an open-office distribution system for communications, known as Pypline, that is based on 25-pair unshielded twisted-pair cable assemblies terminated on each end with 50-pin standard telephone company connectors. The length of each 25-pair cable matches the length of a systems furniture panel. [Because of varying workstation service needs and panel lengths, these systems are usually custom-designed to specific requirements and office-cluster configurations.]
A 25-pair feeder cable connects the first panel to the telecommunications closet through a conventional building pathway (plenum or floor duct). Installers separate one or more 2- or 4-pair cables from the first 50-pin connector and terminate them to modular jack outlets. The unused pairs continue on to the second 50-pin connector, which joins to the next cable assembly in the next furniture panel. The sequence continues until most or all of the 25 pairs have been dedicated to outlets.
This system was originally designed for voice or digital Category 3 applications of 10 megabits per second or less. The trend toward higher performance UTP cabling and higher data rates, however, has created the need for an upgraded version compatible with Category 5 cabling and performance.
Category 5 cabling presents some unique challenges. For example, the recommended Electronic Industries Association/ Telecommunications Industry Association Standard 568 for Category 5 specifies 4-pair UTP cables. The Pypline configuration, which uses 25-pair UTP cables and additional connections in horizontal distribution, could not rely on standards to guarantee a level of performance. The system, therefore, must be able to demonstrate that the overall closet-to-outlet link performance is equivalent to that expected from a conventional 4-pair Category 5 system.
For the Pypline configuration, Cable Distribution System chose an AMP 25-pair cable and 50-pin Champ connector. This configuration promises a power-sum near-end crosstalk loss comparable to a Category 5 specification. [In effect, the power sum adds together the near-end crosstalk of all other pairs.]
Requiring the power sum to be equal to or greater than the pair-to-pair near-end crosstalk loss of a 4-pair cable or connector ensures the accumulated near-end crosstalk loss from multiple services in the 25-pair will be no worse than that from a single service in the 4-pair cable. The new EIA/TIA-568A standard (circulated in draft form as SP-2840A) has already adopted the power-sum near-end crosstalk loss specification for multi-pair cables.
The upgraded Category 5 configuration conforms to certain restrictions:
Breakout cables to the outlets are limited to 4-pair
Outlets are limited to eight-position modular jacks
All components must meet Category 5 specifications.
The 4-pair breakout cable restriction maintains the generic applicability and standard interface of conventional Category 5 cabling, while reducing the number of variables in link configurations. Because a 25-pair cable can serve six 4-pair cables or jacks-and most installations require two jacks per workstation-a 25-pair/4-pair combination would normally not exceed three cable segments in addition to the feeder.
One concern is the possibility of multiple signal reflections from impedance mismatches at the multiple interconnections. The customized nature of the system, however, offers a simple solution. Because all cable assemblies of a link are manufactured at the same time and identified as part of a unique link, the impedance characteristics of the cable used in the link can be reasonably controlled. All 25-pair segments are cut from the same reel or lot of cable, and the impedance of the 4-pair is checked for compatibility with that of the 25-pair.
The final test for validating Category 5 performance is to verify link performance (see "Validating Category 5 Performance," on page 18).
Implications for the future
Although upgrading the Pypline system to a Category 5 level of performance has been successful, some of the techniques used may have other far-reaching implications. For example, the upgrade shows that 25-pair cabling can now offer performance compatible with, and even exceeding, that of 4-pair Category 5. This design may also allay fears that an extra connection or two in the link will destroy performance.
Both of these findings can lend support to additional options for open-office cabling. Category 5, 25-pair cabling can revive the old zone distribution concept where one or more 25-pair cables feed a distribution point that serves a limited office area. In the development of a new open-office cabling standard, many are already giving serious attention to the concept of an intermediate distribution point that serves a cluster of offices.
Validating Category 5 Performance
AMP Inc. and Cable Distribution Systems verified the link performance with a network analyzer in a laboratory environment. The link configuration selected for laboratory testing consisted of four segments in addition to a 90-meter feeder, and included four sets of 50-pin connectors and one Category 5 modular jack.
The typical near-end crosstalk loss was measured at the modular jack at the end of a 97-meter link. Compared to the worst-case near-end crosstalk loss expected from a 4-pair Category 5 link (according to Annex E of EIA/TIA-568A), the upgraded link provided a 9-decibel margin. This margin is sufficient to cover field instrument inaccuracies, variations in installation environment or variations in installation configuration.
In an actual installation test, performance characteristics were measured with a Pentascanner from Microtest (Phoenix, AZ). The tested link configurations included a patch panel at the closet end and an instrument attachment cable at the outlet end.
Installed link lengths for this test varied from 44 to 67 meters. For most links, minimum near-end crosstalk losses ranged from 30 to 40 dB, with an overall attenuation less than 86% of the EIA/TIA-568A Annex E criteria adjusted to the same length. The worst-case near-end crosstalk loss measured on any installed link was a minimum of 29.2 dB at 96.7 megahertz, still almost 2 dB better than the EIA/TIA-568A Annex E criteria. This link actually had five segments in addition to the feeder cable, or a total of five additional connections between the patch panel and outlet. The maximum attenuation of this link was still only 83% of the Annex E criteria for the same length.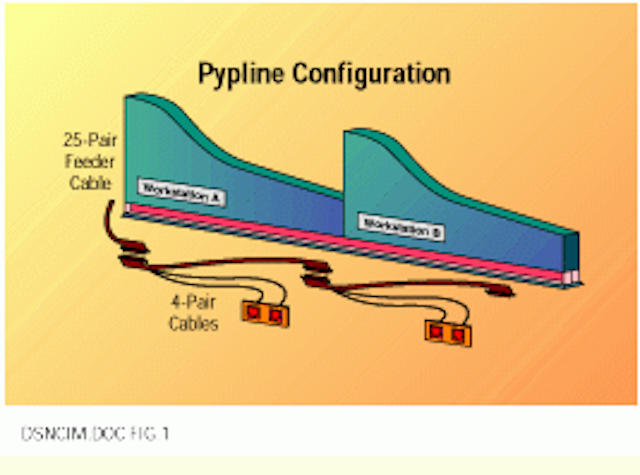 Click here to enlarge image
In the Pypline configuration for open-systems furniture from Cable Distribution Systems, 25-pair unshielded twisted-pair cable assemblies are terminated on each end with a 50-pin standard telephone company connector.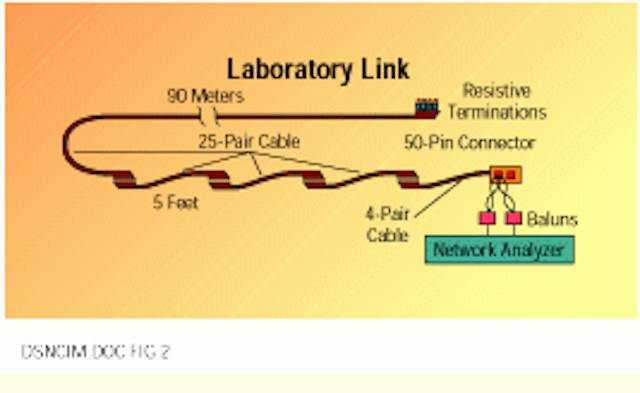 Click here to enlarge image
A network analyzer monitors performance of the link configuration. For laboratory testing, this configuration consists of four segments and a 90-meter feeder, and includes four sets of 50-pin connectors and one Category 5 modular jack.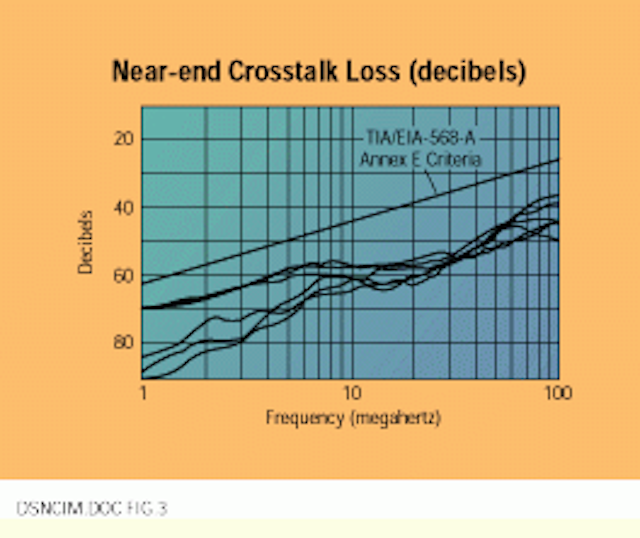 Click here to enlarge image
Typical near-end crosstalk loss is measured at the modular jack at the end of a 97-meter link. The upgraded link provides a 9-dB loss margin compared to the Category 5 performance specification.
Ned Sigmon is associate director for technical marketing at AMP Inc., Harrisburg, PA.