Category 5 testers revisited: What a difference a year makes
Almost exactly one year ago, three test-equipment manufacturers--Microtest (Phoenix, AZ), Scope Communications (Northborough, MA) and Wavetek Corp. (San Diego, CA)--introduced the first cable testers for local area networks that measured up to the 100 megahertz frequency specified for Category 5 in the EIA/TIA-568 standard. Cabling Installation & Maintenance, among other publications, provided much fanfare for these devices when they first appeared (see "Category 5 Testers Are on the Way," Janua
Jan 1st, 1995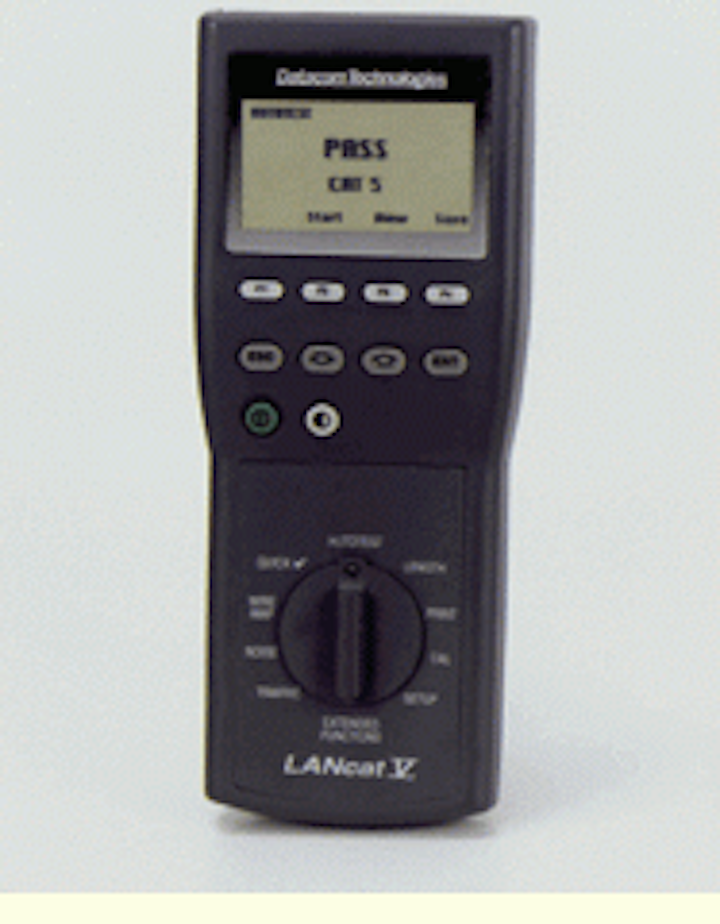 Arlyn S. Powell, Jr.
Almost exactly one year ago, three test-equipment manufacturers--Microtest (Phoenix, AZ), Scope Communications (Northborough, MA) and Wavetek Corp. (San Diego, CA)--introduced the first cable testers for local area networks that measured up to the 100 megahertz frequency specified for Category 5 in the EIA/TIA-568 standard. Cabling Installation & Maintenance, among other publications, provided much fanfare for these devices when they first appeared (see "Category 5 Testers Are on the Way," January 1994, page 12). It is time now to revisit Category 5 testers, to see what difference the intervening year has made, both from the standpoint of installation contractors and the viewpoint of equipment manufacturers (see "Category 5 Testers Sweep the Market," page 8).
One manufacturer has estimated that between 10,000 and 15,000 units were sold by all vendors combined to installers and end users during the last year. How have the devices been received? Fairly well, if our brief and informal survey of contractors is indicative.
"We were one of the first people to get the Pentascanner," says Sam Flaherty, president of installation contractor Teledata Systems (Souderton, PA). "We use it quite a bit." He selected the Microtest device because of the speed with which it tests a Category 5 link. His company has also used other Microtest testers in the past and has found them to be reliable.
Testing speed is important because, as more than one contractor pointed out, time is money. "If you have 400 workstations to test," says Flaherty, "and it takes three minutes versus 90 seconds to perform a Category 5 certification, then you`ve added 20 man-hours to your job, assuming a two-man crew. That`s a pretty big difference."
Although Teledata Systems acquired a Category 5 tester because of end-user demand that installed systems be verified to 100 megahertz, Flaherty has noticed a decline in interest in Category 5 performance among his clients. "We got a tester because customers were very Category 5-sensitive," he says, "especially a year ago before the testers came out. Since then, I think the whole controversy over Category 5 has blown over. Customers are still specifying Category 5 cable and components, but they are not asking for Category 5 testing. They are asking for testing for whatever network they are running--token ring or 10Base-T, for example."
Flaherty believes that sophisticated users are aware there is no Category 5 testing standard in place yet, while other users look to Category 5 more as an assurance of quality than of 100-MHz performance. "Users want to put in high-quality components," he adds, "which specifying Category 5 allows them to do. They believe they are planning for the future, but the reality is they just want today`s network to run today. Then, hopefully, if they put in the right components and did the design right, they`d be able to achieve 100-Mbit/sec speed if they ever need it."
Certification needed for warranty
Sam Parthemer is a project manager and design technician for Datalink Solutions Inc. (San Diego, CA). His company purchased a Category 5 tester because it is a Netconnect Design Installer for AMP Inc. (Harrisburg, PA). "AMP requires Category 5 testing for all the AMP installations that we do," says Parthemer, "because the manufacturer offers a 15-year warranty, not only for their products but for our installations." Warrantied installations must be completed by AMP-certified NDIs.
Datalink Solutions read the trade-press reviews of the three 100-MHz scanners introduced in early 1994 and selected the Pentascanner, partly because the company had had a good experience with the Microtest pair scanner. "Speed was also an issue," says Parthemer. "The Pentascanner was the fastest out there at the time. Now Wavetek has increased the performance of its tester, but it`s had to introduce a brand-new instrument to do it. That was a concern to me, because Microtest just changes the algorithm and you can reprogram your flash read-only memory. You can actually get better performance out of your tester. It can do International Standards Organization testing and all the certification around that now."
Parthemer is referring to the fact that Wavetek has recently introduced a new and faster Category 5 tester, but this calls for replacement of the original version after less than a year`s use. Both Wavetek and Microtest have offered software upgrades during the year, as well. These upgrades are placed on a company bulletin board, where they may be downloaded by customers. Customers can then download the new software from their personal computers to the flash read-only memories of their test instruments. Although this may sound complicated, it takes only about 10 minutes, according to Parthemer.
Software-performance enhancer
It is a common misconception, and one that has not been discouraged by test-equipment manufacturers, that the performance of an instrument can be improved by downloading upgraded software to it. In truth, the basic sensitivity and accuracy of an instrument cannot be improved with software (see "Can performance be downloaded into field test instruments?" page 59).
If new functionality is added to a tester in this way--for example, a test for noise--it is because the capability was already built into the tester as it was originally manufactured. The noise test added later, then, simply takes advantage of a capability already present but not announced at the time the tester was introduced. In another field, computer software manufacturers frequently use such dormant features as marketing tools to promote their upgrades.
Software, on the other hand, is an ideal vehicle to add tests not present in the original test suite, as long as these tests do not go beyond the electrical capabilities of the instrument. The International Standards Organization test suite mentioned by Parthemer is a case in point, but it is possible to add the parameters of almost any standard once they are firmed up--10Base-T, Ethernet, token ring, asynchronous transfer mode.
Ironically, the speed of the Microtest device, although a factor in the Datalink Solutions purchasing decision, has not necessarily provided an advantage on the job. This is because the company`s standard installation procedure, according to Parthemer, involves labeling wallplates at the same time that final verification testing is performed. Although efficient in time management, this procedure makes it more difficult to coordinate testing at both ends of the link.
User-friendly features
If test speed is less an issue than anticipated, the Pentascanner has offered other features that--"from a hands-on perspective," as Parthemer puts it--have aided Datalink`s installers. "For one thing, it gives a pass/fail indication on the injector," he says. "A pass is a green light and fail is a red light. It also gives a chime--a pass gives one tone and a fail another."
These visual and audible signals help the two-person crew move swiftly and efficiently through verification testing. Communication between the two people can sometimes be a problem. For instance, in government installations two-way radio communication may not be permitted, and some computer rooms are shielded against radio transmission (see "Optical talk sets--sound with light," December 1994, page 8). Not having to deal with a walkie-talkie or talk set means one more piece of gear the installer doesn`t have to lug from place to place.
The Microtest device is also notable for having only a single injector. Other testers may have two injectors, once again adding to the luggage factor.
Parthemer adds that the Pentascanner "has also replaced our continuity tester." Because the LAN scanner has a continuity tester built in, he says, "I`ve eliminated a $120 tester that I don`t need anymore. It`s one less thing for my guys to carry around."
Dinsmore Communications (Portsmouth, NH), like Datalink Solutions, acquired Category 5 testers because of its relationship with a cabling system manufacturer, in this case The Siemon Co. (Watertown, CT). "We were required to send a couple of technicians to a training class for a week," says Dinsmore vice president and co-owner Mike Fecteau, "and they had to be certified by Siemon." As is the case with other manufacturers recently, if an installation uses Siemon components, is tested with a Siemon tester, and is put in by Siemon-trained technicians, the manufacturer will warranty both materials and labor for 16 years, an improvement of 15 years over the industry`s standard one-year, parts-only warranty.
(The Siemon Category 5 tester is not an independently manufactured device, but is in fact a privately labeled version of the Scope Communications Wirescope 100.)
Says Fecteau about his company`s testers, "They give you a test result in hard copy. The tester can store up to 500 tests that can be downloaded to a computer, so you can print out a test sheet that verifies every line. It certifies that you did the work correctly, and that the installation was working properly when you left."
In addition to hard-copy records of test results, Fecteau, like his peers, sees ease-of-use and speed as the prime characteristics of these portable devices. Price is also an issue, because one device is insufficient when completing a big job in a hurry. (Dinsmore has half a dozen.)
Referring to a recent installation at Boston College, Fecteau says, "We had eight or 10 weeks to do the job, and the testing came at the very end. The tests take two minutes each, and we had to test two cables at each location. There were between 3600 and 3700 locations, so we had to have enough testers to hurry up and finish the tail end of the job."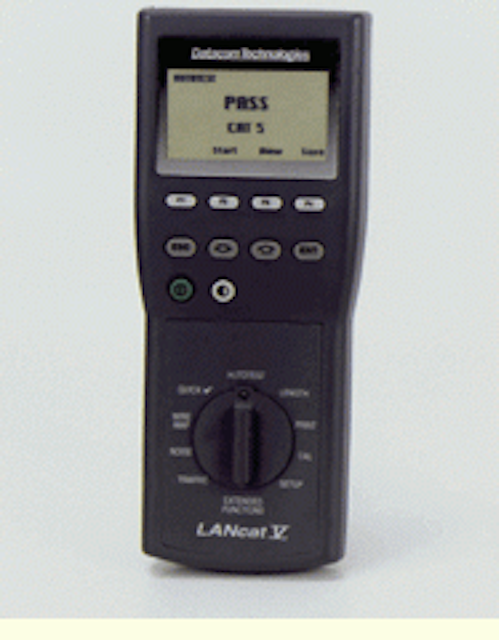 Click here to enlarge image
Datacom Technologies has just introduced its LANcat V. The manufacturer claims that its strength is accuracy.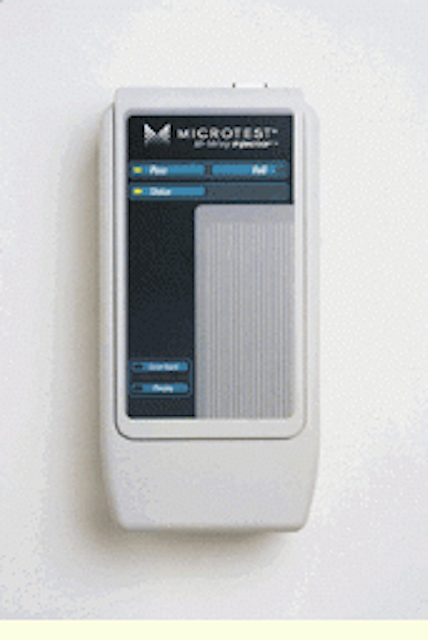 Click here to enlarge image
Microtest has added a two-way injector to the ancillaries for its Pentascanner. Two-way testing will be required by the TIA-568A revision.
Category 5 Testers Sweeping the Market
It has been only a year since Microtest (Phoenix, AZ) introduced its Pentascanner, Scope Communications (Northborough, MA) brought out the Wirescope 100 and Wavetek (San Diego, CA) announced the LANTech 100. Even so, the year 1994 saw some major developments in the handheld tester market for 100-megahertz instruments.
In the spring, The Siemon Co. (Watertown, CT) announced its MT-CAT5 tester, which is a private labeling of the Scope Communications device. Then, in the fall, all the major players introduced new products or product enhancements.
In November, Microtest came out with a two-way signal injector that permits measurement of near-end crosstalk in both directions without switching injector and tester around. The two-way measurement is required by the recently announced revision of the TIA-568 standard. Scope Communications announced version 3 of its Wirescope 100, proclaiming it the only 100-MHz LAN tester to test for propagation delay, required, again, by TIA-568A. Wavetek, not to be outdone by its competitors, has brought out an entirely new device, the LANTek Pro, billed by its manufacturer as the fastest Category 5 tester. (It performs a Category 5 autotest in 40 seconds.)
In the meantime, other manufacturers are jumping on the bandwagon. Datacom Technologies (Everett, WA) has just released its LANcat V, and Fluke Corp. (Everett, WA) plans to debut a Category 5 tester at this winter`s ComNet trade show.