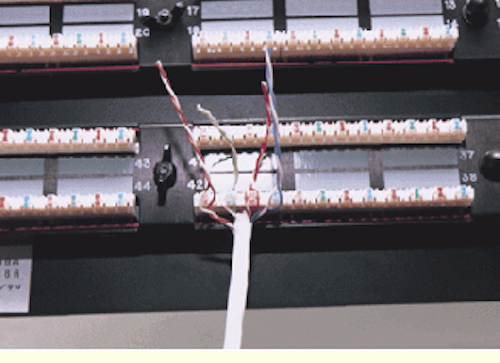 Jack Diemer, RCDD and Rob Dowell, RCDD, Sprint Products Group Inc.
Problem
To meet Category 5 requirements for terminating an unshielded twisted- pair cable insulation displacement connection, installers must follow the guidelines in the Electronic Industries Association/Telecommunications Industry Association 568A standard. The EIA/TIA-568A defines these guidelines in general terms, however, and if specific techniques are not followed, the termination may not meet Category 5 specifications.
Solution
With the steps outlined below, you can consistently and efficiently achieve optimal Category 5 IDC terminations. We recommend using Category 5 cable that includes a ripcord to allow you to strip the cable jacket without nicking the conductors.
Procedure
1) Strip approximately three inches of the cable jacket, enough to use the ripcord.
2) Using the ripcord, strip an additional three inches of the cable jacket.
3) To facilitate handling the pairs, cut three inches off each pair, and cut the ripcord at the cable jacket.
4) Separate the pairs from each other--but do not yet untwist individual pairs--and align them in the color-code sequence that appears on the IDC connector. This sequence typically will be blue, orange, green and brown.
5) Keeping the cable jacket as close as possible to the IDC connector, and centered between the two inside pairs, untwist only the portion of each pair that is closest to the jacket. Then, lay the individual conductors into the IDC connector (see photo). EIA/TIA-568A allows for a maximum 0.5 inch of untwist in each pair. We recommend that this maximum untwist be maintained between the IDC connector and the cable jacket.
6) To terminate the connectors and to cut off the excess wire, use the punchdown tool that is appropriate for your IDC connector.
Note: Be sure to cut the conductors opposite the cable entry to the IDC connector.
7) Finally, maintain the minimum cable bend radius as outlined in EIA/TIA-568A. If you use cable ties, fasten them loosely.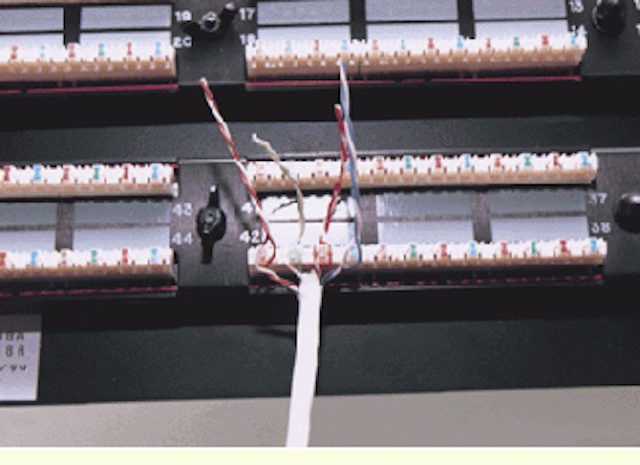 Click here to enlarge image
Only the portion of each pair closest to the IDC connector is untwisted, and the cable jacket is centered as close as possible to the IDC connector.
TELL US HOW IT`S DONE!
Tell your peers about the simple or innovative shortcut or cost-saving solution you`ve found for an installation, maintenance or troubleshooting problem.
It`s easy to write a one-page Installer Tip. Start by making a diagram that shows the solution. Then describe the problem and how the procedure fixes or eliminates the problem. Finally, describe how to perform the procedure, step-by-step. That`s it.
Call or fax your tip to George Miller at Cabling Installation & Maintenance., Phone (603) 891-2144 or fax (603) 891-0587.
Jack Diemer and Rob Dowell are product development engineers at Sprint Products Group Inc., Industrial Airport, KS.