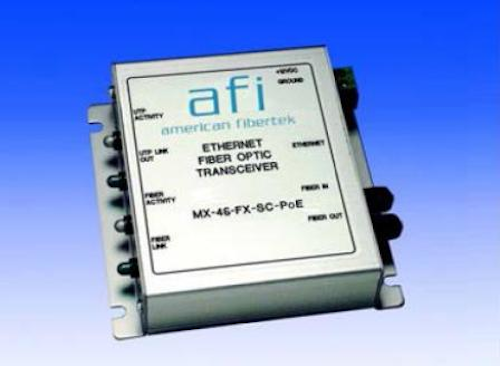 American Fibertek Inc. recently announced that its three- and four-port midspan Power over Ethernet "mini-switches" have been certified by Axis Communications for the camera manufacturer's Q60XX-3 series outdoor pan/tilt/zoom cameras. The line of cameras includes heater/blowers that require 60 watts of power, which AFI's PoE devices can provide at an operating-temperature range of -40C to +75C.
American Fibertek's president and chief executive officer Jack Fernandes said, "These products were designed to fulfill the growing demand for high-powered network cameras placed in harsh outdoor environments. Axis's certification is testimony to the design integrity and functionality of the AFI high-powered products."
According to American Fibertek, Axis asked for a number of the PoE devices to test in Axis's lab, where it was subjected to long-term operation at low temperatures to trigger the cameras' heater/blowers. AFI says its products met all the test conditions and fulfilled Axis's certification requirements.
The three- and four-port mini-siwtches transmit and receive two 10/100Base-T or Gigabit Ethernet signals via 8P8C/RJ45 ports. The three-port mini-switch has one optical port (multimode or singlemode) for 10/100/1000Base optical transmission; the four-port mini-switch has two such optical ports.
Read the article "Maximizing efficiency of high-power Power over Ethernet" to learn how to supply 60 watts of power to a single device.