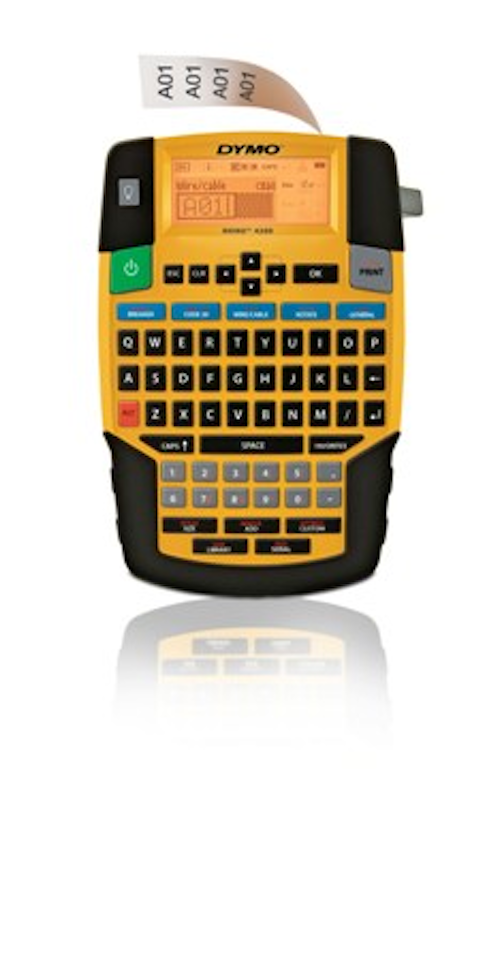 The Rhino 4200 label maker from Dymo features one-touch "hot keys" that are also found on other Rhino brand cable labelers and allow users to quickly create and format wire/cable wraps, flags, and fixed-length labels. It also features a "favorites" key that offers single-key access to commonly used labels, and a "custom" key through which the user can save setings for individual label formats. The Rhino 4200 prints labels up to 3/4-inch wide.
It also includes a QWERTY-style keyboard, which Dymo says provides quick and comfortable text entry. The company adds that the 4200 offers industrial-strength labeling versatility by printing labels in widths of 1/4, 3/8, 1/2 and 3/4 inches.
Dymo Industrial's senior manager of product marketing Angie Shelton explains, "We worked closely with end users and distributor partners to design a labeling solution that could offer ease of use plus full customization and optimization features, at a lower cost." The Rhino 4200 lists for $79.99.
Other product features include a large backlit display, integrated rubber bumpers, and auto-save/power-off.
Check out the Cable Marking/Labeling Equipment section of our Online Buyer's Guide.