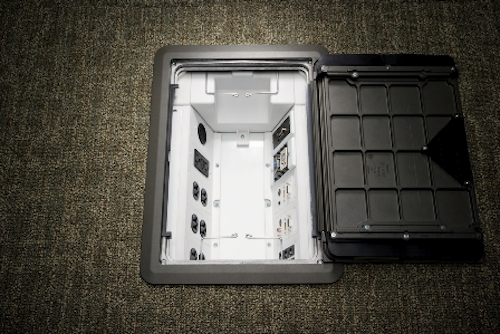 The Evolution series floor box from Wiremold can be installed in raised, carpet-covered concrete, terrazzo, polished concrete and wood floors - without additional parts of accessories, the manufacturer says. Boxes in the Evolution product line are available in 6-, 8- and 10-gang configurations. The line also includes a furniture-feed box.
The company says this floor-box series is unique because the modules that support industry-standard single-, double- and triple-gang device plates can be detached and removed through the box's top or back. This capability allows for easier installation by multiple trades, including cabling installers, over different times during the construction cycle. The removable modules also facilitate moves, adds and changes to the box as services do not need to be entirely disconnected and reconnected.
The box's inside is finished and painted white; it has ample work space in front of and behind device plates, Wiremold says. Integrated management guides keep cables organized and make it easier to feed them through the egress doors. Knockout sizes range from 3/4-inch to 2 inches. Knockout plates can be removed for greater capacity.
Evolution's patent-pending egress door system locks into position when the box is open, and automatically closes around cables when the cover is shut. The cover swings open 180 degrees.