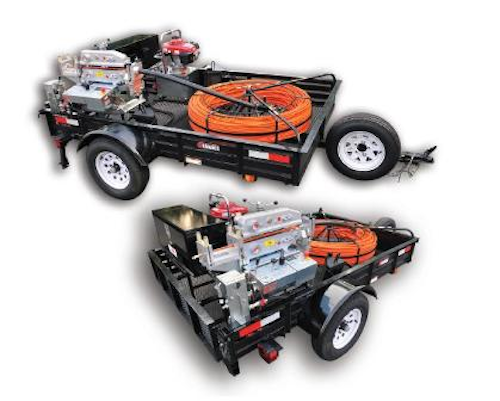 General Machine Products' Ramrod is a trailer-mounted, powered duct-rod pusher. It is a mechanized method for working with GMP's 1/2-inch duct rods, the company says, providing an alternative to rodding trucks that can cause damage to existing cable because of their significant power. The Ramrod is hydraulically powered, GMP says, providing precise control and the ability to push and pull forces up to 300 pounds, at speeds up to 130 feet per minute.
The trailer-mounted setup provides convenient maneuverability and transportability, according to General Machine Products. The system features a gasoline-driven power pack, hoses, and a locking waterproof storage box. An electronic monitoring system measures rod-pushing footage and speed. Once the conduit has been rodded, the Ramrod retrieves the rod via its bidirectional drive track. During retrieval, a window allows the rod to be wiped clean before being stored back on the cassette.
Check out the Cable-Pulling Equipment section of our Online Buyer's Guide.