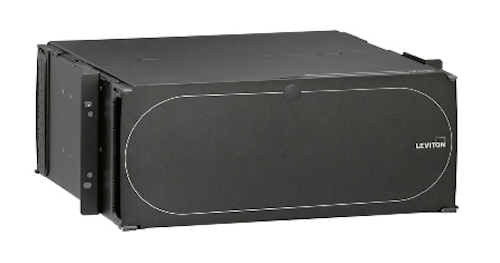 The Opt-X 1000i and Opt-X 500i rack-mount fiber enclosures from Leviton create a crossconnect or interconnect between a network's fiber backbone and active equipment. Leviton says the enclosures use minimal rack space (between 1 and 4RU depending on the model and options chosen).
Opt-X 1000i (top of page) replaces Leviton's Opt-X and RDP enclosures. It is available in sizes between 1 and 4 RU. The 1- and 2-RU designs include a sliding tray that gives users access to the front and rear after it is installed.
Opt-X 500i (bottom of page) replaces Leviton's Opt-X 500 and 250. Leviton describes it as an economical option for smaller enterpises. It is available in 1-, 2- and 3-RU sizes with flush-mount adapter bulkhead for moves, adds and changes. Other features, the company adds, ease accessibility and cable management.
You can learn more about the features and specifications of Leviton's Opt-X Unity system here.