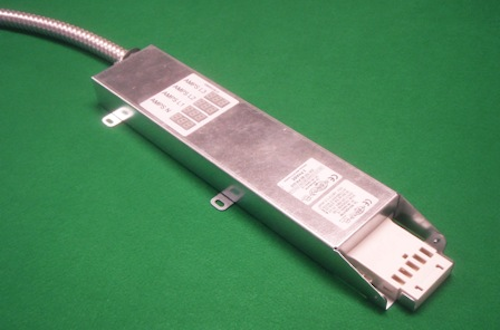 Snake Tray announced that its Snake Bus pre-wired power distribution system for under-access floors is now available with a current monitoring system, the better to provide facility managers with real-time data on current loads via either a digital or a color bar display. The company says its new current transformer technology allows for circuit telemetry without directly connecting to the feeder circuit.
The Snake Bus preconfigured system delivers power on the order of 50 Amps, 3 Phase, 208 Volts, providing over 15 Kilowatts of power in one easy-to-install track, says Snake Tray. Installations and retrofits are easily made via the system' tap offs, which deliver power to individual devices anywhere along the track. Further, the company says its proprietary bus bar technology is energy efficient and can be easily reused for changes and moves in a facility's electrical plan.

Snake Tray notes that the Snake Bus with integrated current monitoring system was recently awarded EC&M Magazine's 2012 Product of the Year in the category of power distribution.
See Also:
Paper advocates overhead cabling in data centers

Search for Distribution and Routing Equipment in the Cabling Installation & Maintenance Buyer's Guide