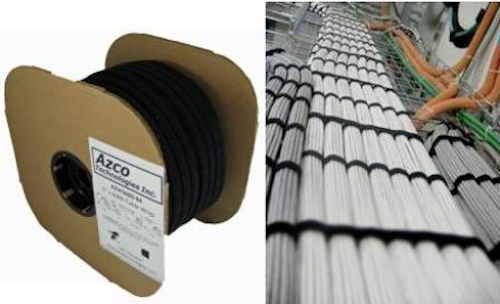 Azco Technologies' fire-retardant cable wrap can be used in plenum spaces, the company says. The half-inch-wide hook-and-loop style wrap is available in 600-foot spools. As the image at the bottom of this screen shows, users can cut the wrap to a desired length to bundle cables in plenums and other spaces. The product complies with UL 94-V2, FAR 2.5 853 A/B, and NEC Section 300-22 C and D.
The company said, "This new hook-and-loop cable wrap now allows installers to properly bundle cables cost effectively without code violations that can often be ignored in air-handling spaces."
Check out the Cable Ties section of our Online Buyer's Guide.
You may also be interested in this article: How to Save a Bundle: Not Just Any Old Cable Tie