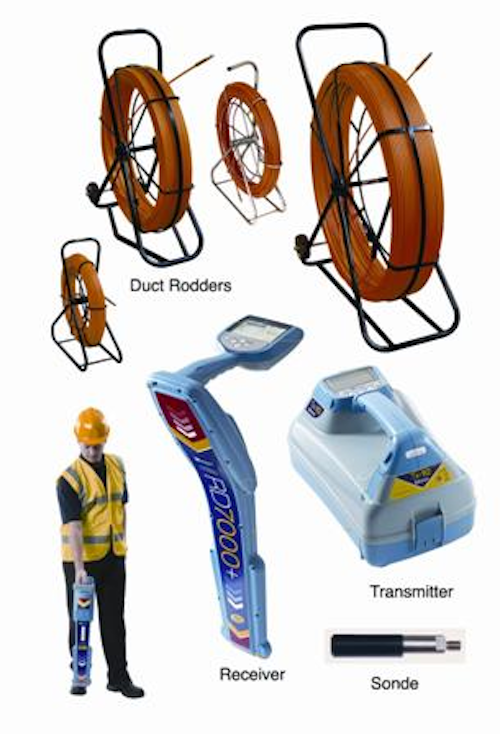 The Toneable Duct Rodder System from General Machine Products (GMP) allows technicians to remain above-ground, without having to dig or trench, when they need to find duct blockages or otherwise map an underground duct system.
System components include a signal transmitter, signal receiver, sonde, and duct rods that feature 18-AWG copper wires embedded into their fiberglass cores.
"To accurately detect rodder position in underground ducts," GMP says, "the Toneable Duct Rodder System employs a transmitter that sends a signal along the entire length of the rod. The rod is also fitted with a self-contained transmitter sonde. Above ground, a receiver is used to detect the rod's exact location at depths of up to 50 feet."
Rodders are available in various diameters and lengths. Each rodder's leading edge has a tapered male-threaded head and the trailing end includes a female-threaded fitting. The signal receiver has an LCD screen, is IP54-rated and battery-operated, and includes a choice of frequencies. The signal transmitter has 3 watts of power and provides a number of inductive or direct frequencies. The sonde, a self-contained transmitter that connects to the end of the duct rod, helps trace the duct route and can locate duct blockages or collapses.