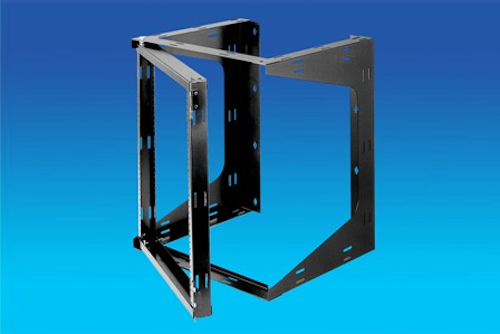 Bud Industries has released its Swing Frame 19-Inch Rack. The company says the new enclosure offers all the conveniences of a wall-mounted rack, with the added advantage of a swing-out frame for easy access to the rear of equipment.
"Designed for areas with limited floor space, our Swing Frame Rack provides compact storage for smaller networking equipment, patch panels, servers, and punch-downs," comments Josiah Haas, Bud Industries' director of sales. "Its open rack construction and removable door facilitate hardware upgrades, maintenance and future expansion."
Especially intended for deployment in situations where floor washdown is required or eye-level access is needed, the 19-inch rack units can be hinged on either the left or right, and include Velcro cable management straps. Slots on both sides and the front of the rack enable use of the cable management straps.
Each swing frame rack accepts #12-24 panel mounting hardware and has a load capacity of 75 pounds. The units mount on 16-inch hole centers in the back, providing significant stability. The frames come in two heights (21-inch and 35-inch panel space), and mount to an 18-inch depth.
The 19-inch rack units feature a durable black texture powder coat finish, and ship unassembled for easy transportation. The company offers same-day shipping on most items from its product inventory.
View Bud's selection of rack equipment or request a free catalog.
Search for Racks in the Cabling Installation & Maintenance Buyer's Guide