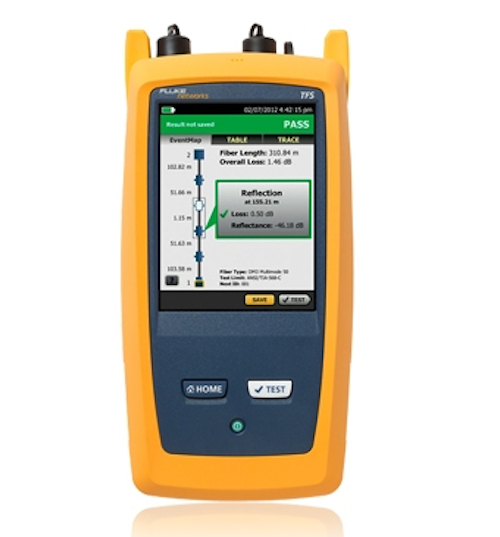 Fluke Networks has introduced its OptiFiber Pro OTDR, which the company says sets "a new standard for usability" via its smartphone interface that supports gesture-based commands, and an automated data center mode to help technicians immediately solve fiber test problems in mission-critical environments. "Enterprise fiber use is growing at 57 percent a year, which increases the frequency and importance of fiber testing necessary to minimize issues that can be devastating to network operations," contends Jason Wilbur, vice president of datacom cabling and installation tools at Fluke Networks.
Aimed at reducing costs associated with premise fiber testing, Fluke says the handheld OptiFiber Pro's smartphone user-interface "dramatically reduces" the learning curve associated with traditional OTDRs by minimizing the tool's complexity for untrained users, helping new technicians to quickly become fiber experts. Further, the tool's simplified "Datacenter" mode automates the process of setting test parameters, such as wavelength or end-detection algorithms, to significantly reduce set-up time as well as the complexity of learning how to troubleshoot data center problems.
Other new features of the OptiFiber Pro include shortened event and attenuation dead zones for testing connectors and patch cords as short as 0.5 meters. The company says this capability is critical in virtualized server environments, where connections are often less than one meter, and hidden performance issues can severely decrease the reliability of data centers and storage area networks (SANs).
Additionally, the updated tool's visual presentation of faults shows all fiber events graphically, allowing the user to quickly and easily interpret OTDR trace results. New built-in project management tools facilitate the assignment and tracking of all fiber testing projects for multiple users, increasing efficiency while enhancing project tracking visibility and enabling cost-effective device sharing.
Finally, Fluke says its upgraded LinkWare management software eases the burden of workflow management, integrates test results, and keeps the OTDR up-to-date with the latest software. "Our new OptiFiber Pro is aimed squarely at the challenges our enterprise customers are facing today," concludes Fluke's Wilbur.
See Also:
Manual prepares fiber technicians to master the OTDR

Search for OTDRs in the Cabling Installation & Maintenance Buyer's Guide