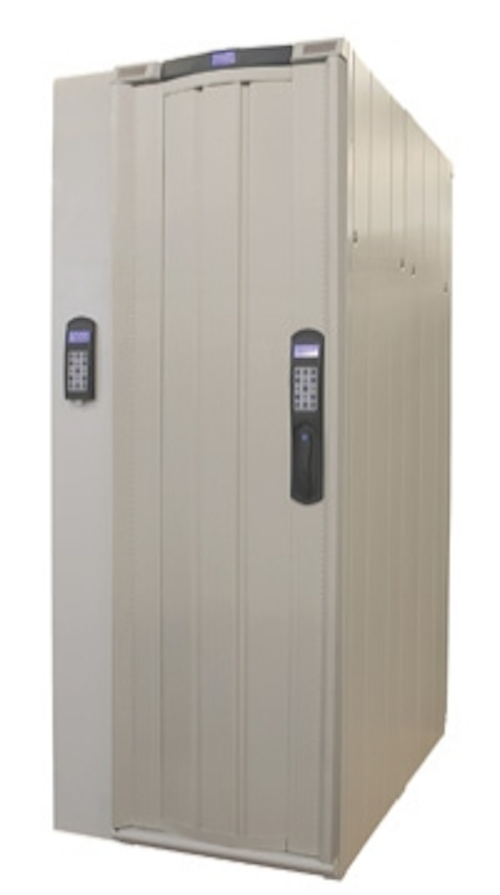 From the March, 2012 Issue of Cabling Installation & Maintenance Magazine
Many secondary schools require the functionality of a data center but don't have the space. A single-cabinet ecosystem may be an answer.
By Michael Varcoe, Cannon Technologies
The world of learning has changed. For those of us over 40 years of age, or even over 30, it has changed out of all recognition. No longer do students readily read books, and almost certainly not outside of school walls. As many parents and teachers have stated over recent years, "Read a book? They'd much rather play computer games."
And that's just it. Children seem to be born computer-literate. To them there is no mystique; they find computers completely intuitive and do not have the unconscious technophobia that some of us older folks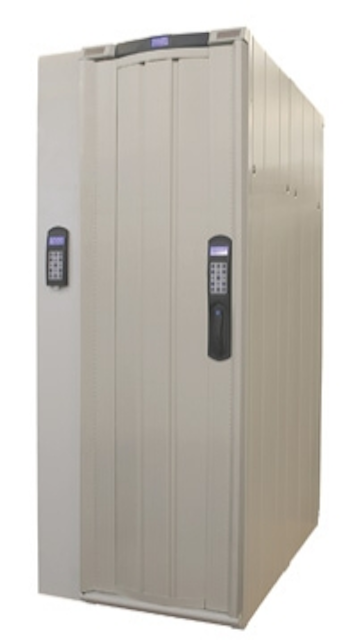 Cannon offers a number of mini data centers like this one within the T4 product line. Designed for use in environments like the schools described in this article, the mini data centers include access-control features as well as built-in cooling and temperature/humidity monitoring, uninterruptible power and power-consumption monitoring, as well as data center infrastructure management software.
experience.
Their world largely exists through a glass screen—a little one on their iPhone, Android, netbook, laptop or family PC, or a larger one in the family living room or classroom. Chances are they spend a significant percentage of their classroom time either in front of the PC or tablet, or watching multimedia on the classroom big screen.
But there is some new learning about learning: If you present students with their learning material through the little screen, or if you present it in the interactive form that makes their world go 'round, then not only do they assimilate and integrate it; they even log in and interact with it on their own time, outside of school hours and walls.
So what, you say? Well, if the student's learning world is through the tiny screen, then the educators—teachers, lecturers and student peers—need to be able to prepare, create, capture and store all that information in multimedia formats from text, graphics, to HD video, 3D video and complex visualization and modeling. Plus they need to be able to chat, comment, blog and gain safe access to Internet-based social media tools.
All of this material, once created, has to be stored for instant access on a variety of screen-based devices in the classroom, the study room, the playground, the dormitory and the pupils' homes, even when they are away.
Getting it done
In order to accomplish all this, the school needs a variety of information technology (IT) equipment, like servers and storage as well as a load of software to enable all these e-learning opportunities. It is also worth noting that even more IT resources are needed for the school's access control and security, for CCTV monitoring in order to curb undesirable behavior, pupil management and administration systems, plus wireless local area network access and voice communications around the site. Additional IT requirements include firewalls, management devices to ensure safe Internet access, switches, routers and of course the associated cabling infrastructure.
This all needs to be operating 24x7x365 so students can access it anytime. So the school needs a resilient design, uninterruptible power supply (UPS), a reliable backup regime and, given the power density of today's IT equipment, a cooling system to keep it all at a safe operating temperature.
In fact, on a small scale, they need just about every element of a modern data center with one major exception—space. Whereas data centers have rack after rack in air-conditioned halls, many schools are hard-pressed to find a spare closet.
Meeting requirements
Each school has a growing and changing range of IT assets, from student PCs and increasingly WiFi-based tablets like iPads, plus fixed and mobile scanning whiteboards, display screens, audio systems and the like.
While it is possible to cable-out the school with Ethernet connections, we have found that high-bandwidth, industrial-grade WiFi is the simplest form of internal (and playground) coverage. This approach vastly reduces the task of frequent IT-asset rearrangement and easily copes with the growing number of tablet devices, in addition to permitting access to the students' own smartphones.
This approach also vastly simplifies the installation process with a requirement of only around 10 WiFi access points for a 300-user school. That means only 10 cabling runs from a cabinet-based data center around the school buildings. If Power over Ethernet (PoE) is employed, there is not even a need to install electrical connections other than a single power-feed to the cabinet itself.
A mini-data center serving a school environment will need to contain multiple elements, including: the ISP's Internet connection; router, firewall, Virtual Private Network (VPN) plus content-safety appliance; Web proxy; PoE Ethernet switch; WiFi management; network management; server farm, possibly virtualized; storage network; UPS; cooling; temperature and environmental monitoring and control; security and access control; and CCTV recording and storage. Depending on the proximity to other schools, and the availability of line-of-sight radio, laser or infrared links, some of these elements may be provided "virtually" from other schools in a cluster.
The old way
The conventional approach to even a small cabinet-based IT project is quite complex. An IT consultant is needed to specify the real estate and mechanical/electrical requirements such as space, air conditioning and power; the consultant also specifies cabinet design, active hardware design, network and wireless access design, learning management system (LMS) design, and specifications of other software.
Then there is the lengthy process of assessing vendors—receiving and evaluating quotes, letting contracts and overseeing the works as a dozen different contractors attend and leave the site. All this has to happen before the system is ready, tested and the customer (probably the school's IT head) trained in its operation and day-to-day maintenance.
The new way
By predetermining a number of the parameters based on real-world experience, it is possible to come up with a far simpler solution, based on a single, totally enclosed data center-in-a-rack approach, and deciding that schoolwide WiFi will be used rather than fixed wiring.
Under this scenario, a single standardized approach that is ready for WiFi, LMS and other school administration and management systems easily can be configured at the factory in a cabinet equipped with all the necessary server and storage hardware and software as well as self-contained cooling, uninterruptible power, WiFi controllers, router, firewalls and other IT assets that will be needed.
Delivered to the school directly from the factory after testing, the cabinet reaches the site and is put in place in a location such as a corridor, closet or even outside in the case of an external-grade enclosure. All that is needed is a connection to the main power supply, which can be accommodated with one single-phase feed. From there, data cabling is run to locations at which wireless access points will be placed.
As these access points are powered using PoE, there is no need for any other trade to be involved. And again, a realistic estimate is 10 cabling runs (to 10 wireless access points) for a 300-user school, or 40 cabling runs for a 1,200-user school.
The benefit is that usually within a few hours of the time the data center-in-a-rack is delivered to the school, it is up and running. Teachers and students can start using it right away.
Cabinet considerations
Server and network cabinets can be rather complex these days. They are no longer just bent metal and finished steel; they now are intelligent electronically managed systems with monitoring and control of a number of key attributes such as temperature and humidity, power usage, security-controlled access, cooling, uninterruptible power and airflow management.
Let's look more closely at some of these characteristics.
Construction. Although most of the equipment we all deploy is 19-inch, in reality there is quite a bit of variability among manufacturer interpretation of that dimension. So a lot of flexibility and variability within the rack or cabinet is needed to accommodate mixed-vendor hardware.
Color is also an important factor. While black has been the trend, it makes life difficult for technicians and engineers because it steals light. Our customers have reported a 40-percent savings on lighting and fixtures by adopting gray/white colored cabinets.
Security. In the data center and particularly in the school where the cabinet might be in a public space, a high level of security and controlled access to sensitive equipment as well as potentially sensitive data (such as pupil records) is essential.
Racks can be fitted with electronic locks controlled by combinations of swipe or RFID card, key-code or, better still, fingerprint or palm-print detection. In addition, access "permission" can be required from a central network operations center (NOC) so that, for example, a server technician is given a 45-minute window of access, then the asset is automatically locked.
To further enhance security, covert cameras can record a still photo on both planned and unplanned door opening—or even video footage of the entire door-open session. The system can raise local and remote alarms on any violation.
Cooling. Modern IT equipment has a very high power and heat density. In the data center the old method of just cooling the room is no longer adequate, so now it is common to have coolers within each row or even within high-capacity cabinets.
The latter is the approach we take for our data center-in-a-rack, with a cooler on one or both sides of the active equipment and specialized air-control baffles and guides to produce a complete self-contained hot-aisle/cold-aisle cocoon within the cabinet itself. We normally supply direct exchange cooling, because this too is completely self-contained, though chilled water is an alternative option.
Temperature and humidity monitoring. This is absolutely essential with high heat-density equipment as high temperatures can very quickly lead to equipment failures. The system we deploy has up to 16 temperature and humidity sensors, all monitored and recorded in real time, controlling the cooling system and raising alarms if any move out of limits.
Power-consumption monitoring. In the data center, it is now essential to know where, and how much, power is being used. Intelligent power distribution strips in the rack permit real-time monitoring of power consumption by each individual piece of kit and for each rack.
Uninterruptible power. Instantaneous power cuts can be catastrophic, leaving databases and files in mangled or unrecoverable states and open work unsaved. In the data center, UPS may be specified to cover tens of minutes or more to ride out short power cuts or to give time for backup generators to be started. In the schools solution we include, as standard, a 10-minute backup. This allows all systems to shut down in a controlled manner, with all work saved so everything can restart in a clean state, without intervention needed, when the power is restored.
Greater backup capacity can be provided in rural areas where power failures are more frequent, allowing teaching to continue via battery-powered portable access devices.
Data center infrastructure management (DCIM). All of these elements of measurement, monitoring, security, power and cooling need to be managed. Such management is the function of the rack's intelligent controller, top-of-rack interactive display, and DCIM software. Some DCIM software packages can manage all these systems, retain audit records, raise alarms and integrate with either a local operation center, which could be simply the IT head for a group of schools via a laptop or iPhone, or it could be a service provider with its own NOC service.
Whether it is children in school, teachers and other education providers, or ourselves in the IT industry, we are all constantly learning. Hopefully this article has given an insight into how the "simple" data center rack has evolved, and how that evolution now makes possible all the functionality of a whole data center in a cabinet the size of a small wardrobe.
Of course, the idea can be applied not just to schools, but also to small companies or even to short-term data center support for events such as meetings, concerts and festivals.
Michael Varcoe is director of the Americas for the Cannon T4 division of Cannon Technologies (www.cannontech.co.uk).
Moodle, Blackboard and LMS
Moodle, Blackboard and others are learning management systems (LMS), sometimes also called course management systems, pedagogical platforms or e-learning platforms. They are software systems that deliver courseware plus e-tutoring through a browser-based interface to pupils and educators.
These systems typically include the following elements.
Course management, such as lists of courses, registration, credit information, syllabus, prerequisites
Teaching materials and courseware
Self-assessment quizzes
Lesson tools, including authoring for contents (structured XML or HTML, audio, video) and quizzing/testing (e.g. JavaScript generators), as well as the ability to import standard IMS or SCORM teaching packages
Asynchronous communication like email, forums and social media
Synchronous communication including chat, whiteboard and teleconferencing
Student tools such as home pages, self tests, bookmarks and progress tracking
Student management tools including online grading and assessments
-MV
---
More CIM Articles
Past CIM Articles