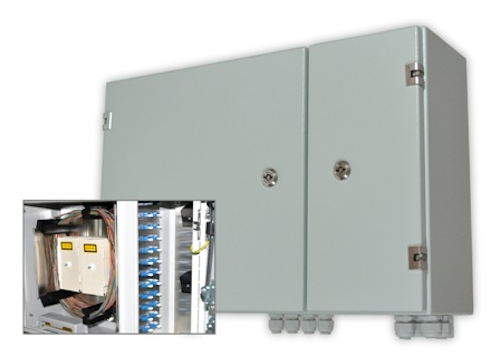 Networking environments like offshore wind farms or oil platforms are among the harshest anywhere. When trans data elektronik (tde) introduced a wall-mount enclosure intended to stand up to these types of environments, the company's chief executive officer Andre Engel commented, "Data transfer in offshore wind farms demands high standards of the network components since they need to reliably provide high performance while at the same time brave the adverse effects of seawater and pollution."
The product introduced by tde is a fiber-optic wall-mount enclosure designed as a turnkey system that makes initial startup on-site possible within a short time, Engel noted.
The enclosure's casing is made of powdered stainless steel, type V2A or V4A. With its IP66 protection rating, the enclosure protects against ingress of dust and sea water, tde notes. The enclosure's interior contains a splice area on the left side and a patch panel on the right side, as shown in the photo at the bottom of this page. The two areas are separated by lockable doors. The splice trays and cable-management clips for spare cable lengths are mounted on a carrier plate. The entire splicing area can be removed from the cabinet to allow actual splicing to be done more comfortably for the technician.
tde also says the cabinet' interior design can be customized.
Check out the Enclosures section of our Online Buyer's Guide.