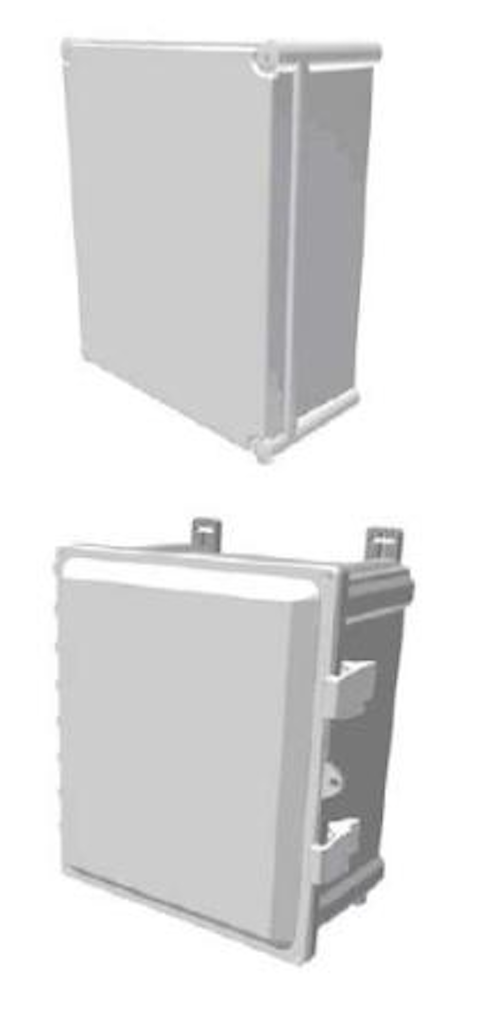 Two new NEMA-4 enclosures designed specifically to protect Cisco 1140, 1260, 3500, 3502p and 3600 series wireless access points, as well as other access points, are equipped to house this equipment in outdoor environments such as retail centers, college campuses and stadiums. Oberon Inc. explains that its Models 1021-00 and 1026-00 are compact, made of polycarbonate material, and protect access points from weather, dust and impact. With proper sealing they achieve NEMA-4X rating.
"The National Electrical Manufacturers Association [NEMA] rates enclosures according to the ability to protect against such hazards as falling objects, water, ingress of water, and the formation of ice on the enclosure," Oberon explains. The company's NEMA enclosures are designed and tested to meet NEMA 1, 2, 4, 4X, 12 and 13 specifications, as well as IP66 of IEC 529, and UL 508-4X requirements. The 1021-00 and 1026-00 models in particular are made of impact-resistant polycarbonate plastic, which the company points out is virtually transparent to wireless signals. Access pointed with body-integrated antennas or small detachable antennas may be protected while mounted in recommended configurations. Antennas may be mounted externally by drilling holes in the plastic for antenna cables.
Enclosures such as these are becoming increasingly in demand, the company says, because, "As the use of wireless mobile devices such as smartphones and tablets expands exponentially, network designers must prepare to provide robust and seamless wireless coverage over large areas and a wide variety of environments. Where weather and other conditions are less than ideal, protecting equipment while retaining full performance becomes a major consideration in network design."
You may also be interested in this article: NEMA enclosure ratings explained