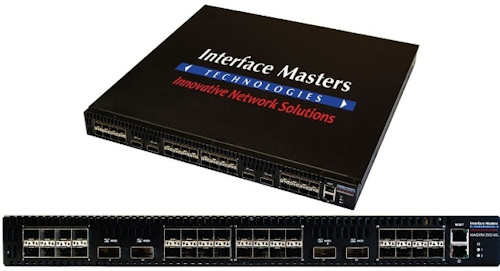 New from Interface Masters (San Jose, CA), the high-density Niagara 2932-4XL is a 40 Gigabit Ethernet (GbE) switch that combines 4 ports for 40 GbE connectivity with 32 ports for 10 GbE or 1 GbE line-rate switching throughput in a 1U form factor. Built for optimal versatility, the switch enables multiple fiber media configurations and copper-based direct attached cabling for QSFP+, as well as SFP and SFP+ connectivity.
"Following the growing demand for higher bandwidth and lower latency, the Niagara 2932-4XL switch provides the technology to enable market transition to 40Gb while maintaining access to 10Gb and 1Gb networks, at a reasonable cost," says Ben Askarinam, founder and CEO of Interface Masters.
Based on Marvell's packet processor chip technology, the switch is designed to integrate with data center networks, blade servers, Carrier Ethernet and Metro Ethernet devices, HPC clusters, enterprise storage systems, IT security appliances and central office applications.
Extensive management software enables full control over line-rate switching, routing and filtering. For non-blocking Layer 2 through Layer 4 switching, advanced management capabilities include Syslog, TACACS+, RMON, secure WEB and CLI. The system's 1U chassis includes dual removable power supplies supporting both AC and DC power.
The product is currently in production. For more information, visit www.interfacemasters.com.
Related content:
Big opportunity for 40G connectivity