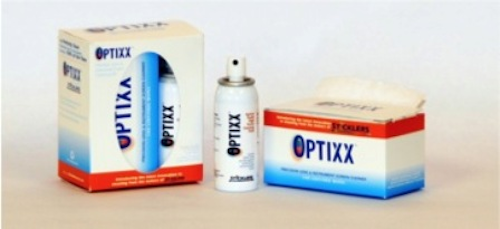 Optixx is the newest fiber-optic cleaning system from MicroCare, makers of the Sticklers brand fiber-optic cleaning products. According to MicroCare, Optixx is used to clean fiber-optic cabling assemblies and lenses, as well as solar cells, laser hardware, scientific instruments and high-precision optics.
Jay Tourigny, MicroCare vice president, noted, "We developed a new cleaning wipe and dispensing package specifically for this application. The wipes are pivotal to high-performance cleaning ... The new wipes actually will make a surface shed dust and particles without any topical coatings."
The lint-free wipes make wet/dry cleaning fast, efficient and convenient, MicroCare says. They are fast-drying, non-flammable, non-hazardous and plastic-safe, the company adds.
You may be interested in this article: Convincing Optical Technicians to Clean Fiber Endfaces, by Microcare's Harvey Stone.