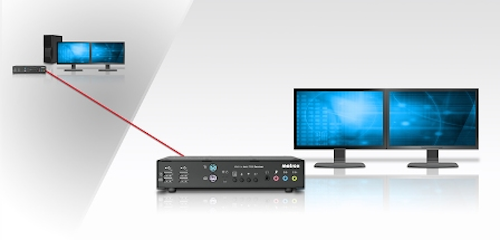 New from Matrox Graphics (Montreal, Canada), the Avio F120 fiber-optic KVM extenders are designed for graphics-intensive and visualization applications. The F120 transmitter (part number: AV-F120TXF) and receiver (part number: AV-F120RXF) pair extends two single-link DVI video, keyboard, mouse, audio, and USB HIDs [human interface devices] from a host system by up to 2000 m (6562 ft) using a single duplex LC-LC fiber-optic cable.
"Matrox Avio F120 can separate the system's I/O functionality from the system to reliably meet distance, security, safety, multi-display, and performance requirements," explains Caroline Injoyan, business development manager at Matrox Graphics. "The Avio F120 uses just one fiber-optic cable to transmit all I/O signals from the host computer to the remote dual-monitor station, drastically simplifying installation while enabling an uncompromised user experience, which are essential in high-performance applications."
The company says the extender's uncompressed fiber-optic transmission maintains graphics performance and full frame-rate HD video playback with no latency at the remote station, while the computer remains safely secured in a climate-controlled machine room for enhanced security and easier IT maintenance. The extender enables a secondary user on the transmitter unit to access the host computer for maintenance or to share the remote desktop on a collaborative video wall.
The Matrox Avio F120 extends two single-link DVI video with maximum resolutions of 1920x1200 per display, or one dual-link DVI video at 2560x1600. The extender supports maximum distances of 300 m (984 ft) for multimode fiber and 2000 m (6,562 ft) for single-mode via an optional upgrade. The F120 includes USB or PS/2 keyboard and mouse connectors, and multiple USB HID ports. DDC compliance and advanced EDID management are supported for reliable communication between the remote displays and host system. Extenders are compatible with Microsoft Windows, Linux, Unix, and Mac OS X operating systems.

Matrox says the KVM extender's system-agnostic design and wide-ranging OS compatibility facilitate plug-and-play deployment in industrial process control, oil and gas, 3D design and visualization, government, and military environments. The company will be showcasing the Avio F120 at NAB 2012 in booth # SL5115, from April 16-19, 2012. The product is available as of May 2012.
Related article:KVM technology steps up to the task