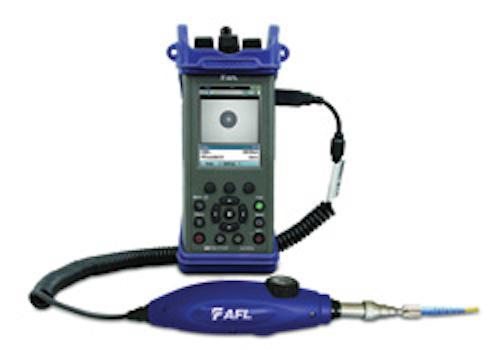 AFL has launched the Noyes M210 Quad OTDR, billed as an "inspection-ready" handheld OTDR designed for installation, maintenance and Tier 1 and Tier 2 certification testing of fiber networks that offers better performance, higher functional integration and an improved user experience over current µOTDRs.
"Private and public network operators require that installed fibers be certified to meet rigorous standards for insertion loss, fiber splice, bend profiles and end-face cleanliness," explains Michelle Collier, senior product manager of AFL's Test and Inspection division. "Because the M210 is the first OTDR in its size and price range that includes an integrated Optical Power Meter, an integrated Visual Fault Identifier and support for a high-resolution Digital FiberScope, it is the ideal choice for fiber installers everywhere."
Related content:Manual prepares fiber technicians to master the OTDR
Designed for testing and troubleshooting singlemode and multimode optical fibers in enterprise, transportation, campus and military communication networks, the Noyes M210 incorporates AFL's 'Touch and Test' user interface and supports English, French, German, Italian, Polish, Portuguese and Spanish language displays, menus and user documents.
AFL says the M210's user interface simplifies job set-up and review of results, via rich file-naming capabilities and simple export of results to the Test Results Manager (TRM) reporting application. The M210's automatic test capabilities are intended to greatly reduce human error, and include automatic Pass/Fail indicators that eliminate the need for costly re-tests.
The M210 has a dynamic range of 30 dB and a battery capacity that supports more than 16 hours of portable operation. It features a faster, more powerful processor than previous models and a display that provides excellent readability under all operating conditions. The M210 is available in a wide variety of test kits and configurations designed to meet the needs of independent contractors and professional installers.
AFL will introduce the Noyes M210 OTDR at the BICSI Winter Conference held February 12-16 in Orlando, Florida. Visit AFL's booth #400 to see live demonstrations.
Search CIM Buyer's Guide: OTDRs