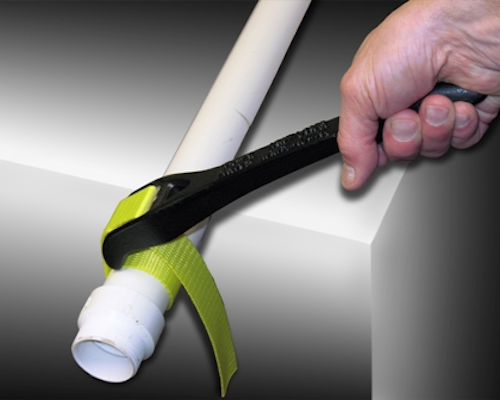 The cast-iron Simplex and Warnock strap wrenches from Lowell Corporation "make it possible to turn any shape without scratching, denting, or crushing," the manufacturer says. Lowell Corporation recently expanded its strap-wrench line with the addition of the S-1224, S-1230 and S-1848 to its Simplex line, as well as adding the W-1224, W-1230 and W-1848 to its Warnock line.
Handle lengths of these new products range from 12 to 18 inches; strep lengths are from 24 to 48 inches. And capacities range from 4 to 10 inches. Custom strap lengths are also available for both models.
Lowell explains that uses for the strap wrenches include loosening and tightening oddly shaped and/or frozen fittings, PVC pipe, knurled fasteners and knobs, and other difficult objects.
Both lines, the Simplex and Warnock, have a baked-on epoxy finish that the company says is harder than conventional finishes and solvent-resistant as well.