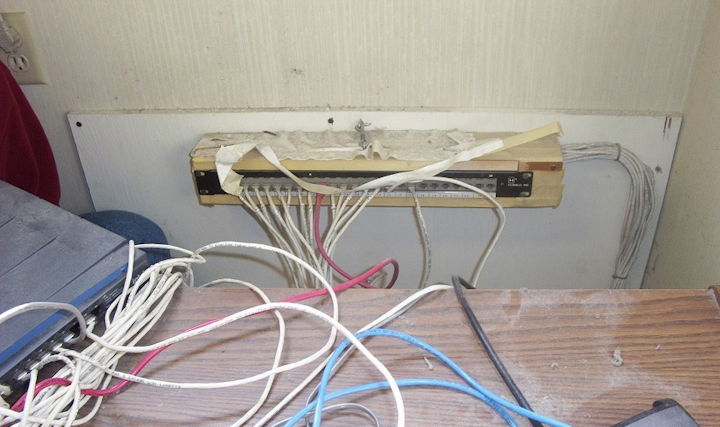 The following music video compiles some of the very best of CablingInstall.com's 'Must-See Photos', as sent into our editors by fans of the site.
Details on individual photos can be found here.
For over 25 years, Cabling Installation & Maintenance has provided useful, practical information to professionals responsible for the specification, design, installation and management of structured cabling systems serving enterprises, data centers and other technical environments. Today's ICT industry professionals are challenged to stay informed of constantly evolving standards, system-design and installation approaches, product and system capabilities, technologies, as well as applications that rely on high-performance structured cabling systems. Our editors synthesize these complex issues into multiple information products.
Via our free monthly magazine, weekly email newsletters and 24/7/365 website, Cabling Installation & Maintenance digs into the essential topics ICT industry professionals are focusing on daily, including:
If you believe Information Network cabling isn't for girls to make a career do meet one of our finalists @optinextindia ICT Center of Excellence training to excel @WorldSkillsInd pre finale qualifiers for making it to Russia @WorldSkills. Wishing Divya Godse all the best.
. pic.twitter.com/MPkjZKXZMb

— Ninad M Desai (@optinextindia) February 25, 2019
Design, Installation and Testing -- We explain the bottom-up design of cabling systems, from case histories of actual projects to solutions for specific problems or aspects of the design process. We also look at specific installations using a case-history approach to highlight challenging problems, solutions and unique features. Additionally, we examine evolving test-and-measurement technologies and techniques designed to address the standards-governed and practical-use performance requirements of cabling systems.
NBASE-T Alliance and Ethernet Alliance unite through merger @EthernetAllianc@NBASETAlliance#NBASET#Ethernet#Cat5e#Cat6#wifi6
https://t.co/JOooHkJvY1

— Cabling Tweets (@CablingTweets) April 3, 2019
Standards -- Tracking the activities of North American and international standards-making organizations, we provide updates on specifications that are in-progress, looking forward to how they will affect cabling-system design and installation. We also produce articles explaining the practical aspects of designing and installing cabling systems in accordance with the specifications of established standards.
OFC 2019 spotlights #optical#datacenter#innovation, #5G#network#upgrades, #IoT#connectivity#OFC19@ofcconference
https://t.co/JmrASRxLWx

— Cabling Tweets (@CablingTweets) March 6, 2019
Data Center -- Cabling Installation & Maintenance takes an in-depth look at design and installation workmanship issues as well as the unique technology being deployed specifically for data centers.
AT&T led in global #Ethernet ports for 2018, finds Vertical Systems Group. Latest share results show 'major shakeup' in rankings for the top five global Ethernet providers, as compared to previous year.
https://t.co/cUHtuFJU3n

— Cabling Tweets (@CablingTweets) March 25, 2019
Technology -- We evaluate product innovations and technology trends as they impact a particular product class through interviews with manufacturers, installers and users, as well as contributed articles from subject-matter experts.
3 tips for successfully deploying #28AWG patch cords for #PoE#Ethernet#cabling#datacenter#telecom
https://t.co/m0hMHeC267

— Cabling Tweets (@CablingTweets) March 1, 2019
Physical Security -- Focusing on the areas in which security and IT—and the infrastructure for both—interlock and overlap, we pay specific attention to Internet Protocol's influence over the development of security applications.
Subscribe to Cabling Installation & Maintenance and CablingInstall.com.