A cable- and cable-tray mouting system from Metal and Cable Corp. offers an alternative to welding and epoxy attachment methods by providing a non-penetrating solution to securely carry cables across and down the curvatures of steel water tanks. The system, called the Magnemount Cable/Cable Tray Holding System, was developed in response to the sharp growth in the incidence of cell phone antennas being mounted on water towers.
The concept for the system came about when a Metal and Cable Corp. customer wanted to design a cable-mounting system that could work either with or independently from the company's original Magnemount antenna-mounting system. The desired result was achieved using two Magnemount system magnets attached to a length of 304-grade stainless steel Unistrut.

Metal and Cable Corp. explains why its system is an attractive alternative to welding cable-tray supports atop water towers. "Whereas traditional welding methods present a permanent solution, the invasive nature of welding requires recoating the steel on the inside and outside of the water tower tank. This may involve draining and refilling the tank, along with other time-consuming and costly operations. Epoxy-mounting solutions are less invasive, but many factors can influence the reliability of this method as a long-term solution."
The company's president, and also Magnemount's inventor, David Klein states, "The Magnemount Cable Tray Holding System offers water municipalities a permanent, dependable, non-invasive solution that requires no maintenance or shutdown. Additionally, it provides cell phone companies with an option to present water municipalities who are averse to welding on their tanks."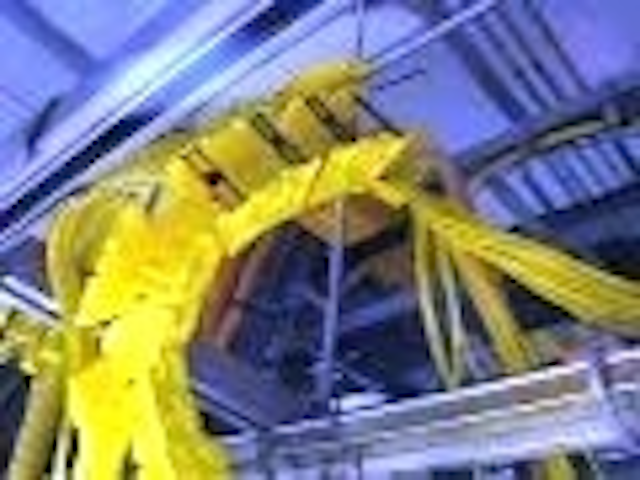 The Magnemount system's design, which is patent-pending, conforms to the varying curvature of steel water towers. The design of the independently mounted magnets allows the mounts to be placed on steel towers or legs with as little as a 4-foot diameter, Metal and Cable Corp. says. When the tray holders are placed on the tower, it should not take more than a minute to make any necessary adjustment.
One option for attaching cable, the company points out, is to use the 304-grade Unistrut clamps to secure cables to the Magnemount cable-mounting system. Another option is to attacht eh cable/cable tray mounts directly to the cable tray - one on each end of each tray. When specified to be used with cable trays, 3- to 5-inch bolts are used. These longer bolts accommodate surface painting under the system on the water tower tanks, thereby eliminating the need to remove the system during the painting process.