Dome cameras have built-in analytics
The SCP camera series from Samsung also offers progressive scan technology, with some models providing 43x zoom.
Jul 10th, 2010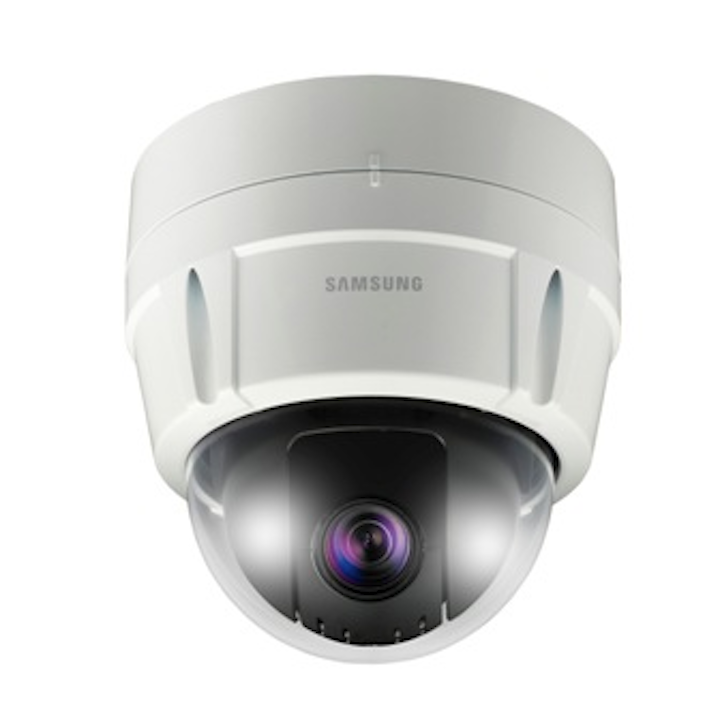 The SCP series of speed dome cameras from Samsung offers up to 43x optical zoom capability, which the company says allows users to monitor a wide area if required and to zoom in on far-away objects. The A1 DSP chipset, Samsung adds, enables the series of cameras to capture clear and vivid color images at 600TV lines resolution.
The series includes 11 models. Four offer the 43x optical zoom, four with 25x optical zoom and three compact models with 12x optical zoom.
Progressive scan is another function that is inherent in the A1 DSP chipset, Samsung says; progressive-scan capability provides a significantly higher-than-standard quality of video capture, particularly of moving objects thanks to well-defined horizontal lines. Other features include picture-on-picture, RS-485 control and 12 definable four-point polygonal privacy zones.
Also, the SCP cameras feature intelligent video analytics, including an appear/disappear function to detect object movement. The analytics function also has object-tracking capabilities.