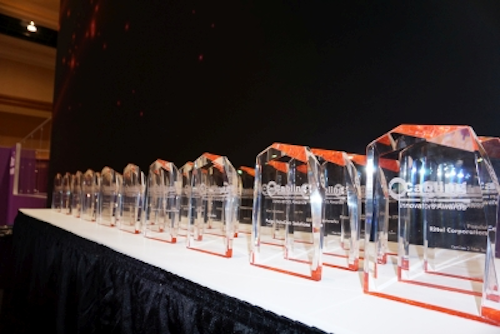 The third annual Cabling Innovators Awards presentation ceremony was held Monday, September 25, 2017 as part of the BICSI Fall Conference and Exhibition. In total 45 awards were distributed. The program was initiated in 2015 to recognize innovative products and systems as well as their uses and applications. The Cabling Innovators Awards program is intended to recognize ingenuity and innovation where it is found in the value chain of cabling-system design, installation and administration.
Participants in the program were invited to self-nominate their products, technologies, systems, programs or projects. A judging panel comprising industry professionals screened the entries and determined their level of innovation.
Cabling Installation & Maintenance's publisher Alan Bergstein commented, "Our 2017 honorees are an outstanding example of companies who are making an impact in the industry."
Honorees earned a silver award if their entry demonstrated that their innovation represented marked improvement over previous methods, approaches, or product and system use. Similarly, honorees earning a gold award demonstrated excellent innovation with clear benefits, making substantial improvement over previous methods, approaches, or use. And platinum-level honorees showed a level of innovation that the judging panel characterized as groundbreaking.
Following is a rundown of the products, systems, and projects that were honored at each level.
Silver
AFL—Wrapping Tube Cable with Spider Web Ribbons
Belden—FiberExpress Enterprise Closet X Patch Panel System
Budco—SnakeBit Hollow Shaft Drill Bits
CommScope—High Speed Migration Platform
D-Tools Inc.—System Integrator 2017 (SI 2017)
EXFO—Automated Multifiber Inspection Solution
Fluke Networks—DSX-8000 CableAnalyzer
GHMT AG—Adapter for Balanced RF and EMC tests up to 2.5 GHz
Major Custom Cable—MTP cables that don't break
Milliken Infrastructure Solutions—Vis Divide
Panduit—HD Flex 2.0 Fiber Cabling System
Prysmian Group—FlexTube Cable
Siemon—ConvergeIT
Siemon—V-Built Preconfigured Solutions
Southwire Tools and Equipment—M300P Professional VDV Cable Mapper
Tripp Lite—AC Charging Cart for Chromebooks
Viavi Solutions—CERTiFi
Vision Technologies Inc.—Integrated Technology Delivery of a Passive Optical Network
Wirewerks—NextSTEP Technology
Gold
AFC Cable Systems—MC Luminary Multizone
AFL—ROGUE OTDR with aeRos Workflow Management
AFL—FOCIS Flex2 Fiber Inspection System
Belden—4K Ultra-High Definition Media Cable
Clearfield Inc.—FieldShield YOURx Platform
Comtran Cable—VITALink CI Free Air Cables
Corning Optical Communications—ALTOS Binderless FastAccess Technology
Corning Optical Communications—EDGE8 Solutions
Corning Optical Communications—ALTOS Light with FastAccess Technology
DINTEK Electronic Ltd.—TechBench Installation Kit
Panduit—Frontera: Mission CEED
Panduit—Angled Termination Solutions
PatchBox GmbH—PatchBox
Siemon—LightBow Fiber Termination System
Specified Technologies Inc.—EZ-Path Retrofit Device
Superior Essex and Platformatics—West Baden Springs Hotel
Tripp Lite—3-Phase Automatic Transfer Switch PDU
Viavi Solutions—SmartClass Fiber MPOLx MPO Optical Loss Test Sets
Platinum
CAILabs—AROONA
Chatsworth Products Inc.—Motive Cable Management System
Fluke Networks—FI-500 FiberInspector Micro
Ideal Networks—Test4Less
Paige DataCom Solutions—Game Changer Cable
Panduit—OptiCam 2 Fiber Termination Tool
Patton Electronics Co.—CopperLink 1100 Series PoE Extender
Rittal Corporation—Lefdal Mine Datacenter