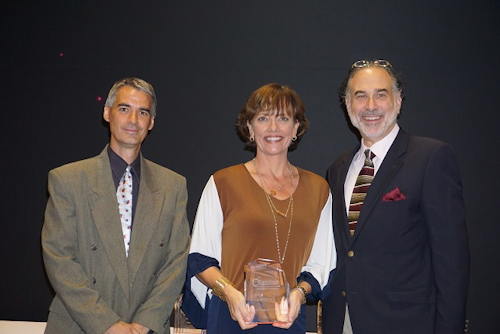 Belden's Elizabeth Stephan, director of sales and channel, broadcast and AV, receives the company's 2017 Cabling Innovators awards from Cabling Installation & Maintenance chief editor Patrick McLaughlin (L) and publisher Alan Bergstein (R).
Belden Inc. (St. Louis), a global leader in signal transmission solutions for mission-critical applications, announced that it has received two of this year's Innovators Awards from Cabling Installation & Maintenance magazine: a Gold award for its 4K UHD Media Cables, and a Silver award for its FiberExpress (FX) Enterprise Closet X (ECX) Patch Panel System. The awards were presented on September 25 at the 2017 BICSI Fall Conference (Sep. 24-28) in Las Vegas.
Per Belden, "The small, sleek design of Belden's 4K UHD Media Cables provides 4K video over HDBaseT for up to 100 m. The cables were produced based on results of extensive HDBaseT testing to understand which design best supports the bandwidth needs of 4K video. Certified to new UL 4299 standards for Power over HDBaseT, Belden 4K UHD Media Cables also ensure that installations are suitable for increasing power levels. These cables support the 5Play feature set of HDBaseT while being flexible for easy installation and termination."

"The 4K UHD Media Cables are designed to save installation time and cost savings by eliminating the need to terminate individually shielded pairs or braids. When combined with Belden's REVConnect Connectivity System, it can be terminated up to 50% faster than standard field-mount plugs," says Linda White, product line manager for broadcast and AV products at Belden.
Of the company's Silver-level award winner , a company press statement adds, "The inability to effectively service legacy constructions and accommodate moves, adds and changes were the inspiration for Belden's FX ECX Patch Panel System. It dramatically improves efficiency, saving valuable time with patent pending, innovative features like front/rear removable cassettes, delivering unmatched installation flexibility in tight spaces. It also simplifies splice cassette design, eliminating fiber pinch points by integrating slack management into the see-through cassette lid."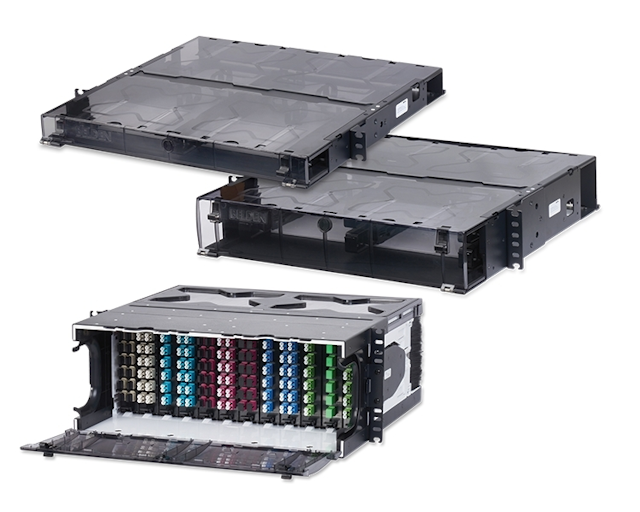 "We developed the FX ECX patch panel system with help from customers and partners," says Matthew Hurst, product line manager for copper/fiber connectivity at Belden. "After gathering feedback about their frustrations with servicing legacy systems and accommodating moves, adds and changes, we wanted to deliver a patch panel system that exceeds other offerings."
The company's statement concludes, "Only Belden's innovative enterprise connectivity solutions take a universal approach to customers' enterprises, resolving signal transmission needs with IP- and legacy-based solutions that enable a smooth migration to IP convergence. Belden's extensive portfolio spans LAN, data centers, building automation and security, and access control to keep information running smoothly. Outstanding global service and support capabilities and application-specific warranty programs complete Belden's unique offering. In the AV industry, the demand for higher-performance communications has become more prevalent than ever before. As a result, the need has increased for professional quality cabling systems and components that span a vast spectrum of applications. Belden's cabling and connectivity expertise and leadership in the broadcast industry has positioned it as the brand that customers and consultants have come to trust. As the industry adjusts to IP convergence throughout the broadcast and professional AV markets, Belden is well positioned with a broad product portfolio of audio, video and communication solutions utilizing coax, fiber, hybrid fiber, multi-conductor and category cable and connectivity products, including connectors, assemblies, panels and racks."
The Cabling Installation & Maintenance 2017 Innovators Awards program reviews and recognizes the most innovative applications of cabling and communications technology products and systems within the structured cabling industry. Platinum, Gold and Silver Honorees were announced at BICSI's 2017 Fall Conference on September 25, 2017. Criteria used in the Innovators Awards ranking included: innovation, value to the user, sustainability, meeting a defined need, collaboration and impact. The judging panel consisted of cabling and communications system specifiers, designers, integrators and managers with vast professional experience.
"This prestigious awards program allows Cabling Installation & Maintenance to celebrate and recognize the most innovative products and services in the structured cabling industry," says Alan Bergstein, publisher of Cabling Installation & Maintenance. "Our 2017 Honorees are outstanding examples of companies that are making an impact in the industry."
For more information about Belden's 4K UHD Media Cables, visit http://info.belden.com/ecos/hdbaset-cable. For more information about Belden's FX ECX Patch Panel System, visit www.belden.com/ecx.
Search the Cabling Installation & Maintenance Buyer's Guide for companies, new products, press releases, and videos: