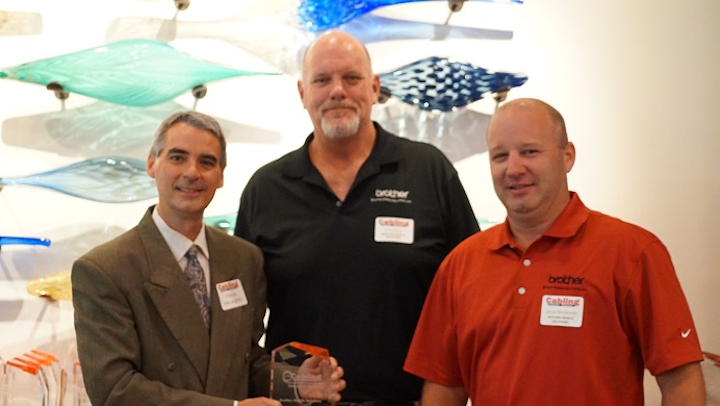 Pictured (L to R): CI&M Chief Editor Patrick McLaughlin; Todd Morse and Jamie Brookover, Account Managers, Brother Mobile Solutions
WESTMINSTER, Colo.--(BUSINESS WIRE) -- Brother Mobile Solutions, a premier provider of mobile and desktop printers, announced on September 12 that its PT-E800W Industrial Labeling System was recognized by the judges of the annual Cabling Installation & Maintenance Innovators Awards program with the Silver level award. The prestigious judging panel consisted of cabling and communications system specifiers, designers, integrators and managers with vast professional experience.
As the newest addition to Brother's popular P-touch family of high performing thermal transfer label printers, the PT-E800W on-demand print and laminate labeling system is designed to fulfill a diverse range of labeling needs in manufacturing, electronics, industrial machinery, warehouse, harsh and outdoor environments, telecommunications, and more. It's a versatile, self-contained, fully transportable desktop labeling system and is ideal for labeling applications requiring premier print quality, superior adhesion and extreme durability ‒ all at an excellent price/performance value.
Ravi Panjwani, Vice President of Marketing and Product Management for Brother Mobile Solutions, states: "We are truly honored that our PT-E800W earned the CI&M Innovator's Silver award and that the panel of distinguished experts recognized it's unique value to the industry. Its features and performance capability set a new industry standard - not only with extraordinary barcode and label design capacity, go-anywhere versatility and world class tape options – but also with its attractive price point. For most industrial users, the PT-E800W will virtually eliminate the need to purchase higher priced printers or costly converting services to generate labels for tough environment."
Alan Bergstein, publisher of Cabling Installation & Maintenance (cablinginstall.com) said "This prestigious program allows Cabling Installation & Maintenance to recognize the most innovative products and leaders serving the structured cabling industry. Our 2018 Honorees are an outstanding example of companies who are making an impact in the industry."
The Innovators Awards are judged based on the following criteria:
Innovative
Value to the User
Sustainability
Meeting a Defined Need
Collaboration
Impact
The 2018 Cabling Installation & Maintenance Innovators Awards Honorees are featured in the November Issue of Cabling Installation & Maintenance magazine as well as on http://www.cablinginstall.com. For more information about the Brother P-touch PT-E800W wireless transportable desktop labeling system, please visit www.brothermobilesolutions.com/products/desktop-printers/pt-e800w.