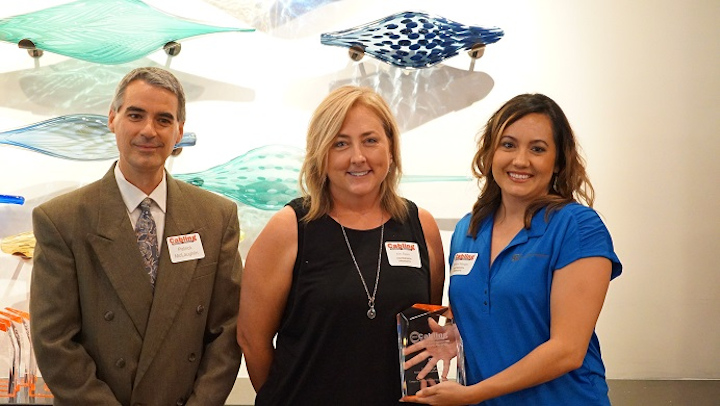 (L to R) Patrick McLaughlin, Chief Editor, CI&M; Kim Ream, Marketing Project Manager, CPI; Brittany Mangan, Digital Content Specialist, CPI
AGOURA HILLS, Calif., Sept. 12, 2018—Chatsworth Products (CPI) is honored to receive three awards for innovation—two Gold and one Silver—across multiple categories from the annual Cabling Installation & Maintenance Innovators Awards.
CPI's Clik-Nut Hardware Kit is the 2018 Gold Honoree in the Distribution and Routing Equipment category. Clik-Nut is a new concept for tool-less rack installation hardware. The simple yet sturdy squeeze-and-release design makes Clik-Nut 70 percent faster to install and safer than traditional cage nuts.
CPI is the 2018 Gold Honoree in the Project category for helping Anthem transform its legacy data center of 1,000 cabinets into a model of efficiency. CPI provided improvements in airflow containment at the cabinet and aisle level, as well as other strategic recommendations, allowing Anthem to reduce cooling costs by 50 percent.
Lastly, CPI's eConnect Electronic Access Control (EAC) is the 2018 Silver Honoree in the Cable Protection and Management category. eConnect EAC addresses the market's renewed focus on regulatory compliance and simplified white space management. eConnect EAC simplifies electronic access control by integrating the lock with CPI's new-generation eConnect PDUs. This supports the three key elements of remote management at the cabinet level: power management, environmental monitoring and physical access control.
"This prestigious program allows Cabling Installation & Maintenance to recognize the most innovative products and leaders serving the structured cabling industry. Our 2018 Honorees are an outstanding example of companies who are making an impact in the industry," states Alan Bergstein, publisher of Cabling Installation & Maintenance.
The judging panel consisted of cabling and communications system specifiers, designers, integrators and managers with vast professional experience who judged entries based on:
Innovation
Value to the user
Sustainability
Meeting a defined need
Collaboration
Impact
For more than 27 years, CPI has provided industry-leading IT infrastructure products that support and protect critical ICT equipment. The company's commitment to quality and breakthrough designs has granted the company numerous patents and prestigious awards throughout the years. For more information on CPI's innovative designs, visit the company's Patents and Awards page.