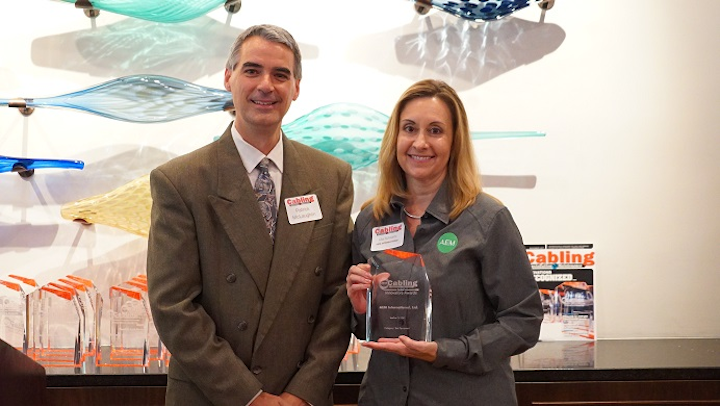 Pictured (L to R): CI&M Chief Editor, Patrick McLaughlin with Lisa Schwartz, Director of Product Marketing & Channels, AEM
CHANDLER, Ariz., Sept. 12, 2018 (GLOBE NEWSWIRE) --AEM, a leader in test and measurement solutions, today announced the TestPro CV100 Multifunction Cable Tester has received the "Gold" award in the Test Equipment category for Cabling Installation & Maintenance's 2018 Innovators Awards. Judges included cabling and communications system specifiers, designers, integrators and managers, evaluating solutions based on innovation, value to the user, sustainability, collaboration and more.

"Coming off the launch of TestPro, and the recent Category 8 Field Tester Accuracy Certification from ETL/Intertek, we're honored to be recognized by Cabling Installation & Maintenance," said Harshang Pandya, General Manager of Test and Measurement at AEM International. "TestPro offers the fastest cable certification speeds on the market today—a six second CAT 6A certification test—and can qualify Multi-Gig link speed and verify loaded PoE++ at a fraction of the cost of older technologies. As organizations continue shifting toward digital infrastructure, contractors and network owners can rely on the power of TestPro."
TestPro offers three essential core functions testing Category 5e - 8 cabling systems, qualifying Multi-Gig link speeds up to 10 GigE, and verifying loaded PoE++ up to (90W) in one simple, economical platform, allowing cable contractors and those responsible for deploying IoT devices to quickly understand a problem's source. For product information, visit http://www.aem-test.com/.
"This prestigious program allows Cabling Installation & Maintenance to recognize the most innovative products and leaders serving the structured cabling industry," said Alan Bergstein, publisher of Cabling Installation & Maintenance. "Our 2018 Honorees are an outstanding example of companies who are making an impact in the industry."

TestPro is available now. Contact us at customercare@aem-test.com.
About the Cabling Installation & Maintenance 2018 Innovators Awards program
The Cabling Installation & Maintenance 2018 Innovators Awards program reviews and recognizes the most-innovative applications of cabling and communications technology products and systems within the structured cabling industry. Honorees were announced at BICSI's 2018 Fall Conference in San Antonio.
About AEM
AEM's test and measurement solutions include high-performance handheld network testers and vector network analyzers. Their solutions are highly modular and suited to both field and manufacturing environments. AEM also provides automated handling for the most advanced chip manufacturers in the world helping to deliver many of the most successful products in the 5G economy. AEM's United States headquarters is in Chandler, Arizona. Visit www.aem-test.com.