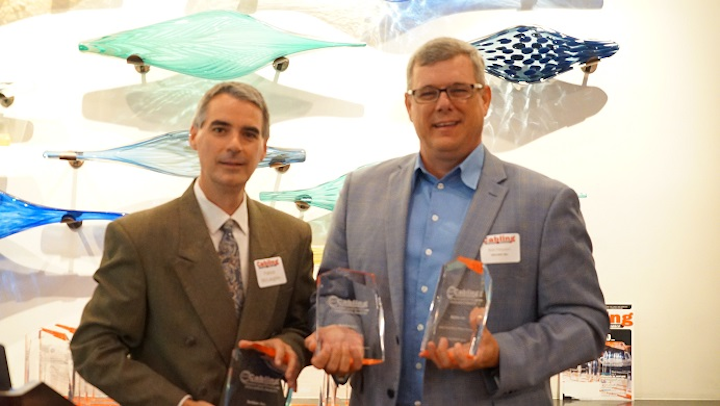 (L to R) Patrick McLaughlin, Chief Editor, CI&M; Bob Ferguson, Regional Sales Engineer, Belden
ST. LOUIS--(BUSINESS WIRE) --Belden Inc., a global leader in signal transmission solutions for mission-critical applications, is excited to announce that it has received three 2018 Gold Innovators Awards from Cabling Installation & Maintenance.
The honorees were chosen by a panel of top-tier cabling and communications systems specifiers, designers, integrators and managers for making groundbreaking contributions to the structured cabling industry. Winners were celebrated at the 2018 BICSI Fall Conference in San Antonio, TX, last week.
In the category of "Distribution and Routing Equipment," Belden's FiberExpress Low-Pressure Mold and Pulling Eye for Trunks received a Gold award. This new fiber pulling eye incorporates a low-pressure mold (LPM), which makes transition points lighter, smaller and easier to handle. It also supports several unique features that separate it from others, including faster installation (40% lighter and 25% smaller LPM transitions), allowance for up to 100 pounds of pulling tension and better airflow and cable routing.
In the category of "Applications and Case Studies," Belden's Golf Channel Case Study also received a Gold award. To keep costs under control while giving Golf Channel the in-studio technology it needed, this project combined Belden 4K Ultra-High-Definition (UHD) Media Cable and REVConnect for the very first time. Instead of investing in a full fiber transport that would have been way beyond budget, this Belden solution kept Golf Channel costs in check. The cabling system transports UHD 4K video footage of a golf course that displays across 29 screens during broadcasts, creating the illusion of a real-life golf course for viewers.
In the category of "Value-Added Programs," Belden's PartnerAlliance HDBaseT Warranty also received a Gold award. A warranty of this caliber is expected in the IT industry, but is a brand new concept in AV. The PartnerAlliance HDBaseT Warranty allows qualified Belden PartnerAlliance AV Integrators to provide their clients with assurance that their installed Belden cabling systems will be free of defects for 25 years. It also includes a Lifetime Application Assurance Program, which covers system performance and labor.
"We're proud of the three Gold awards we received this year, which represent Belden's success when it comes to not only our product solutions, but also our services and client satisfaction," says Alex Hansen, VP & GM Broadcast and AV Solutions at Belden. "It's an honor to be recognized as a leader and innovator in the structured cabling industry."
Resolving signal transmission needs with IP- and legacy-based solutions that enable a smooth migration to convergence requires a universal approach for enterprise environments. Only Belden's innovative enterprise connectivity solutions take this universal approach. Belden's extensive portfolio spans LAN, data centers, building automation and security and access control to keep information running smoothly. Outstanding global service and support capabilities and application-specific warranty programs complete Belden's unique offering.
For more information, visit us at www.belden.com or follow us on Twitter @BeldenInc.