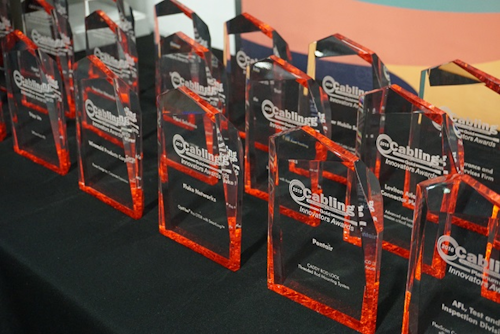 At the 2019 BICSI Fall Conference and Exhibition (Sep. 29- Oct 3) in Las Vegas, Cabling Installation & Maintenance magazine and CablingInstall.com presented its annual Cabling Innovators Awards, celebrating the year's most-innovative applications of cabling and communications technology products, applications and projects.
The awards featured 10 submission categories for products and applications, including one dedicated to platforms for Cable Protection and Management.
As specified by the program, these may encompass: "Products and systems that help ensure the security of an installed cabling plant, or that facilitate the identification of cables, ports, and connections. Entrants into this category can include cable labeling equipment, intelligent infrastructure management systems, DCIM programs, grounding and bonding equipment, and AC-power-related systems such as surge-protection devices. This is also the category for products like hook-and-loop fasteners and cable ties."
For the 2019 Cabling Innovators Awards, eight entrants in this category received recognition, including two Gold and six Silver honorees. As described by the nominated companies, the awarded products and systems are as follows:
Pemsa/Rejiband Black C8 High Corrosion Resistant Finish for the Edge - Chatsworth Products, Inc. – Gold Award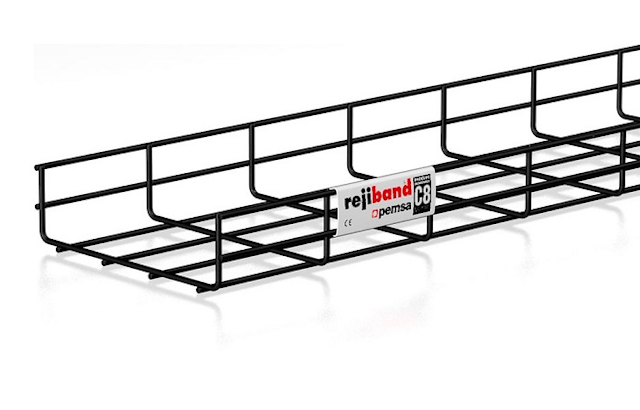 PemsaPemsa Cable Management Systems' Rejiband Black C8 steel wire mesh tray with rounded safety edge for the management of cables features a black organic mineral finish, composed of high corrosion resistant electro-rebar Class 8 metal according to IEC 61537 standard.
The Rejiband Black C8 cable tray is manufactured with a smooth and homogeneous surface finish, remarkably more aesthetic than hot dip galvanizing. Its ease of installation, thanks to its flexibility and its Click-Quick connect system, requiring no screws for supports and accessories, saves on material and labor costs.
Its wide variety of sizes facilitates the most suitable choice according to the needs of each installation.
Sunbird Data Center Infrastructure Management (DCIM) - Sunbird Software – Gold Award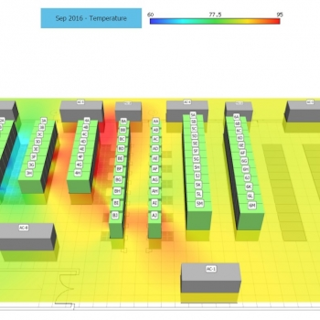 Sunbird SoftwareSunbird Software's second-generation Data Center Infrastructure Management (DCIM) solution radically simplifies data center cable management. Sunbird combines full power distribution management with network connection and structured cabling infrastructure capacities for the ultimate connectivity management solution that improves uptime, people productivity, and capacity planning and utilization.
Sunbird is an innovator in the DCIM market, leading the pack with its second-generation strategy that includes pillars such as zero-configuration analytics, automation via integration, and extreme scalability. Sunbird is fast, while legacy DCIM tools demand excessive clicks and mouse movements, run on slow Java clients, and feature disorienting pop-ups. Sunbird's DCIM is easy to use, compared to first-generation counterparts that take twice as long to deploy, involve twice as much labor, lack scalability, cannot efficiently render 3D visualizations, and need extensive customization. Furthermore, Sunbird's solution is complete, while legacy DCIM consists of unintegrated modules, costly additional reports and plugins, and limited support for third-party equipment and live readings.
With Sunbird's DCIM, you can design your network and connectivity virtually before physically building the infrastructure. Floor map visualizations give a bird's-eye view of the data center space and how assets are connected. For each asset, you can view and modify the data and power connections as well as circuit status and cable type, color, and length. Once the network is designed, you can print the item details to create a build sheet to ensure accurate installation. Sunbird's DCIM helps ensure a successful deployment and reduces the costly amount of time when a technician is on-site.
Sunbird makes documenting cabling installations easy by capturing cabling component and connection information down to the port level out-of-the-box. You can create visual diagrams showing which ports on a device are in-use or available, use circuit trace diagrams to display each hope in a power or data circuit from origin to termination, and visualize devices, connections, patch cords, and structured cabling on a 3D floor map. Sunbird ensures that you always have the most updated, accurate information. Sunbird improves efficiency by allowing you to measure the distances between cabinets on the floor map and adding the near- and far-end vertical heights for additional accuracy. You no longer have to walk the data center floor with a tape measure; simply make all your measurements in Sunbird's DCIM.
Also, Sunbird's DCIM automatically validates the compatibility of your connections. When you create data or power circuits in the software, the software will not allow you to build connections across incompatible ports. Similarly, when looking for the optimal locations to deploy new equipment, the software will not include cabinets without enough available, compatible connectors. Sunbird's second-generation solution allows you to easily leverage your data to keep track of your data center connectivity capacity. Identify the goals you want to track and use Sunbird's business intelligence and zero-configuration analytics capabilities to monitor and analyze your Key Performance Indicators. Sunbird's DCIM can help you plan additions and decommissions for upcoming projects to limit their negative impact on your data center network connectivity capacity – before any changes are actually made. Sunbird's DCIM can reserve the resources that are planned for upcoming projects, so you won't accidentally allocate them somewhere else.
Sunbird is pushing the boundaries of DCIM. Today's data center professionals have moved beyond legacy management tools like Excel, Visio, and first-generation DCIM. They need second-generation DCIM to simplify the ever-increasing complexity of modern data center management. Sunbird is focused on real customer problems to overcome the pain points of legacy tools. With features and a product roadmap based on user feedback, Sunbird continues to innovate and make data center cable management easier than ever before.
Firestop Locator - Specified Technologies, Inc. – Silver Award

Specified Technologies, Inc. (STI)Firestop Locator is a powerful tool that provides designers/specifiers, installers, and end users a platform to implement and track life safety services through initial design, implementation, installation, and into final inspection.
Firestop Locator tracks and documents the deployment and maintenance of firestop systems as well as other life safety services across your facility. Leveraging modern web standards, Firestop Locator works on Android and iOS phones and tablets in addition to your desktop web browser.
With data portability in mind, any reports or documentation collected in FS Locator can be exported to any other platform or software at any time.
J-Hook Cable Suspension System - MonoSystems, Inc

. – Silver Award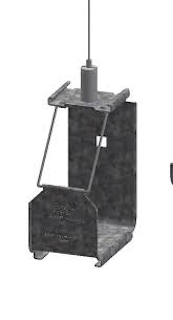 MonoSystems, Inc.J-Hooks are often a low-voltage installers best friend. They are considered a cost-effective way to run pathways versus labor-intensive, costlier cable trays. MonoSystems J-Hook System offers a patented design that allows for infinitely linkable tiering with no additional hardware.
We often introduce new innovations that take advantage of the patented design in an effort to save on labor and material costs and offer solutions that help meet challenging applications. MonoSystems consulted with many system designers, electrical engineers and installers to learn more about their challenges in the field, and heard that many applications for J-Hooks rely on the traditional use of batwings and threaded rod. These solutions require several parts, and additional labor to install. And even if the J-Hooks come "factory-installed" – where the all the parts are attached – there are additional costs to cover the factory installations.
To meet the challenge of suspending J-Hooks within, and around I-Beams or other approved structures, in a cost-effective system, MonoSystems introduced its J-Hook Cable Suspension System (H-GRP-10K). This product innovation is incredibly simple, fast, and easy to install. It includes a 10' long cable that has a strong, built-in loop. The installer simply needs to loop the cable over an approved structure, thread it through the unique cylinder, adjust up or down to length, and cut any excess. There's even enough cable to attach the J-Hook to the upper part of a ceiling grid system when if need be.
We ran a head-to head installation with the J-Hook Cable Suspension System (H-GRP-10K) versus the traditional batwing and threaded rod solution. The H-GRP-10K took less than 45 seconds to install, whereas the J-Hooks using the batwing and threaded rods took over 2 minutes and forty seconds. The time in labor adds up quickly when installing several hundred J-Hooks.
There are already several ongoing installations using this new innovation with great success. We are continuing to learn from the field and hope to add more installation solutions in the near future.
Dual Rail Cable Tray - MonoSystems, Inc. – Silver Award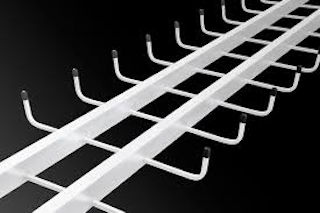 MonoSystems, Inc.In 1967, MonoSystems introduced our patented MonoTray, the industry's first Center Spine Cable Tray. Today, the Center Spine Cable Tray, also referred to as "whalebone", is specified and utilized globally in a wide variety of applications for overhead, over cabinet and underfloor pathways. The "spine" of this unique tray not only adds strength, but also serves as a built-in NEC compliant divider for 2 separated pathways when bottom rung styles are ordered.
In 2019, we introduced the Dual Rail Cable Tray. Founded on the unique qualities of our MonoTray, this tray offers 3 separated pathways in 1 NEC Compliant tray design (when bottom rung styles are ordered). The tray is ready for LV PoE+, fire alarm and power and designed to provide separation of High PoE+ from standard structured cabling. The Dual Rail Tray is well-suited for securing WAP, Sensors & Outlets while providing ease of project compliance with UL924-10.
The Dual Rail Tray design significantly lowers material and labor costs. For example, instead or purchasing and installing 3 trays to facilitate cable pathways that require separation, the Dual Rail accomplishes this in one tray. One tray is purchased. One tray is installed. Because of this, the Dual Rail tray offers an economical use of space - and lower installation costs - compared to tiered solutions.
Examples of labor and material savings are as follows: When comparing a 36" wide Dual Rail Tray to three 12" wide Wire Mesh Basket Trays, a customer can save 50% to 55% on the same project when using the Dual Rail Tray. When comparing a 36" wide Dual Rail Tray to three 12" wide Aluminum Ladder Trays, a customer can save 55% to 60% on the same project, again, when using the Dual Rail Tray. This analysis includes labor units and material costs.
The Dual Rail Tray is made from aluminum, so it's lightweight, easy to handle and configure on site. And though it's lightweight, it offers 100# per foot load capacity on 12 foot support bracing. Additionally, protective rung caps come in a variety of colors and allow for pathway designation, or to marry with a particular design code. A vast array of tray dimensions, fittings and accessories are also offered to make installation flexible and easy. We even offer the tray in custom matched paints to align with interior design needs.
So far this year, the Dual Rail Tray has found its way on to dozens of project specifications and has been successfully installed nationwide. Feedback from the field has shown that the Dual Rail Tray has been received favorably by designers, installers and end-users alike.
Quick-Lock Device for Cable Attachment and Strain Relief – Wirewerks – Silver Award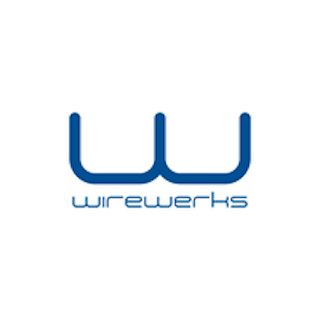 WirewerksThis submission introduces a new cable management accessory from Wirewerks. Cable-ties are one of the most commonly used accessories in our industry; used for everything from bundling cables to keeping panels and cabinets secured when you don't have a padlock or can't find the key. As our knowledge of cable performance impairments grows, we are learning that improperly installed cable-ties can impact the performance of many types of network cables, including optical fiber cables.
When using cable-ties for management and strain-relief of fiber cables, over-tightening the cable-tie can crush the cable's outer jacket causing micro-bends and performance impairments in the individual fibers. Over-tightening can also defeat or limit the protective features of gel-filled loose-tube cables. Under-tightened cable-ties can also be problematic, allowing unwanted movement in cable attachment points.
Wirewerks' new Quick-Lock device for cable attachment and strain-relief solves cable-tie issues while speeding installations and protecting cable performance at the same time. Bye-bye, cable-ties!
Cable Management Clip - Leviton Manufacturing Co., Inc. – Silver Award

LevitonThe Cable Management Clip streamlines installation and maintenance. Network cabling installers and IT managers require the right cable management in racks and cabinets to simplify maintenance, speed up installation and create proper cable bend radius protection. The new easy-to-install Leviton Cable Management Clip gives installers faster, neater and more efficient management of their category-rated cable.
The Leviton Cable Management Clip is designed for use with the Leviton standard Cable Management Bar. The installer-friendly design can be easily installed on the Leviton standard Cable Management Bar without any tools and allows discrete cable retention on the rear of the patch panels. The Cable Management Clip saves time and provides a simple way to manage individual cables on the rear of patch panels. Additionally, the individual spring clips add bend radius control and create a cleaner layout in dense installations. They also improve the visibility of labeling and legends on individual cables.
When installing cables, Leviton tests found the clip to be 90% faster than securing cables individually with ties or fasteners, and 42% faster than tying down 6-cable bundles to a rear cable bar. The clip easily snaps onto the bar without the need for tools, and holds cables in place without requiring ties or wraps, reducing reliance on additional materials.
The Cable Management Clip attaches to the Leviton Standard Cable Management Bar, which is included with Leviton Flat 110-Style and QuickPort Patch Panels. The clip can support up to 24 cables, and is ideal for handling larger, heavier cable such as Category 6A. The Leviton Cable Management Clip gives installers faster and more efficient management of their category-rated cable. It also creates a cleaner, more organized and aesthetic look in the back of racks and cabinets.
The Cable Management Clip is available through Leviton's extensive distribution network. To learn about Leviton's wide offering of cable management for copper and fiber installations, visit www.leviton.com/ns.
3-Cell Vis Divide - Milliken & Company – Silver Award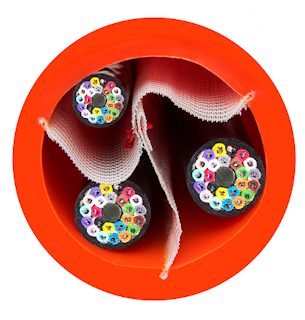 Milliken & CompanyIn 2018, Milliken's Cable Management business developed 3-cell Vis Divide, an expansion of Vis Divide, a segmented high-density polyethylene (HDPE) rigid conduit that provides dedicated pathways for the placement of more than one cable in a single conduit. Where previous versions of Vis Divide have two available pathways, this new product offers three. The fabric divider molded directly into the Vis Divide conduit helps improve efficiency by utilizing all the available space within the conduit while avoiding the risk of cable-over-cable damage. With three pathways, customers who would normally install one cable into a conduit are provided with more flexibility for future growth and expansion. 
As underground space decreases and becomes a more valuable commodity, installers and engineers alike are looking for ways to maximize what's available. Installing one cable per conduit is not always an ideal use of space, especially when there's plenty of extra room in the conduit. The original 2-cell Vis Divide cut back on that wasted space, allowing for two cables to be run through one conduit — or one cable with an open space for future network expansion. Now 3-cell Vis Divide makes that space even more efficient. Installers can, for example, run two cables in one conduit while still leaving a path available for future needs. Providing more cabling options for the design professional leads to reduced overall costs.
Vis Divide doesn't just save on space; it also saves on installation time, improving construction productivity. If installers would typically install three conduits, having three available cells reduces those three installs to just one 3-cell Vis Divide conduit installation, cutting that time considerably. Additionally, Vis Divide helps minimize civil disruption for future upgrades or changes that need to occur. With a spare pathway already in place, property owners may be able to avoid boring additional conduits in the future, keeping the usual ebb and flow undisturbed.
The installation of Vis Divide is similar to a traditional HDPE conduit, requiring no special equipment or training. For installation ease, each pathway in Vis Divide comes with color-coded Vis pulling tape already installed.