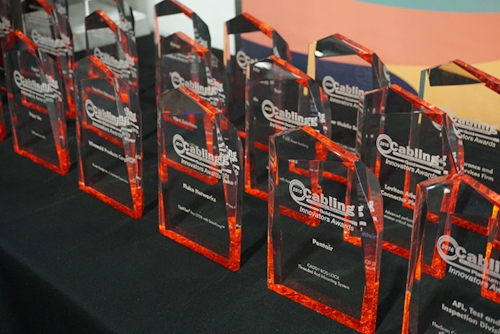 At the 2019 BICSI Fall Conference and Exhibition (Sep. 29- Oct 3) in Las Vegas, Cabling Installation & Maintenance magazine and CablingInstall.com presented its annual Cabling Innovators Awards, celebrating the year's most-innovative applications of cabling and communications technology products, applications and projects.
The awards featured 10 submission categories for products and applications, including one dedicated to Connection and Cross Connection Devices.
As specified by the awards program, "This is the appropriate category for products or components to which a cable is terminated: plugs, jacks, patch panels. It's also the category for related products, such as adapters."
For the 2019 Cabling Innovators Awards, eighteen entrants in this category received recognition, including one Platinum, nine Gold and eight Silver honorees. As described by the nominated companies, the awarded products and systems are as follows.
IEC 63171-1 Copper LC-style Connector – CommScope – Platinum Award
CommScope's IEC 63171-1 Copper LC-style Connector concept will be a major enabler of the IoT. There will be billions of IoT devices, and they will all need to be connected to a network. Today, many IoT devices are hard-wired by directly attaching wire pairs onto screw terminals on the device. This technique is error-prone and time-consuming.
The IEC 63171-1 copper LC style connector has won recognition and has been incorporated in standards documents in IEEE 802.3, ISO/IEC/SC 25/WG 3, IEC SC 48B, and TIA TR42.7. This could become the universal, ubiquitous single-pair connector enabling single-pair IoT networks worldwide. It provides a standardized method of connecting controllers, switches and IoT devices into the network. The connector is small, easy to use, and delivers much more reliable and consistent performance than hard-wired connections, eliminating field issues that interfere with critical functions and require manual remediation.
Standardization of the IEC 63171-1 copper LC-style connector can have the same impact for IoT as the standardization of the RJ-45 connector for Ethernet in 1987, which enabled the rapid international growth of Ethernet networks. The IEC 63171-1 connector is on target to accomplish the same thing for IoT networks.
View PDF: IEC 63171-1 Copper LC connector interoperability (via www.ieee802.org)
REVConnect FlexPlug – Belden – Gold Award
When the field-terminated plug was first introduced, installers were thrilled about the quick, easy deployment it offered for jobsites. By eliminating small parts and steps required to terminate properly, field-terminated plugs let installers swiftly terminate onsite to connect IoT devices. As field-terminated plugs were rolled out, however, questions arose: Were they compatible with all devices? Did they perform as well as the traditional configuration? They may terminate quickly, but were they easy to terminate? These questions prevented field-terminated plugs from permeating the market. The plugs were also difficult to deploy in tight spaces, such as in a wireless access point with brackets obstructing the RJ45 entry port, in a wall-mounted display with a tight bend radius to access the entry port or in a digital signage display with a tight weatherproof casing that makes port access difficult.
Belden's plenum-rated REVConnect FlexPlug supports high-performance, direct connections to IoT devices while addressing the typical concerns associated with traditional field-terminated plugs. The FlexPlug: eliminates compatibility questions because it works with any IoT or PoE device that uses an RJ45 plug; can be deployed in applications where a typical field-terminated plug can't be used due to plug size and/or cable routing constraints; can be deployed in tight spaces with its compact, low-profile plug footprint and a flexible, Bonded-Pair cable that accommodates 90-degree to 180-degree bends from the connection interface; eliminates the need for a jack, biscuit box and patch cord for fast installation with fewer components and lower material costs.  
The REVConnect FlexPlug also allows installers to take advantage of the modular plug terminated link (MPTL) configuration that was included in the ANSI/TIA-568.2-D standard in 2018. This topology allows RJ45 plugs to be terminated directly onto horizontal cabling and measured in the field. It's also referred to as "direct connect" because it allows a variety of devices to be plugged without an outlet and patch cord. This eliminates the outlet, jack and patch cord, so it requires fewer components for installation. You no longer have to terminate cable to outlets, install a faceplate or connect a patch cord. Overall installation costs are reduced and devices can be installed faster. Using REVConnect's award-winning termination method, which features a universal "core" comprised of a cable manager and cap to support a simple, straightforward process, FlexPlug is easy to use. In 15 minutes or less, installers with little or no experience can learn the process. It terminates with one REVConnect tool, which is equipped with a cable preparation feature that strips the cable jacket and cuts the cross-member and rip cord.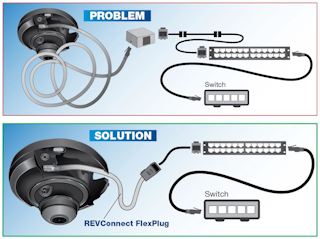 The FlexPlug product family consists of Category 6A (10GX) and Category 6+ unshielded REVConnect flexible, plenum-rated plugs. Like any REVConnect solution, the FlexPlug allows end-users to change their minds as many times as they need to about what type of device will be connected or deployed. These plugs allow you to quickly connect a terminated REVConnect core on horizontal cabling to IoT and PoE devices up to 100W. It's fast and easy for end-users to connect or disconnect IP devices to networks, whether they're PoE LED lighting fixtures, wireless access points, surveillance cameras, digital signage displays or interactive kiosks.
 Ceiling Connector Assembly – CommScope – Gold Award
With the convergence of traditional facilities networks with IT onto IP/Ethernet—and the explosion of Internet of Things (IoT) devices in buildings—more and more connected devices are now being deployed in the ceiling.
Ranging from IP cameras and Wi-Fi access points to in-building wireless systems, LED lighting and sound masking systems, these devices all require wired connectivity. These devices are typically installed in difficult-to-access areas (such as above ceilings). And, while the industry's preferred method for connecting them continues to be through a patchcord connected to a permanently-mounted RJ45 outlet, in many cases this is not feasible.
Although field-terminated modular plugs can be used, they are not well suited for installations in ceilings because here are many small parts associated with this installation method – given the limited space and visibility in most ceilings, it is difficult to achieve the level of termination quality that can be done in factory conditions. Such terminations are easily achieved with a Ceiling Connector Assembly.
CommScope's Ceiling Assembly provides a high-quality cable interconnection. It is available as a standalone unit or pre-terminated to an RJ45 plug. The Ceiling Connector Assembly allows use of a factory-terminated patchcord with a standard plug, in terms of size, design and performance. This allows the Ceiling Connector Assembly to be connected to all existing wireless access points, as well as many security cameras where the equipment connector is mounted flush to the equipment.
Intellicore Solutions – Legrand – Gold Award
Legrand believes a connected infrastructure should deliver customers maximum network performance, while also offering a significant time savings for installation and moves, adds, and changes. It should also provide the advantages of available network space for a faster ROI, lower operating costs, an optimum seamless user experience, and be sustainable by design. Our INTELLICORE Management Software (IMS) orchestration system provides the capability for a remotely controlled and configurable Layer-1 switched network system. The IMS gives you the ability to control, manage and track network changes and digitally document data and network analytics in real time.
Traditional Layer-1 solutions have typically used a Three-Tier Core/Aggregate/Access structure, or even a more flattened Lead-Spine topology for networking. However, the same challenges exist for both of these solutions where human errors and labor-intensive changes can significantly increase operating expenses. INTELLICORE uses software defined networking (SDN) to provide an alternative topology in a data center that delivers full software control and cross connection capability for each 10-gig fiber "lane" in your fiber network. It merges SDN with Legrand's fiber connectivity and physical infrastructure solutions to enable complete software integrated physical networking capability. Through the IMS, coupled with INTELLICORE intelligent cross connect (ICC) protocol agnostic switch, a user can monitor and broadcast copies of the information transmitted on selected fiber lanes and ports without the need for expensive optical taps and their associated insertion loss. In addition, the ICC automatically regenerates all the optical signals that enter and leave it.
With the INTELLICORE Intelligent Patching System (IPS), fiber distribution panels, and IMS controlled LED indicators for port identification on the front of the panel, you have a simple way to manage MACs and assure error-proof physical patching. Additionally, when the IPS is connected to the active transceiver ports on a data center switch, an IPS turns into a port replication panel by instructing the panel's LEDs to mirror the status LEDS of the switch itself. The IPSM modular panel version automatically maps the fiber connection topology and port presence with the EPROM/RFID clips on the intelligent patch cord and trunk cable connections. In addition, the built-in bit error rate testing (BERT) function provides link measurement capability using a pluggable 10 Gig SFP transceiver.
INTELLICORE's all network connected Layer-1 patching and cross-connect devices are automatically "discoverable" and managed by the IMS. INTELLICORE also provides an accurate topology mapping and a visual indication of the usage of your entire network, including the ability to view and change port identifications. It's especially useful for ultra-high-density environments where it is very difficult to label ports because of physical space limitations. The IMS provides remote real-time notification of network topology changes, alarms and also provides an automatically updated audit trail of those changes. The ability to see available ports or reserve or provision in real-time is also available.
The technology offers a better way to build networks and also leverage cabling and connectivity infrastructure. It can also greatly reduce network limitations such as congested link segments and security compromised portals. For hyper-scale data centers, INTELLICORE simplifies the management of complex networks, whether it's a single site of multiple sites. For co-locations, the managed and dynamic Intellicore network provides easier configuration and set-up using software, which means faster deployment and less mistakes in the field. Data center networks are moving toward SDN based physical layer connectivity such as INTELLICORE to obtain more sophisticated managed and dynamic control of the network, error proof implementation of MACs and real-time automated documentation of network changes and fiber port usage.
PRIME ODF - R&M – Gold Award
PRIME ODF (Professional Interconnection Management Equipment Optical Distribution Frame) is a highly dense cabling platform for optical distribution frames (ODFs). PRIME ODF provides fiber optic network operators with planning freedom, enabling use of fiber distribution hub units in more varied ways than before. With PRIME ODF, network operators now can design fiber-to-the-home (FTTH) networks precisely from the outset to suit local requirements and extend or adapt them later. At maximum capacity, PRIME ODF modules can connect 5,376 optical fibers in an optical distribution frame, a new standard for the FTTH market.
PRIME ODF provides the highest fiber density with modularity, flexibility, scalable costs, easy installation and migration into new and existing network infrastructures. These features improve network planning and the safety of fiber and cable management during network operation and maintenance. Above-ground street cabinets and basements, main distributor frames, central offices and POP (point of presence) sites include the most important locations for PRIME ODF racks. Here they form the nodes of local broadband networks such as city rings and feeder networks. PRIME ODF is at home wherever space is limited, and a high number of optical fibers need to be wired. The platform is also suitable for fiber optic distribution in data centers and for backhaul networks from mobile communication providers.
With PRIME ODF, R&M implements modularity; the distributors can be assembled, adapted and extended like separate blocks. This approach enables network operators to plan with manageable investment costs and order only the specific number of components they need (pay as you grow). Network operators also can react quickly to local FTTH demand and technical progress, and scale broadband networks to suit requirements. Up to 14 PRIME ODF modules fit in a 19-inch or R&M ETSI rack. PRIME ODF's adaptive tool-free design ensures no tools are required for assembly in R&M ETSI racks. This increases installation efficiency and the flexibility of network operations. The PRIME ODF modules can be assembled from the front or back of 19-inch racks.
A sub-rack can accommodate four PRIME ODF fiber units. They can be combined and equipped in a variety of ways and retrofitted without tools. The PRIME ODF range contains fiber units for fiber optic termination, for splice and breakout cabling and for patch cord and overlength storage. When using the ultra-high-density LC adapters from R&M, the capacity of a PRIME ODF module totals 5,376 FO connections. The high packing density decreases the average costs per port. Drawer technology protects the fibers during assembly, maintenance and cleaning. The fibers remain in the guide. A channel system protects the fibers on the way to the splice area. The connectors can be detected and operated when the drawer is pushed in and be pulled into a service position for cleaning and inspection.
EZ-Flip LC Connector – Senko – Gold Award
Senko's EZ-Flip LC polarity-reversible product is a duplex LC connector for round cable, which allows the polarity to be switched without connector re-termination or twisting of the fiber.
Key features of the connector include: push/pull tab ready for high density applications; Uniboot connector aids cable management; polarity reversal without twisting fiber; visual indication for polarity check; short boot design for reduced connector length.
LC BladePatch – Siemon – Gold Award
Siemon's LC BladePatch uniboot duplex connector is highly unique in that it solves the long-standing problem of trying to remove a fiber connector from high-density fiber patching environments. In fact, the LC BladePatch push-pull boot design that enables disconnecting connectors via the back end of the connector boot was developed after Carl Siemon, the company's president and CEO, witnessed a technician resort to using a screwdriver to unlatch a connector in a densely-populated patching are, a practice that risks damaging adjacent connectors or the fiber port itself. Not only does the push-pull boot allow for easy insertion and removal, but the low-profile design also optimizes side stackability.
It's well known that the correct fiber polarity must be maintained to ensure that transmit signals at one end of a channel corresponds to the receiver at the other end. Unfortunately, polarity is one area that causes confusion among technicians. Rather than finding out that the polarity is incorrect and having to re-order components with the correct polarity, Siemon's LC BladePatch jumpers and assemblies feature a rotating latch design that allows polarity to be changed on the fly in the field. For all versions except APC singlemode, this is done by simply removing the connector from its housing and rotating the latches 180 degrees around the fiber without ever touching the fiber itself, eliminating potential connector and fiber damage. Polarity change is clearly identified on the connector itself to further eliminate confusion.
The overall innovative push-pull and polarity change design of the LC BladePatch connector is so revolutionary that customers who do not even specify Siemon cabling systems have chosen LC BladePatch jumpers for their high-density fiber patching areas and equipment connections. Due to its tremendous popularity, Siemon has expanded its LC BladePatch offering to include more than just standard multimode and singlemode fiber jumpers. The connector is now available on Base 8 and Base 12 MTP-to-LC trunks and LC-to-LC trunks for direct patching options over a range of distances and configurations. The trunks are also available in various staggered lengths to accommodate specific active equipment, including Brocade switches and Cisco 9512, 9412 and NEXUS switches. Siemon also recently introduced an Erika Violet version available for all OM4 multimode LC BladePatch jumpers and assemblies to help distinguish typically aqua-colored OM4 components from aqua-colored OM3, preventing mixing different level of performance that can push low budgets over the limit. Another very recent addition to the family includes angled physical contact (APC) singlemode LC BladePatch connectors, which were introduced to address growing adoption of APC connectivity for connecting carrier services in data center applications, especially in cloud/colocation and hyperscale data centers where APC connectors have become the de facto standard. The APC version of the connector features an 8-degree angled fiber endface that provides better reflection performance (65dB for APC vs. 50dB for UPC) for supporting high-speed singlemode fiber applications such as FTTX, PON, CATV.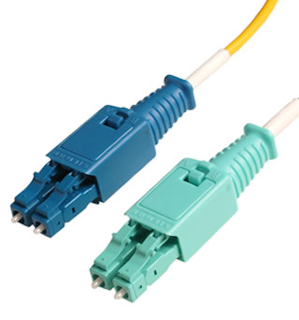 LC BladePatch jumpers and assemblies come in plenum (OFNR), riser (OFNP) and low-smoke, zero-halogen (LS0H) jacket ratings, and the multimode versions are available in a low-loss performance of just 0.15dB, with 0.10dB typical, to support performance requirements in the latest high-speed networks. All assemblies are constructed using Siemon RazorCore unitube cable that offers an overall smaller diameter for improved airflow and manageability, and they exceed TIA/EIA, Telcordia and ISO/IEC specifications for endface geometry and mechanical requirements. The singlemode versions utilize ITU.G657-A1 bend-insensitive fiber that further enables manageability and maintains performance in high-density patching areas. When installed as part of a qualified end-to-end Siemon fiber system, LC BladePatch jumpers and assemblies are warranted for 20 years for complete peace of mind.
 Category 6+ LSHF CMR cable solution - Superior Essex Communications – Gold Award
The Superior Essex Category 6+ LSHF CMR cable solution is designed for Power over Ethernet applications requiring a Low Smoke Halogen-free (LSHF) construction for which it meets IEC 62821 requirements for toxicity, acidity, and smoke. As a Category 6 cable, it is near the peak of current data transmissions standards and it features a solid annealed copper conductor and multiple thermoplastic insulation tubes in a flame-retardant jacket which, in the event of fire, will not leak any hazardous chemicals into the air. Its sustainability benefits also include a contribution toward LEED, WELL and Living Building Challenge certification through Environmental Product Declaration, Third-Party verified Health Product Declaration and Living Product Challenge certification.
This cable is totally free of all red list materials and its CAT 6 compliance ensures it supports 1000BASE-T Gigabit Ethernet. Its guaranteed 2dB margin in NEXT, PSNEXT, RL, ACR, and PSACR "future-proofs" the cable installation, meaning the cable won't need to be replaced for compatibility with subsequent systems. It is UL listed CMR-LSHF, allowing it to be used for CMR specific installations such as this one, and even comes with several features meant to improve the ease of installation like a rounded design without a separator, the BrakeBox payout control system which is an adjustable tension control on the reel to prevent over spin and entangling of the cable, the QuickCount marking system which provides the remaining length of the cable on the reel, and the ColorTip Circuit Identification System which lets you easily identify conductor mates, even in low light environments. Additionally, ArchNexus was able to utilize design practices to enable open air riser rated cabling solution that helps to eliminate PVC jacketed cable at a competitive cost, though plenum Red List free options are available.
The high level of data and power output, unparalleled safety measures, and environmentally conscious composition of this cable made it the perfect match for the Arch | Nexus SAC data, voice, and camera systems. Arch | Nexus SAC is now the 1st Living certified project in the world that is an adaptive reuse of an existing building. It has also gained the LEED v4 certification of the highest rank, Platinum, while also being currently evaluated for WELL certification. The building generates more power than it expends thanks in part to Superior Essex low smoke halogen free CAT 6+ cable, which connects and powers 40 client computer work stations, three private offices, and two conference rooms on top of security systems, and handles data for the entire complex. Not only did choosing Superior Essex products help to keep the building's energy consumption to a minimum, Arch Nexus also saved untold hours of legwork due to our complete transparency in materials disclosure while also gaining contributions toward its LEED, WELL and Living Building certifications.
View our Living Product Certification Here: https://living-future.org/lpc/case-studies/superior-essex-cat6/
LGXtra Patch Module – Wirewerks – Gold Award
Long-time customer Rogers Communications asked Wirewerks to look at how fiber patching in their LGX-style fiber management systems might be updated to simplify processes and reduce costs. What started out as a collaborative development effort focused on improving a single product quickly expanded into a major effort to update and re-energize an entire product line. Learn how Wirewerks' new LGXtra Patch Module not only solved the challenges posed by Rogers Communications, but also served to define and launch the entirely new LGXtra product line.

Zero-U Patch Panel – Wirewerks – Gold Award
For service providers, missing an installation "due date" results in lost billing cycles, additional costs and reduced customer satisfaction. A common contributor to missed due dates are variable site conditions that only become evident once the technician arrives at the customer's premise. Discovering a full telecom rack with no capacity for even one more copper or fiber link can be a game-stopper - and correcting the situation can be costly and time-consuming for both the customer and the service provider alike. A full rack can also be a challenge in COLO DCs where customers often contract for fractional portions of a standard rack. As in the MSO environment, incremental service expansion in COLO DCs can be a costly and time-consuming exercise when rack space is not available. With this program entry, Wirewerks introduces its new Zero-U Patch Panel that provides an innovative, easy-to-use, cost-effective solution to the 'full rack' problem in virtually any network application or environment.
10GX REVConnect Wall-Mount System – Belden – Silver Award
No matter the situation, space is always a factor when it comes to telecommunications rooms. Network designers need to fight for appropriate space. Cabinets take up valuable square footage, leaving little room for expansion or capacity increases. As more technology moves onto enterprise networks, even more floor space is being eaten up inside telecommunications rooms. The No. 1 reason to use a wall-mount cross connect is to save valuable floor space in the telecommunications room. So when customers asked for a high-density, high-performance Category 6A wall-mount cross connect, our engineers inventoried all new technologies recently introduced by Belden. As a result, we discovered that REVConnect – our game-changing and award-winning connectivity system – was a good match for a new generation of wall-mount cross connects for Category 6A cabling.
We contacted current Category 6 cross-connect system users and asked them what they wanted in a new wall-mount cross connect. They told us they needed: a solution to support higher density since space is at a premium and IoT has increased the number of ports needed; flexibility to keep up with frequent network infrastructure evolutions and gear changes, as well as flexibility to adapt to connected building systems such as LED lighting, building automation or security systems using RJ45 connectors or other connection types; secure, efficient operation that also helps spaces stay clean, tidy and manageable. Using this feedback, we created a prototype of Belden's Wall-Mount Cross Connect using REVConnect technology and shared it with current Category 6 cross-connect customers to gather their feedback and make adjustments where necessary.
The end result: Belden's 10GX REVConnect Wall-Mount System. The system is one of the only Category 6A wall-mount cross connects on the market today. It offers many features and benefits that give installers and end-users exactly what they are looking for in the next generation of wall-mount cross connects. The platform represents highest-density Category 6A Wall-Mount Cross Connect available while still allowing sufficient space to manage Category 6A connections (which require larger cables) and capacity for management accessories. The system's total density falls within 10% of Category 6 system density. The 10GX REVConnect Wall-Mount System is available preloaded with standard REVConnect Jacks or REVConnect Couplers (core-to-core connectors).
Because the cross connect is part of the REVConnect Connectivity System, it utilizes the award-winning single termination method featuring a universal "core." The universal core is comprised of a cable manager and cap. The cap uses eight insulation-piercing contacts to create a gas-tight termination; the REVConnect Core is the termination method used. The heart of this new system, the REVConnect Core can be used in many other applications, such as an interconnect in a consolidation point or a connection point to transition from OSP to indoor cables.
 Shielded High Density Jack – Legrand – Silver Award
The High Density Shielded Jack from Legrand is the latest edition to our extensive High Density Jack (HDJ) family of products which include modular jacks, faceplates, surface-mount boxes, bezels and modular patch panels. The new jack improves upon our unique lacing cap termination method and simplifies the termination of shielded CAT 6 or CAT 6A cable, saving time and money compared to other modular jack solutions on the market. Because the jack utilizes the HDJ footprint, it fits in existing Legrand HDJ mounting products and the new shielded HDJ patch panel - allowing up to 48 ports in a single rack unit and providing the opportunity for mixed media with our line of HDJ-compatible fiber adapter panels and cassettes.
The jack itself is comprised of two components – the zinc metal jack housing and the special lacing cap in which wires are guided through and seated. It utilizes the same familiar termination method as our traditional UTP HDJ jack family but has some improvements to make it easier for shielded cable termination. The first improvement is the lacing cap design which allows the shielded cable's drain wire to be looped around the cable after being stripped – simplifying the termination process of shielded cable. Other jacks on the market require this wire to be trimmed and inserted into the jack at a later point in the termination process. Additionally, the shielded cable is able to be guided straight-through the lacing cap and placed on top of the point in which the cable was stripped. This allows for easier pair separation and the cap can be rotated to match up with the proper colored pairs when terminating.
The High Density Shielded Jack also is built with Power-over-Ethernet applications in mind. Our UTP line of HDJ jacks already exceeded industry specifications in terms of electrical performance, but our new shielded offering now offers even more headroom. The circuit trace pairs are rated to 2.5 amps, well above the industry's 1.0 amp requirement for high power applications.
Data Center Fabric Passive Panel - Signamax, Inc. – Silver Award
The Signamax Data Center Fabric Passive Panel merges extreme port densities with hyperscale connectivity into a 1U enclosure to replicate the A/B fabrics or the fiber channel backbone switches in today's modernized data center. Comprised of a Dual Fabric solution, a Fiber Channel solution, and a Meet-Me-Room solution for aggregating traffic over the LAN or moving a 16 GB workload across the SAN, all options are pre-configured enclosures, terminated and tested at the factory, with multiple USConec MTP to CS\LC breakout offerings of OM3, OM4, OM5 and OS2 fiber mediums. Each option also includes multiple rear entry positions, two being cornered to utilize rack or cabinet's vertical cable management, along with, a proprietary slide-in cable management bracket for rear strain relief.
The Dual Fabric Passive Panel offers 192 CS\LC fibers into a 1U enclosure to replicate the A/B fabrics of today's common switch port densities of the CISCO 7k Nexus (2 x 96 ports) and CISCO 3100 series (48 Port Slots). Along with low loss fiber optics for the 40/100 and even 200 GbE. This solution has clearly designated segmentation of Fabrics A (96f) & B (96f) for the SAN Fabric, ToR design and diversified or redundant pathways. The Fiber Channel Passive Panel offers 256 CS\LC fibers into a 1U enclosure to replicate the fiber channel backbone switches of Brocade G20 (64 ports A and 64 Ports B) or G30 (128 Ports) and Cisco 9700 series (128 FCIP ports) or 3100-Z (128 Ports) along with low loss fiber optics for 8/16/32 Gb fiber channel standards.
The Meet-Me-Room Passive Panel introduces one of the densest fiber optic enclosures in the market with 144 ports or 288 CS\LC fibers in a 1U Enclosure. This solution is specifically designed for today's high dense ribbon fiber applications and to help transition out of the Point of Entry Room at 864, 1728 and 3456 ribbon fibers to the Meet Me Room through parallel optics with 288 fiber sublets for breakout and distribution for the 40/100/200 GbE or 16/32/64 Gb fiber channel standards.
MDX-Series Patch Panel – Signamax – Silver Award
The SIGNAMAX MDX-Series patch panels are the next step in integration of high-performance connecting hardware and cable management solutions. Special mounting slots integrated in the panel's frame serve as built-in cable management, providing an end-user with over a dozen cable management configurations. The options target a range of scenarios with different cable types and sizes for both patch cord/equipment cables and distribution cables including but not limited to congested-space installations, installations with limited-access, or installations where there is a requirement to provide extra space for cable management. Easy and quick mounting and removal of the cable management ensures flexibility at the time of initial connecting hardware installation and during service operations.
Along with diverse cable management options the MDX panels provide several connecting hardware position identification and labelling techniques suitable to all situations and end-user preferences. These include: Label holders with clear windows using plain paper/cardstock inserts with pre-printed sequential port numbers ("factory labeling"); Label holders can be used for custom printed labels or back side of the factory labels can be used for hand-written identification; White marking pads for hand-written identifiers. Key benefits of the MDX-Series patch panels to end-users and installers include the following: saves vertical mounting space; saves on auxiliary cable management hardware (cable management panels, troughs, etc.); time saver for installers on mounting auxiliary cable management hardware; flexible cable management configurations eliminate need for using different types of auxiliary cable management hardware; eco-friendly solution - less materials and packaging; multiple flexible labeling options
Zero-U Identification Panel - Signamax, Inc. – Silver Award
The Zero-U IDP panels are designed and equipped for situations when there is no readily available means of administration or labeling for telecommunications equipment and for installations where vertical mounting space is at premium. They can be used to provide identification and labeling for, practically, any object intended for mounting in 19-in telecom racks, including: racks and cabinets (can be placed at the highest position in the rack to serve as a rack label holder); connecting hardware (patch panels, wiring blocks, enclosures, etc.); active equipment.
The Zero-U IDP panel saves vertical space by means of "retrofit" mounting between and over two adjacent equipment units. Its slim and low profile allows for use with almost any type of telecommunications equipment without obstructing access to connecting points or visual aids. Constructed with lightweight aluminum alloy adding minimum extra load to mounting hardware, the panel supports easy installation with a slide under bracket design that slips under screws of already installed equipment without disassembling. Flexible identification is provided by the four labels holders and sixteen possible positions allowing ninety-nine spatial labeling configurations. Two different mounting options allow the end-user to choose installation preference for easy and quick removal with plunger locks or a more reliable fixation, preventing occasional displacement with captive screws.
Users can quickly service underlying equipment by disengaging mounting locks or screws. Labeling works with any plain paper or cardstock compatible with regular office printers. The label holder ID space is sufficient to provide legible labeling for two units of equipment above and below the panel. CEA-310-D specification allows for identification in the front or rear of the equipment. The product provides a professional identification/labeling solution where there are no readily available administrative means.
HD8² High Density Fiber Optic Patching System - Tactical Deployment Systems – Silver Award
Managers of today's rapidly changing data center environments require highly flexible and easily deployable products to meet the needs of today's demands and those that will arise in the future. Most of today's high density data center "targeted" patching systems have a cassette format attempting to maximize chassis density, but they are not conducive to easy installation and cable routing through existing ladder racks, innerduct, and raised floor systems due to size. Tactical Deployment Systems has the answer with the new HD8² High Density Fiber Optic Deployment Solution. The HD8² fiber optic patching system includes a rack mountable chassis capable of accommodating up to twelve rear entry molded cassettes in a 1U space. The reduced footprint cassettes are completely customizable at the front and rear points of entry, have an internal strain relief ring, and an external snap on pulling eye cap for ease of installation. The HD8² is a cost effective ease of use patching system that will work in your overall data center design, or it can be used as a rapid deployment for temporary needs.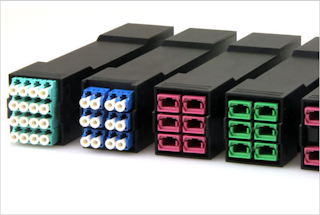 The ease and flexibility with which this product can be deployed provides a low cost-point making it the best value patching system on the market today. This system is very modular and flexible. Users can mix different connector styles and fiber counts using cassettes for applications including: 24-fiber MTP (multimode – QSFP28 100GBASE-SR10, QSFP28 10x10G SR breakout, etc.); 12-fiber MTP (multimode – QSFP28 100GBASE-SR4, QSFP+ 40GBASE-SR4, QSFP+ 4x10GBASE-SR breakout, QSFP28-DD 2x100GBASE-SR4, etc.); 12-fiber MTP (singlemode – QSFP+ 4x10GBASE-LR, QSFP28 100G PSM4, etc. ); 16-fiber MTP (multimode – QSFP-DD 400GBASE-SR8 PAM4, etc.); Duplex LC (multimode and singlemode – breakout for LR4, CWDM4, FR8, PSM4, SR4, etc.); CS, SN and MDC (QSFP28-DD 2x100G CWDM4/LR4, etc.).
 NextSTEP Distribution Frame – Wirewerks – Silver Award
As the growth of fiber networks continues to accelerate, network managers and data center operators are relying more and more on Optical Distribution Frames (ODFs) to bring efficiency into their fiber management operations and to control the chaos. While features, functionality, capacity and quality are all important factors in selecting an ODF, there can be no doubt that size and density are key decision criteria given the high costs of real estate in the data centers, COs, and COLOs where these ODFs are deployed. Wirewerks' new NextSTEP Distribution Frame presents the smallest ODF footprint in the industry today, while providing the highest fiber density at the same time. Lose inches fast in DCs or COLOs on the hot new NextSTEP Distribution Frame "instant diet."
NextSTEP 3 Series Modules – Wirewerks – Silver Award
The friendly debate continues as to whether Base-8 or Base-12 fiber infrastructure is the best way to meet both current networking challenges and the coming 25/40/100/400G migration. Wirewerks' innovative new family of 3-Series fiber modules for its award-winning NextSTEP Technology fiber management system has added Base-8 capability to the platform. The NextSTEP technology now "covers all the BASEs," allowing customers to map their own best path to tomorrow's high-speed networks. Learn more.