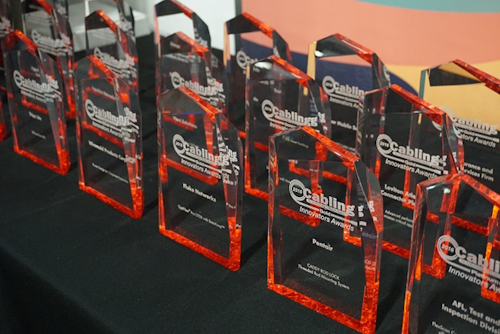 At the 2019 BICSI Fall Conference and Exhibition (Sep. 29- Oct 3) in Las Vegas, Cabling Installation & Maintenance magazine and CablingInstall.com presented its annual Cabling Innovators Awards, celebrating the year's most-innovative applications of cabling and communications technology products, applications and projects.
The awards featured 10 submission categories for products and applications, including one dedicated to Distribution and Routing Equipment.
As specified by the awards program, this category comprises "the products and systems that facilitate or enhance any part of cabling's journey through the enterprise, industrial, data center or other network. This category includes above-ceiling support devices like tray, hooks, and other systems. It includes housing equipment including racks and enclosures/cabinets. Conduit, innerduct and surface-mount raceways are in this category as well. We also include in this category products and equipment used in a cable pull—carts, caddies, reels, lubricants, and mechanical devices that help move cable from Point A to Point B."
For the 2019 Cabling Innovators Awards, two entrants in this category received recognition, including one Platinum and one Silver honoree. As described by the nominated companies, the awarded products and systems are as follows.
Ferret WiFi Wireless Inspection Camera & Cable Pulling Tool - Cable Ferret, Inc. – Platinum Award
The Ferret WiFi is the world's first combination compact wireless inspection camera and cable pulling tool. With a built in WiFi hotspot, 720p HD streaming and adjustable bright white LED's, the IP67 rated Ferret WiFi rechargeable camera has been purpose-designed from the ground up to provide faster close up visual inspections and allows faster cable pulling in dark confined spaces. The Ferret WiFi is a versatile solution designed to support inspections, cabling installation and maintenance, while encouraging an efficient and safer workplace. Andrew Wigney, the President of Cable Ferret, Inc., designed and innovated the Ferret after managing a large team of cable installers and seeing their frustrations firsthand. He was focused on finding a solution to take the difficulty out of these time-consuming and expensive cabling jobs.
The innovative Ferret idea evolved out of a real need, when installers working on a large hotel data cabling job became frustrated and were struggling to effectively run in new cable from inside solid ceilings. Unable to get visibility in the confined ceiling space, running cable from point A to B was time consuming and therefore costly. Enclosed space work can prove frustratingly difficult, time consuming and dangerous. There can be a risk of injury when climbing a ladder to get a view, as well as property damage and errors when cutting access holes or blindly pulling in cables. Andrew finally decided there must be a better way after a technician drilled through a high-pressure water pipe by accident, causing tens of thousands of dollars damage. Using an endoscope camera was very limited in reach and technicians putting their heads through a small hole was not considered safe. Cutting large number of holes to get access proved both expensive and unsightly and overall there was a problem with a lack of visibility and accessibility.
With adjustable bright LEDs the Ferret WiFi has been purpose designed to provide faster close up visual inspections and faster cable pulling in dark confined spaces. The camera and included accessories are all extremely versatile and easy to use. The tool is IP67 rated, great for those dusty and damp environments. The free App for Android and iOS allows the user to record in real time 720p high definition photos and video direct to a smart device. With 6 main functions, the Ferret WiFI an ideal tool for any cable installer to inspect and locate cable, reach and retrieve cable, and perform data capture and reporting.
By using the Ferret WiFi, inspections and cable pulling are both made easier, faster, safer and overall more efficient. While initially being designed for inspections and cable pulling, the Ferret WiFi is now being used for a wide range of applications, including those for plumbers, home inspectors, mechanics, and many other trades, as well as DIY. This product has truly changed the way the trades work in dark, hard-to-reach and confined spaces. The Ferret saves time and money, plus significantly helps to get cabling installation and maintenance jobs accomplished more quickly, safely and easily.
DCX System Optical Distribution Frame – Belden – Silver Award
Belden's fiber portfolio was missing a high-density/high-fiber-count management system for large optical distribution frames to provide cable interconnections to integrate fiber splicing, fiber termination, fiber optic adapters, and connectors and cable connections in a single unit. Things were changing in several markets to indicate a need for this solution. Because the broadcast market is migrating to IP, there's a need for lots of fiber to support these connections. Also, ever-increasing bandwidths in all types of data centers are also fueling the need for more reliable connections and better, faster management. Finally, new types of stadium technology being deployed (such as interactive digital signage, 5G cellular networks and smart, connected IoT devices) require lots of fiber connections as well.
The solution is Belden's new DCX System, which offers the highest fiber termination density on the market – 4,608 terminations (2,304 ports) per cabinet using LC connectors – while maintaining super-easy access to patch cables and trunk cables for fast, efficient operation and maintenance of a large optical distribution frame. The system's optical distribution frame (ODF) 4U housings have a 576-termination capacity, feature front access and are offered in left-to-right and right-to-left options for multiple system configurations. Its Top of Row (ToR) 1U patch panels have a 144-termination capacity (72 ports) on three tilting trays for easier access to terminated modules. Labeling is done at the port level to prevent connection errors. Bend radius control of incoming and outgoing cables maintains signal integrity.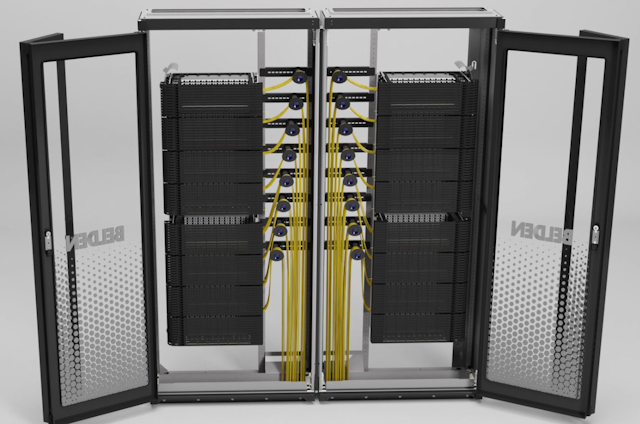 The system has a modular design and can grow along with increasing needs for more connections and technology shifts, protecting the initial system investment. Modular cassettes and adapter frames are available in Base-8 and Base-12 and can be mixed on the same housing tray without compromising system density (always 48 fibers). MPO breakout cassettes are fully symmetrical and can be flipped as an easy way to manage fiber polarity while keeping the port sequence unchanged. Modular cassettes and adapter frames are compatible with various fiber termination methods (pre-terminated, field-mount connectors and pigtail splicing).
Very compact termination modules (cassettes and adapter frames) fit many different applications found in fiber cabling infrastructure (ODF, ToR, wall-mount, etc.), which contributes to simplified, cost-effective designs. The DCX System's front-access housing design allows for various configuration possibilities. It can support against-the-wall, end-of-row and back-to-back setups to optimize data center density. It can also be operated with only one patch cord length to connect from any port to any port in the system, which contributes to lower operating costs. The system's cabinets are easily customizable and lockable for additional security. Their compact footprint matches data center raised floor dimensions.
Overall, Belden's DCX System optimizes and futureproofs the ROI of fiber infrastructure, ensuring the ability to support ever-increasing data center bandwidths, IP migration and new types of technology requiring more fiber connections. It also provides lowers total cost of ownership (TCO) in terms of capital and operating costs.