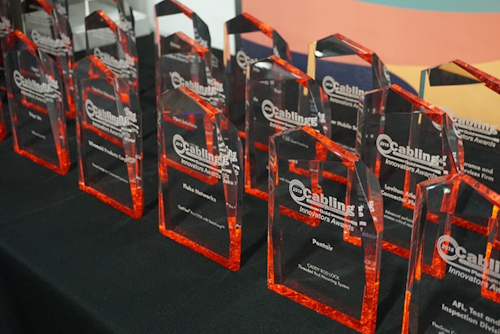 At the 2019 BICSI Fall Conference and Exhibition (Sep. 29- Oct 3) in Las Vegas, Cabling Installation & Maintenance magazine and CablingInstall.com presented its annual Cabling Innovators Awards, celebrating the year's most-innovative applications of cabling and communications technology products, applications and projects.
The awards featured 10 submission categories for products and applications, including one dedicated to Specialized Equipment & Materials.
As specified by the awards program, "This category recognizes some of the specialty tools that ICT professionals use in the planning and execution of projects. Software packages like project estimating are included, as well as software programs that conduct site surveys for wireless-system deployments. BIM software and other project-design tools also fit in this category."
For the 2019 Cabling Innovators Awards, four entrants in this category received recognition, including one Platinum and three Gold honorees. As described by the nominated companies, the awarded products and systems are as follows:
AROONA-POL – Cailabs – Platinum Award
Passive Optical LAN (POL) is an attractive, long-term LAN architecture that outperforms traditional Ethernet LAN in capacity, installation and operational cost, energy savings, infrastructure footprint and security. It benefits from the Gigabit Passive Optical Network (GPON) technology for access networks and brings fiber-speed connections to the desktop. GPON requires single-mode fibers (SMFs) cabling infrastructure between active equipments (OLTs/ONTs). Today, within a standard Ethernet LAN architecture, the main part of links between switches constituting the optical cabling infrastructure are made of multimode fibers (MMFs). MMF is not directly compatible with single-mode operation and so with GPON equipment. If single-mode and multimode fibers are directly connected through standard connectors or by splicing with low control, the unique spatial mode (LP01) from the SMF can divide several spatial modes of the MMF. This results in modal dispersion, limiting the reach for a given data rate and multi-path interferences, creating power fluctuations (up to 12 dB). These phenomena strongly deteriorate the signal transmission quality.
SMF cabling expenses represent 30 to 50 % of POL installation costs. Such initial investment may act as a strong disincentive, especially for renovating and upgrading an existing network. Not being able to reuse the existing cabling infrastructure is an obstacle when it comes to POL adoption. AROONA-POL facilitates POL adoption over existing legacy multimode fiber cabling infrastructure. It replaces an optical splitter in the distribution frame and avoids complex recabling across campuses and inside buildings. AROONA-POL is compatible with any LAN MMF (OM1, OM2, OM3, OM4 or OM5) which can be directly plugged into the OLT or ONT. AROONA-POL makes the existing MMFs pluggable to new SMFs. AROONA-POL exists in 2 versions, single-mode to multimode (SM to MM) or multimode to single-mode (MM to SM) depending the fiber configuration between OLTs and ONTs.
How it works? AROONA-POL simultaneously manages the spatial modes upstream and downstream operation between single-mode fibers and multimode fibers. For MM to SM version, in downstream, the modal adapter converts the fundamental mode from the OLT into the fundamental LP01 mode of the backbone MMF and AROONA-POL converts the mode from MMF to SMF and splits the signal into the distribution SMFs. Upstream, it is the opposite, AROONA-POL converts the SMFs mode from ONTs, recombines the signals into the backbone MMF and the modal adapter converts the signals from MMF to single-mode OLT. As far as the SM to MM version is concerned, the principle remains the same. Downstream, AROONA-POL splits the SMF signal from OLT and converts it to the fundamental LP01 distribution mode for MMFs. Upstream, AROONA-POL adapts and filters out modes from MMF and recombines the signals in the backbone SMF.
Limiting the cost of POL deployment by removing the exorbitant investment of fiber roll-out, AROONA-POL is from 5 up to 20 times less expensive than fiber recabling, and eliminates all hidden costs (project management, authorization, down-time, etc.). AROONA-POL allows to end-users to leverage their existing multimode fiber cabling infrastructure inside their buildings or campus to cost-effectively update their networks to optical LAN with GPON or 10GPON technology. For active equipment manufacturers or POL integrators, brownfield projects are thus facilitated in terms of design and implementation. Some POLAN leaders such as Tellabs have already chosen this innovative technology within one of their product line, as well as some end-users early adopters. Learn more at Cailabs.
Esticom Takeoff and Estimating – Esticom – Gold Award
As a comprehensive, easy-to-use SaaS tool that incorporates modules for takeoff, estimating and job management, Esticom serves mid- to large-size structured cabling, security, fire alarm, and other low-voltage firms. Tapping into the power of machine learning and the cloud, Esticom's new AutoCount feature simplifies takeoffs and improves accuracy of counting similar symbols or shapes across an entire plan set, drastically reducing the time it takes to produce a construction takeoff and estimate.
Accessible from the Takeoff screen in Esticom, users simply identify the symbol they want counted by highlighting it, then click on the AutoCount button to automatically performs bulk counts across all pages of the drawing. The time savings for structured cabling estimators is massive. Jobs that once may have taken several days, now take minutes. The return-on-investment is often less than one day.
With 96% accuracy, as an added quality control measure, ensuring no items are missed during AutoCount, Esticom displays "possible" matches after AutoCount completes then gives the option to add these items to the takeoff using the manual count feature. This leads not only to faster, but overall more accurate results. Esticom users can now be more productive, decrease error rate, and improve their bid win rate. Learn more at Esticom.
Patented Dual Function Fiber Optic Mid Span Slit & Ring Tools - Jonard Tools – Gold Award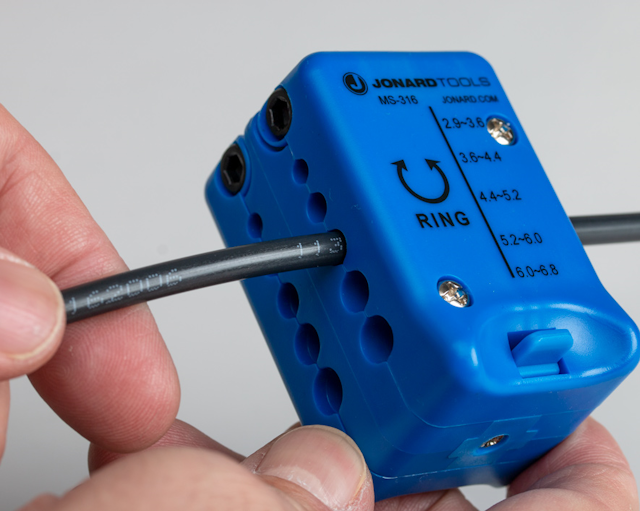 As fiber optic cables become more widely used across all data communications there is an increased need for tools that will help technicians install and maintain these cables. Jonard Tools created a line of patented tools that allow for slitting and ringing operations all in one tool.
The MS series has expanded to provide solutions for mid-span access to fiber cables sizes 1.2mm up to 12mm. These are as follows: MS-306 - Mid Span Slit & Ring Tool (1.2mm-3.3.mm); MS-316 - Mid Span Slit & Ring Tool (2.9mm-6.8.mm); MS-326 - Mid Span Slit & Ring Tool (5mm-10mm); MS-426 - Mid Span Slit & Ring Tool (5.8mm- 12mm).
Engineering and sales at Jonard Tools worked closely with cable manufacturers and customers to develop these tools to the highest quality and precision. Creating one tool that will slit and ring the fiber cable saves users time by allowing a window to be made quickly into the cable for faster repair. The tools also have tethering holes to easily keep them on a tool belt or locate them in a tool kit.
 InvisiLight Solution – OFS – Gold Award
The Invisilight Optical Solution leverages the same indoor fiber technology across two solutions: the InvisiLight Indoor Living Unit (ILU) Solution and the InvisiLight Multiple Dwelling Unit (MDU) Solution.
The InvisiLight ILU Solution allows fast and easy indoor optical fiber installation within an individual living unit (ILU) using a simple process similar to caulking to attach a tiny optical fiber in the grooves between ceilings and walls, baseboards and walls and corners between walls in a living unit. Installers place a small spool of factory-terminated EZ-Bend 900 micron Buffered Optical Fiber near the desired indoor Optical Network Terminal (ONT) location and then install the spool into the spool module. One of the pre-terminated connectors is then pulled to spool out enough fiber to reach another small module where the fiber enters the living unit. The installer then pre-installs a safe, water-based adhesive bead along the pathway and presses the optical fiber into the adhesive so that the fiber is fully secured and protected along its entire length. The spool module is then connected into the ONT, which is usually paired with a wireless router or a set-top box. The adhesive dries clear within 30 minutes, without leaving any stains. The tiny (less than 1 mm in diameter) optical fiber blends into the décor so that it is virtually invisible to the human eye. It can also be painted or caulked over if the subscriber chooses.This simple process places fiber deep into a living unit quickly and without disrupting the décor or the resident.
The InvisiLight MDU Solution uses a fast-to-install, practically invisible multifiber unit that can be surface mounted in hallways and between floors to connect subscribers to ultra-high-speed services. Designed for horizontal installation in building hallways, the InvisiLight MDU Multifiber Unit consists of twelve 250 micron EZ-Bend optical fibers packaged together in a single 2 mm diameter unit. The optical fibers, the installation process and the tools involved are identical to those used in the InvisiLight ILU solution deployment process reducing the need for retraining or stranding capital on common components. Installers mount a point-of-entry (POE) wall module above and on the exterior of each apartment or office. The InvisiLight Multifiber unit is unspooled and adhered to crown molding or wall-ceiling crevices horizontally in the hallway across a row of living units. A recommended length of slack is then stored inside each POE module after which a dedicated, color-coded strand of optical fiber for the living unit is extracted and fusion spliced into a connector (mechanical connectors can also be used). This method allows for simple, plug-and-play connections to the InvisiLight ILU solution inside the apartment or office at any point before, during or after the InvisiLight MDU Solution installation.
Using the InvisiLight Optical Solutions portfolio, service providers can offer fast and virtually invisible optical fiber installation in buildings and inside the living unit to the indoor ONT. In addition, the InvisiLight Solution helps to differentiate a provider's service offering by significantly enhancing the subscriber experience. The installation process is fast and easy (typically 30 minutes or less), blends seamlessly with the décor and requires little or no disruption to the resident with quick turn up of ultra-high speed internet services. By significantly improving and promoting subscriber acceptance and take rates and speeding up installation, the InvisiLight Optical Solution helps speed up time-to-revenue for service providers. Learn more at OFS.